Champions & #1 contenders
Summer Splash interest in Natasha Loclear?
Mon Apr 09, 2018 11:30 pm by daemongirl
Well my girl hasn't missed a summer splash yet, would anyone be interested in a match with her? Open to just about anything match wise, just pm me!
Comments: 1
Been Out with the Flu
Sun Apr 22, 2018 7:47 pm by daemongirl
Just letting those I have threads with know I've been out with the flu since early last week, but I will be back to posting tomorrow.
Comments: 0
The Austrailian Mudslide is Back.
Sat Apr 21, 2018 6:20 am by Softsquad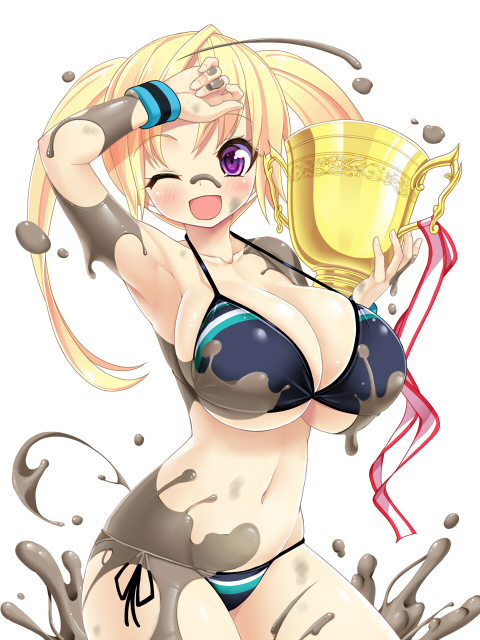 Granted that most of you won't know me or remember me, but I've had a few matches here and there some time ago. Well I think its time to become a regular around here and try to have some fun again, but at the same time keep coming back. Anyway I think its time to jump into some matches with Zoe Taylor, my mud wrestling character from Australia and get her back into the squared circle. Furthermore I will update my characters as I think some proper changes need to happen.
So if anyone would …
[
Full reading
]
Comments: 0
Page 1 of 6 • 1, 2, 3, 4, 5, 6


Clyde Gastin was in Tokyo and marching to the AFW arena complex with a determined and hungry gaze, wearing sweatpants and a windbreaker, his wrestling attire underneath all that, even his wrestling boots were visible. He was angry at three people. Allison, Jocelyn and himself. He had made some really stupid choices as of late and while he was revealed that Bonnie and Duffy were okay, they were both angry with him now. Bonnie especially, she wasn't talking to him right now. This meant that if his sister was going to go after Allison and Jocelyn, Clyde would never know until it was too late.

He felt like a fool for getting Bonnie and Duffy hurt, he knew he could not undo his mistake but he could blame the person responsible all day long. Clyde was done with waiting and being held back, he had to get even with this heartless witch, Allison Watson. With his AFW ID, Clyde got backstage easily enough before managing to sneak into the gorilla position and jog his way into the arena, doing this in the aftermath of a recent match. At first the crowd made nothing of it, but started to whisper and murmur when they recognized the blonde haired white boy with a cowboy hat on. It was Tension's Clyde Gastin in a Friction arena. Some folks greeted the appearance with cheers, others with booing, he wasn't supposed to be here, this wasn't his show. But Clyde didn't care, he doubted Allison would ever come to him. He had to go to her turf.

Quickly sliding in the ring and managing to grab a mic from the ring announcer, Clyde hurriedly turned around and faced the entrance stage.

"Allison Watson!! You know who this is! You've hurt me and my family for the last damn time! I challenge you to a match, right here, right now, One on One in this ring!" Growled the cowboy as he removed the windbreaker and sweat pants, tossing them to the arena floor, now standing in the ring with his gear, his wrists taped up, wearing long black tights, matching knee pads, elbow pads and boots, waiting to see if Watson would answer him.
There was a long, restless silence. The crowd wondered if Allison would really respond, and what would happen if she did. As time passed, the possibility seemed more and more remote, and they became less and less interested. A scattered round of boos ran through the crowd, but they were all silenced when the music began.

The goofy toy piano of [url=http://youtu.be/XRGd0gD0QNE:2uzdyh2p]War's "Why Can't We Be Friends"[/url:2uzdyh2p] made it abundantly clear the whoever was coming out was not Allison Watson. Instead, little blonde Jamie Valentine skated into view on her rollerblades, a microphone in one hand and a yo-yo in the other. She was half Allison's size, and hardly seemed to represent the regal Brit in any way.

She glided down the ramp, idly doing tricks with her yo-yo as she went, skated backward to the ring steps, and carefully walked up to the apron. She sat on the middle rope, swung her legs inside, and then took a place across from the Texan.

She removed a crumpled up piece of paper from her satchel and smoothed it out as best she could. She raised the microphone to her lips and cleared her throat loudly enough to send a shrill note of feedback through the arena, making everyone but her cringe. Finally, she began to read.

"Hi, Clyde T. Gastin," she said, and it was quickly obvious she wasn't the strongest reader. "I regret to inform you, that cuz your not a part of the Friction roster, we will be unable to accom... accommodate your request. The absence..." She paused, and giggled. "The absence of your testicles hardly qualifies you as a Friction competitor good day."

Jamie nodded with a proud smile and put the note back in her satchel, and then added "P-S, what's your sister up to?"
Last edited by 1167 on Mon Mar 03, 2014 10:01 pm; edited 2 times in total
Clyde tapped his foot repeatedly waiting for Allison, he was so amped up that it was driving him nuts to just sit their and wait. That's why fishing sucked. But he would wait all night if he had to, he was determined enough to do that. Of course it was only a matter of time before Bonnie, Mercy, security or another wrestler dragged him out of the ring.

Finally however! Clyde heard music, he started to breathe heavy in anticipation until he realized the song that was playing surely wasn't Allison's theme... "Fuckin' War!?" He shouted in disbelief as he watched.... Not Allison but a short, young girl on roller blades making her way down the ramp. Clyde made an audible growl of frustration, this had better be good and not a completely insulting waste of time.

It was the latter.

"Howdy." He said sternly to Jamie's greeting. furrowing his brow after watching her get out a piece of paper and take her sweet time to prepare it for reading. This girl was probably another one of Allison's little cronies, wasn't 2 enough!?

As Jamie read on, Clyde's cheek would begin to twitch more and more at how Allison had basically trolled his ass on LIVE TV, not even bothering to face him, she just mocked him from afar like it was a joke! Clyde was huffing through his nose and raking his fingers down the ends of his hair during the letter, trying his best (but failing!) to keep cool until he heard Jamie bring up his sister. Salt in the wound straight from Ms. Watson. Clyde looked down at Jamie with a clearly agitated twitching scowl, reaching out to hurriedly snag the front of Jamie's shirt, twist her around and try to fling her over the middle rope to send her out of the ring, right in front of the entrance stage.

"Scram, kid!" He ordered before grabbing the mic he had discarded. "You think this a joke!? Ain't nuthin' funny about torturing my sister, you heartless sadistic bitch! You gone too damn far!" He shouted angrily.

"I don't give'a damn what I am, or what promotion this is. You're the one who's responsible for hurting my family, the fact you've enjoyed it is even worse! I ain't leavin' till ya' fight me, Allison Watson!! I dun' care how long I gotta wait! And if anybody throws me outta this buildin' I gon' keep comin' back!" Clyde growled into the mic before plopping idian style in the center of the ring, crossing his arms. Some folks were honestly cheering the cowboy, others wanted him out of the ring ASAP. The camera crews, announcers and technicians all felt a bit puzzled, wondering if Allison or someone was going to come out, at this rate security was going to have to get rid of this kid. He was holding up the show and he didn't seem to care if he did.
Last edited by 621 on Mon Mar 03, 2014 10:48 pm; edited 1 time in total
Jamie was doing such a good job. She beamed with pride, and she just knew that Allison would give her something extra. She did everything right. Her expression changed in an instant from pride to complete horror as Clyde grabbed her shirt.

"AAIIEEE! LEGGO!" She screamed, staggering on her rollerblades and running in place to keep from falling on her ass until she was flung at the ropes. She fumbled over the rope, hung up on it for a moment and then pitched off to the floor.

"Owww..." She pouted, rubbing her knee. She pulled down her legwarmer to check if it was bleeding. It wasn't, but it stung like it was. She peered over the edge of the ring at the crazed cowboy inside. Her microphone had fallen on the canvas near the ropes, and her hand darted out to grab it.

"W-what are you even talking about?" She whined. "I didn't even do anything! Allison's not even here, and I don't even know what your problem is, except for apparently you think you're a girl. You're crazy! You're crazy and you hurt my knee."

She gathered up the string to her yo-yo that still hung from her middle finger and carefully rewound it around the thing, and then slowly got up. With her reflective, hot-pink yo-yo, she wrote in the air the letters "F" and "U", and then turned to skate away, making a show of how much her knee hurt.
Last edited by 1167 on Mon Mar 03, 2014 11:04 pm; edited 1 time in total
Clyde continued to sit as patiently as he could, rocking back and forth out of habit from being so anxious to scrap with that evil British woman. "...enjoys the thrill of rubbing against his betters.... Bull-sheet! We gon' see who better when I..." Clyde muttered to himself with a terrible British accent as he mocked a statement from Allison, trying to prep himself and keep him amped. But all this seems to come crashing down on Clyde when that girl with the skates and yo-yo is whining to him from afar that... Allison isn't even here.

"WHUT!?" He snaps with wide eyes as he turns his attention to Jamie. He slams his fist on the mat in frustration before noticing her gathering her things to leave, Clyde rolled under the ropes and slid out of the ring to stand in front of Jamie.

"Tell me where I can find Allison then." She had to have been here before.
Last edited by 621 on Tue Mar 04, 2014 12:39 am; edited 1 time in total
Jamie spun around on her rollerblades and heeled to a stop. She spluttered indignantly before raising her microphone again. "Well OBVIOUSLY she's around SOMEWHERE!" She shouted like Clyde was the biggest idiot in the world. "But do you SEE her? No. She's not HERE!" She pointed down at the floor.

She fished around through the various things in her satchel and pulled out the crumpled up note. She hurled it as hard as she could at Clyde, and it fluttered to the floor a couple feet from her. "HERE! YOU take it, but I already read everything on it and I drew a picture on it, but that part's not from Allison. If you want to find her so bad, why don't you just go in the girls' locker room or something, I dunno! Just leave me alone!"

She fished around in her satchel again for several seconds before she came up with a shiny silver whistle. She put it to her lips and blew as hard as she could, and the shrill, piercing sound made the people on either side of the ramp cringe again.
Clyde rolled his eyes at Jamie as she yelled at him. "Weeell sure am glad you told me that!" He replied to her dryly like he would have been lost without her knowledge. He stood in front of her, awaiting some information as she grabbed the note and hurled it to the floor. According to Jamie it was useless now though and that he needed to go to the women's locker or something.

"Better idea, missy. Why don't you go in there for me and-- Aghh!!" Clyde began to say, only to wince from the sharp piercing sound that struck his ears after Jamie blew into that whistle.

"Oww!! WHUT THE BLUE HELL, MAN!?" Clyde yelled as he covered his ears and looked at Jamie through one open eye.
Last edited by 621 on Tue Mar 04, 2014 1:14 am; edited 1 time in total
Jamie put the whistle away and held up a stern finger to keep the crazy southern guy at bay. She rolled down toward him slightly, and she had to heel her way back up on the brakes of her rollerblades.

"Know what? FINE. If you want to see her so bad, why don't I just tell you where she is?" She put a hand down and sat on the floor on one hip with her knees together while her rollerblades clunked against each other. She grabbed the crumpled up note and pulled a Batman pen from her satchel. She scribbled something down on the paper and flung it at Clyde again, and just like last time it fluttered to the ground only inches away.

"THERE! Are you happy? Now leave me alone, I put new music on my iPod and I want to go listen to it before the battery dies." Well, it wasn't exactly her iPod, but it was hers enough.

She spun around and pushed off to skate up the ramp and out of sight as quickly as possible.
Last edited by 1167 on Tue Mar 04, 2014 6:44 pm; edited 1 time in total
This chick was just weird. Clyde was barely mad or amped anymore, Jamie had taken it away and just replaced it with bewidlerment. She was so peachy when she read the note, one toss out of the ring and now she acted like He made fun of her sister getting tortured. Sheesh.

"Great!" Clyde beamed at Jamie suddenly agreeing to tell him where Allison was, most likely as her frustration caught up with her, though Clyde couldn't help but wonder if she was really going to tell him where Allison was or if she was just going to pull his leg to be a brat. He hoped for the former but expected the latter. Clyde stood there quietly enough as the girl scribbled with her cool-ass batman pen
before once again chucking a fluttering and flying piece of non-threatening paper at him that just flopped peacefully to the ground like it hadn't even been thrown angrily.

"...You weird, girl." He responded to her bluntly enough but Yes, he was going to be happy if he was going to be told where Allison was, but if Jamie played him there was nothing he could do, that chick was skating straight out of here. Not the best sign exactly, but Clyde didn't care about Jamie.

Clyde then reached for the paper, turned it over and tried to read what it said... Or had.

----

Clyde examined the note which appeared to be showcase a number to a private dressing room. Of course she'd have one. She probably bought her room rather than have it given to her by management. She was no main eventer. Clyde didn't put it past that skater girl to send him to a totally different place but this was his one lead, So Clyde went and grabbed his wind breaker, zipped it up and stuffed the note in the jacket before... Grabbing a steel chair under the ring, just in case Allison was playing dirty, he'd have a friend to back him up.

So with that, Clyde made off up the ramp with the chair over his shoulder, walking backstage, going for the locker rooms and searching past that until he located some private dressing rooms, they gave no names, only numbers, hence privacy. Finally though, Clyde managed to find the number he was looking for.

"Gotcha." He growled, setting the chair down on the floor like a cane before he raised his free hand and gave three slow, firm knocks at the door before taking a couple steps back, far enough for a kick from a pair of long legs to barely graze him.
Last edited by 621 on Tue Mar 04, 2014 11:53 pm; edited 1 time in total
Morrigan's eyes were shut tightly as she felt Brittany lapping away at her pussy. Her fingers were buried in Brittany's brown hair and held onto it tightly. She moaned and lifted up her foot to rest it against Brittany's shoulder. She had to admit, that working for Taylor had felt, to her, like she had bonded a little more with Brittany. Not spending all the time with her made her actually miss Brittany, rather than just resent how much of an idiotic tool she was. She was actually enjoying fucking and maybe even considered it to be a little more than that..."

However when the knock came, Morrigan's eyes widened. They had ordered some room service. That was probably it. Morrigan gave Brittany a sudden shove with her foot and hopped up. "Don't get too comfortable, bitch." She sneered as she slid on her panties and then slipped on a nightie. "When we're finished eating, I'll let you have some pleasure." Morrigan grinned. "I know how much you like to get fucked up the ass with a strappy."

Morrigan than eased over to the door and opened it up. She saw not the craft service employees but instead some dude. Some dude who looked very familiar. Last time she saw him, in fact, she was fucking his girlfriend. She furrowed her brow. "What the fuck do you want? Your bitch need another nipple ring?" Morrigan said, grinning widely.



Posts

: 27333


Join date

: 2009-04-02


Age

: 97


Location

: VIP Box inside the AFWDome



Page 1 of 6 • 1, 2, 3, 4, 5, 6


---
Permissions in this forum:
You
cannot
reply to topics in this forum