Champions & #1 contenders
Reduced Post Rate
Tue Jun 27, 2017 12:14 pm by RadiantKarna332
For those who are currently roleplaying with me in threads, you guys may have noticed my reduced post rate. I'm sorry for being so late to inform you guys about this, but due to some real-life businesses, I have no choice but to post infrequently compared to usual. I'm so sorry about that.
So, I will return to my normal schedule next week, so please don't worry about me not posting. Have a nice day.

Comments: 0
Active Kawaiis
Sat Jun 24, 2017 1:25 am by Daaharu
Hey, guys. I'm hoping to get a sense from everyone of where the active kawaii girls are at. No guarantees or anything, but I am looking to figure out who is out there consistently making matches because we are looking to inject some new blood into the kawaii title scene, and I don't want to have tunnel vision on just the players and characters I know.
So, if you've got a kawaii girl who's had at least one match and is currently active, can you let me know either here or via PM or IM? This …
[
Full reading
]
Comments: 6
Ending RPing
Sun Jun 25, 2017 7:04 am by KillerV
After I finishing up couple of threads, I am officially done RPing here. I apologize to you guys currently with me and even the future ones. But I am just tired of it, not going into too much details as it makes me feel like ranting so much, rather not.
But will still be here just to read n respond, as for Trillian, wont able to contact me soon, rather send PM here instead.
Good luck with everything.
Also, NOT gonna give King, rather not see people using him like
[
Full reading
]
Comments: 7
Page 1 of 6 • 1, 2, 3, 4, 5, 6

Match Type:
Standard
Victory Conditions:
Pinfall, Submission, or KO
Okay, so things hadn't really gone Dmitri's way in his first match. At all. Not even a little bit. To put it mildy. Certainly.
Basically, his match with Lady Phantom had been one of the most humiliating experiences of his entire life, and that was really saying something when you looked at all the competition it was up against. What made it so bad was that it didn't just stop in the ring - no, it followed him everywhere. GIFs from it were all over the internet. He was getting trashed on message boards, getting a few bad emails. Some of the papers had articles questioning what they were thinking hiring a guy like him to compete.
Dmitri was starting to wonder that question himself - it was tempting, oh so tempting, to just throw the towel in and quit, rather than even risk another match like that. But, at the end of the day...he needed the money. Leaving wasn't an option. For now.
He made his way down to the ring as his music started up, garnering so many boos you would have thought he was a heel - heck, heels usually got at least a few cheers. He was just getting jeers the whole way round, at least from the people who bothered to stay in their seats and weren't using his match for a bathroom break. It didn't exactly inspire confidence, but he felt better about this match than the last one - he actually did a little looking up on Lucy Grange, wanting to make sure his opponent wasn't another power-crazy woman.
She seemed normal, nice enough from what he'd found on the internet - she'd be a challenge, but win or lose she didn't seem like the type to get too crazy with it. Of course, he'd still have to get over his own problems with hitting, but he'd figure them out when the time came. Which didn't look to be too long.
He slid into the ring and made his way over to the corner, stretching - this time he was actually wearing something a little more appropriate.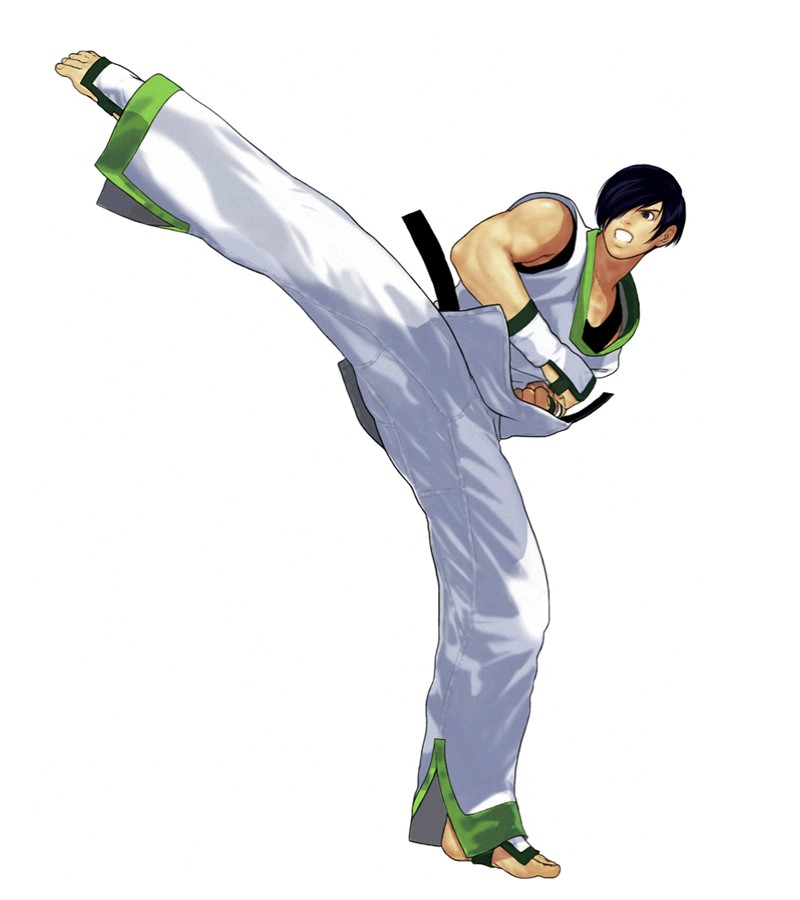 Relatively speaking, anyway. Certainly more appropriate than the business attire he'd worn before. He had to dust off his old Tae Kwon Do uniform, but it was still a good fit - it served him well in matches before, and it would do the same, here.
Last edited by 12547 on Thu Apr 03, 2014 4:07 pm; edited 2 times in total
In the back Lucy was getting herself ready for her next match, she seemed to be spending more time in tension than she did in friction. Not that she had a problem with it to be honest, but now wasn't the time to be thinking about stuff. Now was the time to get herself ready for a match, Mr Grange's baby girl looked herself over once more in the mirror.
Kicking her shoes against the wall to be sure that they wouldn't fall off during the match, Lucy made her way to the entrance ramp and waited for her theme song to play. When [url=http://www.youtube.com/watch?v=uoUCyrg5Syo:5l6kwhi1]Isolated[/url:5l6kwhi1] began to play she stepped out into the arena, the crowd began yelling out. Mr Grange's baby girl was no stranger to the tension crowd after all.
Lucy made her way down the entrance ramp and jumped up to the apron, using the ropes to catapult herself into the ring. Rolling forward and then rising from the center of the squared circle she'd look at Dmitri and take a step back as she sized him up. "Hmmmm, hm. My old man doesn't really let me play with guys, I can't see why not though. You look like you know what you're doing, this ought to be good. What's your name babe?" Lucy said while going to the opposite corner of Dmitri, lying atop the ropes like a bench.
_________________
Check out my wrestlers
here
, but PM me for match requests.
Solaire of the AFW.
Dmitri smiled as she addressed him - already, this was going much better than the match with Lady Phantom. Lucy seemed sweet enough, if a bit lackadaisical, and he'd certainly take that over some crazy woman any day of the week. Sure, they were competitors, enemies in the ring, but that was no reason to make things personal or take it too serious, right?

I'm Dmitri." He walked over to her, waving along the way. "Dmitri Markov Voronov, nice meeting you." He looked her over from head to toe, nodding. "Lucy Grange, right?"
"Oh you know my name then? Guess my milkshake does bring all the boys to the yard after all." Lucy said while checking her fingernails, smiling at Dmitri as well.

Mr Grange's baby girl would then get off the turnbuckle and say "Right so, I may look like some British punk girl. But don't worry, I can play with the big boys. It's just my Dad is one of them "Got a shotgun in the back and knows how to use it" kind."

Lucy would get herself ready for when the bell was to ring, she had a feeling that Dmitri was a martial arts master given his getup. But although Lucy had no real martial art to call her own, she had great agility and a smaller stature which may or may not be an advantage.
_________________
Check out my wrestlers
here
, but PM me for match requests.
Solaire of the AFW.
"...your milkshake?" Did she make milkshakes or something? Were they tasty? Strawberry? Chocolate? Why did boys like them so much? More to the point, what did anything he said have to do with milkshakes and her yard? Was that some kind of weird British thing?

He'd ask her later - for now, he had to focus on the fight.

He jumped back as she came down and moved into position - he jumped back and did the same, getting her fists up, bouncing on his toes - more serious, this time. Determined. Eager. No embarrassments, not this time.

The bell rang and he started to move around her, keeping his eyes steady.
Lucy had gotten herself ready for this match, she'd reckon she'd enjoy this one for sure.

Mr Grange's baby girl sized up his stance and figured she couldn't make many mistakes here, else she'd surely regret it there. This called for some acrobatic stuff here, and that's what she was good at most definitely.

Without even waiting Lucy would rush towards Dmitri like a bat out of hell, like her rouge in D and D. Only she wasn't rushing towards him, no she was going to leap at the ropes near him. Using her momentum from leaping off the ropes Lucy would try and get her legs around Dmitri's neck for a good old fashioned hurricanrana, since Dmitri was serious here then so was she!
_________________
Check out my wrestlers
here
, but PM me for match requests.
Solaire of the AFW.
He was expecting to come at him, and she did. Oh, boy, did she come at him.

She leaped off the ropes in an unorthodox move, coming at him with a hurricanrana and wrapping her legs around his head - she was small and agile, a deadly combination, maybe just as fast as he was - if not, faster. Dangerous.

He went flipping about and landed hard on his back, rolling with the momentum and popping up to his knees - a little dizzy, but ready for her next attack.
Lucy's hair flew wildly in all directions when she went into the motions of her hurricanrana, that was one of the reasons she loved that move. It was like being on a mini rollercoaster, the crowd also got a peak up her skirt so it was a win-win right there.

Mr Grange's baby girl got back up and was shocked to see how Dmitri was already up a bit, usually a move with that amount of gusto right at the start had most people floored. But regardless she was up and feeling a bit dizzy herself, but that was natural there.

So with her up and on the move again Lucy would rush towards Dmitri once again, in order to resume an offensive plan. She leap into the air and try and get Dmitri in the head with a dropkick, but she was coming right at him and that could allow him to at least block the attack.
_________________
Check out my wrestlers
here
, but PM me for match requests.
Solaire of the AFW.
Dmitri wasn't detecting too much style behind Lucy's attack - they seemed like basic wrestling stuff, simple and effective. Any lack of skill was made up for with exuberance, though; not too many girls are crazy enough to even try a drop kick, let alone have the ability to pull it off.

As the dropkick came in, he spun around, letting it pass around his chest as he turned, her heel harmlessly grazing across his pecs. It wasn't just about dodging, though; in the same movement, he shot his leg up and out, swinging around with a spinning hook kick to knock her out of the air...if he could get the time right, at least. Even if he missed, it would give her some incentive to keep her distance and take it a little slower.
Lucy's dropkick went wide of the target, Lucy had left herself wide open and she felt pretty damm foolish as well.
Then instantly she felt Dmitri's counterattack hitting her hard, sending her down to the mat.

"Augh!" she yelled out as she fell, holding the back of her head and her chest with her other hand. She sure had looked foolish here and that damped her morale a bit, but it'd had just begun this match had.

Mr Grange's baby girl would roll to the side to get some distance from Dmitri, now she was on her knees and looking at him. "Godamm." she said with a shake of her head before standing back up, keeping her eyes on Mr Tae-Kwon-Doe as she did so.
_________________
Check out my wrestlers
here
, but PM me for match requests.
Solaire of the AFW.
Page 1 of 6 • 1, 2, 3, 4, 5, 6

---
Permissions in this forum:
You
cannot
reply to topics in this forum