Champions & #1 contenders
Summer Splash interest in Natasha Loclear?
Mon Apr 09, 2018 11:30 pm by daemongirl
Well my girl hasn't missed a summer splash yet, would anyone be interested in a match with her? Open to just about anything match wise, just pm me!
Comments: 1
Been Out with the Flu
Sun Apr 22, 2018 7:47 pm by daemongirl
Just letting those I have threads with know I've been out with the flu since early last week, but I will be back to posting tomorrow.
Comments: 0
The Austrailian Mudslide is Back.
Sat Apr 21, 2018 6:20 am by Softsquad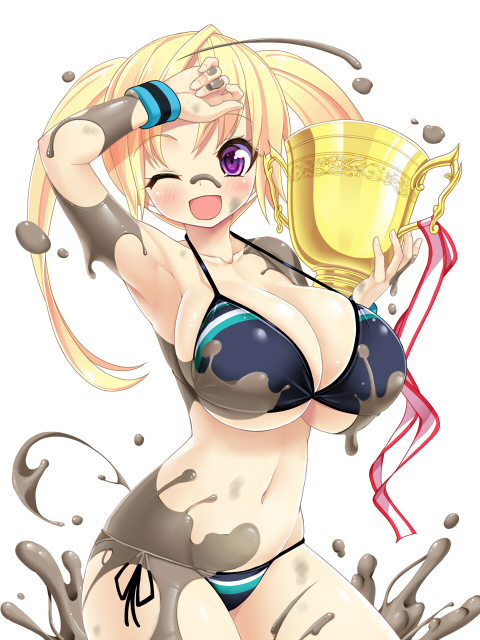 Granted that most of you won't know me or remember me, but I've had a few matches here and there some time ago. Well I think its time to become a regular around here and try to have some fun again, but at the same time keep coming back. Anyway I think its time to jump into some matches with Zoe Taylor, my mud wrestling character from Australia and get her back into the squared circle. Furthermore I will update my characters as I think some proper changes need to happen.
So if anyone would …
[
Full reading
]
Comments: 0
Page 9 of 10 •

1, 2, 3, 4, 5, 6, 7, 8, 9, 10


Katsumi couldn't help but feel smug when Akashi came back down from her first orgasm in the shower, clinging to her shapely hips. Neither could she help being rather impressed with Akashi's spirit; only a few moments after climax and the other sumo was already clamoring for another round. Katsumi bent her legs a tad so Akashi could wrap her lips around her nipple, running her hands through her rival's hair as she savored Akashi's licking and sucking.

Katsumi felt Akashi's resentful gaze on her, and the sumo managed to suppress a shiver as she felt the newfound frustration and animosity mingle with both women's lust and respect within the arena of the shower. She had felt this same atmosphere building plenty of times before, whether it be with sparring partners like Ciara or the girls she faced in the "hentai dohyos." If Katsumi stoked the fires of their growing sexual rivalry well enough, she could look forward to more hot and heavy "competition" and plenty of long, pounding, crushing lovemaking.

All Katsumi needed to do was give Akashi a good hard womanhandling this first round, and the proud Tanikaze would rise to the occasion, putting up a fight to remember!

She giggled to herself as Akashi continued to personify sexual perseverance. This was going to be a hell of an evening... and night... and hopefully morning as long as she wasn't too sore. "Ah, wrecking ball, 'Kashi-chan? I'll be looking forward to your first swing. In the meantime, though..." Katsumi suddenly squatted down and wrapped her powerful arms around Akashi's midsection, pushing back up with her legs and lifting the other girl belly-to-belly in one sudden swoop. "...I hope you don't mind me taking advantage while you're busy pulling back that ball."

Taking advantage of Akashi's relatively weak state following her orgasm, Katsumi aimed to carry her opponent back towards the shower wall through brute strength before the Tanikaze girl could recover. "Sorry for not telling you, Akashi," Katsumi chirped, "but I prefer not to get over-ambitious. I prefer to get the other girl all quaky and cuddly first!"
_________________

Friction
[url=http://afwrpg.informe.com/forum/friction-roster-f10/katsumi-sadaji-daughter-of-the-dohyo-t2307.html:1qlmd9jt]Katsumi Sadaji[/url:1qlmd9jt], [url=http://afwrpg.informe.com/forum/friction-roster-f10/ciara-austerlitz-she-wolf-of-the-one-four-one-t2308.html:1qlmd9jt]Ciara Austerlitz[/url:1qlmd9jt]
Akashi panted as Katsumi began to bend down as well and and suck on her nipple. It felt good but at the moment would do nothing to ignite a fire in her. She ran her fingers through Katsumi's wet locks and just listened as the fellow sumo clamored on. She was catching her breath, readying herself for the next round. When she felt Katsumi grab her by the waist and speak, Akashi moved her head forward and grinned, flicking her tongue against Katsumi's ear. "Do whatever you think you can Katsumi-chan. I wonder how much of an advantage it really is." She purred. And when she felt Katsumi lift her, her body went limp in Katsumi's arms. She became dead weight except for her hands which reached around, and forced Her chest into Katsumi's face while her fingers went probing, hoping to invade Katsumi's flower from behind even as she was being carried by the sumo.

"You don't call what you pulled off ambitious? You lying little slut." She teased as she tried to make the carry as difficult as possible. She knew Katsumi was strong but doubted she had unlimited reserves and any chance to make her use more strength than she would like would serve as an advantage for Akashi.
Katsumi snorted as Akashi quipped back at her, then gave a muffled grunt as her face was pressed into her opponent's cleavage. Akashi certainly knew how to make things difficult for her competition, that was for sure. The dead weight was causing Katsumi to exert herself more than she would have liked, not to mention her body was currently geared for something more than just a test of pure strength, yet she clenched her teeth and pressed onward, carrying Akashi back towards the wall for the first round, step by careful, deliberate step. It was alright to get caught up in the lust and enthusiasm of this strenuous form of sexfighting, but a sudden slip and a bad fall would ruin everything in an instant.

Feeling Akashi's hands leave the back of her head, Katsumi found the room to wiggle her face back upwards and rest her chin on her lover's bosom, slightly unawares at the freed fingers questing down her back. "Akebono-sensei may have raised a nympho, but he never raised a liar," she shot back with a playful growl, "We both know what 'ambitious' is for tonight's syllabus: pummeling body-to-body, woman-to-woman until the other yiIIIELDS!" Katsumi's soon-to-be-fulfilled fantasizing was cut of with a shocked yelp as Akashi's digits found and plunged into her womanhood for a sudden charged moment. She stared up at Akashi with wide, indignant eyes and her thighs shook violently for a second before her adrenaline took over. Heaving Akashi upwards, hopefully pulling the invading fingers out from between her labia, Katsumi thrust her chest forward and her hips back, setting her opponent back down on her feet, just a few tantalizing steps from the cool granite at the end of the shower.

It was the last stretch before Katsumi could have a chance of grinding out a point, and she was determined not to let the opportunity she had fought so hard for slip by. Rushing forward just as soon as Akashi's feet hit the shower floor, the newer sumo rammed her heavy bust into her veteran counterpart's chest head-on and thrust her right hand between Akashi's thighs, swiftly thrusting her middle finger towards her rival's lower lips in a gesture of revenge. Whether or not her digit hit the mark, Katsumi would slide her finger and hand back out just as quickly, then cup her palms around Akashi's waist. Trying to move quickly enough to catch the Tanikaze girl off-guard, Katsumi took that extra step that both girls had been surreptitiously skirting around these many steamy, sexy minutes.

Cocking back her pelvis and flexing her ass, Katsumi powered her hips forward, gritting her teeth for the imminent sexual shock. An instant later, Katsumi's pussy would ram into Akashi's flower head-on in a spray of sweat and water, the collision hopefully propelling the other woman back those last precious steps into the shower wall. The smacking impact would echo around the steamy bathroom, propelling both girls into the next, familiar level of womanly struggle.
Last edited by 883 on Wed Sep 21, 2011 8:54 am; edited 2 times in total
_________________

Friction
[url=http://afwrpg.informe.com/forum/friction-roster-f10/katsumi-sadaji-daughter-of-the-dohyo-t2307.html:1qlmd9jt]Katsumi Sadaji[/url:1qlmd9jt], [url=http://afwrpg.informe.com/forum/friction-roster-f10/ciara-austerlitz-she-wolf-of-the-one-four-one-t2308.html:1qlmd9jt]Ciara Austerlitz[/url:1qlmd9jt]
Akashi hooked her finger and grinned as she managed to get a high pitched whine out from Katsumi as she fingered her quickly. When she lifted her up, she sunk and hoped to slide her hooked finger along the inside of Katsumi's pussy and hopefully she was able to swipe her finger across Katsumi's clit. Akashi was focused on jolting Katsumi's nethers as sharply as possible while maintaining her dead wight status so when Katsumi' pulled her chest forward and slammed it inot her,s Akashi grunted and her tits wobbled and gave in, Akashi's top half arching backwards and momentarily throwing her off balance.

With Her back arched, Akashi saw Katsumi's ginger and swiveled her hips to avoid being jabbed. It gave Katsumi the opportunity she needed to grab Akashi by the waist and was held in position enough to allow Katsumi to slam into her with her pussy.

"GUH!" Akashi cried out in surpise as Katsumi's pussy forced a deep hot kiss with her own. her body shook and her knees when weak for a moment. She felt the cool wall against her back and clenched het teeth. She lifted her leg up to press the side of her thigh against Katsumi's hip.If Katsumi stayedclose, she couldn't wriggle free for now. She had to adjust herself to try and capture Katsumi's flower and over power it and hope that her recent orgasm could stave of Katsumi's attack for now.

She reached up with one hand and grabbed at Kastumi's wet locks. her other hand tried to grab at Katsumi's thigh and dig into it, trying to force her leg up so Akashi could thrust upwards into Kastsumi's pussy and begin grinding her down even in the worse of the two positions.
Katsumi half-gasped, half-snarled as Akashi's finger bumped her sexnub with a warm, electric jolt, but she still managed to grin in anticipation as the other sumo was finally forced back into her end of the shower. She let the young Tanikaze bounce off of her front for a moment, but kept her palms on the front of Akashi's pelvis to head off any attempt at escape. She wanted to savor the moment before engaging with such a well-matched and voluptuous opponent, locking eyes with her rival in a heated glare, their slick, steamy bodies mere inches and seconds away from pitched combat, woman-to-woman.

Resting her forehead against Akashi's and bumping noses in a clumsy Eskimo kiss, Katsumi exhaled a puff of warm air across her lover's lips. Everything stood out before her eyes in exquisite detail, the drops of water cascading down creamy skin, Akashi's pupils standing out like emeralds, and the lovely rosy blush tinting her opponent's cheeks. "Here we are, Akashi-chan," Katsumi whispered excitedly, "brace yourself, the real fun starts... now... Nokkota!"

Katsumi lunged forward with abandon, and this time the mighty Sadaji bore all of herself against Akashi. Two sets of bounteous breasts piled into each other and held firm, smooth muscled bellies slid and pressed together, a pair of delicious, panting mouths crashed together in an urgent kiss, and Katsumi's pussy powered heavily into Akashi's waiting womanhood. Lifting her hand to support Akashi's lifted thigh, Katsumi pursued her own sexual positioning, driving her pelvis between her rival's strong, muscled thighs, struggling to plow her hips between Akashi's and "bisect" her in their womanly war.

Her feet braced flat against the shower floor and crushing her compressed assets tighter and tighter into her pinned adversary, Katsumi began flexing and pumping her juicy buns into the grinding full-body embrace, fighting for the dominant "male" role in the clinching straining sex. All sense of visual detail was lost to the new challenging sumo as her mind became a roiling mass of raw lust, heat and sensation. It was another dream come true for Katsumi. Full battle had been joined.
_________________

Friction
[url=http://afwrpg.informe.com/forum/friction-roster-f10/katsumi-sadaji-daughter-of-the-dohyo-t2307.html:1qlmd9jt]Katsumi Sadaji[/url:1qlmd9jt], [url=http://afwrpg.informe.com/forum/friction-roster-f10/ciara-austerlitz-she-wolf-of-the-one-four-one-t2308.html:1qlmd9jt]Ciara Austerlitz[/url:1qlmd9jt]
Akashi heard her words and grinned at Katsumi's declaration. It seemed as if the girl was constantly wanting to step things up which was ok with her. Even with her back against the wall, she didn't feel like she was backed into a metaphoric corner. She'd been on the ropes in plenty of sex fights and she was sure that even now, even if she had to give up a few points now, it wouldn't be a lost fight.

The busty sumo let out a grunt, as Katsumi slammed into her. Her eyes widened as their pussies met. Their tits grinding together in a slippery mess as water cascaded over them.

"Ha-Haaah! " Akashi groaned and clenched her teeth before grinning. "Not... bad... Katsumi-chan.." She said as she was humped harder than she could remember in a long time. It was wearing her down pretty quickly and even after having just orgasmed recently, she already felt a new fire stoking in her loins.

As she felt the smacking and splashing, she tried to keep an even pant. Her mouth never loosing her grin as her eyes closed to focus on the pounding Katsumi was giving her. She had an idea. when she felt Katsumi grab her leg and she pushed off with her other leg and went to scissor Katsumi around the legs. Akashi was planning ahead for sure. By lifting herself up, shecould clasp her legs around Katsumi and try and squeeze some more stamina out of her. Not only that, but it would make it harder for her to hump as effectively. Even yet, Akashi's pussy, while a little more exposed, out have a better position to attack Katsumi's clit.

And finally, Akashi hoped to grab Katsumi's hair and pull her face into her ample chest. If Katsumi wanted to hump Akashi, she would have to do it in the comfort of the Sumo's hefty valley. Let's see if Katsumi thought getting this orgasm out of Akashi was worth it. Really, the thought was making her even hotter as she picked up the pace and moaned even louder.

"Oooohn... Katsumi-chaaaan"
Katsumi began to feel the heat as her opponent wrapped her legs tightly around her, but barely had time to compensate by breathing in a few deep lungfuls of air before Akashi's fingers twined through her raven locks. Katsumi did her best to resist; she needed as much focus as she could, she couldn't be buried in more arousal during this crucial battle! Still, the young sumo found her mouth pressed flush against Akashi's luscious breasts, and it took all she could to prevent her nostrils from being blocked, lest she lose all of her oxygen in the middle of a sexfight!

"Mmmff... mmn! MMMMMNNN!" Katsumi couldn't even voice her indignation. Despite her dominant position, she still felt like Akashi was so close to pulling ahead!

Then Akashi's positioning started bearing more and more of her weight onto the rival pinning her, and Katsumi knew she had to do something quickly or she'd tire out in no time at all. Shifting her hands from Akashi's thighs to her juicy glutes, Katsumi thrust in tightly with her hips, tightening their battling groins with another jarring clash, then tried to pile in even more with her whole body, calling on her considerable core strength from all her sumo training. She aimed to sandwich Akashi flat against the cool stone, trying to deny her opponent any leeway or leverage to thrust or counter. With this new level of pressure, Katsumi's pounding and thrusting turned into hard, relentless grinding, her tits pressing upwards against the underside of Akashi's chest while she licked, sucked, and nipped at her Tanikaze rival's bosom from above.

Finally, Katsumi felt her powerful clit unfurl from its hood as her pussy slotted and lapped against Akashi's formidable womanhood. Without so much as a warning or a second thought, Katsumi jammed her sexnub into Akashi's fucktrough, grinding and gliding her weapon along the inside ridges of her opponent's slit!
_________________

Friction
[url=http://afwrpg.informe.com/forum/friction-roster-f10/katsumi-sadaji-daughter-of-the-dohyo-t2307.html:1qlmd9jt]Katsumi Sadaji[/url:1qlmd9jt], [url=http://afwrpg.informe.com/forum/friction-roster-f10/ciara-austerlitz-she-wolf-of-the-one-four-one-t2308.html:1qlmd9jt]Ciara Austerlitz[/url:1qlmd9jt]
Akashi's adrenaline was starting to pump as she pushed against Katsumi's pussy. She had her back against the wall and Katsumi had taken a dominant position but yet, Akashi was feeling like she had the upper hand and was lookign to really take advantage of it. She let out hot, steamy moans as she felt Katsumi kiss and slurp up her tis even as they wriggled their sexes together.

Akashi could feel Katsumi pushing to turn the humping into a grind. That didn't bother her too much but then her eyes shot wide as she felt something. She was surprised that Katsumi's sex horn was so big as it slid between her lips. Aashi had been blessed with a fairly large one too but she didn't NEED it to win most sex fights. But she rarely met girls with such big clits and she could FEEL it forcing its way inside her and her eyes widened and she began to shiver.

"Oho shit! Oh Shit! Oh Shit!" Her voice quivered and she shook, gripping Katsumi's hair even tighter. Suddenly her position was a disadvantage. She couldn't trade blows with Katsumi's clit nor could she use her piercing to any effective advantag as she was roughly fucked.

"ooooh... Oh fuck you, bitch!" Akashi snarled as she threw her head back and squeezed her legs as tightly as possible. If Katsumi wanted this point, she'd have to sacrifice an awful lot to get it. Unfortunately, She'd get it pretty quickly.

"Fuuuuuunnnnghh!" Akashi howled as her body jerked and her pussy washed out, flooding Katsumi with her hot juices.
Katsumi couldn't help but grin in triumph as she felt Akashi's body seize up and begin to tremble after only a few minutes of her clit attack. She was quite grateful that she had found an opportunity to attack without having to force her big sexnub against Akashi's, or worse, have to pin it against that dreaded piercing. Still, her clitoris was the most sexually charged area of her womanhood, and feeling the warm slickness sheathing around her nub taxed her sexual endurance as she energetically tried to grind and thrust her way to her first point.

The strong sexy body plastered to hers began to shake with the impending orgasm, and as the grip on her midnight locks tightened but the downward pressure decreased, Katsumi managed to pull her face slightly clear of Akashi's luscious cleavage. "Uuhn! Uuhn! Yeah, mmm! Take it, Akashi, mnoohh! Feel my clitty pumping, feel the loooove!" Katsumi slid her face up her sumo lover's chest and nipped Akashi's neck, just above the collarbone, intent on leaving a hickey, on leaving a telltale mark that she had managed to plow a steamy climax out of her rival. "Me, Akashi? No, girl, I think I'M the one fucking you right now," Katsumi growled back, riding the building tide of excitement and rivalry between the two, "Bet this is a rare situation for you, isn't it? Being the Girl here instead of the Woman?"

Deep down, Katsumi knew what was going to inevitably come. One way or another, she wouldn't be filling the role of the Woman this entire session, much less this entire night. And when that happened, Katsumi wanted Akashi as heated, as fierce, and as pumped as she could get. If Katsumi was going to set herself up for a pounding, she had decided that it might as well be as heavy a pounding as possible.

Then Akashi's mighty legs crushed around her midsection, empowered by the orgasmic spasms, and Katsumi nearly lost her breath. Akashi was going to make her pay heavily for this first point, that much was certain. In retaliation, Katsumi fiercely crushed her bosom forward, attempting to grind Akashi's breasts down while the other woman was too occupied with her seizures of lust. Flexing her buttocks, she pressed her womanhood flush against Akashi's, awaiting the inevitable gush with near-instinctive anticipation. Akashi's sexual fluids drenched Katsumi's folds and washed her clitoris with decadent warmth.

Akashi's squeeze was steadily sapping strength and endurance from Katsumi, however, and the Sadaji rival quickly realized that it was too much of a long shot to try and keep Akashi pinned for a second point. With that in mind, Katsumi committed herself to a surprising course of action. Loosening her already weakening hold on Akashi's lush ass, Katsumi lowered her rival's body to be more even with hers. Then, without warning, she pulled her big clit out of Akashi's soaking pussy and, with a yell and a mighty thrust of her hips, she smashed her sexhorn forward, aiming for a stunning collision with Akashi's own clit and piercing. Katsumi had built up an incredible amount of sexual pressure that had not yet been relieved, and now she was driving for a course of orgasmic self-destruction, trying to force herself to cum before Akashi mustered up the strength and momentum to pin her against the other side of the shower. If Akashi was going to take her turn, Katsumi was going to do her best to enter the next pounding relatively "fresh."
_________________

Friction
[url=http://afwrpg.informe.com/forum/friction-roster-f10/katsumi-sadaji-daughter-of-the-dohyo-t2307.html:1qlmd9jt]Katsumi Sadaji[/url:1qlmd9jt], [url=http://afwrpg.informe.com/forum/friction-roster-f10/ciara-austerlitz-she-wolf-of-the-one-four-one-t2308.html:1qlmd9jt]Ciara Austerlitz[/url:1qlmd9jt]
Akashi shuddered as she reeled in her lusty orgasm. Her body writhed, barely able to attend to Katsumi's taunting and marking her body. She'd hate to have to explain a hickie wen she got home, not that getting home a day or two without saying anything would be easy to explain either but even though she was in a rather unique relationship, it still wasn't easy to try and explain some things. She wasn't thinking about the repercussions of this duel long term though. She was focused on the moment and right now she was taking it and taking it hard. She wasn't sure she'd ever been fucked like this before or would ever be fucked like this again, save for maybe later in the night.

She moaned hard and it seemed like her orgasm, or her sex juices might just never end.

"Haaaaaanngh! K-Katsuiii-chaaaaan!"

She howled and closed her eyes, letting out a girlish moan. She was still fucking her with that sex horn and it was unreal. For a brief moment she wished that Katsumi had a dick and was pounding her even harder.

But as she began to die down, she slumped against Katsumi. She was panting heavily and could feel the sweat on her body even through the shower. But soon her pants began to turn into growls and grunts. She was frustrated at being worked but her eyes went wide when Katsmi stabber her clit.

"S-Siiiit!"

She let out a loud grunt and lifted up her hand. She knew what Katsumi was trying to do and she tried to bring her forearm down to club Katsumi in the head and disorient her enough to push off the back of the wall and drive her shoulder into the sumo's chest and send her reeling away from her, but mostly away from her pussy.
Page 9 of 10 •

1, 2, 3, 4, 5, 6, 7, 8, 9, 10



Similar topics
---
Permissions in this forum:
You
cannot
reply to topics in this forum