Champions & #1 contenders
Highfly Flying Out Of Town
Tue May 22, 2018 1:31 am by HighFly
Hello everyone, I just wanted to inform all I have threads with that I will be gone from this coming Wednesday through Sunday. I won't be able to post consistently if at all during this time, but I will try to make up for it next week! I am sorry for the inconvenience to everyone.
Comments: 7
The Austrailian Mudslide is Back.
Sat Apr 21, 2018 6:20 am by Softsquad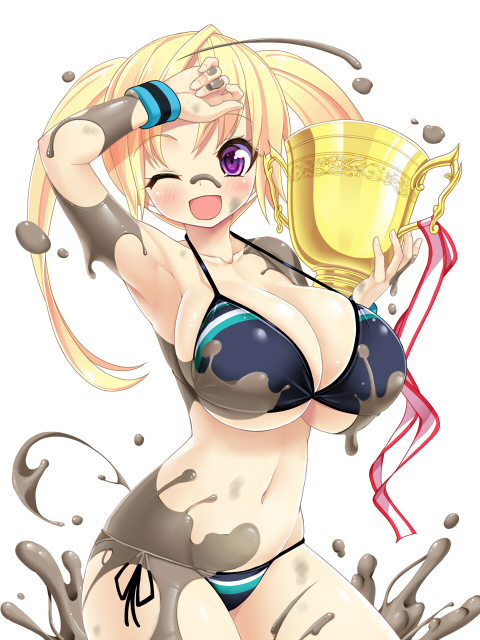 Granted that most of you won't know me or remember me, but I've had a few matches here and there some time ago. Well I think its time to become a regular around here and try to have some fun again, but at the same time keep coming back. Anyway I think its time to jump into some matches with Zoe Taylor, my mud wrestling character from Australia and get her back into the squared circle. Furthermore I will update my characters as I think some proper changes need to happen.
So if anyone would …
[
Full reading
]
Comments: 5
Page 2 of 10 •

1, 2, 3, 4, 5, 6, 7, 8, 9, 10


Katsumi giggled and blushed when Akashi caressed her hand with her soft fingers and lips, thankful as well that they were close to their destination already. "Here we are, Miss Impatience," she mocked jokingly as she turned right after the last light and into the parking garage located underneath the rather contemporary and westernized thirty-plus story building that belonged entirely to Lysandra's father just for her operations in the city. The fortunes and ownerships of the ICEPS heiress were not ostentatious in the slightest unlike that of so many other wealthy or aristocratic individuals: you never knew it existed to such an extent until you were brought to its benefits out of friendship or its power was brought to your doorstep in a shocking display of aggression.

Katsumi blushed in embarrassment nonetheless at this indirect indication of Lysandra's influential power before she was even primed to come into her inheritance. "Don't pay all this wishy-washy too much mind, Akashi-chan, most of the floors are intended as quarters for our father's employees or conference rooms." She drove upwards through four levels and parked the Audi at the top of the parking structure on the fifth level, pulling into one of the few reserved parking spots and opening the door. Already, a rather hardened-looking Western European man with a more natural mohawk-style haircut was walking over to the car, clad in a dark blue business jacket and matching pants, greeting Katsumi with a wave and opening the door for the young Sumo entirely. "Evening, Katsumi, day out on the town go well for yeh? The Boss Girl tol' us Ciara'd be back later, she di'i'nt hit too much trouble did she?"

The young Sadaji laughed lightly and patted the imposing yet friendly man on the shoulder as thanks. "Good to see you, John. A good afternoon, and I got a prize today. Is Gary in yet? Ciara got her nose in some badness again and I think she'll need a pick-me-up after getting one of Lysandra's tongue-lashings."

John sighed, his toned musculature obvious even through his relaxed and slightly disappointed demeanor, a good head and a half above even Katsumi and Akashi. "Wish that lass wouldn't stick 'er face inna a hole if she knows there's a snake in there. Hope there wasn't too much blood this time. But a prize, eh? Don' let me keep you any longer than I have to, let me handle those bags this time, no arguments, lass. Knowin' when a man wants to be chivalrous helps stoke the ego." He winked playfully at Katsumi, who giggled in response. "But Gary, huh? Last I heard from that boy, he had just finished up his last assignment out northwest, if you know what I'm saying. He should land here tonight, so be sure that one of us lets the wolf-girl know." He set his shoulders in a sporting and amusing manner, setting about opening the trunk and picking up both girls' belongings to bring into the building. "So who's your friend, Katsumi?"
_________________

Friction
[url=http://afwrpg.informe.com/forum/friction-roster-f10/katsumi-sadaji-daughter-of-the-dohyo-t2307.html:1qlmd9jt]Katsumi Sadaji[/url:1qlmd9jt], [url=http://afwrpg.informe.com/forum/friction-roster-f10/ciara-austerlitz-she-wolf-of-the-one-four-one-t2308.html:1qlmd9jt]Ciara Austerlitz[/url:1qlmd9jt]
Akashi was quite impressed when she saw the building that Katsumi pulled into. She marveled at its height and what she pervceived to be the spaceous interior. Akashi's family was fairly well off, but by no means would anyone know. All the money the family had earned throughout the generations went right back into Sumo, only allowing for a comfortable living for the family itself. Their fortune was investged into the stable they ran and into the Sumo community in general. She grinned at Katsumi. "Should I be the only impatient one?" She said slyly.

"Ahh, it's fine." She said waving it off. It didn't make her think any differently about Akashi. She learned in the AFW that social standing had nothing to do with ones ability to fight... or love for that matter. Sarah was one of the toughest girls she knew and she seemed to enjoy austere living.

Akashi stepped out of the car as well and watched the exchange between the two. She smiled and when she was addressed, bowed politely to John. "I am Tanikaze Akashi." She said and then grinned.
John smiled warmly and bowed respectfully to Akashi. "Pleasure t' meet you, miss. Hope you'll be enjoyin' your stay here. C'mon, girls, elevator's right this way." The three would set off across a contemporary covered walkway bridging the impressive parking structure and the main building then through a pair of glass doors to a lobby-like area with many polished brass doors for elevators, the marble floor, modern architecture, and intricate glass chandelier catching the eye.

"Quarters for us are on the top two floors, Akashi," Katsumi grinned, "I've been there a couple of weeks, beautiful view. Especially the bedrooms..." She snuck a sly look at Akashi as the closest elevator dinged open and John motioned the two of them in. John could have been rolling his eyes knowingly, but neither girl was in a position to confirm. Smooth tones of sensuous jazz filtered through the elevator as it hydraulically propelled the three upwards at impressive speed to the top of the building. Katsumi shuddered in appreciation. "Boney James, wonderful, wonderful music, just makes my day every time."

Finally, with a ding, the doors slid open on the 29th floor. There was a stunning wood-paneled foyer with definite metallic and contemporary influences, with a pair of white double doors. John led the way and opened the door, revealing a [url=http://www.greatinteriordesign.com/eco-friendly-interior-design/eco-friendly-nyc-penthouse-interior-design/#more-3276:crk4q1vx]beauteous modern penthouse, complete with several bedrooms of the like and an incredible view.[/url:crk4q1vx]

Placing the girls' belongings next to the entrance quietly as not to interrupt Akashi's observations, John leant over to Katsumi, whispering in a reassuring voice. "Don't worry none about anything in this building, miss. If you need anything, Mark, Abbott, Griffen, Arnett, and I will be a few floors down. Play nice, Kat, an' see you later."

"I always play nice," Katsumi winked at John, "and tell the others I said hi." John gave her a silent two-fingered salute and strode quietly out the door, shutting it silently behind him.
_________________

Friction
[url=http://afwrpg.informe.com/forum/friction-roster-f10/katsumi-sadaji-daughter-of-the-dohyo-t2307.html:1qlmd9jt]Katsumi Sadaji[/url:1qlmd9jt], [url=http://afwrpg.informe.com/forum/friction-roster-f10/ciara-austerlitz-she-wolf-of-the-one-four-one-t2308.html:1qlmd9jt]Ciara Austerlitz[/url:1qlmd9jt]
Akashi greeted John with a pleasant smile. "A pleasure." She said and followed the two to the elevator. Akashi took her time to look around the place in wonderment and returned Katsumi's sly grin when she spoke of the bedrooom. Easing into the elevator, she quietly looked over Katsumi as they rode upwards. When she said how much she liked the music, Akashi blushd and lowered her head. "A bit too modern for me..." She said softly. Akashi basically listened to classical Japanese music, adoring the twang of the Samisen. She really was stuck in the 1700's and let out a soft sigh at the thought.

Akashi was once again floored when she stepped out of the elevator and marveled at the living space. She looked around with wide eyes, barely paying any attention to the conversation, the two were having. It wasn't until she heard the click of the door that she snapped out of it and looked to see that Katsumi was the only other one in the room.

Akashi closed the distance quickly and without a word would reach out and spin Katsumi to face her. "C'mere you luscious hunk of sumo." She said in a husky, lust filled voice. Pressing their foreheads together, she searched Katsumi's eyes briefly before smiling. "Don't make me wait any longer. She said before forcing her lips against Katsumi's
Katsumi's body stiffened and her eyes glowed with arousal as Akashi kissed her with passion. She gazed back at her new lover with undisguised intent, then closed her eyes for a moment as she aggressively forced her mouth back into the other sumo's. She pressed her body vigorously against Akashi's and wrapped her arms around the small of the girl's back, hauling Akashi back towards one of the white couches, half-lifting and half-muscling the other woman towards the comfy cushions and tugging insistently on the rim of Akashi's hakama pants the entire time.

"Make you wait? You're going to be the one forcing ME to wait after I ravish you out of your senses. Hope you didn't use up most of your strength during our spar, Akashi, because the real workout starts NOW."
_________________

Friction
[url=http://afwrpg.informe.com/forum/friction-roster-f10/katsumi-sadaji-daughter-of-the-dohyo-t2307.html:1qlmd9jt]Katsumi Sadaji[/url:1qlmd9jt], [url=http://afwrpg.informe.com/forum/friction-roster-f10/ciara-austerlitz-she-wolf-of-the-one-four-one-t2308.html:1qlmd9jt]Ciara Austerlitz[/url:1qlmd9jt]
Akashi was surprised when Katsumi lifted her but she let her be carried to the couch and merely enjoyed the kiss, forcing her tonguue deep into her fellow sumo's mouth and letting a soft moan escape her lips. While Katsumi tugged on her pants, Akashi pulled at the modified boxer robes hoping to shed them off as quickly about her.

She looked up at Katsumi with lusty eyes as she fell against the couch. "No matter how physically beat my body is from a fight or anything else, there is always enough life left in it for passion." She challenged. "I hope you aren't all worn out. I don't want to just fuck a corpse. I like em lively." She then reached upo and grabbed Katsumi's ass and squeezed and pulled her forward so that the sumo could fall onto Akashi and they could realy begin.
Katsumi moaned in arousal as Akashi's tongue plunged into her mouth and pressed their lips together firmer and wider, opening their mouths up into a fully open-mouthed kiss and exhaled her warm sweet breath down Akashi's throat. She gave pause from her attentions to Akashi's bottoms to help her sumo lover get rid of her robes, shedding it with one arm then the other, leaving her flesh stunningly bare save a pair of tight black satin panties, the only garment that Katsumi had changed into from her mawashi in the locker room. Her luscious breasts spilled into view, deliciously full and juicy, nipples hardening in anticipation and lust.

The young Sadaji was so turned on that her lovestruck stare seemed to heat the air between the two young women. Then Akashi voiced her challenge and Katsumi's eyes lit up with a whole new surge of competitiveness that mingled with her arousal. "Alright, Akashi-chan, you asked for it. As far as sex goes I'm practically fresh; it's not even dinnertime and I'm ready to grind with you until morning. You've finally got a partner in your weight class, you don't get to dominate a smaller gal this time. You're gonna feel what it's like to have another big, strong girl on top plowing you into oblivion. Bring your 'A' game, Akashi, because if you sex softer than you wrestle, I'm the one that's going to be doing all the fucking right up until you black out. You've had lively before, but get ready for some REAL lovin'."

She growled in libido-fueled aggression as Akashi's hands latched onto her juicy glutes, and this time, she didn't protest. Akashi didn't so much pull her forward as Katsumi thrust her body down onto her partner, slamming Akashi into the big soft cushions. Hips crushed together, a naked pair of breasts pressed insistently against a pair partly wrapped in a kimono, and Katsumi's mouth descended onto her fellow sumo's throat and neck, kissing and sucking on the firm skin and muscle there energetically. She writhed against the woman under her for a few heated minutes, then she growled again, partly from lust and partly from frustration.

She separated her upper body from Akashi's and latched her hands onto her lover's kimono, her fingers gripping firmly onto the cloth and brushing appreciatively against the wearer's warm breasts. "This is in the way," she stated simply, then pulled her hands apart. She didn't rip the other girl's clothes apart, Akashi had to get home eventually, after all, but despite her care, Katsumi's impatience was felt in the strength of her pulling, and within moments, the kimono was open enough so that both women's chests were bare, big and proud in the evening light. But a kimono was a kimono, and it took a little longer for Katsumi to move her hands towards Akashi's back and undo the obi wrapped in the back, tossing the garment to one side and finally flinging open the Japanese robes.

Katsumi grinned with anticipation as she gave Akashi's bare upper body an appreciative once-over. "That's more like it," she whispered huskily, then she threw herself onto Akashi, intent on continuing her rough lovemaking, her flesh crushing down on her lover's skin anew. "Hope you don't have much against long-term nudity, Akashi-chan, because as far as I'm concerned, that kimono's not going back on until tomorrow."
_________________

Friction
[url=http://afwrpg.informe.com/forum/friction-roster-f10/katsumi-sadaji-daughter-of-the-dohyo-t2307.html:1qlmd9jt]Katsumi Sadaji[/url:1qlmd9jt], [url=http://afwrpg.informe.com/forum/friction-roster-f10/ciara-austerlitz-she-wolf-of-the-one-four-one-t2308.html:1qlmd9jt]Ciara Austerlitz[/url:1qlmd9jt]
Akashi too, moaned at the kiss, lovign every minute of it. But she knew there were some formalities that needed to be taken care of before they could really get down to business. When she fetl Katsumi stopp tugging at her hakama pants, she opened an eye and watched the girl cast off the robe, revealing mo like a horny school girl, wanting every bit of the girl's glorious naked body.

She panted as they stared each other down in lusty challenge, her breaths urging Katsumi to take her up on her offer. Her eyes falling to the delicious melons that gently wobbled as Katsumi spoke, Akshi needed to seize them soon. She then grinned. "Fortunately... or maybe unfortunately for you... I think i might even fuck harder than I wrestle. Just make sure you can keep up. I definitely still have some surprises in stor for you."

As Akashi pulled Katsumi forward, she pushed her face into Katsumi's mounds and began to kiss them roughly, bringing her hand up to touch and grab them whille Katsumi undid her obi sash. Her kimono practically melted away as she sdid, not resisting Katsumi's efforts. She moaned when her neck was kissed hard and squeezed the breast that was in her hand, desiring every bit of what she was getting.

"Tear if off then." Akashi grwled back, not really caring if she had to walk home naked at this point, enjoying the sweet scent of the sumo's expoed flesh and relishing in the site of it. She continued to Assault katsumi's breasts, taking oneup and lipping and sucking at one of the nipples hard, even biting down on it a bit. "She ereleased the breast enough to look up at Katsumi. "Heh... You've seen my matches. Sometimes i don't even bother with a top. If it wasn't for the sake of decency i doubt I'd wear much of anything." She purred. She pulled her own hakama pants down once the sash was off and revealed a pair of silky green panties hugging her form.

Her hands then slid up against Katsumi's hack until they were aorund her neck and she pulled her in roughly, pressing their breasts together. "They need to meet again, knowing that it's a different experience this time around." She said about their breasts. They ground each other down int he match earlier btu this time they would be trying to force out pleasure, not pain.
Katsumi thrust firmly into Akashi's embrace, driving the other girl back into the cushions and pinning the sumo in a full-frontal press. Her body pin soon turned sensuous as their big fleshy tits ground into each other, compressing and molding to each other, building a wonderful husky warmth between the girls' chests. Katsumi asserted her position on top before she went any further, shifting both of her thighs on the inside of Akashi's and resting their crotches together so her black-clad nether regions nestled seductively against Akashi's green-clad ones.

Then Katsmi began thrusting herself back and forth using her thighs, hips, and legs to anchor her, rubbing and smoothly dragging her breasts over Akashi's, reveling in the soft feel, both the erotic give and the exciting firmness as they smooshed their bosoms together, shivering as their nipples and areolae teased, flicked and slid past each other, sending electric shocks through both their bodies. She wrapped her arms around and behind Akashi's back, grasping onto her partner's shoulders as she thrust harder and firmer, crushing their chests into one and pressing Akashi into the sofa. "Meet again indeed," Katsumi purred as she attended to their chests, "perhaps some peaceful interaction after the battle they fought earlier. Mmmh, so good..."

She felt her expectant hips tickle against the exposed skin of Akashi's pelvis, felt the smooth sliding of their stomachs as they rubbed back and forth. Katsumi nuzzled into Akashi's cheek, then trailed firm, needful kisses up Akashi's jawline straight to her mouth. Then licking her lips, she smashed her mouth into Akashi's as she powered her body downward into her fellow sumo with renewed force, pressing Akashi's upper lip between both of hers and kissing vigorously.
Last edited by 883 on Mon May 10, 2010 7:05 pm; edited 3 times in total
_________________

Friction
[url=http://afwrpg.informe.com/forum/friction-roster-f10/katsumi-sadaji-daughter-of-the-dohyo-t2307.html:1qlmd9jt]Katsumi Sadaji[/url:1qlmd9jt], [url=http://afwrpg.informe.com/forum/friction-roster-f10/ciara-austerlitz-she-wolf-of-the-one-four-one-t2308.html:1qlmd9jt]Ciara Austerlitz[/url:1qlmd9jt]
Akashi's body began to shiver with pleasure as her fellow sumo began to press into it. Their magnificent tits pressing up against each other, their erect nipples occasionally meeting and touching. Everything was absolutely wonderful about it. Her eyes fluttered as their womanhoods pressed together, only a scant bit of fabric seperating them from the most intimate of positions. She pushed her hips upward when Katsumi pushed downward, loving the feeling of pressing their pussies together.

"Hai..." She whispered in a sharp lusty tone in response to Katsumi;'s words. "Allow them to make love as one and as part of the whole." She inssisted as she rocked her right shoulder up and pressed her side into Katsumi's. She knew the sumo was trying to hold her down and she wasn't going to simply allow it. She gasped as kisses were placed on her, but brought her legs up and wrapped them around Katsumi's hips, for the moment, exposing herself to Katsumi but as the girl kissed amnd pressed against her for a deeper experience, her own tongue lashing out to greet Katsumi's in a fierce but passionate kiss, she slid her hand down and supported herself to try and rock and shove Katsumi onto her side. She wasn't aiming to trade places, or even necessarily staty on the couch. for all Akashi cared, she would fuck this beautiful woman anywhere and everywhere, she just wasn't going to submit like that. All she was really ioping for, at the moment, was for Katsumi and her to shift to being ont heir sides.
Page 2 of 10 •

1, 2, 3, 4, 5, 6, 7, 8, 9, 10


---
Permissions in this forum:
You
cannot
reply to topics in this forum