Champions & #1 contenders
Summer Splash interest in Natasha Loclear?
Mon Apr 09, 2018 11:30 pm by daemongirl
Well my girl hasn't missed a summer splash yet, would anyone be interested in a match with her? Open to just about anything match wise, just pm me!
Comments: 1
Been Out with the Flu
Sun Apr 22, 2018 7:47 pm by daemongirl
Just letting those I have threads with know I've been out with the flu since early last week, but I will be back to posting tomorrow.
Comments: 0
The Austrailian Mudslide is Back.
Sat Apr 21, 2018 6:20 am by Softsquad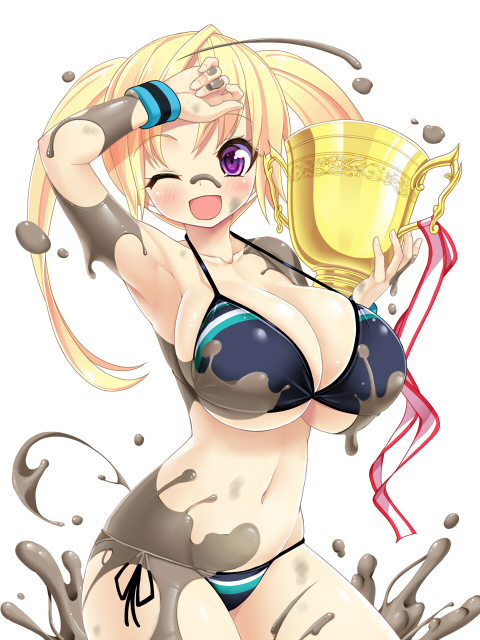 Granted that most of you won't know me or remember me, but I've had a few matches here and there some time ago. Well I think its time to become a regular around here and try to have some fun again, but at the same time keep coming back. Anyway I think its time to jump into some matches with Zoe Taylor, my mud wrestling character from Australia and get her back into the squared circle. Furthermore I will update my characters as I think some proper changes need to happen.
So if anyone would …
[
Full reading
]
Comments: 0
Page 6 of 10 •

1, 2, 3, 4, 5, 6, 7, 8, 9, 10


Katsumi smiled mockingly down at Akashi as she let her legs spread wide. "Well, regardless if you're a prodigy in sexfighting techniques like Yatori or if you simply brute-force all your lovers into quivering heaps of sex and flesh, this is the only drink that you can nab this evening before there's a price to pay. You'd better lap it up while you can, my lady."

Then Katsumi's entire body stiffened as Akashi administered her first deep tonguing, biting her lip to keep from wailing in ecstasy. Then Akashi pressed deeper into her, and her lusty, desperate moaning renewed in earnest. "Aahhh... don't le-anh! Don't let Ciara know that...mmm...I gave out a freebie, Aka-nnhh, 'Kashi-chan. She might get a bit...unh... jealous..."
_________________

Friction
[url=http://afwrpg.informe.com/forum/friction-roster-f10/katsumi-sadaji-daughter-of-the-dohyo-t2307.html:1qlmd9jt]Katsumi Sadaji[/url:1qlmd9jt], [url=http://afwrpg.informe.com/forum/friction-roster-f10/ciara-austerlitz-she-wolf-of-the-one-four-one-t2308.html:1qlmd9jt]Ciara Austerlitz[/url:1qlmd9jt]
Akashi grinned as Katsuumi's juices dribbled downt he side of her cheek, smarign against her face. She pulled away just to lick her face off for a moment, looking up to Katsumi before winking. "Oh don't worry, lover." She said in a sultry tone. "My lips are sealed. They're far too occupied to go running off and spilling your little secret anyway." She kissed Katsumi's inner thigh before taking an intentionally audible breath and plunging into Katsumi's sex once more. She was going to invade every last inch of the inside of Katsumi's sex until she exploded. And like one of those pearl divers, she had developed quite a technique for extended voyages without oxygen.
Katsumi opened her mouth to respond one more time, but then Akashi dove in and began to absolutely devour her nether regions, and all that escaped her throat was a scream of overwhelmed ecstasy. She felt Akashi's tongue plunge in anew and thrust, drive, and drag itself along almost every surface, every fold within her, heating the flame of lust that was building, bubbling up in her core.

Katsumi only lasted a few moments before her eyes rolled upwards, letting go of her tension and allowing the waves of sexual joy to radiate through her body, awaiting the powerful orgasm swelling within her body. Slowly and firmly, Katsumi rocked her hips forward into Akashi, impaling herself again and again on her lover's warm tongue.
_________________

Friction
[url=http://afwrpg.informe.com/forum/friction-roster-f10/katsumi-sadaji-daughter-of-the-dohyo-t2307.html:1qlmd9jt]Katsumi Sadaji[/url:1qlmd9jt], [url=http://afwrpg.informe.com/forum/friction-roster-f10/ciara-austerlitz-she-wolf-of-the-one-four-one-t2308.html:1qlmd9jt]Ciara Austerlitz[/url:1qlmd9jt]
Akashi could taste everything inside of Katsumi and is was so wonderfully delicious. Her fingers dug into Katsumi's thick sides as she pressed her face even deeper into Katsumi. The bridge of her nose ached because of how hard it was pressed against Katsumi's clit. Almost geyserlike, her nose woulf occasionally flare and release a huff of hot carbon dioxide against Katsumi's womanhood.

"hnnnghh... mmmnn... ghhnn..." Like a hungry beast she made noises as she devoured Katsumi's sex. Her own pussy was practically dripping and her panties were even stickier against her pussy. She felt the initial tremors of Katsumi's impending orgasm and opened her mouth to take in the juices. She wanted it. She needed it. Her body ached so badly with desire if she were a lesser woman, she might just have a mini orgasm because of how hotly she was devouring Katsumi. Katsumi's yell pierced her body and made her tingle with pleasure. It made her hungrier, more zealous to feed off of the woman's juices as her knuckles were practically white with how hard they pressed into Katsumi's thighs.
Katsumi's mind and body were assaulted by waves of pure bliss as Akashi continued to lay into her sex like a hungry predator, punctuated by the warm exhaling against her lips and clit. Steadily, agonizingly, wonderfully, Katsumi's powerful physique began to tremble, the earthquake-like spasms in her stomach, legs, and pelvis making the sumo feel like she was going to crumble under the wonderful pressure. She felt herself so very close to the edge, the boiling pressure within her becoming searing and irresistible.

With a final surge of strength against the pure lust that was stripping control from her muscles, Katsumi propped her body up, clenching her abs and pushing down on the table with her left hand, and wrapped her right arm around Akashi's head, pulling her in and running her fingers tightly, roughly through her partner's locks. Katsumi clenched her inner muscles, trying to trap Akashi's tongue and stave off her shattering orgasm at the same time. One agonizing second passed, then another, and another...

Then Katsumi's dam broke, and the sumo's world went white for several blissful moments as she moaned and screamed through her entire climax, her sex gushing with that delicious lubrication. Her thighs involuntarily clamped down with surprising force, the muscle and flesh of both legs firmly squeezing Akashi's head between them, and Katsumi fell backwards, digging both her hands into Akashi's hair and arching her back, her huge breasts bouncing and shimmering with perspiration. "IEEEAAAAHHHHHH!! UUUHHHHNNN! KAASHI! OOOOOOOHH..."
_________________

Friction
[url=http://afwrpg.informe.com/forum/friction-roster-f10/katsumi-sadaji-daughter-of-the-dohyo-t2307.html:1qlmd9jt]Katsumi Sadaji[/url:1qlmd9jt], [url=http://afwrpg.informe.com/forum/friction-roster-f10/ciara-austerlitz-she-wolf-of-the-one-four-one-t2308.html:1qlmd9jt]Ciara Austerlitz[/url:1qlmd9jt]
Akashi felt Katsumi tighten a grip on her hair. It hurt. She winced through her efforts. She even felt Katsumi press her arm against her, pushing her forward. Akashi smiled at this. She was close enough. It tasted so good. She wanted more. Much more. But when she felt Katsumi's inner walls fold against her tongue, her eyes widened. Was she still trying to fight this?" Akashi furrowed her brow, her nails digging into Katsumi's thigh flesh. She huffed raggedly against Katsumi's mound with her nose, sucking in a hot and intoxicating oxygen, nearly cut off by Katsumi's wet sex and taught and thick thighs.

But soon, as she felt the rumblings from Katsumi's orgasm, Akashi's world went black. Katsumi's legs were tightly crushing her head, closing off light and making her dizzy from the strength. Juices poured out of Katsumi and into Akashi's mouth and everywhere on her face. The hot and sticky juices flowed freely and she drank them up, swallowing hard as it coated her tongue with her lover's delicious juices. Katsumi's thighs had clamped down so tightly that she barely heard the moan. But she knew well enough. She continued to lick, riding out Katsumi's orgasm before lack of oxygen caused her to push hard at Katsumi's legs.

Akashi would free herself and fall to the ground, panting hard. "Holy shnit." She would say pressing her hand to her breast, her face soaked with Katsumi's juices. "Damn.." she said looking up with a haggard grin. "That was almost as good for me." She grinned even wider. "You're so delicious, lover." She said with a wink as she ran a finger along her cheek and licked off some more of Katsumi's sex. "You really did fill me up to.... at least for now. But there's someone else who needs satisfied..." She said as she ran her finger along her soaked panties.
As Katsumi recovered, she suddenly noticed Akashi's struggles to free herself from her thighs' iron grip around her lover's head and gasped in alarm. Even as some "aftersex trembles" still rippled through her body, Katsumi hastily opened her legs to allow Akashi some well-deserved air. "'Kashi-chan!" she exclaimed as the other girl caught her breath "I'm so sorry! Are you all right? My body tends to get ahead of itself and all..."

Katsumi sighed in relief that Akashi's appetite for their lustful endeavors hadn't diminished, then began to lick her lips at her partner's offer. She certainly was hungry... but...

The young sumo hopped off the counter, knelt, and lovingly licked Akashi's face, reveling in her own taste upon the Tanikaze's beautiful skin. She kissed Akashi briefly on the lips, wrapping one arm around her shoulders, then drew back slightly and giggled. "I shall take you up on that, 'Kashi-chan, but I have to make sure of something first..."

Grabbing both of Akashi's legs behind the knee with her free hand, Katsumi gave a grunt and a heave of her powerful sumo body, lifting Akashi off the ground to carry her bridal-style. "I have to make sure that we relocate first," Katsumi half-teased, half-explained, "It wouldn't quite do if Ciara and Lys got back from 'lecture time' early and found us taking each other repeatedly in the kitchen. Better safe than sorry!" Katsumi began to make her way towards the master bathroom on the penthouse's first floor, occasionally craning her neck forward to nuzzle Akashi's head playfully. "Besides, 'Kashi-chan, how many girls have held you in their arms quite like this?"
_________________

Friction
[url=http://afwrpg.informe.com/forum/friction-roster-f10/katsumi-sadaji-daughter-of-the-dohyo-t2307.html:1qlmd9jt]Katsumi Sadaji[/url:1qlmd9jt], [url=http://afwrpg.informe.com/forum/friction-roster-f10/ciara-austerlitz-she-wolf-of-the-one-four-one-t2308.html:1qlmd9jt]Ciara Austerlitz[/url:1qlmd9jt]
Akashi looked up and grinned at Katsumi. "Going to take more than those big sexy legs to put me down." She said with a grin. 'Thanks for being concerned but I'm a big girl. Don't worry about that hot body of yours. I can handle it." She said sliding in an underhanded jab at Katsumi. Akashi grinned as Katsumi took some of her own juices off of Akashi's cheek. She did the same and sucked on her finger sensually.

"mmmmmm... You 're so delicious." She said with a grin. She pressed har into the kiss when it came, enjoying the feeling of their lips pressing together. She grinned at the touch from Katsumi's hand on her shoulder and pouted a bit when Katsumi pulled away. Katsumi's eyes suddenly widened as she was hefted up bridal style. "Oh. oooh!" She squealed a but and then grinned. "Oh my..." She said in a lusty tone as she was carried. She wrapped her arms around katsumi's neck and began to kiss at her neck affectionately.

"nnnn You're so big and strong. Can't say that I've been carried to the bedroom before." She admitted. "It almost makes me want to see what else you're capable of doing. nnn..." Akashi nibbled on Katsumi's ear a bit as she was carried. "But what fun would it be letting you do whatever you wanted to me. un uh.. though... if you ask nicely I might let you have a freebie. It's the least I could do since you were so kind enough to quench my thirst with that delicious pussy of yours."
"Hoh? Bedroom already? Don't be so impatient," Katsumi purred back, "We're not pounding the mattress flat juust yet, Akashi-chan. There's something I'm just dying to try out with you, and if we did it on the king-size, we'd soak the whole bed through. But I know you'll love it just as much as I will, and perhaps we'll find out if you indeed can 'handle' me, my little challenger."

Katsumi moved into the master bedroom, but barely spared the king-sized bed, the balcony, or the beautiful skyline view of the cityscape a second glance. Instead, she carried Akashi into the unnaturally spacious master bathroom, which boasted everything from smooth marble sinks to varieties of soaps and shampoos to a deep, spa-like bathtub. The young sumo gently set her partner down on a soft cushioned stool next to one of the sinks, and from Akashi's new point of view, it appeared that there was a pair of rectangular pillars in the center of the bathroom from floor to ceiling, especially because the lights were turned off and the curtains drawn.

Katsumi turned around, took a quick look, and sharply clapped her hands twice, quickly brightening the room with the sound-activated lighting. "Ah, sorry for the showiness, Akashi-chan, if Lys has one weakness, it's her willingness to spoil herself and her friends. Who knew that someone so tough could love so much luxury?" As the lights scoured the darkness from the corners of the bathroom, Akashi could clearly see what actually took up the center of the room… and why there was so much space in the bathroom in the first place.

It was a huge shower! There were two massive polished granite slabs about 9 feet apart from one another, 6 feet wide, and around 3-4 feet deep, embedded in both the floor and the ceiling. Each slab sported a big, wide faucet in the center and a set of knobs for volume and temperature control placed high and to the side. Two glass and stainless-steel assemblies of sliding doors closed off the non-granite sides of the rectangular shower area, compete with racks for towels. The entire shower floor was padded with waterproofed vinyl to prevent any slipping, and the multiple drains set into the bottom of the shower implied that the faucets were capable of letting loose a very heavy volume of water.

Katsumi turned back to Akashi and grinned, and this time, there was a hint of steel in her eyes and a thinly-veiled tone of challenge in her voice. "Here we are, 'Kashi-chan. Here's the testing ground. I know we've already had showers, but I'll be honest with you, even if I managed to find a place to do it OUT of the shower, we'd both need another good rinsing before moving to the bed. Besides," Katsumi continued as she began to kneel in front of Akashi's stool, "I've done it with Ciara several times before, here. I know that it'll be perfect here for you and me."

Katsumi took hold Akashi's green panties, grabbing them on each side of her partner's waist, and started tugging on them firmly, her eyes looking up expectantly at Akashi. "And 'Kashi-chan, these have to come off, now. I need you bare for this. It wouldn't be even if you have even a little bit of 'protection' down there."
_________________

Friction
[url=http://afwrpg.informe.com/forum/friction-roster-f10/katsumi-sadaji-daughter-of-the-dohyo-t2307.html:1qlmd9jt]Katsumi Sadaji[/url:1qlmd9jt], [url=http://afwrpg.informe.com/forum/friction-roster-f10/ciara-austerlitz-she-wolf-of-the-one-four-one-t2308.html:1qlmd9jt]Ciara Austerlitz[/url:1qlmd9jt]
Akashi nuzzled against Katsumi's neck and began to suckle on her ear a bit. "I wasn't trying to be presumptuous, lover." She said with a husky voice. So content to bath in Katsumi's scent and strong arms that she barely even noticed where she was being carried to until she was finally set down. But she was set down in the near dark. She looked around, not sure what to make of the situation until Katsumi clapped and the lights came on in a burst. She was caught blinded for a second and raise her hand to cover her eyes. "Ah..." She huffed and looked around as the dots faded from her vision.

But as she took it in, her eyes widened. "Holy crap." She said. She never thought she would be able to make enough to afford half of this in her lifetime. She then looked slyly over at Katsumi. "Showers are always good, Katsumi-chan." She said with a grin and then raised an eyebrow. "Oh? Was it as spirited between the two of you as it is between us?" She said with a grin. Maybe she'd have to see for herself one day.


Akashi then gasped as Katsumi suddenly tugged at her panties. She then sighed. "It's... fine." She said blushing a bit. "You were going to have to see eventually anyway." She then grinned. "I don't know if taking them off is going to level the playing field though." She said and took Katsumi's hands and pushed the panties down. There her exposed sex, which was perfectly shaved, revealed something else. A glinting piece of metal was protruding through the top of her pussy. She had gotten it one night when she was drunk off her ass. The same night she got the tattoo that she now sported on her back shoulder.

"Eheh..." Akashi chuckled nervously. "I mean... it's not like I got it because I'm a huge slut...' She said as she blushed a little. "It... was just a crazy night and ... you know how these things go..." Akashi nervously pushed her foot back and forth. "Honestly... I've been looking forward to trying it out on you." She said as she looked up at Katsumi with hopeful eyes. "So.. I kind of wanted to surprise you and wait until we tribbed." Akashi grinned. "I hope you don't think I'm cheating!"
Page 6 of 10 •

1, 2, 3, 4, 5, 6, 7, 8, 9, 10



Similar topics
---
Permissions in this forum:
You
cannot
reply to topics in this forum