Who is online?
In total there are
26
users online :: 5 Registered, 0 Hidden and 21 Guests :: 2 Bots
Cy_Man
,
Harrier
,
Mystery Dragon
,
TiefBlau
,
Yori
Most users ever online was
390
on Tue Jan 02, 2018 2:02 pm
Champions & #1 contenders
Summer Splash interest in Natasha Loclear?
Mon Apr 09, 2018 11:30 pm by daemongirl
Well my girl hasn't missed a summer splash yet, would anyone be interested in a match with her? Open to just about anything match wise, just pm me!
Comments: 1
Been Out with the Flu
Sun Apr 22, 2018 7:47 pm by daemongirl
Just letting those I have threads with know I've been out with the flu since early last week, but I will be back to posting tomorrow.
Comments: 0
The Austrailian Mudslide is Back.
Sat Apr 21, 2018 6:20 am by Softsquad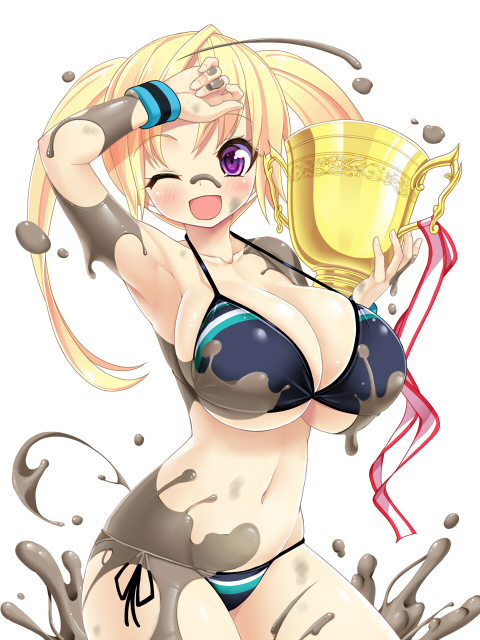 Granted that most of you won't know me or remember me, but I've had a few matches here and there some time ago. Well I think its time to become a regular around here and try to have some fun again, but at the same time keep coming back. Anyway I think its time to jump into some matches with Zoe Taylor, my mud wrestling character from Australia and get her back into the squared circle. Furthermore I will update my characters as I think some proper changes need to happen.
So if anyone would …
[
Full reading
]
Comments: 0
Page 1 of 6 • 1, 2, 3, 4, 5, 6


It was late in the night, the clock had certainly reset from twenty-four hundred and began anew, working its way up from the lowest numbers. The lights were almost all out, save for the red glow of the exit signs that always operated in the locker rooms. The locker room was almost entirely empty as most girls were sleeping or partying out at some bar. Almost entirely empty was not entirely empty, however. The sounds of a shower operating deep within the belly of the locker room was the only sign of life. She sat alone in red glow under the singular shower. This cleaning and grooming had taken hours now. Every last drop of makeup was now removed from her face. Her hair was so rinsed clean that it was now almost fragile from over cleansing. Skin had become soggied with water.

Her throat ached from the screaming, and her body from the searching. A minor laceration on her right middle and index knuckles had begun to trail a dark red ooze down her fingers... A matching mark on the tile wall suggested the culprit of her wound. Hair was let down, not in her signature twin-tails, and splayed out across the ground. Arms had wrapped around her legs and drawn them close, her chin set squarely upon her knees. Magma red orbs stared through the falling droplets of water to the wall, for lack of anything else to focus upon.

She had missed a match. A nice electric cage match that she had set up with a one Vivien Babineaux. It would have been a great way to prove her ability and recruit another. But she had not shown up for it, and after waiting for an hour, the match was called off. The Historian had forfeited the match.

_________________
I'm not new. I'm back.
Lu Jiao Jocelyn was a little angry as she stomped through the halls of the AFW backstage area. However, this was nothing new for the Chistrailian. She often wore a scowl and even people who knew her found themselves hard pressed to be able to recall in recent memory when she had genuinely smiled. It was late and she was getting tired. She scanned the empty halls looking for anyone to run across, to 'bump into' and make her mood even worse. She'd been fighting at the bars earlier and now was sobered up and grumpy, a little sweaty and looking to cool off in more ways than one. Thankfully for her, even if there was nobody around, the AFW facilities were open. She often wondered who could afford such a spectacular facility which served as both an arena and sometimes a half-way house to wayward wrestlers, much like herself at the moment.

She finally made her way to locker rooms and found hers, opening it up and lookign through it. She sighed. The water would feel good, then she could just go and lay down and sleep and forget about the day's troubles for an evening. But as she was about to strip, she heard the water running. It was odd for someone to be in the shower this late. Maybe there were two people havign some fun? Jocelyn's face blushed at the thought of two lovers stealing away tot he showers for a midnight tryst. That sort of thing was definitely commonplace around here.

"Well.. for everyone else..." She muttered to herself and clenched her fist angrily. She then turned her head and listened. She was about to call out for them to get a room but after a good solid two minutes of listening she heard only the silence and running water. She frowned. Maybe someone had just left the shower on? There were certainly careless people like that. She shrugged and slipped off her clothes.

She grabbed a towel and threw it across the rack as she stepped into the shower. At least with the water running it would probably already be at a nice temperature. But when she stepped in, she saw a girl sitting on the ground. Jocelyn's eyes widened. "W-what!" She exclaimed as her cheeks reddened. Her hands instantly went to her breasts and crotch, covering up her private parts as her face scowled. "Hey! Get the fuck up and get out of here, bitch! This isn't a fucking lounge, it's a shower!" She spat the words venomously, not recognizing Yi in her current state.
She didn't hear a thing beyond the sounds of falling droplets around her. So when the locker was opened then closed and the foot steps padded into the tiled shower, she was entirely oblivious. The demands of another woman would be the first thing to awaken her from her depression. Magma red eyes refocused as her mind realized that something about the environment had changed and her eyes had not reported the change. The tiles still looked the same, albeit the red streak had finally reached the ground. Slowly, her head lifted up taking her chin from her knees. "Leave me be," she replied before even looking to see who it was. It could be Sarah Gatt for all she cared.

Of course, it wasn't. Sarah always made quite an entrance with a camera crew, and Yi had yet to find a camera man or woman who could move all of that bulky equipment at a noise level anywhere less than a stampeding rhino. She was also quite certain that her senses had not been so thoroughly washed out that she would have missed such an event. In addition, her mind was slowly working over the words that were said, and it was quite clearly a dismissive that she leave rather than prepare to get her ass kicked. "It's public use to wrestlers, anyways." Her head finally turning to see who it was that was talking to her. Those red eyes focused on the woman, standing nude and covering herself up. The mind had not yet recognized the woman in the red emergency lighting

"What are you upset about? It's not like anyone in this league doesn't know what breasts and a pussy look like," her head turned back to her knees and rested upon it. "Wait, Jo?" Finally recognition of the woman had graced the historian's distracted mind.

_________________
I'm not new. I'm back.
Jocelyn's eyes widened at the rebuke. this woman didn't even take the time to look at her! How dare she. But further still, she was even trying to tell her that the space was public. "Get the hell out of the shower and maybe I won't kick your ass, how about that?" She spat but then continued in a slightly more reasonable tone. "It's the only fucking shower..." she growled. "I'm not going to another locker room when mine's here." Her anger was subdued only by the fact hat she was still naked otherwise she might have turned it up a bit more.

Jocelyn's teeth clenched when Yi finally looked up. Her fingers pushed against her flesh as they curled inward slightly from the tension, her cheeks reddening even more. She was flustered by the girl's comment, still not quite recognizing Yi yet but clearly seeing that she was Chinese. "W-what does that have to do with anything!?" She blurted out. "I'm not some slut that's going to give a free show just because everyone else here will!" Her tone was obviously trying to hide her embarrassment but when she was called by her name her eyes widened in slight fluster. Her nose soon scrunched up and her eyes narrowed once more.

"W-who do you think you are, calling me so informally!" She barked. She'd had about enough of this woman but she was now piecing together who this woman was. A Chinese woman who knew her name, it could be a few people but she focused on the girl's face and looked at her hair and suddenly she figured it out. "Wait... Yi?" She asked, tilting her head almost in disbelief. Normally she'd laugh at the woman but Yi had stayed by her side while she was int he hospital and there wasn't anyone here but the two of them. Yi was the one int he vulnerable position so Jocelyn, for once, dropped her guard for a moment. However, that didn't keep her from being crude when she asked what was wrong.

"What the fuck happened to you? You look like shit."
She ignored much of the rage that was being spouted out of the girl outright. Not caring that she sat alone in the only shower. She understood the girl's wishes to keep her body to herself, honestly she did. But, hiding from the view of the crowd was one thing, where the people in said crowd would likely do naughty and unkind things to the thoughts of seeing their body. It was grotesque in many ways, and the historian could only say that she less than appreciated it. However, back stage, where it was only girls getting ready for matches, the body was less important to be hidden. Everyone generally had a pair of breasts, a vagina, and a rump... and this was so entirely standard that it should have been considered plebeian. Outside of the locker room and in public, it was right to be dressed properly and securely.

"Excuse me, Lady Lu Jiao..." she corrected without looking up at the woman again. Her suspicions were confirmed and a second visual confirmation of the woman was not necessary, especially if she was going to be angered by gazing upon her body. "I'm sorry... I just... feel like shit. I missed a match... worried I might get thrown out for not showing up. Only match I have won was against you... and that was mostly by luck." She shook her head. It wasn't likely she'd be thrown out for missing a single match. "Recruiting is not up, either. Nor is it important anymore..." she stood and threw another punch into the bloodied spot on the wall. Well, atleast the culprit of the bloody fist was now known. Her body was as pristine porcelain as ever, even in the red glow of the auxiliary lighting... though perfect view of it was obscured by the way she twisted her body into the punch and how her long hair fell over her chest.

"I should have foreseen it, all of it," her voice wavered as she thought of throwing another punch, and ignoring the pain emanating from her clenched fist.

_________________
I'm not new. I'm back.
Jocelyn's eyes widened when Yi called her so formally. Her cheeks flushed and she turned her head, gritting her teeth. "Y-you don't need to be that formal either!" She said quickly, hiding her embarrassment. "Just call me Lu..." She then turned and listened to Yi's explanation and raised an eyebrow. "What... seriously?" She said. "You feel like shit for THAT!?" Jocelyn's face turned into a sneer. "Because you missed a match? Because your little gang doesn't have anybody in it? boo fucking hoo. Tch. I should be the one who's pissed off. I don't have a single fucking win here in this shit hole. Don't you know how humiliating that is!?" Of course Yi did... but Jocelyn knew it was different. "Worse yet, I thought you were tough. I should be the one down there. Here I come to find the chick that beat me is just some pussy emo bitch. Fuck you. Get over yourself."

Jocelyn clenched her fist, still covering her breast but no longer holding onto it. "I should beat the shit out of you. I want to so bad you know. But I can't even bring myself to do that. Look at you. It wouldn't be worth it. You're so fucking pathetic." Jocelyn then turned her head a bit, quieting her tone as if she did really feel sorry for Yi. "Just... get out and let me take my shower..." She said almost in a mutter.
"You don't understand what you're talking about," her eyes snapped to Jiao indignantly, and for a moment the Chistralian might fret that the next punch thrown would not be at the wall, but at her pretty little nose. Yi, somehow, managed to restrain herself from such an emotional and tactless outburst. "But, you're right... I'm not focusing on the real problems..." Her bloodied hand was cradled in its twin as she looked down the other woman's body and eventually rested her eyes upon her feet.

"I never really expected my social skills were competent enough to maintain a strong inflow of members, something that was confirmed when you turned me down. It is more... an annoyance than a grievance with my lot in life." Her head shook, though with her hair soaked and matted to her breasts she was thankfully free of any slips for Jocelyn's viewing. "I had decided to not leave this shower until I worked out the larger issue: How could the Era of Hell dissolve so readily without any major application of tactics?" Her eyes came back up to Jocelyn, "And why should I worry about my first girlfriend just up and disappearing without so much as a note or a goodbye?"

She shook her head. "I deserve that beating for this sort of emotional response..."

_________________
I'm not new. I'm back.
Jocelyn narrowed her eyes at Yi as she said she didn't know what she was talking about.Jocelyn didn't particularly care if she knew the details. She said what she said and she wasn't going to let this bitch tell her otherwise. She met the gaze harshly, ready for a fight here and there if it was brought but relaxed when she saw Yi's eyes trail downward. Her face blushed at the thought of being scrutinized by the girl. and she turned her head for a moment.

Jocelyn continued to listed to Yi's words, hearing the change ion tone and the somewhat defeatist mentality of them. Jocelyn herself was a bit of a pessimist, making sure to always have something to complain about. It was strange, now that she was actually listening to someone, to hear just how it sounded. Whens he mentioned turning Yi down, Jocelyn's head turned for a moment, her voice was a little soft. "What? Because of me? Well.." Her cheeks had a soft glow. "I'm not exactly miss sociable... and it wasn't personal. I'm not interested in the whole big picture, faction thing. I just want to win matches and beat up people that piss me off."

But when Yi revealed the true source of her state and looked up at Jocelyn, the Chistailian smiled cruelly and then laughed. "W-what!? Are you fucking kidding me!?" Ha! You're an idiot!" She said, enjoying herself quite thoroughly. "What the fuk? Who cares what happened to them? A bunch of girls liek that? Do you think they'd get along forever? They probably got sick of looking at each other. And anyway, who gives a shit how they're gone? Isn't victory what's important? Crickey..."

Jocelyn turned and walked out of the shower, her chuckles still heard. but a moment later, she returned clothed in a towle so she could use her hands. "I should beat you up for not letting me shower in peace but geeze, even I might feel bad. So boo hoo, your girlfriend left you? I'm certainly not going to feel sorry for you." Jocelyn sighed and walked towards Yi, sitting down next to her. She knew that was a dangerous decision, the girl probably wanted nothing more to take out her frustrations, as indicated by the bloody hand and Jocelyn was certainly the kind of person to make the idea that much more tempting but Jocelyn had been around Yi to know enough. Chances are the girl wouldn't physically harm her in any way unless Jocelyn attacked her first. The biggest problem was that her towel was getting soaked but she shrugged it off. The water felt good on her skin and if Yi wasn't going to let her shower proper;y she might as well try the next best thing. Plus, seeing Yi in such anguish was secretly enjoyable and talking to her, which surprised Jocelyn herself, was oddly cathartic.

"If she didn't tell you she was leaving... then she must have had more important things to do than hang around you. Who cares. Get the fuck over it.Tch." Jocelyn turned her head. "First girlfriend? You're either pretty stupid, a prude or new to this whole girlfriend thing. I'd guess probably a little of the first two." Jocelyn clenched her fists. "You're certainly pretty enough to have any girl you want." She said those words through gritted teeth. "So you must be the kind of bitch who likes playing hard to get or you don't know shit about picking up women. This place is pretty much a clambake so I'd presume it was your cup of tea to begin with."
She remained silent, quietly pondering and listening to the Chistralian. Sinking back down upon her rump, she again wrapped her arms around her legs and her chin again landed upon those knees.

Jocelyn was perhaps, not the best choice for the strategist to pick and include in a group. There was a good chance that she had simply wanted Jocelyn to be the right choice for the group. The anti-social and highly aggressive scoundrel probably could not have taken orders, been asked favors, or even had requests made of her without becoming explosive. Then why had Yi thought to pursue such a path? And if it was truly a poor choice, how many more were poor choices? The woman had previously believed her short comings were due to not being persuasive enough, not improper decisions.

Then the topic of the Era was broached by the makeshift shrink. They were a bunch of extremely volatile girls, and such groups were like a sudden and violent burst. This group was unfortunate enough to fall apart at the seams just as they truly began rolling, but there were enough now that were shown the ability to become organized, which meant that at a later time they might become organized. While there was a chance that the next group or even the next group could burn out just as swiftly, Yi would not leave such a chance to fate... especially with this Lady von Creuzfeldt's sudden power grab. The next evil group that formed could be much less volatile and far more insidious. And as Jocelyn said, victory was important, even if its cause wasn't hers to claim.

She couldn't help but snort a slight laugh as the Chistralian said 'Crikey', though she tried to hide it, fearing it might be interpreted as rude by the overly self-conscious woman who was now coming to sit beside her. Lady Lu thought 'Crikey' was a word that had become so stereotypical to describe Australians' speech that it had been banned from their diction in an unspoken ruling. "I would just use your self confidence against you..." she murmured absent-mindfully, though the words were likely lost in the sounds of the shower especially as Jocelyn continued on speaking. The towel was an interesting addition though, not that she looked up, but the Chistralian had passed her view as she came to sit back beside her.

She didn't like to think about it the way Jocelyn had suggested. The historian had shared a number of personal things with the soldier, and it couldn't have all been because Lady Hong was just bored and decided to entertain herself with the boring old Yi... only now to have found something more interesting to do with her time. Yi had made the girl fresh, golden, and delicious donuts! The best this side of Hong Kong! Jocelyn's words were tabled, when the Chistralian began to guess at Yi's love life prior to Lady Hong. A bit of rosy color flooded her cheeks as she turned her head away from Jocelyn for a moment. She was guilty on the first three charges, as well as the fifth one. "Well, I didn't... come here expecting to get laid. I meant to come and be paid..." That sounded awkwardly worse, and she looked back quickly to rectify her mistaken, "I mean for fighting in matches... not... nevermind..." Her chin returned to her knees.

"That's why I don't talk during matches. I say stupid things."

_________________
I'm not new. I'm back.
Jocelyn wasn't sure if she should be shocked or angry that Yi began to laugh right at her. "What the fuck!" She snapped and glared at Yi. She had an idea what sparked the laughter. Her accent. It was an odd thing. The girl, who looked wholly Chinese and could easily be mistaken for a full blooded china woman, despite her own nitpicking on who western she looked, had a voice that sounded like ti came straight from the outback. It was an odd sight to hear and behold. It made her feel foolish but her mother had insisted that she retain as much of her Australian heritage as the Chinese she so preciously coveted. "You bitch.' She snarled and turned her head.

She turned her head back enough to look at Yi out of the corner of her eye and saw she was blushing. What the hell did Yi have to blush about? Jocelyn wrinkled her nose and eyed the girl as she spoke. "What are you saying?" She said defensively. "That I'm just some slut who came here to get some action?" She then turned and stuck out her finger and poked Yi in the chest, just above her right breast. "I haven't fucked anyone since I've been here!" She would then attempt to grab Yi's hair that was matted against her breast. She wasn't trying to pull it or tug it but just hold on to it and shake it to emphasize her point. "I hate you're fucking holier than thou attitude. I hate you." She Her grip loosened on the hair and she turned her head. She then flung the hair and turned her body, her back facing Yi.

"Fuck you!" She shouted as her fist clenched and she slammed it against the wall. "You're well spoken... you're full blooded. You're a pretty good fighter. You've SOMEHOW managed to get a fucking girlfriend here. Probably without even fucking trying. You were trying to do something you thought was right here. On top of that, you're full blooded and pretty as hell.." She punched the wall again. "One fucking thing goes wrong and here you are crying like a fucking child. She turned back and glared at Yi, obviously holding back tears. "You've got everything and it's not enough! I hate you!"
Page 1 of 6 • 1, 2, 3, 4, 5, 6



Similar topics
---
Permissions in this forum:
You
cannot
reply to topics in this forum