Champions & #1 contenders
Been Out with the Flu
Sun Apr 22, 2018 7:47 pm by daemongirl
Just letting those I have threads with know I've been out with the flu since early last week, but I will be back to posting tomorrow.
Comments: 0
The Austrailian Mudslide is Back.
Sat Apr 21, 2018 6:20 am by Softsquad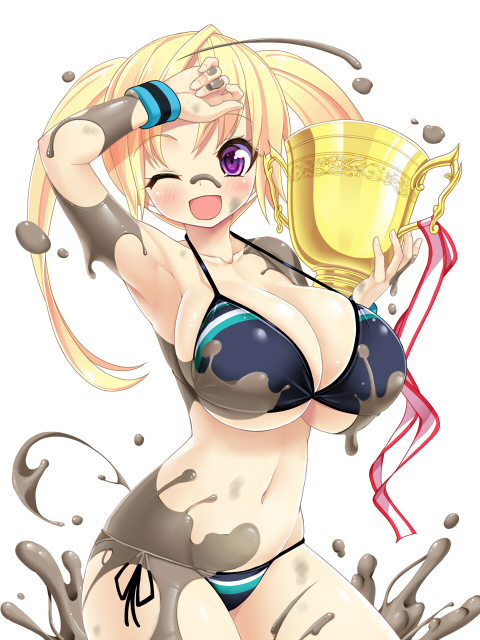 Granted that most of you won't know me or remember me, but I've had a few matches here and there some time ago. Well I think its time to become a regular around here and try to have some fun again, but at the same time keep coming back. Anyway I think its time to jump into some matches with Zoe Taylor, my mud wrestling character from Australia and get her back into the squared circle. Furthermore I will update my characters as I think some proper changes need to happen.
So if anyone would …
[
Full reading
]
Comments: 0
Looking for a debut character match.
Fri Apr 20, 2018 7:44 pm by Tarantulust
Hello everyone,
I am looking for a match to debut my first character, Juno Sawyer, as well as get accustom to the site. I am mostly looking to solidify Junos character, and how she acts.
I would prefer to stay away from hentai right now, though a perverted character or action is fine is fine if its within reason. I don't expect it to be too long, but if you wish to add a rivelry or enemy spin to it I am open. If you are interested, feel free to reply or PM me.
Comments: 3
Page 1 of 2 • 1, 2


Lukretia Von Creuzfeldt sat in the chair of her desk tapping a pen against some papers that she was looking over. It was rare for her to call for an interview, but special circumstances dictated that she had to have one. Her door was closed as she surveyed the papers and shuffled through them. She had been feeling good with how the match between Akashi Tanikaze and Taylor Parker had gone. She had been looking forward to the new year and all that could come from it. And, although there didn't seem to be any more blood between the two girls that she could exploit, she did not feel she required it to promote them. They were strong together.

But Lukretia had been almost as shocked at Taylor's resignation as the rest of the world had been. It was the last thing she had expected from Taylor. So now she had to settle things with the blue haired punk as well as finalize some legal issues.

Before Taylor could get to the General Manager, however. There was one more obstacle to contend with. The giant German blonde known as Hilde had been almost eager to see Taylor as Lukretia was, though for different reasons, she was sure. She made sure she was ready to pounce on the girl once she entered the office with a gracious and emotional hug. She promised herself that she wouldn't cry!
Every time Taylor had ever been in close proximity to Lukretia Von Creuzfeldt, she'd felt an overwhelming desire to punch her in the face. The two had come close to brawling every time if for no reason other than Taylor's inability to play it cool around the infuriating German tyrant. Although, to be fair, Lukretia's personality would have that effect on any sensible human being.

Taylor imagined Cassie meeting Lukretia and seconds later knocking her out with a Scott Pilgrim haymaker. She giggled. Kay-ohh!

What used to be a fifteen minute jog was now a two-hour train ride from Kyoto to Tokyo. She took a cab from the train station to the AFW building, and stared at the window at the passing scenery that she'd only been used to seeing from the sidewalk. The glass between her and the outside seemed appropriate, she wasn't part of that world anymore. It was bittersweet, to say the least.

She arrived early, and approached the building from the side entrance, a walkway through the grass leading to a pair of glass doors. Along side the path was a bench that Taylor had spent countless hours on, cooling off after workouts or taking time for her thoughts. Often she'd pull the hood of a sweatshirt over her head, stuff her hands in her pockets, and do her best to become invisible. Things weren't like that anymore, though.

Taylor wasn't like that, either. Even her appearance had changed. Her trademark bright blue pigtails were gone. Her bright, shining blonde hair was pulled back in a pony tail, with her bangs pinned to the side to keep them out of her face. Her eyes were made up with a hint of bright blue shadow, but they weren't as dark or dramatic as she'd been accustomed to keeping them. She wore tight jeans and a tight gray t-shirt with just the name of the gym she went to in Kyoto in black letters on the chest. She defied the chilly December air by forgoing a jacket, but after a few minutes on the bench she was shivering and decided it was time to face the music.

She made her way to Lukretia's office and pushed open the door. "Hey." She said. "I bet you miss me already, don't you- Ack!" Taylor jumped when Hilde suddenly ambushed her with a hug. She settled down into it and hugged Hilde back.

"Hey, Hilde." She said. "I do miss you already."
"Ms. Parker! Er... Taylor!" Hilde said as she hugged Taylor. She pulled her to shoulder length and smiled down at the girl. "You have already changed so much!" She said holding back a sniffle. "Blonde..." She said as her eyes followed up to Taylor's head. "I like it." She said and flashed her a smile.

Hilde sighed. "I wish you didn't have to leave us, but... I just hope you're happy with, whatever you are doing. I know how nice it is to be infatuated with someone." Hilde said as she turned her head and gazed off into the distance. "Ahh, but, you're hear to see Lukretia... I.. I won't waste any more of your time!"

Hilde backed away to her desk and pushed on the intercom. "Ms. Von Creuzfeldt, your appointment is here." A bit of terse German rattled off from the other end and Hilde sat down. "Good luck." She said, flashing a smile at Taylor.
Taylor laughed softly. "Yeah, I don't really know what I'm gonna do, but... it is nice." She smiled.

She nodded to Hilde, and then turned to face the door to Lukretia's inner sanctum. She took a breath, and then unceremoniously booted the door open and barged in like she owned the place.

"A'right, let's get down to business, time is money and stuff." She announced. She looked Lukretia up and down. She always gave Taylor chills. She was a snake. Taylor would never, ever, ever trust her.

"Man, I can't tell if you're tickled pink or bummed out over this. Do you think I'm a failure? Like I'm washing out?" She was getting a little ahead of herself. She strolled up to a chair and hopped into it, propping her worn red Converse on Lukretia's desk. "Whatever, it's cool, let's have it, string bean."
Lukretia looked up when Taylor finally came in. She kept a steady gaze on Taylor but her face held no expression on it. Something that was rare for the German. she waited until Taylor was finished ranting and made herself comfortable before shuffling one paper ontop of the other and taking a moment looking at it.

After a long silence, Lukretia said, without looking at Taylor. "Ms. Parker." She began in a flat tone. "Tell me vhy you decided to leave us." She said matter-of-factly.
Taylor put her hands behind her head and stared back at Lukretia for a moment with a lingering smile on her lips before she responded. "'Cause it sucks." She said, as if Lukretia should already have known.

She gave Lukretia a moment to process that answer, and then tried again. She sighed. "Um... I just don't want to anymore. I don't have, like... that feeling that... like... ya know, that makes me get up early in the morning and drag myself to the gym so I can work out until I'm half-dead just so I can convince myself that all the big, scary girls that want to beat my ass would have a tough fucking time of it. Right? You gotta be an unbalanced goddamn person to get into that, and... I guess I'm just not fucked up enough to want to do what I've been doing anymore." She said with a shrug, looked off at nothing.

"Sucks to be you, right? You did what you could to keep me messed up in the head, but Akashi and Cassie and my boyfriend were just too much, man."
As Taylor began to speak, Lukretia's face slowly began to form into a smirk. When she was finished, Lukretia leaned back. She let silence fill the void for the moment before leaning forward again. "Ms. Parker." She began, thinking carefully about her words. "Do you think zat I am disappointed? Sad? Pleased? All of ze above, perhaps? Perhaps zis is ze case." She said and turned her head.

"Maybe it is my fault? I thought zat you were more resilient. Zat you could handle ze veight I put on you. You almost did, as vell." Lukretia smiled once more. "If it is too much for you, zen zis is ok, Ja? Meine heart vill not break, I vill just find other girls who can push zemselves to greatness. Meine only vish is zat vhatever you chose to do, zat you vill not falter like you have here. I vant people to succeed. If zis is not vhere you believe you can do your absolute best, zen you only have meine best vishes. But I vould be disappointed if vhat you chose to do next, you did not do better there zan you did here."

Lukretia leaned forward looking Taylor in the eye as she smiled. "But I think zat zis is vhere you belong. Ze blood, sveat und tears, it is not madness. It is being truly alive."

Lukretia sat back, raising her hand. "But! I vill not try und persuade you. You are alvays velcome back, even if it is just to gnaw upon ze fat." Lukretia nodded her head and stood up. "Und if zere is anyvay I can help you, please, do not hesitate to call. You are a strong, independent voman. Zis I like. I vould do everything in meine power to help you succeed in any endeavor."
Taylor reached the moment when she would've snapped and lit into Lukretia and picked a fight, defended herself and tried to justify herself. This time, the moment passed without incident. Taylor felt the feeling slide past her, and if felt like releasing a knot in her muscles. She sat and watched Lukretia while she spoke, with a smile that suggested she knew better.

"Hey, that sounds great." Taylor said. "But you don't get it." She put her feet on the floor and sat forward in her chair. Her gaze demanded Lukretia's full attention. "My whole life up until now was like a bad dream, and all the blood and sweat and tears I gave while I was fighting to wake up from it finally paid off. I'm not gonna tell you off or anything, man, because you don't have anything on me anymore. You think you can get under my skin calling me a failure? Or a quitter? Whatever, dude, fuck that. Meet Taylor Parker, Zen Goddamn Master."

She leaned back again. "Isn't it funny, though. This whole time, you've been the one on top, pulling the strings, carrots on sticks and cheese in the maze and shit. But I got the cheese. See? I'm done. I'm out. You don't have a thing for me that I can't get better somewhere else." She unconsciously fingered the wedding ring on her left hand.

"I have pushed myself harder in my life than you ever will. And you can sit around and pull your strings and talk about trying to get people to succeed or whatever, but that must be hard when you haven't done it. It sucks to keep pushing yourself and pushing yourself and to never get where you're going. Well, I got where I'm going, at least for now, and it's got nothing to do with Tokyo or you or the crazy bitches you find to try to put girls like me in the hospital just so they'll get scared enough to fight back like animals. So... Maybe you're the one who can't handle the pressure, eh?"
Lukretia's fists clenched ever so slightly at Taylor's words. Taylor seemed to think that Lukretia had to work for nothing in her life. Most people thought that. In Lukretia's mind, the only Von Creuzfeldt who had enjoyed a carefree life of ease was sitting at a desk in the room outside. When Taylor was finished, Lukretia turned her head.

"You believe I vas a spoiled princess, Fraulein?" She said. "I have been fighting for meine very life since ze day I vas born. I don't believe you vould have lasted for a day in meine shoes but let us not get into a spitting contest over who has had ze more difficult life." Lukretia lifted her head and looked at her. "Vhy do you think I paid such attention to you in ze first place? Someone who vas forced to scrape und claw zere whole lives is a voman after meine own heart. Zey know vat it is to have nothing und have to vork ceaselessly, almost futily just to earn a scrap every now und again. Zis is vhat I appreciate. It is strength. Everything you have, you vill never take for granted."

Lukretia closed her eyes. "I vill not disparage your efforts, Ms. Parker, but I believe I have keenly put you in a place vhere you could do something more zan merely struggle to survive. In fact, zis is incorrect. I have only presented you vith a staircaise. You chose und zen successfully climbed it of your own accord."

Lukretia shook her head and turned to look out her window. "Do you think zat meine only joy is to see zese girls hurt zemselves?" She asked as she gazed out her window. "I vant zem to be strong und respectable, like us. Zose who are truly incapable of handling zis unforgiving life on zere own, zey must be nurtured und provided for. Zey cannot choose ze hands zat zey have been dealt. My heart veeps to see another human being in a helpless state."

Lukretia lowered her head. She was being sincere. In Germany, she had donated quite a bit for the sake of research to many diseases and to help out the truly needy.

"However, I have no time or patience for zose who can help zemselves und refuse to. If a girl comes to zis league, I expect her to perform at her peak, at her best. If she cannot cut it, zen she should be reminded zat perhaps zis is not ze right career choice for her."

Lukretia turned and looked back at Taylor. "Sometimes zat lesson is painful." The German domme then turned back around fully to face Taylor. "But, I do not consider you a failure, Ms. Parker. Nein! On ze contrary. You are leaving vith your head held high, with a bright future vith endless possibilities! You are stronger zan you vere vhen you entered zis place. You have been molded into a fine young voman. I should say zat I am quite proud of you, like ze younger sister I could never have." Lukretia smiled widely at Taylor as she looked the girl in the eyes.
"Well... yeah." Taylor said quietly. Lukretia sure looked like a spoiled princess. She started to put on a scowl and mentally deflect Lukretia's praise, but she stopped herself and only listened.

"Well... yeah." She said, even quieter. Lukretia spent an awful lot of time arranging things to make girls beat each other half to death. She certainly seemed to enjoy it.

But Taylor couldn't help but wonder if there was more to Lukretia then the evil mastermind she had figured her for. She put a hand on the back of her neck and looked down at the floor with a knit brow. She had actually done things like what Lukretia was describing, encouraging girls to quit who didn't belong. Kagami. Taylor had only wanted to spare her all the misery and pain and failure she had coming if she stuck around Friction. Really, it was the company's fault for booking her in matches she was obviously going to lose, and it made Taylor sick. Though... finding an even match for that wet noodle wouldn't have been easy.

Taylor looked back up at Lukretia and met her eyes just as her jaw dropped. Did she just say that? She sat in stunned silence for a moment. She searched Lukretia's face for any hint of insincerity, tried to think if she had remembered incorrectly or misheard her. She could find no way to shake the thought that Lukretia Von Creuzfeldt had just told her that she was proud of her, and thought of her as a little sister.

She slid her hand off her neck and back down to her lap, letting her "IMOUTO" tattoo show again. Her eyes were red when she finally responded.

"Thanks." Was all she could manage, scarcely above a whisper.
Page 1 of 2 • 1, 2



Similar topics
---
Permissions in this forum:
You
cannot
reply to topics in this forum