Who is online?
In total there are
35
users online :: 10 Registered, 0 Hidden and 25 Guests :: 1 Bot
acuya
,
Harrier
,
k0hryuu
,
kerflubble
,
LadyX
,
LunarWolf
,
Miglico
,
OmegaVan0
,
PrizewellStar12
,
starvalentine
Most users ever online was
155
on Sun Oct 09, 2016 8:33 am
Champions & #1 contenders
Might be a bit slow
Fri Mar 24, 2017 2:33 am by noob
hi people that im rping with. I'm gonna be away for a bit so I might be a bit slow with posting. Sorry xp
Comments: 2
Duo from Iceland has arrived!
Thu Mar 23, 2017 9:38 pm by Jaystar
Hello again everybody!
I managed to get creative, with the result of having two friends,
Isa
and
Julie
flown in from Reykjavik, who are ready to rumble in AFW!
While not sure if they get to decide, Isa is still a little bit reserved and is hoping to get a smaller opponent that she could use her lower body strength on, while Julie is very excited and eagerly up for pretty much anything!
If you have any characters who might want to challenge either one of the newcomers, or basically any fun …
[
Full reading
]
Comments: 0
Impromptu Break
Thu Mar 23, 2017 7:47 pm by Gadot
Hello,
I'm just leaving this here so people know! I'm dealing with a lot at my new job (coming in as a manager with a person on my team who's been there for years and being a bit of a bitch about it), and I'm trying to finish up my last year of college. So for right now, I'm probably not gonna be around. I'm sorry for everyone I'm leaving up in the air with matches, and that I vanished without saying anything to. If you need me, feel free to message me on Trillian. I'm on it from time to time, …
[
Full reading
]
Comments: 1
Page 1 of 22 • 1, 2, 3 ... 11 ... 22

Preceded By:
SS 15 Hentai Grudge Match in a Cage: Akashi Tanikaze Vs. Natalia the Dream
Followed By:
Title Ceremony featuring the current AFW World Champion - Kelly Conway
The Love Bunnies (Mara and Leah Bunny) (C):

]

Vs.

Team Cait Sith (Seele and Kat):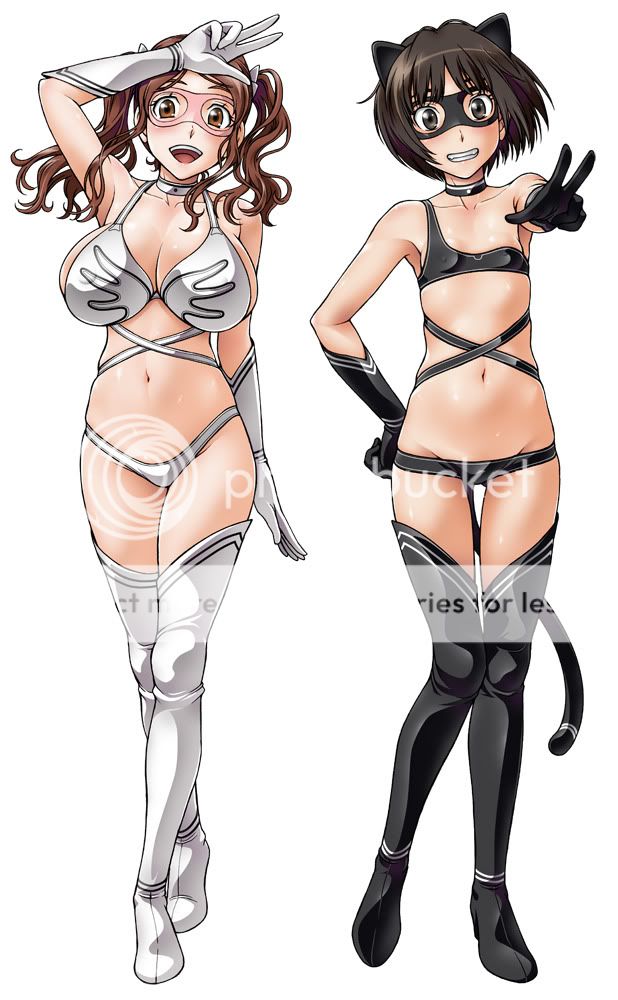 Vs.

The Frozen Flame Combo (Yukiko Kuzuryu and Akiko Takamiya):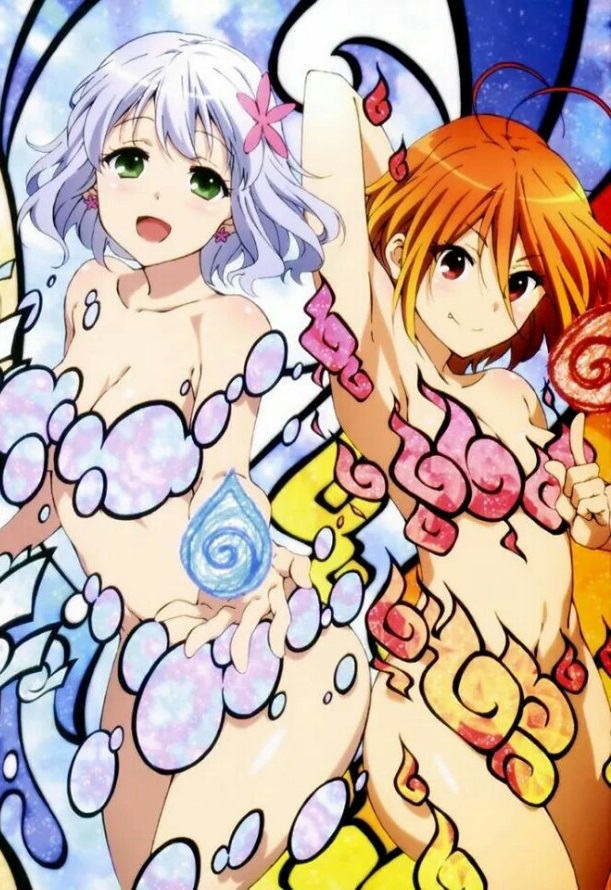 Vs.

The Goddesses (Anubis and Bastet):




Match Type: Four Corners Tag Match
Winning Condition: Pinfall, Submission or Knockout.
Special Conditions: Each team has their own corner. Any legal wrestler may tag any other wrestler in. The wrestler who scores the fall will have their team be declared the Friction Tag Champions. Standard Tag rules apply otherwise.
Last edited by Tatyina on Fri May 27, 2016 9:17 am; edited 1 time in total
The squeaky-voiced J-pop music blasting forth, the first team to enter the arena was the Frozen Flame Combo duo of Akiko and Yukiko. Wearing their respective signature pink and light blue bikinis, the two petite brawlers made their way down to the ring, waving and smiling at the absolutely overwhelming audience packed into the stadium for the event.

Admittedly, a fight like this was something completely new to them. Naturally all the street brawls they were involved back in the day with were chaotic affairs, but with four different opposing sides at once, things were sure to get even messier. And that wasn't even counting the pressure of a title shot or the fact all three enemy teams were strong as well. They were the rookies here and arguably had the most to prove. Even trying to prepare and plan ahead would likely not work out, however they did have their first targets clearly in mind: Team Cait Sith.

Akiko and Yukiko were SUPPOSED to have had their own face-off against the Love Bunnies, but Seele and Kat's interference, along with the chaos that followed, shut that down. In their minds, it was completely those two's fault that this whole complicated affair here was even happening. (Plus Akiko was certainly upset over getting kicked in the head so many times too.) While they had bones to pick with the other two teams as well, it was Cait Sith that was clearly in their sights first.

Leaping up into the ring, they stuck one last synchronized pose before their music died down. The two then withdrew to their respective corner, awaiting the other combatants to arrive as well.



Posts

: 4155


Join date

: 2014-10-23



Kat was bounding up and down nervously as she watched the first team take their positions. "Ooooh... they don't look very happy." Kat said.

"Of COURSE not! NO one is happy!" Seele corrected. She then smiled. "Well, I kind of am." She beamed. "We've got a title shot that we finally deserve and you get to teach that stupid girl a lesson."

"I don't... want to teach her a lesson, Sully. I just want... to fight her fairly! I wouldn't mind being friends either..."

Seele furrowed her brow. "We are friends enough, Kat." She said and was about to continue before their music began to play. Seele put on her bubbliest smile and popped through the backstage entrance to the crowd. She began to giggle and wave and let her breasts bounced lewdly.

Kat burst out behind her and ran up, hopping onto Seele and pressing her feet into the fairy girl's hips while she held out her arms and waved. Her bright grin was on her face until she spotted Yukiko. She turned her head and blushed but sheepishly looked back before trying to wave to the girl.

Once they were close to the apron, Kat hopped off and then Seele climbed up. They both waved to the crowd before they settled in.

"Yukiiikooo!" Kat shouted, trying to get the girl's attention. "I'm sorrryyyyy! Let's just have a good match, ok?!" She tried to give her best kitty Kat eyes to the light bluenette.
The instantly recognizable, ancient-sounding twangs of flute, and drum, and sitar began to sound all around the arena, heralding the arrival of AFW's most heavenly tag team ever, the Goddesses Anubis and Bastet. In light of the summery theme of Summer Splash, the Goddesses forewent their usual rust- and gold-colored spotlights sweeping across the arena. Instead, blue light slowly filled the arena, starting at the ring and then spreading outwards, bubbling up across the audience, sweeping over them with a cool, watery splashing sound.

The Goddesses had watched the entrances of the first two teams. Frozen Flame were not particularly impressive, although the Goddesses did still have a little bit of respect for the newest of the four contending tag teams. They seemed...well, they seemed to at least be interested in a fair fight, even if the idea that they deserved a title shot seemed a little out there to the two sibling deities. The same could not be said for Team Cait Sith, who were composed of exactly one willowy little kawaii and one cheating bitch.

If the Goddesses were targeting anyone to start off, it might just be Seele. Either her or Leah. Both of them deserved whatever came to them.

The Goddesses marched out with determined looks on both of their faces, clad in their usual Egyptian cotton bikinis adorned with plenty of gold and jewelry, but of course not so much that it would interfere with the fight. Their tan skin shone brightly in the light as they would climb into the ring in their corner, eyeing both of the two other teams who had already arrived, but saving their more bitter looks for Seele in her corner. No matter what, she was going to suffer tonight.
_________________



Posts

: 8089


Join date

: 2012-09-24


Age

: 22



"This is ludicrous... The man and her damn dog, right proper screwed us over this time. All cause she can't match up to how awesome we really are! no one can!

Ooww.. I believe zat neither team is allowed zoo challenge fer ze title... But both teams are..." Leah said with her best German accent impression "Ridiculous... She's just showing that her word means nothing and that she does have something against bunnies like we've always said."

"Bunniest..." Mara murmured although she wasn't as annoyed as Leah was. "Which is silly cause she's not even a bunny..."

"She must be so jealous of our awesomeness to do something like this... Stupid old hag.."

"Your up next.." A stage hand called into the bunnies dressing room, Leah sighed and checked her makeup one last time, the reflection at least improved her mood... Just as she had thought the reflection would be...

"Awesomeness personified.." ;3



The Goddesses theme died down slowly and the whole arena descended into darkness as a number of spotlight flickered on and started searching around the audience. the drowned out melody of "All the things she said" by TATU started to play over the loud speaker as the spot light's search became quicker and more frantic. About 23 seconds into the track, right where the lyrics started off, the lights converged onto the top of the rampway where both Mara and Leah walked out from opposites sides behind the backstage area.

They approached each other, meeting center stage at the top of the rampway and leaned in painstakingly close. The tips of her noses touching and warm faint wiffs of air felt on the their lips from one another as they stopped just short of kissing and then turned to look down towards the ring.

Both bunnies were dressed in their usual ring attire, Leah in her red bunny outfit with fishnet leggings and Mara in her black  bunny outfit. Both had their glorious golden belts hugging comfortably around their waists as they started to make their way down towards the ring, hoping their way down the ramp.

They climbed up onto the side of the apron, Mara sat her big old tush down on the middle ropes to hold them open for Leah to step through, bending over with her face close to Mara's crotch as her rump and bunny tail stuck out behind her. Mara followed in shortly afterwards. Undoing her belt from her waist, Leah lift it up just to the side of her face as she paraded it around the ring.. Making a point of almost slapping it into the face of Seele and Bastet in particular as she walked around

Meanwhile Mara bounced over to Kat

"Hewwwo~ :3 "
_________________
Kelsea's Karacters
/
Desire's section
Spotlight
characters:
& of course
ThE BRaT PaCK



Posts

: 7724


Join date

: 2008-04-06



Yukiko just scowled a bit at Kat's apology, clearly unmoved. "You should be apologizing to Akiko-san..." she thought bitterly, quite upset after hearing what her self-proclaimed rival had done in the ring during their last encounter.

Akiko herself made an equally unpleasant face, have felt unfairly singled out at that time. The Bunnies seemed to be the clear villain in this whole ordeal, but Kat had pretty much entirely ignored Mara and only attacked Akiko. Remembering that, in addition to the cat girl's appeal to only Yukiko just then, triggered a troubling realization to the fiery red-head. "Don't tell me... Is she after Yuki-chan? She must be trying to get me out of the way..." she thought, feeling a deep pang of jealousy, but doing her best to keep from showing it.

Of course, when Mara made a friendly approach towards Kat, another, different theory (or rather, misunderstanding) struck the both of them.

"They must have been working together!" Yukiko seethed in her mind, "This is what those fatasses were talking about when they said we would get cheated out!"

While Akiko felt some relief that her first idea was overshadowed, the new one didn't make her any more happier. "Ugh... looks like we might have to ally ourselves with those Egyptian girls..." she thought, glancing over at the Goddesses, starting to draw up the battle lines in her head. As far as she could tell, those two were the only other team up for a (mostly) fair brawl, meaning they would be the best shot for a temporary alliance...



Posts

: 4155


Join date

: 2014-10-23



Seele saw all of the eyes of the teams bear down on her and her grin grew even wider. "Teehee!" She began to preen herself and puff out her chest while coyly giggling. She pressed her hands against her chest and fluffed them even more, while haughtily batting her eye lashes.

"I told you you couldn't handle my fairy magic, teehee." She said, loudly going back to her cutesy ways. She then waved her hand dismissively at the punch. "So, which of you girls wants a piece of me?" She said, looking between the goddesses and Frozen Flame as though she were going to step into the ring first.

Meanwhile, Kat was still fretting while she watched Akiko and Yukiko rebuke her attempts at making up. She chewed on her lower lip and didn't even see Mara approach. 'Arrghhh... Yukiko and Akiko are really mad! I should have talked to them before the match! I shouldn't have let Sully interfere but... Kat turned and looked at Seele. 'She's so happy right now -'

"Eee!" She turned around when Mara greeted her and panted. "M-Amra!" She scolded lightly. "N-Not now! Shoo Shoo Shoo!" Kat frantically waved at the big bun. Seele turned her head and saw Mara.

"That's right, Kat. You'll get the chance to kick her butt soon enough. Teehee!"
The Goddesses eyed all three other corners with suspicion and exasperation, tired of having to jump through so many ridiculous hoops to get to the title that they had rightfully earned months ago. At least they had been allowed to challenge for the title again after originally having been banned from contesting it as long as the Love Bunnies continued their reign as tag team champions (however unearned their continued hold on those belts may be). But that didn't make up for all the lost time. Time the Goddesses could have spent as champions, taking on challengers themselves and ushering in a new era...a new era where, if the champions lost, they would take it like real women and not find a way to somehow steal their belts back.

It was time for that new era to begin, at long last.

Apparently, all three of the other teams were distracted to some extent by...various things. Of course, Leah and Seele, both the dirtiest and strongest of the other six fighters, seemed to be focused, Leah on showing off her belt and trying to intimidate Seele and Bastet, and Seele on fluffing up her breasts for her opponents. Bastet crossed her arms across her chest and glared at first one girl, then the other.

Anubis, meanwhile, was watching things unfold with the other girls. Frozen Flame obviously wanted to stay focused on the match, but things between them and Kat seemed to be...well, very weird. Meanwhile, Mara was, once again, going after the tiny, kawaii-sized Kat, trying to cuddle with her like an exceptionally large little girl with a favorite doll. Anubis sighed and shook her head. She had no idea how anyone could think that either of those teams were qualified to hold or compete for the tag team title. Even Frozen Flame was iffy in terms of their qualifications, but at least they were both relatively...normal girls.

As Mara went after Kat, and the little girl pushed back, and Frozen Flame turned a cold shoulder to Kat's entreaties, and Leah and Seele continued to battle for the title of queen of all bitches, Anubis and Bastet would just take a step closer to each other and converse in low voices, watching each of the other teams with stern, determined expressions. They were not going to let anyone or anything stop them this time.
_________________



Posts

: 8089


Join date

: 2012-09-24


Age

: 22



"oww... oke.. Later then..." Mara said seeming inbetween confused and in pout mode from being shooed away by Kat, still she moved back up over towards her sister who was just getting done doing her lap of glory around the ring with the belt in one hand. Mara took off her belt and the two bunnies held hands and lifted the gold up with their other in the center of the ring until the ref girl climbed into the ring and headed over to collect the belt off of them.

The ref stepped back and held the belts up to signify the following contest was for the tag belts, then walked over to the edge of the ring where she could hand the belts over to the announcer outside for safe keeping.

Mara and Leah backed up over to their corner and stepped through the ropes onto the apron of the ring, the match was about to get underway with the first two contenders
_________________
Kelsea's Karacters
/
Desire's section
Spotlight
characters:
& of course
ThE BRaT PaCK



Posts

: 7724


Join date

: 2008-04-06



Now that all parties were gathered and the belts stowed away, it was time for two girls to enter the ring. Seele wasn't looking to go first, but as the teams milled about and none of them seemed particularly interested in starting things off, Seele slipped into the ring and hopped up. "Teehee! I guess I'll go first. You can all fight over which one of you I get to use my fairy magic on first! Teehee!"

Seele giggled and let her big tits jiggle around, while she lifted her palm to her hand and made a blowing motion at the three other teams.
Page 1 of 22 • 1, 2, 3 ... 11 ... 22


Similar topics
---
Permissions in this forum:
You
cannot
reply to topics in this forum