Who is online?
In total there are
52
users online :: 9 Registered, 0 Hidden and 43 Guests :: 2 Bots
acuya
,
BloodstalkerZ
,
Daaharu
,
daemongirl
,
LARIATO
,
Lobo
,
LunarWolf
,
RadiantKarna332
,
Shutter
Most users ever online was
155
on Sun Oct 09, 2016 8:33 am
Champions & #1 contenders
Just so y'all know
Thu Jun 22, 2017 3:27 am by LtLukas
I am going to a wedding, and will be traveling for the next few days. Sadly, I will not be able to post. But do not worry, I shall return. Sorry to all the people I am delaying.
Comments: 0
Not dead! Sorry!
Wed Jun 21, 2017 5:02 am by veritech892
Sorry for the recent slowed responses and disappearing act! Life, work, all that stuff, kind of got the jump on me! I'm back now though, promise - or I really hope I'm back now at least. I'll be replying to all the threads I have now, and hopefully I'll be around more now that things seem to (hopefully) be slowing down a bit.
Comments: 0
Does anyone feel up for an open thread bar?
Tue Jun 20, 2017 10:05 pm by Ragdoll_Jobbers
Hi guys, um well...considering I've been gone for a few months contemplating on life and death, uh that's dark, I was wondering, any body up for an open thread bar? I have some ideas but was wondering, well, if I open a bar thread, I would need "customers". Thoughts?
Comments: 3
Page 1 of 4 • 1, 2, 3, 4

[align=center:2qizampw]Japan [/align:2qizampw]
[align=center:2qizampw]
[/align:2qizampw]
[align=center:2qizampw][url=http://afwrpg.informe.com/forum/friction-roster-f10/takiyama-miyabi-t9930.html:2qizampw]Miyabi Takiyama[/url:2qizampw][/align:2qizampw]
[align=center:2qizampw]Vs.[/align:2qizampw]
[align=center:2qizampw]Germany[/align:2qizampw]
[align=center:2qizampw]
[/align:2qizampw]
[align=center:2qizampw][url=http://afwrpg.informe.com/forum/friction-roster-f10/wild-thing-t9997.html:2qizampw]Wild Thing[/url:2qizampw][/align:2qizampw]

Match Type: Standard
Winning Conditions: Pinfall, Submission or Knockout



Posts

: 27333


Join date

: 2009-04-02


Age

: 97


Location

: VIP Box inside the AFWDome



A forest is a forest is a forest.
Lore couldn't forget the woods that she'd once called home - memories like that don't fade. She was a human. She had always been a human. She knew that now, accepted it, understood it...but no matter how civilized she became, no matter how far from the tall trees she went, the animal would always be a part of her. It was like a scar, cut deep into her core; the wound could heal, the bleeding stopped, but it would always be a part of her. She could never forget how she lived, the person - not, the
beast
she was. She could never forget those cold winter nights - cold in a way that few men could even dream of. The sort of cold that seems to have a mind of its own, a living thing that digs into the skin and numbs the bones. Everything is still in that cold - a single sound travels for miles. Like the sound of a hoof, crunching in the snow. Of paws chasings after. Of a howl, echoing through the trees. A crash. A cry. Then silence, once again.
She'd seen the beauty of the world, and that would always be a part of her - for that, she was glad. But she was in a new forest, now, with new rules she had to abide with. It was the forest she was supposed to be in, the one that humans like her dwelled, but it was an ill fit. Clothes were confining. Cars were confining. Even rooms were confining. The wolf inside wanted to run free, to hunt. to go wild. It ached. It hungered. It demanded.
Tonight, it would have its chance. A little.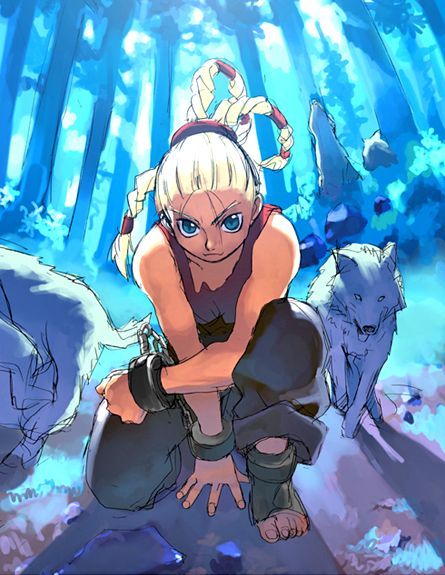 Lore emerged from the curtain and ran down to the ring at full speed, dashing in a blur and sliding into the ring, her momentum sliding her all the way to the middle. Her [url=http://www.youtube.com/results?search_query=wolf+in+my+heart:3k6apzg8]music[/url:3k6apzg8] had barely even started and she was already there, crouching on all four, looking at the audience with wild eyes. The beast was eager, knew the fight was coming, so close - she had to hold on a little longer.
She reared back and let out a howl, a feral scream that bellowed out over the audience's din.
Last edited by 12547 on Wed Apr 02, 2014 6:48 am; edited 2 times in total
Akashi stood backstage with her new apprentice. Soon the girl would have her debut match and Akashi seemed to be as excited as Miyabi. "Ok now, Miyabi-san." Akashi said, looking at the girl. "Just remember what I taught you. I know we didn't get to do a lot of practicing the way you thought we would, but you can't walk until you crawl. just keep that in mind. Stay focused and just try your best. I'll be watching from back here. I don't want to distract you!" Akashi bowed her head and pulled her hand back. She swung her arm forward and slapped Miyabi's back as hard as she could, shoving the girl into the arena.

"Banzaaaai!" She cheered from behind the curtain.



Posts

: 27333


Join date

: 2009-04-02


Age

: 97


Location

: VIP Box inside the AFWDome



Miyabi stood backstage with her new master, mentally steeling herself for the heavy double burden of what was to be both her debut match and a battle for national honor. She was representing both the great Akashi Tanikaze and the great nation of Japan tonight. She could not afford to lose. <I'm ready, sensei. I am ready to win! Oh, this is going to be awesome!> She bounced up and down, a bundle of pure excitement and energy wrapped in nothing but a navy blue mawashi.

Someone called out her name. It was her time to go on. Miyabi gasped, turning her head towards the entrance, then turning her head back to Akashi. <Here I go, sensei! This is for you!> She turned around and took her first couple of steps forward, receiving the slap on the back from Akashi and smiling. She looked over her shoulder. <And for Japan! Let's celebrate together after I win, okay, sensei?> she said, before charging forward out onto the entrance ramp. She waved her hands in the air, receiving a very warm welcome from the hometown Japanese crowd. She made her way slowly down to the ring, climbing up inside and looking over at her opponent. The girl was smaller than she was, but looked strong. Miyabi smirked, then shifted her legs further apart, readying herself for the classic sumo stomp. She lifted up one leg, and then brought the foot down hard onto the mat, causing a loud boom. She lifted up the other leg and did the same, with the same loud result, as the ring quaked slightly beneath her.
_________________
Her opponent made her way to the ring, stomping along, the earth quaking beneath her - this was mighty prey. In the past, something like this would have taken her whole pack - a coordinated effort, fighting in tandem. The mighty elk was too powerful for any one fo them to best, but together, as a unit, they could bring it down, rip it apart piece by piece, aim for vital areas and wear it away until only a quivering mess remained. That was the strength of their numbers.

Now, in this ring, that advantage was robbed from her. All alone. A lone wolf against the strongest in the wilds. All alone - that just meant she would have to be that much smarter. That much stronger.

The bell rang, and the wolf came out.

She leaped straight up the moment she heard the gong, jumping towards the sumo and swinging her fist around in a wide arc, heading straight for her face.
Miyabi had gotten into a sumo crouch and waited for the bell to ring to begin this important first round of the Friction World Cup. When it did sound, she would spring up out of her stance and rush forward, her footfalls heavy on the mat as she closed the distance with her opponent. The smaller girl was coming at her quick, and Miyabi would skid to a stop, her brain furiously calculating what her first move should be. This was her very first chance to shine, in her very first AFW match. She needed to be smart.

She would lean backwards, letting her opponent's punch pass just inches in front of her face. Then, Miyabi would reach up and try to grab onto her opponent's arm, giving it a sharp tug to try to pull the little German girl closer to her. Then, Miyabi would twist herself to the side a little. She would thrust her lower body forward, trying to hip-check her opponent and send the girl stumbling back, or maybe even tumbling down onto the mats. That was Miyabi's hope, anyway.
_________________
The trick to taking on the tough prey, the biggest, the strongest, was to use their size against them. Bulk made them slow, ponderous, clumsy - such protection and power came at a heavy cost. Size hardly matters - eventually, everything tires. Even humans. Especially humans.

This one had impressive reflexes for someone so voluminous - she avoided the rabid punch and managed to turn Lore's speed against her, flipping her away like a piece of trash with a hip check that sent Lore's fragile form rolling. Instead laying flat, though, Lore ran with the momentum and kept going, running straight to the ropes. She leaped up to the top rope and springboarded off, twisting around in midair and launching a kick, going for the sumo's face once again.
Miyabi used her great size to her advantage, hip-checking her German opponent backwards, sending the girl tumbling down onto the mat. The European was agile, however, and was evidently very tough. She sprang right back up and, using the momentum she had built up after being tossed back by Miyabi, leaped up onto the ropes, surprising Miyabi with just how quick she was. <Wow,> Miyabi said with a whistle.

She didn't have very much time to marvel at her opponent's dexterity, however, because the small German girl came twisting and turning through the air in her direction. Miyabi gasped and tried to jump back, but, though she was pretty quick for a girl her size, she was not truly fast by any stretch of the imagination. Her opponent's foot slammed into her cheek, and Miyabi fell backwards onto her butt, landing on the mat with a loud boom.
_________________
They had a saying - 'the bigger they are, the harder they fall'. Her prey was quite big and, needless to say, she fell very, very hard, the ring rumbled with her resounding impact. Lore made a note - she would have to stay moving, at all costs. If this prey managed to get on top of her, there would be no escape.

She landed from the kick and jumped forward without even putting both of her feet on the ground, shooting towards the massive girl with her knee jutting out, looking to crack her straight in the face with a vicious blow - the head would be her prime target, the kill spot, the one play on her whole body where the skin was think and vulnerable.
Last edited by 12547 on Wed Apr 02, 2014 10:05 pm; edited 1 time in total
This girl just kept on coming, relentlessly, not even stopping to take a breath! That was bad news for Miyabi, who could not keep up with that sort of speed. She would need to rely on her strength and her endurance to carry this match, because if it came down to agility, Miyabi was certain to come out on the losing end of this battle between nations.

Her swift opponent was not about to let up on her. The wild girl came in fast and launched a second attack, this one a knee aimed at Miyabi's face. The sumo girl squealed in shock and threw her hands up, but she was not able to stop the knee from slamming into her mouth and knocking her flat on her back. Miyabi panted, knowing that she was at a distinct disadvantage. She was like a turtle turned over onto her shell—she was completely vulnerable and exposed. Quickly, Miyabi would turn over onto her stomach, then push herself up onto her knees, a slightly more defensible position than the one she had been in.
_________________
Page 1 of 4 • 1, 2, 3, 4

---
Permissions in this forum:
You
cannot
reply to topics in this forum