Champions & #1 contenders
Highfly Flying Out Of Town
Tue May 22, 2018 1:31 am by HighFly
Hello everyone, I just wanted to inform all I have threads with that I will be gone from this coming Wednesday through Sunday. I won't be able to post consistently if at all during this time, but I will try to make up for it next week! I am sorry for the inconvenience to everyone.
Comments: 7
The Austrailian Mudslide is Back.
Sat Apr 21, 2018 6:20 am by Softsquad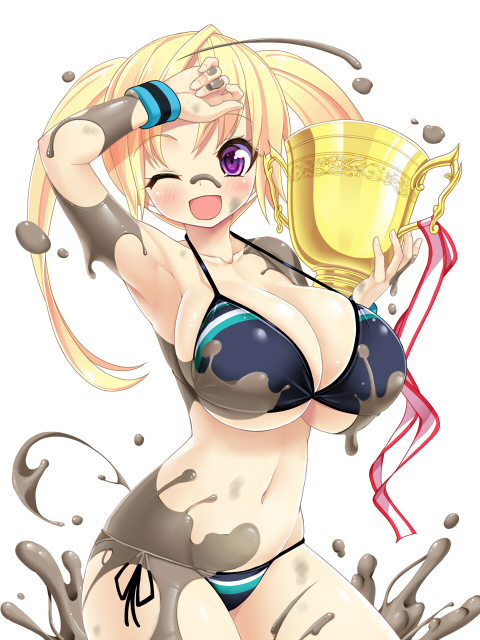 Granted that most of you won't know me or remember me, but I've had a few matches here and there some time ago. Well I think its time to become a regular around here and try to have some fun again, but at the same time keep coming back. Anyway I think its time to jump into some matches with Zoe Taylor, my mud wrestling character from Australia and get her back into the squared circle. Furthermore I will update my characters as I think some proper changes need to happen.
So if anyone would …
[
Full reading
]
Comments: 5
Page 1 of 2 • 1, 2


Do one thing every day that scares you, that's what people said. Taylor thought it meant that if you were too comfortable then you weren't pushing yourself, or didn't care. She had always pushed herself. She had always been scared. And over the years she had discovered things about herself that she never knew were there, and she'd found out the things she really cared about.

The ring was always grail, the goal, and her stomach still did back flips every time she walked out into the arena. The lights, the crowd, the noise, the vibrations of her music through the floor, the slight feeling of vertigo when looking down at the ring from the top of the ramp. The matches. She'd fought and bled and cried in that ring so much that she had come to think of it as home. She'd been there so many times.

But she was growing up, bit by bit, and every day she learned something new. At some point, she learned that there were some things that just could not be had in the ring. She thought about it while she waited with phone in hand, dial tone rolling in her ear until the call bounced to voicemail. She had still not come up with anything to say.

"Hey, it's Taylor. I have something I wanted to ask you, and don't worry, I'm not going to kill you. Meet me at Devil Craft... the pizza shop. Tomorrow at one." She hung up. She wasn't sure where the girl was from, she sounded Irish, but everybody liked pizza, right?

She had no idea if she would actually show up, but Taylor was willing to take the chance. She kissed Johnny goodbye and hopped a train from their home in Hamamatsu to Tokyo, arriving around noon, and to the restaurant around half-past. She could wait. In a few minutes, she ordered a couple pies, deep dish was their specialty, one loaded up with chicken and bacon and different cheeses, the other with all sorts of vegetables. Having them already on the table at one o'clock would probably make a good peace offering.

All that was left to do was wait. Luckily, with the invention of the smartphone, waiting wasn't all that bad. She tried to distract herself by reading a book she had on her phone, but she couldn't keep her mind off of the empty chair across from her. Her palms were sweaty and her heart beat faster the closer the time drew to one.
Morrigan couldn't actually believe it when she had heard the voicemail. She didn't know the number and didn't bother to answer. When it clicked over and the message was left, her eyes widened. Was Taylor stupid? Was she that completely retarded? She obviously had to be if she really wanted to invite her out for lunch like they were besties. unless Taylor was trying to spring a trap for her. That's exactly what Morrigan would do so why wouldn't Taylor?

She wasn't going to take any chances. Especially with what happened at Avalanche. She wasn't at her best and had to put on a boot to go out. She made sure she was prepared by carrying around her "bodyguard" She also wanted to make sure that Brittany was around so she told her to go shopping close by and made sure she was close enough to pounce when Taylor sprung her trap.

After all of her preparations were set, she got to the pizza place about fifteen minutes before one o'clock. She made sure to stay out of sight and watched as long as she could until she saw Taylor enter. The temptation was enough to just jump her right there. Just lay her out and beat the shit out of her. She wasn't sure why she disliked Taylor so much. Maybe she didn't. But the truth was, the girl was an obstacle to what she was doing and obstacles had to be demolished.

She watched as the pizza was brought and set down and after five more minutes, she slid out of her position and walked inside. She looked around as if she had no clue where Taylor was. She then took a seat across from Taylor and looked the girl up and down. She held a scowl instead of her usual smirk. She stared at the pizza. and after a moment crossed her arms. "Well?" She said finally, expecting Taylor to get right to the point.
Taylor cracked a smile, but it vanished quickly when Morrigan sat down. At least she came.

"Well what?" She said innocently, and grabbed a slice of pizza. She hadn't cheated and eaten anything unhealthy in quite a while, and if this was going to be her day she was going to make the most of it. Not even Morrigan could stop her.

She took a bite, chewed, and swallowed before she spoke. "So first off, I'm not gonna fight you today, so... don't worry about that." She looked the redhead over. In street clothes, out in the real world, she was just another girl. "Lemme just ask first, though... Do you have a taser on you? Razor blade? Is Brittany around? Just because I'm not after you doesn't really mean I want to get fucked up in the alley on my way home."
Morrigan kept her arms crossed while Taylor took a slice of pizza. Her eyes turned to look at the pies. They smelled quite good but she was still a bit suspicious of it. She waited for now. She listened to Taylor after she took a bite and turned her head. Her grin spread along her face suddenly. "Maybe." Morrigan said, clearly betraying her own words.

She looked coyly at Taylor and decided that she could just make her sweat a little more by grabbing a slice of pizza. She took one of the vegetable ones and took a bit of her own. When she was finished, she took a drink and then looked back at Taylor. "Well, you're the one that called me out here. You're just going to have to take that chance, i guess." She said smugly. "Maybe it won't have to come to that. You were nice enough to buy pizza, " Morrigan said, implying that Taylor was paying, "so the least I could do is not beat the shit out of you when you're walking home."

Morrigan took one more bite and chewed it. "What could you possibly want to talk about, anyway?" She asked. "The fact that you called me out here makes me pretty suspicious of you." She added.
"I know, right? My thoughts exactly." Taylor said in a way that approached a joke. "And like I said, I'm not fighting you today. So buying pizza and asking nicely is about all I'm going to do to keep you from kicking my ass."

Never mind the fact that Taylor would slaughter this chick in a fight. She didn't bring that up, though.

She ate some more pizza and took her time getting to the point. "So, like..." She began slowly. "You were one of the maids, right? I think you fuckin' wrecked me with a firehose once. But now you're not? How's, uh... How's that working out for you?"
Morrigan's smile got a little more smug as she knew she had Taylor right where she wanted her. Shecould just flip a switch and murder the dumb blonde. Drag her to a place where no one would hear, or care if they did, her scream. It made her quite able to relax as she took another bit of her pizza and another drink.

But Taylor's question came as quite a surprise. Morrigan stared at Taylor blankly, trying to figure out where that even came from. Her fingers curled into a fist on one of her hands and she glared at Taylor. "was, yes." She growled. "I left Lukretia's employ for the time being." She raised her fist like she was going to slam it down. It was shaking but the hammer never dropped. she let it rest and then turned her head.

"Tch. Why the hell do you care about that? Still pissed off I sprayed you with a hose? Big fucking deal. I've done worse to you since then." She added. Morrigan sighed. "Seriously, what the hell?" She asked, a little curious. She didn't really come out to lunch to ask if she used to be a maid, did she?
"Do I look pissed?" Taylor asked calmly. She raised an eyebrow at the at-maid and leaned back in her seat while she chewed some more pizza. Regardless of the rendezvous with Morrigan, the pizza was amazing. It used to be a staple for her in New York, and now she almost never ate it. It was a spiritual experience.

"For the time being" were Morrigan's words, which, regardless of how agitated she got when Taylor brought it up, told her that it wasn't her idea to leave. Or, at least, she didn't like the idea. Taylor couldn't fathom a world in which being some weirdo fake-French maid for some weirdo German headcase was more desirable than not being that, but... Morrigan was clearly not in her right mind.

"A'right, well, I was just thinking that, like, since you're kind of out of a job, more or less..." Taylor said nonchalantly, gesturing to the side with a pizza crust. "I thought maybe I could offer you a one. If you're interested."
Morrigan furrowed her brow at Taylor's remark. She really had no clue what got Taylor's panties twisted and she really didn't care. She leaned back in her chair and took another drink. She glanced out the window to see what was there. Maybe to see if she could see Brittany. This was stupid. It was too ... normal. Morrigan hadn't been around normal in a long time. Not since she joined the AFW. it made her uncomfortable.

Taylor's next words only made the atmosphere even more weird. Morrigan tried to knit her brow even deeper. It was hard. There was something very wrong with this girl and Morrigan didn't know what. Maybe she had been beaten retarded. "What?" She said. "A job?" She really couldn't get a grip on it.

Morrigan adjusted her glasses and leaned forward. "What could you pay me to do?" She asked. Morrigan shifted again quickly and leaned back, crossing her arms again. She was shifting a lot because she was a little uncomfortable.
It was a weird feeling for Taylor to be the calm one while someone else struggled to keep it together. She found herself relaxing more and more as they talked, like Morrigan's uneasiness was absorbing Taylor's. She felt like a business woman. Like she should be wearing some kind of suit.

"Well, I'm not sure what Lukretia paid you or how much that matters..." She said. She wasn't even really sure what she was proposing, but it felt like a good idea. "But I guess if you had to call it something... personal assistant? I mean, I've got AFW and training and publicity and a new business that might lead to more business stuff and a husband, and I live in Hamamatsu. I'm pretty busy, and I can't be everywhere at once, ya know? Maybe you could just help me out with stuff."

She watched Morrigan closely to see how she'd take it while she leaned forward to grab another slice.
Morrigan's hand unclenched and she dug her fingers into the table. At least, she tried to. She honestly wasn't sure what was going on. She didn't know how to feel. She was absolutely stupefied. "huh?" Se said finally. Morrigan scratched her head.

"Are you... serious?" She said. Morrigan turned her head. "What the hell is wrong with you?" She said, her cheeks flushing a bit. She spoke in a low tone, not being loud or obnoxious. "You realize that Br-lilith and I are going to mug you in the alley when you leave, right?" She frowned. "Or, if we see you backstage or the next time you have a match.'

Morrigan stood up abruptly and turned around, putting her back to Taylor. She paced back and forth a few feet away from their table, her arms crossed before she quickly slid back into her seat. She stared at Taylor. "I don't get it." Morrigan breathed in deeply. "What are you planning?" She said, her fists clenching and tightening again. "Trying to get me alone. Get me away from Lilith so you can finish what that bitch started!?" Her tone heated up in aggression but her tone remained quiet as though she was trying her best not to just make a scene.

"Once I get Lukretia to see everything I'm doing for her, then I can go back there. I'm her head maid. I left to show her how valuable I am. I'm going back." She said, gritting her teeth. Morrigan looked down. Her first piece was mostly crust. "Lukretia is an admirable woman." She said, defending her as if Taylor had insulted her. "She's demanding, as she should be, but she has her reasons. She shows affection when it's deserved." She added. Morrigan grabbed a new slice and tore off a chunk like she was ripping meat off a turkey leg and chewed it angrily as she stared at Taylor.
Last edited by 445 on Sun Jan 12, 2014 4:56 am; edited 1 time in total
Page 1 of 2 • 1, 2


---
Permissions in this forum:
You
cannot
reply to topics in this forum