Champions & #1 contenders
Moonhearts Promo intro thread is O p e n.
Mon May 21, 2018 4:21 am by XSirenX
Feeling brave?, lost?, or without a thread to post in?, hit up the newest Moonheart if any of those apply!
CLICK HERE
What Moon has to offer?, many things...:
Comments: 0
The Austrailian Mudslide is Back.
Sat Apr 21, 2018 6:20 am by Softsquad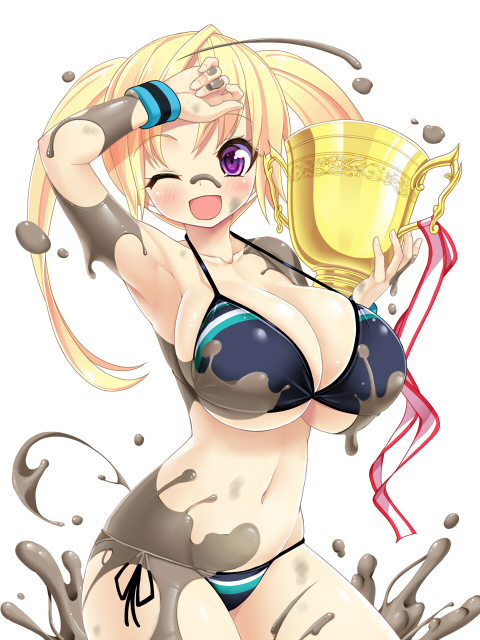 Granted that most of you won't know me or remember me, but I've had a few matches here and there some time ago. Well I think its time to become a regular around here and try to have some fun again, but at the same time keep coming back. Anyway I think its time to jump into some matches with Zoe Taylor, my mud wrestling character from Australia and get her back into the squared circle. Furthermore I will update my characters as I think some proper changes need to happen.
So if anyone would …
[
Full reading
]
Comments: 4

Taylor slipped a little black hair elastic around her wrist and reached up to gather her bright blue hair behind her head. She looked up at the mirror in front of her, at her pretty, angular face, the dark dramatic makeup around her eyes, her long bangs that perpetually threatened to cover one eye. She tilted her head to the side to see if she could make out any of the very faint freckles that were scattered across her cheeks. She'd been covering them with makeup for so long sometimes she forgot she had them.

Over her shoulder, through the mirror, she could see Akashi. She didn't know what to call her now. It didn't seem right to just go back to calling her what she used to call her. Her best friend, her big sister, her onee-chan. She was those things again, but none of them seemed to accurately describe who she was, or what she meant, to Taylor. She was Akashi.

She smiled. She noted, as she often did in front of a mirror, and critically, that her two front teeth were slightly longer than the ones on either side. They were her rabbit teeth. Sometimes she liked them, sometimes she didn't. They were bright, shiny and white thanks to her impeccable, sometimes compulsive hygiene. Her dad always used to tell her that her smile, her radiant, razor sharp smile, would sail ships someday. She never knew what it meant.

She slipped the little black hair elastic off her wrist and over a single pony tail, wrapped it twice, and stepped back. It seemed like the first time that she had ever stood backstage, ready to walk out into the arena and face the fans and the lights and the cameras when her hands weren't shaking. She wasn't jittery and overflowing with energy like she usually was. She didn't have to do deep breathing to keep herself from burning out too early. She just was, and it was accompanied by a peculiar feeling in her chest, like something was there that she'd been missing before.

She turned around. "Akashi-san." She said. "Ganbatte." She grinned, and the Friction staff gave them their cue to enter.

[url=http://www.youtube.com/watch?v=3qY8SwTY96k:2ettjpf6]Their music[/url:2ettjpf6] flooded the arena and the crowd burst like their partnership had never ended. Taylor strode out onto the ramp alongside Akashi and brought a hand up to shield her eyes as the two faced the lights again.
Akashi had chosen not to wear her wrestling outfit to this promo either. She wanted to look as magnificent as she possibly could for the first in-ring appearance with Taylor since their brutal Avalanche match. She was dressed as she always was when she wasn't int he ring. She had a flowing, light blue kimono that had dark blue birds embroidered on it. It flowed and was quite open, showing off her bountiful cleavage. Her hakama pants were black and she wore the wooden geta sandals that clacked when she walked. She had also taken the time to do her make u as deeply as Taylor's, maybe a little more exaggerated to fit with her Japanese theme. She chose blue as well, swathing herself in the colors that usually reminded people of Taylor the most. Her hair was done up in a thick, messy bun, held by a fan shaped hair holder with only two long, ringletted strands falling at her sides that bounced when she walked.

Akashi looked at Taylor and smiled. "You look great, Taylor-chan." She said, making a little bit of small talk before they were called. When Taylor spoke, Akashi lifted her hand up and clenched her fist. "Yosh!" She said with excitement. 'Ganbatte!" The music got her pumped and she couldn't wait to get out to the ring. The roar of the crowd, the echoing of their music. It was so great. Especially with Taylor at her side. But even with her excitement, she still too purposeful strides. She smiled at the crowd and slapped the hands on one side and then the other. Her heart beat fast and the electricity in the air made her body tingle.

She climbed up the stairs and slid into the ring, turning and looking at the whole crowd as she slid next to Taylor and grabbed her hand. She lifted it up in the air and let the waves of cheers wash over them. Suddenly, she couldn't help herself and looked at Taylor and grinned. "Taylor-chan." She whispered. "I never got to..." Akashi threw herself at Taylor and pulled her into one of her infamous crushing bearhugs.

"mmmmmm!" Akashi squealed in delight before setting her down. They had spent the time recuperating after the match and Akashi really never got a chance. The time had finally come and she wasn't going to pass it up. When she let go, she slid to the side of the ring and was handed a microphone and a metal attache case.

"Th-Thank you, everyone!" She said. "Hello!" She chirped cheerfully. "It's great to see everyone! I hope that you're having a great time tonight!" Akashi bowed deeply tot he crowed, barely realizing or caring that she was showing off quite a bit of her chest. "I hope, too, that you enjoyed our match! This past year was long and difficult for the both of us, but it was exactly what we needed. I know that I am glad to have Taylor with me. She's not just my friend, she's my best friend, my sister. She's my family and my world. I owe her a lot and could never thank her enough!" Akashi then held out the briefcase and turned to Taylor.

"This," She said. "Was what I earned at the Temple Games. It's a title contract. You.. probably already figured out what it is by now, but still. I wanted to show you." Akashi flipped open the briefcase. "Inside is a contract for myself and a wrestler of my choosing to face the Friction Tag Team champions any time we like from now until the start of the next Avalanche!" Akashi turned her head. "I, of course, want you." She said. "Kamikaze could only ever be you and I, Taylor-chan. I am sorry I even pretended to think otherwise!"

Akashi grinned. "As tempting as taking your Hentai title contract was..." She snickered. "Please, accept this. Let's show the AFW that we really ARE the best tag team around!" Akashi smiled and then handed the microphone to Taylor as the crowd once again came to life.
Last edited by 445 on Wed Dec 12, 2012 5:01 am; edited 1 time in total
Taylor walked easily next to Akashi down the ramp. In contrast to the flowing and revealing clothes the sumo preferred Taylor wore a snug, faded blue crew neck t-shirt with the words "Heart Still Beats..." in black across the front and tight jeans with a studded black belt around her hips. Her right hand was wrapped up in bandages, and she held out her good hand to dip into the eager fans as she passed, dragging it along their outstretched hands on her way to the wing.

She was unusually subdued as she stood in the ring, offering the crowd a wave and a smile that looked nearly shy. Akashi broke her out of her crowd-trance and her eyes widened as she realized what was coming. Her shoulders slumped in resignation, but as the sumo squeezed her like a squeaky toy she couldn't help but grin. She beamed when Akashi set her back down, and she put a hand softly on her arm.

She mirrored Akashi's enthusiasm as she spoke, but she began to wonder about the case she carried. She assumed it was a contract for the Friction title, that was where she belonged, but... maybe not.

Then Akashi said it, and the color drained from Taylor's face and she did her best to conceal her shock and sudden horror. She looked down at her feet as her cheeks turned bright red.

"K-Kashi..." She whispered.

She took the microphone, and waited for several moments before she raised it to speak. "Hey!" She said in a voice like she was just greeting a friend. The crowd cheered. "Hey, um..." She hesitated. "I-I've just got some stuff I wanted to say, okay?" The crowd quieted down a little to let her speak.

"So... Man, I'm just gonna dump some emotional stuff here, okay? So, like, bear with me." She laughed. "You never see the men doing this! Like, in the That's why they pull down the big bucks. I don't mean Tension, like the real ones. A-anyway, um... I'm..." She became serious.

"I'm really lucky. I've got people that care about me like I never imagined. This girl right here, Akashi Tanikaze, she changed my whole life." She reached out and grabbed Akashi's sleeve. "And... It's really good. She's my sister, and I'm so, so sorry that I ever tried to screw us up with all the stuff that happened. But... I learned that between sisters, a fight is just a fight. Maybe it lasts the rest of your life, but if you just chill out, ya know, you'd realize that underneath all that stuff you're always sisters. I don't know how to say it, but... Guys, I want you to cheer the shit out of this chick until she's a hundred years old, okay? After that, you can probably keep it down." A wave of cheers.

"Aurelia Fortuna has been really cool to me. Chigusa Yuuki. Even Natalia. And... I hate myself for saying this, but I think in her own messed up, psycho-Nazi way, Lukretia... I dunno. There's another one, though, that's always been there for me, and I haven't always been... the best friend. Cassie Elliot, man, you guys might not know her, but you will. She's got the talent, man, way more than me. The only thing she's missing is someone who believes in her, and... she always believed in me, so now maybe I can be the one that believes in her. She's incredible."

She paused and drew a breath. She was getting long winded. Her mouth was dry. She glanced up at Akashi and then continued. "There's more good stuff, too!" She said, and couldn't hold back a big, warm, pretty smile. "Um..." She laughed nervously and fidgeted and looked up at the lights.

"I'm so in love!" She gushed, her voice small and high. "Johnny Higurashi rocks my world, man, and... I had no idea. It's like it all just happened by accident, I can't explain it, but... Johnny. I want to be with you. I don't want to live in different cities anymore. I feel like if we're together, everything is great. Um... But... Not everything's that great right now.

"I've done a lot of thinking, and... I'm really sorry." She nearly whispered, toward Akashi. "I've been doing this for a couple years, ya know, and... Ya know, I've always just fought. It's always been what I do, and I don't know if it's right. I feel like something in me is fixed now, and I don't know what it means, really, but..." She looked down at the mat, and her voice shrank almost to a whisper. She was pale. "I..."

She looked up. "I'm just tired. I don't want to do this anymore. Akashi, I'm so sorry but Lukretia, wherever you are... I quit."
There was a collective gasp as Taylor said her words. They couldn't believe it. They had clapped, cheered and booed appropriately as she gave her speech, but at the end, all they could do was gasp in silence. Akashi, too was dumbfounded by the announcement. She too had been swept up by the emotion and nearly made her ball as well. She'd done enough of that though and wasn't going to mess up all her make up, even if it was a beautiful speech. She was most excited for her and Johnny to be going along so well. Akashi really was happy for her sister.

But her quitting was something she couldn't understand. It almost felt like she had done everything in that match, in that last year for nothing and ended up losing her right there. Her first instinct was to beg Taylor to change her mind. But that would be selfish. Taylor had obviously done a lot of thinking on it and Akashi would be there for her. She lifted up her hand and clamped it tightly around her shoulder, turning her to face her.

"Imouto-chan." She said in an almost stern tone. "I won't let you..." She began. "I won't let you mislead these people!" She then grinned. "You know what they say, always leave them wanting. Don't say you quit. All of us who wrestle, who put their soul into this ring, have all felt that emptiness. Especially after a big match. You just don't want to go through the grind anymore. The urge will come back Akashi said. "It definitely will! You should say, instead... that you're going on indefinite hiatus!" Akashi grinned. "It doesn't sound like a such a bad idea, does it?" She said looking Taylor in the eyes. "Maybe I should do the same?"

Boos rrained down at the thought of both of them leaving. Akashi shook her head. "Ok, well.. How about we just take a nice, long vacation? I'll come back and hold your spot in the rankings. Maybe even win the title back? I'll hold your spot in the tag team as well. You better have your stuff sorted before next avalanche." She said seriously. "Because we're GOING to compete for the tag titles. And we're GOING to win! And after that match, if you still don't have that fire back, then... at least you can say you retired as a champ. And if you come back fore that, then.. Well, you wouldn't have gone back on your word. Because you didn't quit. You're NOT a quitter. You're a ... hiatus... er..." Akashi turned her head and blushed.

"Alright?"

Akashi said looking at Taylor with a wide grin.
Taylor looked down with a small smile. "Kashi..." She said quietly, but she let her finish.

"It's not that, it's... I think people like us come out here and, like... fight from the heart, ya know, we pour out our hearts in this ring because we're secretly hoping that something will come back with it, like... fishing. I dunno. I spent a long time looking for my soul and now I found it, but it wasn't in this ring.

"I just... I don't have this in me anymore, I don't want to fight people. I've spent so long fighting everyone and always being afraid of what might happen if I stop, and look where that got me." She said, looking straight at Akashi. That was exactly what was in her head when she threw Akashi out of her apartment that night, and what led to the rift between them in the first place. "I don't want to do that anymore.

"So... I dunno, man, I guess... I won't tell you no forever. I can't do that. But I wouldn't bet on ever seeing me in this ring again." She said, and suddenly, for the first time that night, found herself choked up and unable to speak. She felt like she'd just then lost a part of herself. She imagined herself as being stuck in a bear trap, and to get free she had to cut off her own leg. Being free was still better than struggling in vain your whole life, even if it cost you.

She looked out over the crowd and imagined what it would be like to never see them from this side anymore, to never hear her name called before a match. She wondered how long it would take until they all forgot about her, and who it would be that would replace her in their hearts. A tear ran down her cheek as she lifted the microphone again.

"Everyone... arigatou." She said, and bowed her head deeply to the crowd. Her eyes were red when she straightened up, and she looked at Akashi for a moment before wrapping her arms around her, and with great effort hefted her several inches up off the mat. She squeezed her with everything she had.

"Time to go, Kashi." She said, and set her down.
Last edited by 1167 on Thu Dec 13, 2012 4:23 am; edited 1 time in total
Akashi listened to Taylor. She had a soft smile on her face, even though she hated to hear the words. Still, she had done her best and now it wouldn't do any good to try and convince her otherwise. it didn't mean she wouldn't try later.

Still, the crowd couldn't help but roar for the pair, even as Taylor unexpectedly bearhugged Akashi, the big sumo blushing as she was lifted off her feet. "D-Don't throw your back out, Taylor-chan!" She said giggling when she was set down.

She nodded. "Hai!" She exclaimed and raised both their hands up in the air once more. She then led Taylor out of the ring, not letting go of the girl's hand as she walked hand in hand with her sister. She turned and looked at Taylor and smiled.

"I hope that one day you have the urge to fight because you want to. Because it's an unquenchable fire in your belly. Not because you have to." Akashi raised her free hand int he air as they dipped behind the curtain. She then stopped and grabbed Taylor by the shoulders.

"Osu! I will hold onto it until you're ready to come back and with it in my heart I will fight with even greater conviction!" Akashi grinned and threw her arms around Taylor once more, hugging her close but not squeezing her in a death hug. "Taylor-chan." She whispered. "I'm so proud of you." She said as she tried to hold back her own tears. She wasn't going to let herself get emotional though.

"Yosh! Now, we celebrate your new found freedom with a night of drinking, yes?" Akashi said with a wide grin. "And then..." She declared as she slid an arm around Taylor's waist to keep walking with her. "We'll take the train to Kyoto to go see Johnny-kun! We'll play the fun game of fend off the drunk horny sumo while you try and get intimate with your boyfriend! Hahaha! This is going to be great, isn't it!?"
Taylor walked hand in hand with Akashi up the ramp, her eyes downcast with a faint smile on her lips. She wasn't crying, but she was on the brink. There were tears waiting in her eyes, but she wouldn't let them free. She wouldn't close her eyes. She wasn't going to miss these next few moments.

"Yeah." She whispered. "Not because I have to." She echoed Akashi. She understood her, and she wasn't surprised anymore.

At the top of the ramp, she stomped down with her left foot. She swung her right leg up and threw herself into a backflip, turning two full twists in the air before landing on one knee with a hand down and the other out for balance. When she stood up, she turned to face the crowd. They cheered, they chanted, and Taylor just smiled, dreamy-eyed like the first time she ever saw them, or the first time they ever cheered just for her. Like when she saw the first fan to make a sign for her. She paused for a moment and drew a breath.

This is all a huge mistake, she thought. What else could she possibly do?

She shook her head and dispelled all her doubts. She knew that letting go of this was the right thing to do. Everything was new again, and it was completely, and utterly terrifying. And it all started the moment she stepped through that curtain and left the arena for good.

She gave the crowd a razor sharp grin and held up a hand in a modest, girly wave. Then she turned and followed Akashi through the curtain.

"Yeah, Kashi." She said. "It already is."

She had to get out of there before she started bawling and freaked out and tried to take it all back. "Um... let's get out of here right now. I've got some serious work to do around the bar... And I know just the place." She said, thinking of the club where she met Johnny.
Last edited by 1167 on Thu Dec 13, 2012 4:59 am; edited 1 time in total

---
Permissions in this forum:
You
cannot
reply to topics in this forum