Champions & #1 contenders
The Austrailian Mudslide is Back.
Sat Apr 21, 2018 6:20 am by Softsquad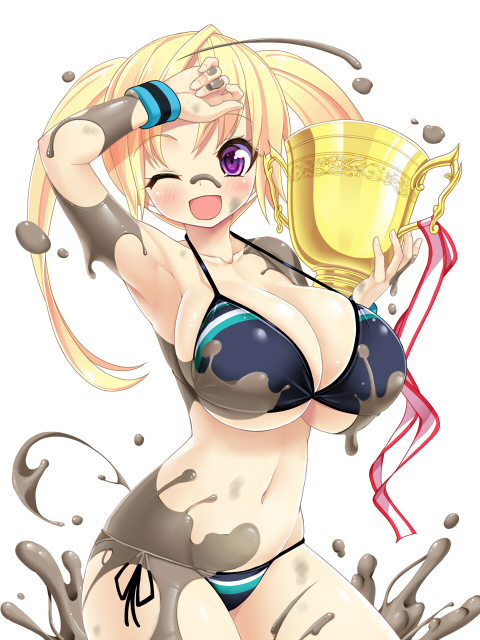 Granted that most of you won't know me or remember me, but I've had a few matches here and there some time ago. Well I think its time to become a regular around here and try to have some fun again, but at the same time keep coming back. Anyway I think its time to jump into some matches with Zoe Taylor, my mud wrestling character from Australia and get her back into the squared circle. Furthermore I will update my characters as I think some proper changes need to happen.
So if anyone would …
[
Full reading
]
Comments: 5
Highfly Flying Out Of Town
Tue May 22, 2018 1:31 am by HighFly
Hello everyone, I just wanted to inform all I have threads with that I will be gone from this coming Wednesday through Sunday. I won't be able to post consistently if at all during this time, but I will try to make up for it next week! I am sorry for the inconvenience to everyone.
Comments: 5
Moonhearts Promo intro thread is O p e n.
Mon May 21, 2018 4:21 am by XSirenX
Feeling brave?, lost?, or without a thread to post in?, hit up the newest Moonheart if any of those apply!
CLICK HERE
What Moon has to offer?, many things...:
Comments: 0
Page 2 of 3 •

1, 2, 3



As Sarah started pilfering around for the office for some form of liquid alcoholic refreshment Lukretia would end up answering her prayers. The sight of the frosty beer already had Sarah's mouth watering. It had been a very long motorcycle trip to get to Tokyo, so the opportunity to down a cold one at the moment was too good for Sarah to pass up. Heading over to retrieve the poured mug Sarah took it in her hand, eagerly ready to inhale the frothing liquid.

"And I hope that one day Satan will realize he's missing a daughter," Sarah replied with a smile, and with those not so subtle jibes at each other their mugs would clink together before Sarah would bring her's to her lips. The Queen of Brawl would take several gulps before removing the glass with a satisfying "Aahhh."

"Not bad," Sarah admitted looking down at the dark liquid. "Now as I was saying I need a bit of information. I haven't exactly been keeping up with the latest AFW news. I mean, why would I? It's not like I'm in it."

Sarah took another swig of her drink. She would need a refill at this rate. "A list of all the title belt holders would help. I need to find out who's the one holding mine after all..."
Lukretia took another sip from her beer, this time less hearty but still quite enjoyable, only to watch as Sarah continued to look about her room as though she might find some hidden treasure. Lukretia learned along time ago to keep only the sturdiest of tasteful nick-nacs in her often as many n upset wrestler had tried to turn her office into a wasteland at her decisions. Often when she was still there.

"However, Sarah's reasoning for coming to her office made her scowl. "Surely even a brute such as yourself can use a phone or computer." She stated. "It is not something ve are trying to keep a secret, Fraulein. Taylor Parker is ze current Vorld Champion." She stated simply. "Do you vant me to list off who owns ze hentai und tag titles? Kavaii? You are interested in zat as vell?" She said.

Lukretia narrowed her eyes. "Let me tell you somezing Fraulein. You have nothing here. If you vish to wrestle, zen please, do as you like in ze ring. However, if you think zat you may come und go as you please und have your place in  line saved vhenever you vander off, you are quite mistaken. As far as I am concerned, you are no different zan any rookie valking into meine office vith dreams of grandeur."

Lukretia crossed her arms. "Und don't think you can go above me on zis matter." She said seriously.

"Can't believe everything you read on the internet," Sarah answered evenly, taking her final swig of the dark beer, licking her lips afterwards. Taylor Parker? Sarah repeated in her head. Why did that name sound familiar?

"I doubt your rookies have the same fan base as mine," Sarah replied in response to Lukretia's comments. "God, do I have to spell this out for you? I. Make. Money." Each word was emphasized as if Sarah was talking to a slow person. "I was making this place a mint back in the day. Hell, I probably payed for half of this new building. Think about it. After an absence of many years, Sarah Gatt, the Queen of Brawl, is back in the AFW. People are going to eat this shit up." Sarah started to count off on her fingers.

"Ticket sales, pay per view, hell probably some goddamn merchandising!" It was odd for Sarah to have such a head for business. Perhaps all that time spent with Nha, driving around with Nha, and fucking Nha had some of the blue twin's smarts rub off on the Queen of Brawl. "Help me out a little, Lukretia, and I can make this place, and by extension you, more money then you ever did in the past couple years."

Sarah smiled like a shark. "So why don't we help each other?"
Lukretia finished her beer as well and slipped back into her office chair as Sarah ranted on about business and making money. She was talking like lukretia was the one who had never owned a business or ran a company in her whole life and who had come to the AFW in the FIRST place with intention of purchasing the company with her own assets.

Once Sarah was finished, Lukreta calmly looked at Sarah and folded her hands on her desk. "Miss Gatt, I would appreciate you not assuming zat I know nothing of business. You probably assume zat I live off of meine paycheck as General Manager of Friction. I assure you that I rely on no paycheck to cover meine daily expenses. I have investments und enterprises zat allow me to not have to live under ze thumb of some employer."

Lukretia stood up, pushing her palms flat against her desk as she leaned forward and looked at Sarah. "Und, perhaps I am wrong, but I am vondering if you haven't come crawling back here because of zat very reason. Because, no matter how much attitude und svagger you have, no matter how fierce you might be, you still need someone to sign a check to you for you to be able to sleep comfortably at night. It is hard to live off of crumbs, is it not?" Lukretia said. "I am sure it is not ze first time und for zat, I respect you." She said. "But vhen you taste ze life of ze fat cat, it is hard to let go." Lukretia turned her head.

"Miss Gatt." She said simply. "As long as you vork for me, I vill ring every last dollar. I will squeeze every ounce of blood sveat und tears und I vill ride you like a horse." She paused and looked back. "Und you vill lap up every bit of vhat is given und appreciate zat someone is villing to put up vith you. Your ego dictates to me zat you belong at ze bottom until I am satisfied zat you are in ze same condition zat you were in before you left ze first time."

Lukretia smiled wickedly at Sarah. "Und if you don't like it, zen you had better find a vay to impress me quickly. Besides, it vill be nice to have someone around who can put our young upstarts in zeir place. I think zat... if one of zem vere able to beat ze infamous Sarah Gatt, zen zey might even catch meine eye. Maybe zey vould catch ze eye of ze fans. Perhaps merchandising vould be in order..." She said, waving her hand dismissively at Sarah, all while smiling.

I thought I was a bulldozer? Now I'm a horse? Sarah contemplated in amusement as Lukretia once again tried to belittle Sarah. It always Lukretia's way to remind Sarah of her status in comparison to her own. Not that Sarah ever gave a shit in the first place. The bitch could fuck herself with diamond dildos for all Sarah cared.

Sarah was only half listening as Lukretia continued. Now that she knew where the refrigerator was Sarah helped herself to another of Lukretia's german beers. The one who's name she could never in her life pronounce. That was damn fine stuff. She even grabbed another for Lukretia while she was at it. With the two bottles in hand Sarah poured them each a glass again, right about when Lukretia finished talking.

"You know, I always thought we had very little in common," Sarah chuckled as she poured her own glass then moved to fill Lukretia's. "But the more I'm around you I realize how very much alike we are." Finishing with the drinks Sarah would bring the mug to her lips and take another hearty sip, and when she removed it she was smiling. "I don't give a shit about the money either. This place was never about the money for me. More of a....healthy outlet for the oodles of issues I've got rolling in this head of mine." Sarah twirled her finger at the side of her head and chuckled.

"Trust me. If I wanted to make money I sure as hell wouldn't give you a ring. I've got lots of other ways both in and outside these walls." Gatt Attack alone had netted Sarah quite the hefty sum back in the day. Hell, Kelly Conway had once given Sarah fifty grand just to have a match with her.

"But I don't care about that. Never have, really. Living on the streets isn't a new thing to me. I've been doing it since I was six. To this day I can't get a good nights sleep without a newspaper as a blanket. It's weird what you can get used to, isn't it?" Taking yet another swig, and already developing a healthy buzz, Sarah continued.

"If you want me to do this for free, just say the word. I'm sure Sellers would go for that. You want to call her up and check or should I do it? Or could we try to be a little bit civil and maybe, just maybe, you listen to the very meager things I need from you."


Lukretia listened carefully to Sarah's words, amused by the sight of her pouring a drink for Lukretia like some kind of beer maiden. She took the mug with a nod and took another drink. She did like what she was hearing. Most of it, at least. When Sarah was finished, Lukretia lifted up her head and looked the red head over.

"I assure you, my listening skills are quite superb und I am alvays civil." She insisted. "But I am glad to hear zat you vould do it for free. However, I am not asking you to do anything for free, but if you still really vant to, zen go ahead und make ze arrangements."

Lukretia stood up and slipped back around her desk so she was closer to Sarah. "Vhat I am saying is zat I vant to see vhat has become of you after being gone for so long. Vhat does it matter to you who you fight as long as you fight?" Lukretia said, shrugging. "Perhaps vhen I am satisfied, ve shall see vhat becomes of things. I don't see how zis is an issue after vhat you have said to me just now."

Lukretia looked at Sarah. "But, vhat is it you desire, Fraulein?" She asked, wondering if Sarah maybe had another point.

Sarah gave Lukretia a nod with a smile that almost seemed courteous. She was glad that, at least for now, she and Lukretia had reached something that resembled an understanding. Or not. Honestly, it was hard to tell most of the time. But they weren't punching each other so that was progress. "Let me worry about who I fight, pumpkin," Sarah said with a wink. "It's easier on all of us that way. I guarantee it."

When it was time to get down to business, Sarah raised her glass high. "That's the spirit!" Sarah cheered and after a sort of celebratory swig from the mug of beer would continue. "I've got a few....ideas in the works at the moment. A few investments and ventures here and there. Things like that. So I'm going to need an office. You know, a place with a big ole' desk to work from. Preferably not one on this floor. There's an.......unsavoury element here." Sarah would flash Lukretia a wicked grin before continuing.

"I'll also need the roster information of the most bad ass bitches this place now has to offer. I'm not talking about title holders. I'm talking about the meanest, cruelest, most vicious heels you've got. The badder the better." Much as Sarah would love to comb through literally hundreds of wrestler rosters it would be easier just to see if Lukretia had a file on them. Something told Sarah she did.

Sarah seemed to be wrapping up with that last request when she suddenly remembered something crucial as well. "Oh!" she realized with a snap of her fingers. "And a ninja. I'm also gonna need a ninja."
Lukretia was willing to listen to Sarah's demands but she quickly became less and less amused by the brawler, the more she spoke. Once Sarah was finished, The General Manager took a deep breath.

"Fraulein." She stated, looking at Sarah. "Do you think you are some kind of rock star Hasselhoff?" She stated. "I am a General Manager, not a Quartermaster. If you vant an office, zere is plenty of space available to rent. Some of our more ... independently vealthy employees have made use of some of our vacant facilities. One has even installed a private training room."

Lukretia then paused, thinking for a moment. She then smiled cruelly. "Mercedes Wrenn, our Talent Relations assistant vill be more zan eager to provide you with any information concerning our roster. Und, as far as getting you a ninja?" Lukretia raised an eyebrow. "Vhile many in our employ might THINK zat I am some kind of feudal varlord, I assure you I am not. If you vant a ninja, zen perhaps you should visit Harajuku. You would find as many there as you vould here." Lukretia said and laughed.

"Do you actually need anything zat I can do for you? I assure you zat I am not your personal assistant, no matter how much you may vish I vas, Fraulein."
"If by rockstar Hasselhoff you mean fucking awesome, then yes.  Yes I do,"  Sarah replied without skipping a beat, a mischievous smile on her lips as well as a beer moustache.

Sarah made a show of putting her hand to her mouth.  "Oh no!"  she declared dramatically in what was supposedly a sophisticated accent.  "Did I not go through the proper channels?  Oh drat.  How terribly foolish of me.  I simply must fire that assistant of mine.  Oh, I shall never recover from the shame of this day!"  Placing the back of her hand on her forehead Sarah made it like she was about to faint.  But instead she would sneer and laugh.  "Relax, mein fuhrer.  I'll find a good real estate agent.  I think I saw good one a bus bench."

Sarah nodded when Lukretia gave her the name of Mercedes whatshername, making a note to visit her later.  Then they came to Sarah's last request.  "Yeah, a ninja," Sarah replied without hesitation.  "I always had a ninja when I was here.  I want a ninja."  Ever since her days with the Era of Hell Sarah had always had a bodyguard, and the constant theme of them always seemed to be ninja.  It worked for her in the past, so why stop now?

"Come on, you can't give me one little ninja?" Sarah asked in an almost babylike tone.  "It seems like an easy thing for someone in your position.  What is there, like, fifty on the roster by now?  Whatever happened to the one I had before?  Beni?  Beni-something?"  Sarah snapped her fingers repeatedly, trying desperately to remember the name of the ninja girl who served her before.

Finally with a final snap of her fingers Sarah would remember.  "Benikage!  That was it!  Ha!  Yeah, whatever happened to her?"
Last edited by Darius on Fri Apr 24, 2015 11:53 pm; edited 1 time in total
Lukretia shook her head at Sarah's assertion. She shouldn't have been surprised, but at least the woman was being civil. That was as much as she could hope for from the brawler. At least until she began to mock Lukretia. The German just stared at Sarah with an incurious look. Everyone thought they had the best jabs at whatever Lukretia had to say. Some seemed to make a sport of it. Lukretia found it boring and infantile at best.

"Indeed, it seems as if every other day zere is another frau trying to dress up in zose ridiculous clothes. Believe me, I am not ze one who keeps track of it. I find zose zat require some sort of costume are not ze type I am looking for." Lukretia tilted her head. "Occassionaly I am proven wrong, however, most often i am not. I am not certain vhere your Benikage is, Fraulein. As little as I keep track of zose who vish to dress up, I also keep very little track of zose who have no interest in participating. I have not seen her. Perhaps you should find someone else if you so desperately need zis... ninja."

Lukretia then smiled suddenly. "But, vhy, exactly, do you need anyone?" She asked. "Are you vorried zat someone might feed you your own medicine?"
Page 2 of 3 •

1, 2, 3


---
Permissions in this forum:
You
cannot
reply to topics in this forum