Champions & #1 contenders
Posting delays
Fri Mar 16, 2018 4:08 pm by Yori
Howdy.
Should have made this sooner, since I hadn't informed everyone I have threads with. Posting has been and will be sporadic from me for a bit since I am in the process of moving. I have interwebs again, so now it is only a matter of finding the time. I won't be fully back until the tail end of the weekend (I hope) but I will be sprinkling posts out a bit when I find the free time.
Stay classy.
Comments: 3
A match for Takeichi
Mon Mar 12, 2018 7:31 am by GrandAkumaShogun
Since both Imai and Takeshi are currently involved in matches I was wondering if anyone is interested in taking on my first wrestler I made for here, Takeichi Mori. His profile says he's a jobber but I intend to change that and hoping a match can help with that. Anyone interested please get in touch with me on here in a pm.
Comments: 0
Looking for a start
Mon Mar 12, 2018 2:47 am by noob
Hey y'all! As is prolly pretty obvious I'm looking for a match. Win, lose, match type...I ain't terribly picky honestly and really am just looking to have a fun match. That being said though I do think it would be interesting to start a story line of finding a mentor or something for one of my characters.
Anyways my characters along with their descriptions, and maybe some preferences are in my roster link in my sig.
Figured I'd see if anyone was looking for something before going and …
[
Full reading
]
Comments: 0

Name: Chris Maverick
Sex: M
Age: 25
Eyes: Green
Hair: Black
Height: 6"2
Weight: 145 lbs
Nationality: Canada
Alignment: Face
Entrance music: Out of my Way by Seether
Wrestling Information
Strategy: Chris Maverick knows how to do martial arts but he sticks with his professional wrestling skills but if you get him mad hes very hard to beat when he gets into his martial arts mode despite the fact of getting trained in karate and other japan things which makes him a impossible martials art force but he's not always hard just to warn.
In hardcore matches, he goes in martial arts mode if he bleeds,gets hit with a chair put through a table or any hardcore object or weapon.
Style: Karate,Wrestling
Type: Martial Artist
Preferred Attacks: Clothesline and some roundhouse kicks and some punches to mix things up. He uses this one armbar in martial arts mode which is crazy hard to get out unless you get aided to the rope or somebody saves you or he stops it.
Preferred Matches: The more crazier it gets , the better, so he prefers backstage brawls or hardcore matches. Will just about go in martial arts mode even though he likes those kind of matches.
Endurance:★★★★
Strength:★★★★★
Speed:★★★★★★
Defense:★★★★★
Technique:★★★
Favored moves: Tilt a whirl headscissors turned into armbar, Roundhouse kick from back of leg, Moonsault pinfall
Finishing moves:
DeathBar: Chris runs and tilt a whirls his enemy and headscissors then its turned into a armbar which isnt easy to break out of.
Reverse Cross Rhodes: Its basicly like Cody Rhodes cross rhodes but Chris puts his enemy in a ddt position and does the cross rhodes except his enemy is in a ddt position .
Characteristics
Visual Appearance:
Image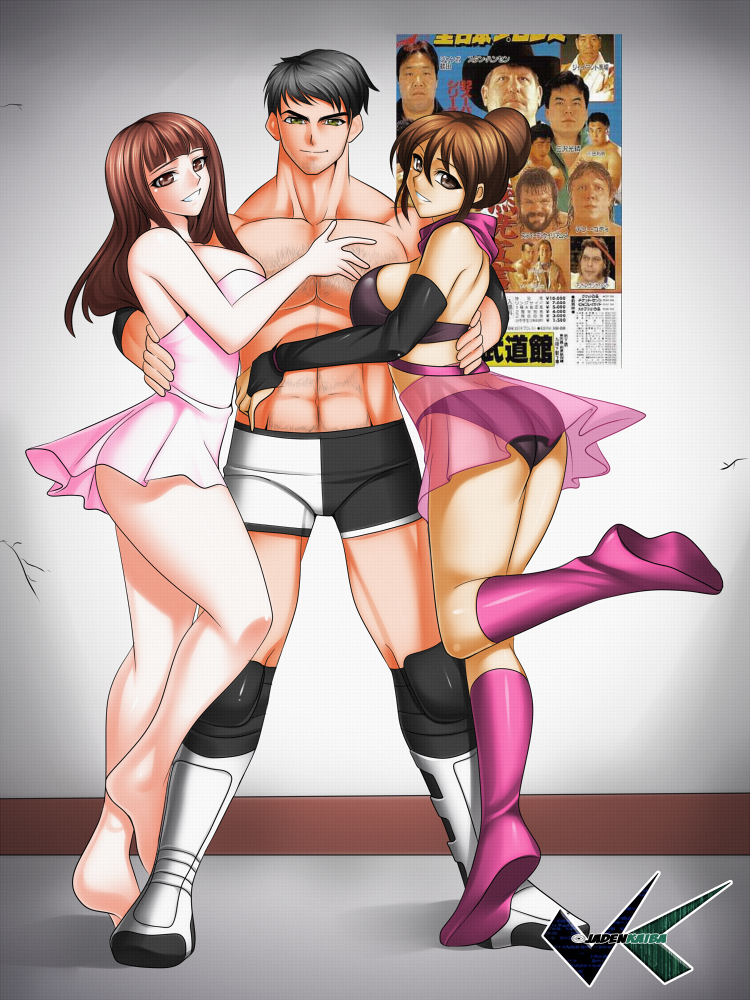 Personality: Nice guy he does want you to shake his hand before your match with him to do sportmanship but he isnt that nice sometimes he does realize what he's been doing to people but his agression takes part of him because he isnt like those people with their ego taking part of theirself but try knocking him out and you'll get something coming to you.
Past/History: Born in Canada Chris Maverick went to school and he loved his country he said to his parrents but even though he was very smart they said he could go to college at 10 but they moved him away to America where he lived in San Diego, California he was very smart in California then he was searching for wrestling schools and found a located karate and martial arts school where he learned his martial arts and other things and went to a wrestling school also so he was in a need for money and he found APW after his bad search with the indies so he went to APW.
Wrestling Attire:
Black elbow pads black on 1 side of trunks white on other side of the trunks black knee pads white kickpads.
Fun Facts:
-Has a short time with smoking he started smoking an ended 5 minutes after.
-Chris knows how to speak French,Japenese,German and those are the only countries he knows that he's fluent in their language except hes still trying to work on speaking fluent to speak Spanish.
-He loves pizza and when you talk about his family or something he likes or makes him bleed or anything in a wrestling match he goes in martial arts mode which nearly can kill you.
-He has two siblings, and he's the middle child. His older brother whos 35 (Michael) and his little sister whos 20 whos still in wrestling training (Stephanie) have got real wrestling training from Chris and other trainings falictys and trainers. He happened to be born on his father's side but he is on his mom's side a little bit.
-He also has two girl mangers, who he loves and they love him. before his match one of them kisses him on the lips and the other kisses him on the cheek and when hes hurt after his match if he loses they check on him quickly but if he wins they get in the ring and raise his hand they're always on his side and they promised him that they will never turn they're back on him.
Championships/Accomplishments:
Friends:
Allies: April Henderson (manager), Jessica James (manager)
Rivals:
Enemies:
Crushes: Jessica James (manger), April Henderson (manager)
Last edited by 12683 on Sat Jul 26, 2014 2:31 am; edited 1 time in total



Posts

: 3


Join date

: 2014-06-02



Well NO ONE should be 'impossible' to beat no matter what kind of mode they are in. You'll have to do something about that.

Your R.I.P. finisher also doesn't make much sense. I'm not really sure how someone could het someone else in the head while they were int he air and had their back turned tot hem. May want to simplify that just a bit.

Other than that, he's approved and it's mostly just about scaling down the unbeatable thing.



Posts

: 27333


Join date

: 2009-04-02


Age

: 97


Location

: VIP Box inside the AFWDome



Sorry I was playing mortal kombat and was writing this.



Posts

: 3


Join date

: 2014-06-02



ok, he's approved. You may make matches and rp as you like.



Posts

: 27333


Join date

: 2009-04-02


Age

: 97


Location

: VIP Box inside the AFWDome





Similar topics
---
Permissions in this forum:
You
cannot
reply to topics in this forum