Who is online?
In total there are
27
users online :: 2 Registered, 0 Hidden and 25 Guests :: 2 Bots
Diesel_Electric_Razor
,
skip-stop
Most users ever online was
418
on Tue Jul 30, 2019 9:51 am
Champions & #1 contenders
Looking for matches
Fri Nov 25, 2022 8:50 pm by Void Effect
Comments: 0
Looking for fun Fights
Wed Nov 23, 2022 1:55 pm by Leon564
Hi hiiiii
Hope you are well my fellows! Happy holidays to those that celebrate. Though some of you may indeed be busy, some of you might be bored and alone. Well I'm here as well bored and alone
So same boat. But not always the same tastes.
Anywhoooooo I've got my two characters available for some battles. James is decently flexible on whom he fights. But Melanie is strictly for the men. She can't get enough of'em
Take a gander at them and hit me up either with a …
[
Full reading
]
Comments: 0
Free Face Claim
Thu Nov 17, 2022 6:11 pm by Void Effect
Three of my character is getting Axed, just ya guys want em, just let me know in DM
https://www.afwrpg.com/t20236-ellie-haise-kaneki#543253
https://www.afwrpg.com/t20341-satella-the-witch-of-envy
https://www.afwrpg.com/t20571-eveline-lector-the-cruel-rabbit
Spoiler:
Spoiler:
Spoiler:
[
Full reading
]
Comments: 0
Page 5 of 7 •
1, 2, 3, 4, 5, 6, 7
With her declaration of a finished salad, she appreciated the peppness of the cheerleader, literally hopping up and offering to grab the dishes. For a split second it made her a bit uncomfortable, in that moment she felt a wave of perhaps regret or maybe despair after being so motherly. She shook that thought away instantly, she couldn't do everything herself so it was extremely nice to have some help.

She'd attempt to move out of the way but the salad needed a bit of flare, so she was sure Sakura wouldn't mind waitingof just reaching over her. She decided to go for the reach over option, she felt their weight on her back as she presses up against her. The odd sensation of their breasts pushing in, the faint sound of a whiff, Rachel couldnt believe it. Her core began to burn at thoughts you shouldn't have at the dinner table but that was better left unsaid.

With the cheerleader setting up the table, The Herman would inspect her noodles. The steaming pot cries as it's concubine of smoke was released, a sudden wave of heat and moisture gracing her nose. She would stir slowly tocontonue their process. She'd turn down the heat on the sauce, the noodles would be done soon anyhow.

She'd bring the salad first, a healthy dish to balance out the meat and sodium that's come after, a refresher if you would. Rachel couldn't help but snicker at the girls placement and already awaiting her arrival at the table. She'd carry dressing in her spare hands at set the food down over the table top. Smiling, she'd sit beside the blonde and eat while the noodles finished cooking. Add bits of lettuce, carrots, and the like, Rachel would nod "I hope you like it. I don't know many places that use fresh ingredients but I always think the taste is much better. Thank you for setting the table also." The German would peck their cheek as a sign of reward.
_________________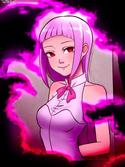 LilyStar




Posts

: 894


Join date

: 2018-02-27


Age

: 26


Location

: Your heart



It seemed that the noodles weren't quite done yet but that was okay! The salad was and that was a goooood appetizer! Classic, really! Rachel came with their food in one hand and the dressing in the other, placing one plate down for each person... with the German choosing to sit beside her rather than across from her! This placement might've meant nothing... but the cheerleader reeeeeally doubted it! She didn't want to sound arrogant (even if it was only to herself) But after all that wonderful smooching, cuddling and... the shower... Lucky would assume that her friend wanted to be as close to her as possible! She knew she wanted to be! The smaller woman blushed softly and giggled as these thoughts flashed across her mind, glancing to the side as Rachel began munching on her salad. Lucky picked up her fork, ready to do the same... Only to feel the soft press of lips upon her cheek! The peppy cheerleader froze up instantly, her eyes widening as her face BURNED with blush, a little tiny steam trail ALMOST visible trailing up from her cheeks!

"I... I.... You're welcome..." She mumbled softly, glancing up at the model. She was so pretty... So beautiful... She looked flawless in almost any way! There must've been thousands of guys and hundreds of girls out there wanting to be where she was now and... well... she was lucky to be the one to actually be here, let alone be... you know... "with" her tonight! Sakura smiled ever so slightly as she quickly shot up, pressing her lips against Rachel's cheek, returning her kiss in kind!

"...Thank you for making dinner..." She whispered nervously, her emerald eyes warm with affection. "It's really nice..." She had heard stories about situations like hers, where winners took the losers home captive to do what they wanted... It was a matter of business but also a power-play to demoralize opponents... or encourage them sometimes. Rachel, however, had treated her with nothing but tenderness and respect by treating her to dinner, being careful whenever she made a move... It was like she genuinely cared about her...

*GASP* Lucky but her hand to her lips in shock, eyes wide as she stared down at the greens before her. Maybe she does.... The cheerleader glanced back up at her friend... down at her dinner... then back up at her, shakily bringing a fork-full of lettuce to her lips. M-maybe I'm just being stupid... yeah... maybe... I mean, we only know each other from a match and... the shower... She probably doesn't like me that way... Stop getting ahead of yourself! Lucky tried to bring herself down... but she couldn't help it... Drizzling a little dressing on her salad, Lucky continued to munch... perhaps a little carelessly as her eyes constantly flicked up to the model...

Cicilia




Posts

: 2866


Join date

: 2017-11-24


Age

: 24


Location

: 07/21



Rachel has just skewered a fork full of lettuce and other goodies mixed with the salad, her dressing of choice had been Italian, a slight range added a nice taste to her palette. Her attention was quickly snatched as the cheerleader pecked her cheek as she had done them, thanking her for cooking tonight. She couldn't help but smile for the uptenth time tonight. "It's no problem at all, I much enjoy a chance to cook for someone else. It makes me happy when others enjoy my cooking." She explains. The German would eat quietly for the most part, her gaze flicking to and from the stove, to Sakura, and then her fork. She wondered what the other was thinking, of course she could pick her brains but from the way she was staring it could've been about her but that sounded a bit arrogant.

Sakura on the other hand was eating a bit recklessly, dressing streamed down the side of her lips and true he told it was cute. Perhaps she had made them nervous or maybe it was something else entirely, Rachel didn't know but it'd be rude of her to just let it sit there, grabbing her attention and allow her guest the embarrassment. She'd lean in slowly, eyeing the stream before licking it quickly, the sudden taste filled her mouth as she sips back to her place and digs into another helpin of salad.

The boiling began to ring in her ears as she checked the stove top one last time, she figured it was time to take care of the rest. She'd stand up from her seat and glides to the pots, the noodles were finally finished with the fortelling of a quick stir. Grabbing some oven kits from the drawer closest to the oven she'd grab the pot and set it by the sink, she'd reach back towards her pan cubboard and grab the strainer. With the strainer situated in the sink she'd pour the boiling liquid with her noodles, her sauce was ready and shaking the strainer to rid itself of any leftover water. She'd scrap them into the suace, mixing them together the noodles turning orange with the sudden change.

With the heat on low, Rachel would add the cooked sausage and return to the table to finish off her salad. She'd let the sphagetti summer before serving it to her guest, besides she was sure putting to much at one time would be a bit daunting although she could at least let them know it was ready. "The sphagetti is ready so whenever you're ready for it I'll bring it over." the German states with a smile
_________________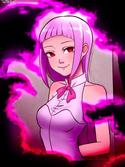 LilyStar




Posts

: 894


Join date

: 2018-02-27


Age

: 26


Location

: Your heart



With Lucky so invested in her salad, she didn't so much as notice the little droplette sliding down her chin... that was... until Rachel's face shifted so close to hers...

"R-Rache-" She whispered, but was cut short as the German model's tongue running along her chin and lip, the soft pressure of the muscle stealing away the rogue dressing! If Lucky was blushing before... the new red shade of red that flashed across her face put that one to shame! Her face was so hot, one could practically fry an egg on her cheek if they desired too! She stared up at the taller woman, her emerald eyes wide, utterly innocent... but her partner didn't say a single thing... She did not smile jokingly or crack a jab at her expression... She did not blush in turn or offer an apology... No, she just went RIGHT back to her salad as if it were the most natural thing in the world... Sakura's eyes shot downward towards her own leafy-greens, her hands pushing hard into her thighs most embarrassingly!

She had no idea how to even respond to that... W-was she violated....? Mad...? Not at all! Aroused...? Uh... she didn't want to answer that question...

Rachel was in complete control of her in terms of agreement and emotion, Lucky completely flustered by even her presence! Before she could say anything profound or heart-warming along the lines of 'I... uh...ah... I...', Rachel was quickly pulled away from the table to attend to the spaghetti!

Sakura watched on silently as Rachel began putting it on together, the cheerleader bringing her hands up to her face in some vain attempt to calm herself down.

She's just messing with you.... She assured herself internally. She's just trying to get under your skin and MAKE you blush... She might've very well been... but she wouldn't have needed to do something so... weird to do it!

"...O-o-okay..." She stammered softly as Rachel stated the main course was complete! She found... she wasn't TOO hungry anymore... she... she just wanted to be held in Rachel's nice, strong arms...

Cicilia




Posts

: 2866


Join date

: 2017-11-24


Age

: 24


Location

: 07/21



Rachel would only slightly glance over in the cheerleaders direction before she tended to the main course. Of course maybe she ought to have said something but it was just a sudden movement, her body moving on it's own volition and the German just accepting it as her own. That was the main reason but of course, what could she have added to that? A joke? That wouldn't have been very cash-money so no, no dice on that. Silence seemed to be the best option and she took it gladly.

Another slight glance and she could see all the embarrassment taking over Lucky's senses. The hands digging into her thighs, the flush of red in her cheeks, to the wide emerald eyes, unsure of what to make of it all. Rachel could only imagine the number of things running through their head, it didn't feel right just to tease and tease and tease then shut them down completely without any attention. Perhaps the sphagetti could wait just a bit longer, the model feeling her own sense of need as she finished off her greens and shifted her body toward the cheerleader.

"Sakura, would you maybe want to put off the main course... just for a few moments?" She'd ask, her fingers running through her red and black mane, pushing a bang behind her ear. The German felt, no knew, that she was in control of the situation but she couldn't deny her own heart beating out of her chest and the idea of having the cheerleader in her arms for just a bit or vice gersa. If she were telepathic or even aware of the pair being on the same wavelength then maybe it'd be better in some ways.

With that all considered, Rachel was fully prepared for the notion to be rejected, it wouldn't hurt her feelings so much as just extending her patience more for them. The model was well versed in that aspect and she could wait for however long before her prey came to her. She'd offer a smile to them, awaiting for their answer, the bowl pushed a few inches away so her focus remain solely on Sakura.
_________________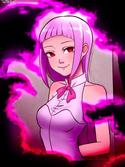 LilyStar




Posts

: 894


Join date

: 2018-02-27


Age

: 26


Location

: Your heart



"H-huh?" Lucky asked, glancing up at Rachel in surprise! She wasn't that transparent, was she?? Like... Rachel went through all this trouble to make them some delicious food... and now that it was here, Sakura couldn't even be bothered to be hungry for it! She... she just wanted to be held and loved... The need overrode everything else, much to her embarassment! Her host was a GREAT cook, that was obvious... but she was also a wonderful woman... She was sweet and caring... loving... To be held in her arms and cradled was her biggest desire as of this moment....

"...Y-yes..." She squeaked nervously, afraid that Rachel would take offense! She couldn't outright lie to her! She already saw that Sakura was bothered about something and, whether she knew it or not, figured out exactly what! Lucky did want to post-pone their dinner, at least for a while... What would they do in the meantime? Well, that was up to them! Lucky knew what she wanted to do, much to her own embarrassment but... she couldn't really help herself! Her cheeks burned as bright as the stove Rachel had used, unable to hold her gaze...

"I...I want you..." She whispered, her voice barely audible. What else could she say...? Lucky didn't have one of those minds that allowed her to run down all these flirts and stuff that'd make any decent girl's skin crawl! She didn't have the kind of personality that made her seem all confident and strong to get what she wanted! Sakura was just... Sakura... and she had a hunger that could only truly be sated with Rachel...

Lucky leaned in a bit, Her emerald eyes locking firmly on the German's this time, her hands gently reaching out, moving to cautiously take the other woman's in hers. Inch by inch Lucky would close the distance.... Until she placed an angel-soft smooch upon her master's lips, pulling away and frowning anxiously... AH! SHE HATED FEELING THIS WAY!!! IT WAS SOOOOOO UNCOMFORTABLLLLLLE!

Cicilia




Posts

: 2866


Join date

: 2017-11-24


Age

: 24


Location

: 07/21



Rachel only smiled at their inability to really think, the poor girl was an open book in some aspects, easy to read her and there but maybea little difficult somewhere else. The German need only turn the page to read her guests true wants and desires, of course it wouldn't be long before the cheerleader made her first move, the first of many bold moves.

With rosey cheeks, Sakura would close in, those adorin emerald pools locked in her own as she inches closer but by bit. Rachel could not feel the tension but in a way she felt she could sense every creak of their muscles as they got closer. For a moment she swore she thought the other had said something but their voice was to low to hear, still Lucky came. Smooching her cheeks as she came into her arms.

The German would lightly blush as the pulled away but Rachel wasn't going to let her get away that easy. Grabbing her wrist, lightly not to pull too hard, she'd urge them back over to her side. The model was going on a simple hunch, pulling the cheerleader into her grasps and sitting her nicely in her lap, her cyan pools locked on their target as she'd lean in to bury her face in their neck , her free hand running up the upper regions of their back as she lightly pecks at their throat.

Rachel couldn't explain this attraction she felt in her core but Lucky seemed to have this aura about her that was magnetic in a way. It was like the more she thought the more she understood their namesake. Perhaps it was Sakura who was the Lucky one here but maybe that was just a guess. Her advances would be soft not too overwhelming to be the dominating force just yet until she received permission, as much as she loved being in their company, as much as she lied the feeling of her skin on her own, lips pressing together in a loving embrace, the German was sincere on not taking advantage. Her guest meant a little too much for that sort of aggression.


_________________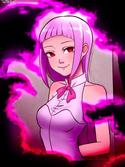 LilyStar




Posts

: 894


Join date

: 2018-02-27


Age

: 26


Location

: Your heart



Lucky gasped in surprise as Rachel took her wrist in her hands, tugging the cheerleader into her embrace and sitting her down on her lap! She blinked, confused as to how she got here all of a sudden, looking down at her mistress for the night only to feel her lips begin to press against her neck! A POWERFUL shudder washed over the cheerleader with the sensations such contact had bestowed upon her, letting out a soft little moan with each kiss that touched her sensitive, slender neck! She couldn't help herself... this all felt so good... While Rachel still had control of her wrist, she also ran her hand all up and down Sakura's back, a soothing sensation that seemed to take away all those nasty inhibitions that had made her so nervous before... She could tell that this woman wanted her here... that this wasn't just some match-made obligation...

...It felt so nice to be wanted...

"Uuuuuhhhhh..." She moaned sweetly before pulling away a little bit, staring down at her hostess for the eve... She was so pretty... It really was a wonder why she ever joined wrestling when she had so much beauty at her command. Sakura reached out with her own hands, gently touching the model's cheeks, sliding her palms to take them as if they were the most precious and rare artifacts in the world... She was kinda transfixed by how smooth they were... and warm... SO warm... they made her wish to never let them go... She stared deep into the eyes of Rachel, leaning in so that their foreheads touched, their noses nuzzled ever so softly, and their lips were a few inches apart...

"...Rachel..." She whispered, the name on her tongue tasting sweeter than... well... SWEETS! She couldn't even, right now... It felt so good to be in her arms, like this was what she was made to do... She loved it all so much... "...D-don't ever let me go..."

Cicilia




Posts

: 2866


Join date

: 2017-11-24


Age

: 24


Location

: 07/21



With each soft moan, Rachel couldn't stop herself from planting kiss after kiss on her precious neck, each one calling to her and forcing her to take another and another, the model was stunned with her lack of restraint. Her hand continued to rub slowly up and down their back, giving off the feelings of care and comfort. The soft moans slowly bringing her away from this reality into a dream she felt she'd had before, the world just seemed to drift off and the only two there was Lucky and herself.

When the cheerleader slowly pulled away for a second Rachel followed, only to pull away and look up to her guests. She wondered if she had down something wrong, went a bit to far or even made them uncomfortable in some way. "Is something the matter, fräulein?" she asks, the emerald pools looking deeply into her cyans. She couldn't read this page for some reason, she felt that there may be something there but what could it be?

While wondering, she felt those soft and tender hands on her cheeks, her own hands rested against their back, palms pressed to their shoulder blades while her finger lightly cling to her top. She was lost for a moment but it all became clear as she pressed her forehead against her own lips, mere inches apart. The model couldn't help but giggle as she would Eskimo kiss the cheerleaders nose, the seven felt so cute and needed for some reason but then came the whisper of her name.

With the call of her name, she was brought back to reality, afraid that she had done something wrong and she was about to be scolded for it but Sakura didn't do that. No, the next words coming from her lips surprised the German, it made her blush but she smiled again as she rest her hand on their cheek. "I wouldn't ever fräulein." She whispers back "You're too kind hearted and far too cute to let go, I only want you to do the same for me. Always hold me tight and keep me close and I'll do the same." She adds pecking their cheek and hugging them tightly, she couldn't understand how her company had managed to pull something from he fthat she herself didn't expect. The German smooches their cheek, her hand at their cheek runs through their hair another big smile taking over her face.
_________________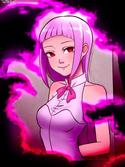 LilyStar




Posts

: 894


Join date

: 2018-02-27


Age

: 26


Location

: Your heart



"Th-thank you..." She whispered ever so softly, as Rachel accepted and even RETURNED her desires, asking to be held just as attentively as she would do to her! The cheerleader smiled widely at that, wrapping her arms around the German's neck and hugging her close, her eyes closing in contentment as she let out a soft sigh...

"Okay..." She swooned, feeling more comfortable in this woman's arms than she had ANYONE else's... It was so warm... and she could only feel the need for one another between them... No hostility, no anxiousness... Only desire... Sakura felt her partner's body warm against her own, growing slowly but steadily hotter as the two women clung to one another, unwilling to let the other go for even a moment!

She giggled softly as the German's hand ran through her curly, silver hair, her own taking this moment to slip and slid through Rachel's, exploring the things that made her SO appealing... Her hair... it was so silky and smooth... it was as if she had won the genetic lottery in this case because Lucky had never felt anything like it! She knew girls (notably her sisters) that would KILL for hair of this texture... let alone her skin.... Sakura's eyes couldn't help but drift down her mistress' forehead and pink cheeks, taking in the lightly tanned skin Rachel... drinking it in hungrily... She was so beautiful... she couldn't get enough of her, really...

"L-lets go somewhere... where we can lay down..." Lucky proposed, gently tugging at her lover's neck, as if to guide her back to her room! "...I.... I wanna have you... now... Please...?"

Cicilia




Posts

: 2866


Join date

: 2017-11-24


Age

: 24


Location

: 07/21



Page 5 of 7 •
1, 2, 3, 4, 5, 6, 7
Similar topics
---
Permissions in this forum:
You
cannot
reply to topics in this forum