Champions & #1 contenders
Looking for Return Matches.
Tue May 04, 2021 3:27 pm by Hedgehawk
Hello Everyone!
I am looking for anyone interested to help me get back into the swing of things and get or two going on the site.
Mostly I am looking for something from my character
Trinity
. Given her style I am looking for something on the more hardcore side, a cage match, no DQ, or even a streetfight. Given her build and her personality I don't mind her going up against males with a similar personality.
I am also up for possibly looking at setting a match up for
Momoka
. Though not sure if …
[
Full reading
]
Comments: 1
Just an update
Mon Apr 26, 2021 9:37 pm by Deus001
Hey folks just a quick public service announcement
So I'm now back at work proper now. So expect my posting to be somewhat erratic now, as we get into May I'll likely get more hours from the fam and eventually I'll be working full time for them by the end of the year. At that point I'll be able to come up with more of a posting routine, but as it stands if my post rate gets more iffy as we go into the year that's why but I'll still be doing stuff dw
Comments: 1
HAPPY BIRTHDAY KILLCARRION!
Sat Apr 17, 2021 11:29 pm by Old_Man_Tai
Happiest of Birthdays to our beloved Bird of Murder, Killcarrion.
He deserves it, this dude has worked IMMENSELY hard during his time as a mod to try and bring lots of cool ppvs, matches, stories, and such to the site and works tirelessly to try and help out as much as possible.
He's a legit good dude, and one of my absolute best friends.
Love ya buddy!
[
Full reading
]
Comments: 13
Name:
Grand
Papillon
Age:
Over 400 Years Old
Birthday:
Unknown
Eyes:
Blue
Hair:
Blonde
Height:
7'0''
Weight:
200 lbs
Handedness:
Right
Hometown:
Le Havre, France
Entrance Music:Outfit: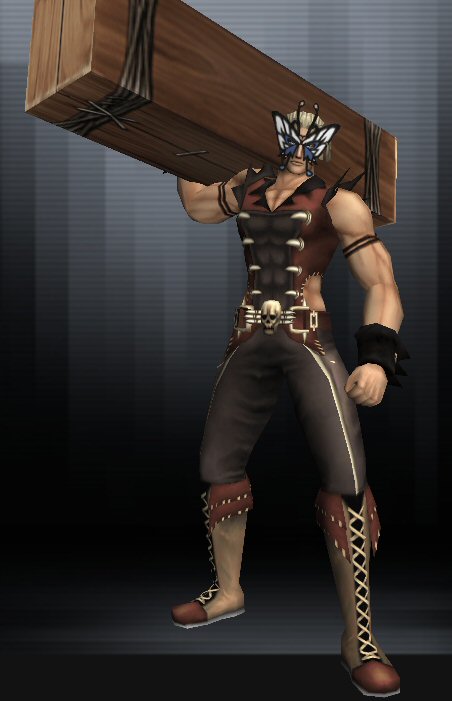 Preferred Matches:
ANY!... BUT I MOST OFTEN DO "ANYTHING GOES!"
Fighting Style:Grand
Papillon is very much a striker and a powerhouse! Trained by the Great Gama (also known under his champion persona: The Great Question),
Grand
Papillon has been trained to coordinate heavy, but well-coordinated strikes with bludgeoning attacks from massive and heavy objects. Specifically,
Grand
Papillon carries a box of two thick-cut pieces of timber bound together by strong, metal wire, it's great weight providing excellent momentum and force behind his attacks! Showing great agility and stamina,
Grand
Papillon is known for his powerful super-kicks and suplexes, often putting down normal enemies in just one or two strikes! While he is certainly capable of grapples and submissions, he chiefly prefers strikes and High-Flying techniques!
Stats
Strength:
10/10
Speed:
7/10
Durability:
7/10
Defense:
8/10
Technique:
7/10

Signatures:
Drain Touch:
Using his innate vampiric abilities,
Grand
Papillon is able to siphon off life from the enemy to himself. He extends his hands and his eyes flash red. If his enemy is within his view, a small bit of energy is drained from them, healing damage and restoring stamina.
Spoiler:
Grand Slam:
Joachim bludgeons the opponent with his weapon and then knocks them out of the arena with a charged finisher resembling a baseball-swing!
Spoiler:
Deathtron Hammer:
Joachim temporarily discards his weapon and becomes enveloped in a reddish aura. He then charges into the enemy shoulder first, repeatedly barraging them with explosions of energy!
Spoiler:
Artem Buster:
Joachim leaps up and lands on a wrestling pole he summons from the ground. He performs a 450 degree Body Splash onto his opponent while covered in red energy, cratering the arena in a massive explosion!
Spoiler:
Rock Rot:
Channeling magic through his Zagan Crest,
Grand
Papillon causes the earth beneath his target to suddenly SHOOT up, sending them flying into the air!
Spoiler:
Rock Storm:
Channeling his magic through his Zagan Crest,
Grand
Papillon summons 3 boulders which SLAM into the opponent at the same time from 3 separate directions!
Spoiler:
Thorn:
Channeling his magic through his Zagan Crest,
Grand
Papillon manifests various spiny vines which entangle and entrap the opponent, leaving them open to attack!
Spoiler:
History:Grand
Papillon was once a young vampire trying to find his way in the world. After being saved from starvation by a woman in the small town of La Havre, France, he trained in wrestling under the guidence of the greatest Wrestler in the world at the time, Great Gamma. From there, he learned of the corrupt mayor's plot to try and undermine the woman who saved him in order to extract a treasure buried beneath her shop and so... Developed the
Grand
Papillon persona in order to help defend them! Defeating thug after thug under cover of night,
Grand
Papillon defended this woman valiantly until he too was defeated by a strange group of adventurers hired by the mayor.
After explaining the situation to them, they agreed to aid him in his quest to stop the corruption in the town once and for all and, once they had, he joined them on their larger quest in order to save the world!
It had been many years since those days and now
Grand
Papillon returned to his life as a super-hero/Wrestler, fighting in organized matches as well as doing his own vigilante work in order to bring peace to the land he had saved!
Personality:Grand
Papillon is what can best be described as the stereotypical hero from the golden era. Bombastic, over-the-top and highly energetic, the fighter uses many catchphrases and heroisms in order to introduce himself and his intentions! He truly sees himself as a champion of justice and will take on any evil-doers... but in an honorable fashion. While he fights with a weapon,
Grand
Papillon will go out of his way to make fights fair, even allowing multiple opponents to gang up on him without fear, having confidence in his own abilities! He is an honorable man and goes out of his way to aid those he deems helpless or in need of assistance!
Grand
Papillon is a true hero and does not go all out on anyone unless he faces a true rival, knowing that his own abilites are incredibly lethal. Constantly holding himself back, he fights not just to win... but in order to end fights as fast as he can.
Fun Facts:
-His real name is Joachim Valentine
-He is a Vampire and, as such, is super human.
-Uses any heavy bludgeon as a weapon if he loses his own.
-Is gay
-While born in Romania, his true home is La Havre.

Cicilia




Posts

: 2866


Join date

: 2017-11-24


Age

: 22


Location

: 07/21



---
Permissions in this forum:
You
cannot
reply to topics in this forum