Champions & #1 contenders
Tension Title Belt matches
Thu Jan 21, 2021 12:16 am by SimplyMoon
As with Aphrodite being the new holder of Hentai championship belt for Tension((Spoilers))I hope to reinvigorate the belt with a few matches and am beginning to plan out what to do. If you are interested in storyline or just a plain match let me know with a pm or a comment down below.
Comments: 1
Looking for a Hentai Debut match!
Tue Jan 19, 2021 11:20 am by Diesel_Electric_Razor
Hello AFW! Asking again for anyone to take my dear lad Jasper Rhys on for a somewhat unusual hentai match, as I want him to face off against another male wrestler, preferably a masculine male for his Hentai debut match.
Essentially I'm asking for a gay hentai match, I.E. yaoi
Jasper's Page
If anyone is interested, hit me up on Discord so we can plan it out!
my Discord is
[
Full reading
]
Comments: 0
Poll regarding the possibility of Mods booking PPV matches.
Sat Oct 24, 2020 1:43 am by Old_Man_Tai
So, basically, was wondering all of your thoughts regarding the possiblity of mods booking ppv matches.
The thought was, since people often seem to have trouble finding partners for ppv matches until the last minute or so, what if the mod team was to step in and, well in advance of the show, book the show ourselves, and try to put together the best matches we can, including title defenses, no.1 contender matches, and so on and so forth?
While I doubt our more popular members need such a …
[
Full reading
]
Comments: 9
The night always looked so beautiful from on high in Avalon.
The kingdom's commercial crown jewel, a bustling cosmopolitan society of privileged nobles, clever merchants, and the dregs that served them formed the lifeblood of the city during the day. It was easy to get overwhelmed on almost any street by the sheer volume of passersby. There seemed no end to the constant stream of peasants and nobles that flowed across the cobbled streets. Just as many could be from far away lands as they had congregated from the surrounding acres, seeking refuge from the brigands and cold of the oncoming winter behind the high walls and towers of the richest province in the West. Ships ferried thousands to and from exotic lands of ice and desert beyond the horizon that encompassed the ocean's end, shining the water brilliantly as the sun cast a magnificent ray from its center to the coast. The harbor rang with the sound of fresh arrivals, children laughed and horses carted fresh crops, markets bustled and the abbeys called to the faithful.
But the night was when the brilliance of this sprawling city really came to life. She could hear and smell all of it from atop the perch that allowed her to see the length of the town from one edge of the wall to the other. She closed her eyes and let her nose guide her. The smell of fresh perfume told her that those two lovers were having their nightly tryst beneath the apple tree at the center of town. A few blocks over, the smell of the sewer canal told her the thieves were emerging from the rat tunnels and coming in quite a force. The fresh scent of cooked meat that made her mouth water told her that old lady Gertrude was putting out prime steaks tonight; boiled potatoes too, her son's favorite. The smell of sweat and foul miasma told her someone had taken the wrong turn down Knife Street again and found themselves pinned between a wall and the thirty or so blades of Hakon's gang. There was so much charm to this city. She loved every visit.
What she loved most though was the sight and the sounds from on high. The bright windows of a million dreams gleaming in the night. She felt like she could sit and watch this sight forever. If only it weren't for-
"There she is! Stop!"
That.
Fae Cromwell:
Fae looked down at the soldiers ten stories below, one pointing their sword up at her location atop the city bank. From behind, she heard the clicks and clacks of metal boots and armor rushing towards her. By the time she looked over her shoulder, a fully-plated knight was already moving to take a swing at her. She smirked and slung the canvas bag in her hand over her shoulder before she leaped off the edge to the other rooftop. It was at a lower elevation, but still too high for her to reach on human feet. The guards from the top of the bank watched as she fell, expecting her to splash ignobly on the cement and rocks and below.
As expected, she fell short of the other roof...but was caught by the pavilion she was aiming for. She tucked and roll off its side and landed on the balcony just a couple stories below it. Halfway down the building, she leaped over the railing to the next balcony, then the next and the next until she reached the final landing. Without an inch of hesitation, she cast herself off the side and fell to the street below, landing firmly on one knee with a hard crash. She stood straight up not a moment after, not even a bruise on her leg to slow her down as she took off at an inhuman speed down the street.
In the ten seconds it took her to do so, the city guards stood transfixed, the amazement in their eyes hidden behind their visors. The captain looked between them before knocking the nearest one on his head.
"What the hell are you doing?! After her!"
The guards gave chase after her, but couldn't hope to keep up even without their armor weighing them down. Fae smiled maniacally, two rows of razor-sharp fangs sniggering in the dark at a breakneck pace. It was too much fun messing with these idiots. There were safer targets in the city to hit for a bag of gold then Avalon's central bank. Places with less security and less reach in dark corners, ones that wouldn't get half of the city watch chasing her down.
But that wouldn't be nearly as fun. Fae's steps carried her over the small bridge and across one of the city's aqueducts with a band of knights in hot pursuit behind her, several joining their number seemingly from out the woodwork. She was just about to reach a crossroads when a lone soldier stepped out and drew his sword, a fantastic shine to its sharp edge that only the finest smiths in the land were permitted to forge. He clearly must have earned that weapon.
"Halt! In the name of the ki-!"
Fae leaped up and kicked him square in the face, caving the metal of his helmet inward as she kicked off his head to turn on a dime, sprinting down the adjacent street in a pale flash. This path was a dead end, but it worked for her.
She zipped past a few men crowding one half of the street and leaped over a woman brushing off her porch, landing squarely on another man's shoulders before she jumped onto the top of his cart. She leaped again, higher this time, and grabbed the clothing line suspended between two shanty buildings, throwing her legs to swing herself up onto the roof in front of her. She grinned down at the knights, stopping dead in their tracks as they reached the end of the narrow street. A second later, a cloud passed over the moon, dimming the night and letting her disappear off the other side of the building.
...
"How are we looking, Damien?" A black specter materialized from her right as she continued to run, the distorted shape of a deer-like creature with antlers that bent and eyes that glowed a malevolent red.
"Ẉ̙̦̻e̻̥͉;͓͎̳̝̥͚̗r̳̪͇̞̫̫̤e ̟̲̹̱g̘̙̮͎̹o̫̼̗͚̻o̲̻͖͔̮ͅd̬͈̖͍̭ͅ.̭̦̯ͅ ̭͇͖͚̜̼ͅN̯̗̗̫̗o̙̟̖̣̜͚t̰̦ ̼̝̥͙a͙ ̰̫̲s͔o̺̜̺̤̟l̤̪̺̫d̙̮͓̝̝̭i̦͉͍̬e̦̫͔r͔͍ ̜̰̣͔͍fo̜̳̺r ̮̠̭̖ḅ͚͚̬̘̘l͉̖͍͖o̥̯͙̻̜̣c̩͕k̹͍s̤̭̲̫̹̜."
The red orbs shifted their gaze back to Fae.
"N̲i̪͍̥͕̮̣c͔̬e̝̙̤͍͕̗͉ ̤̻̥͍̖͇̦d̲̱͎i̘v̪e͖̥̼ͅ ̤b͇a̩͙̮̞̬̦͇c͖k͚̩͈ ͖̺̼͎̝̺t̩̪̩h͈̥͍e͓͖̞̤r̝̱e͕.͇̠̯̬̭ ̣Ḏ̖͉͉͚͕͕i̻͍͖d̩̱̟͓n'͓̱̜̥̩t ̹̲͙̣̟͙̺t͖̼̬ẖ̲i̠̤̘̳̦nk̼ ̩̩͖̯y͈͕̰͎̳ͅo̘̺u'̝̘̞̪̱d̖̞̣ ̫̯̙s̯̠̖t͔̯i̪c͚k ̺̳͔̙͖t̙̣͎͍̰̪h̩̺̦̼a̘͍̣̝t̙̙ ͕̱̤̣̘̫l̰̺̪͙̣̫a͈n͖d̠̬̹͇̦ͅin̙̞̜̮͉̭͙g.̙"
She chuckled. "It's
allllllll
in the knees."
Slowly, the thief came down from her sprint. Despite running for over two miles straight, her breathing was perfectly normal when she finally came to a slow walk. She turned around the next corner off the main street into a dirt path. She was in the poorer districts now. The street was empty this time of night and the road was a little more spacious between the houses of rotting wood. A closed tavern was halfway down. The empty square of a small market was at the other end of it where all the side streets converged and alleys converged. Fae held the bag in front of her and unloosed the knot at its neck, parting the sides to reveal the golden glow inside.
"G͖͔̹̯̭͇̗o̲̞͔͓̦o̖̱d͖̤ h̬͈̺ͅa̪̞̪̪͎̲̦u͉͉̩̝̜̠l͕.͉̜̙̯̝"
"Pretty sight, ain't it? Triple stacks of ham and bacon for us tomorrow morning."
"A̝̼͓̗̭nd̹̙̺̘̤ͅ s̟͓̪͇̰o͙me̮͙̙̻̫̖ͅ ͓g̲̠͉̻̻͎o͍̜̥͓͍ͅa͍t̫.̭̲̪͈̻̗ ͇̙͙̳I͉̰̘̟͍̜ w̰̗̟̮ͅa̦̺̱̖͙͙ͅṋ̖̘͎̭̫͈t̼ ̱a̘̖͕͈͓ ̯̟̖̞͉̪͕go̙͚at̘̺ ͉̗̳h̞͉̫̝ͅe̫a̰̜͓̬͙d̯. ̲̙͍Y̪̖o̬̪̻͕u ̖̗͎p͓̞̮̝͍r̮̭̰͇o̥͚̬̯̠̝̺m̠̞̞͓i͇̼͇̤̥s̹͕͚͕͓͉ͅe̱̜͈̦̱̙d̬̭̗͚ ̯̪̞̗̪͚w̭e̬'̳̰̭̗d͙̰ ͙̞̘̙̦͕̰g̟̗̬̙͙̣̦e̱̩̤t̤̙͕ ̱̻̝͕̰͙̲o̱̙̥n͈͕̺̯e̟̣͈̗͕͕.̻͎̫͍"
The Lycan girl rolled her eyes. Couldn't believe he remembered that. "Did I? Must have slipped my mind." He growled low beside her ear as she giggled playfully his way. "It's alright. One thing at a time. We need to leave some extra for our soon-to-be-happy little informant, anyhow. He earned his keep today."
Fae tied the bag and swung it over her back as she brought her arms up to the sky, getting a nice stretch as she leaned back and let the moonlight reflect every inch of her bare skin. "Let's get off the street before one of the cloaks catches us again. Any inns still open nearby?"
The shadow extended its length to the sky, peering left and right, seeing through walls and staring into hearts as they tucked themselves to sleep at night.
"None ͜t̛hat ̨I ͘c͢àn҉ see͘.̴"
Fae groaned as the shadow descended back down to her shoulder.
"What͝ a̧bo̧ut ͢t̡h͟at͟ Ẃa̡ļte͟r b̷rat͞? He st̀ill ͟has̢ ̷a thi͟ng ̴fo̧r͞ y̸o̶ù.̛"
She mulled on the idea for a second longer than she normally would have. Walter was fun to tease and she hadn't made a point to visit hit now that she was in town, but she shrugged the idea off. This was a big heist. They should be sleeping in style.
"Nah. He snores too loud. I'll figure something out." She scratched the back of her ear with her opposite hand. When she put her mind to it, she wasn't exactly sure staying in the city was the wisest choice in hindsight. Guards would be knocking down door once they figured out she hadn't passed through the gates. Maybe slipping outside the wall would be better. Find a barn to shack up in.

Berial




Posts

: 2128


Join date

: 2017-07-10


Age

: 100


Location

: The Center of the Universe. Where else, idjit?



As the night fell over this strange, foriegn land, a small, golden bat surveyed it all under the silver light of the moon. From a perch atop a gargoyle among the highest of towers, the golden bat observed a scene below... of a woman fleeing from many-an armed guard! His sanguine eyes flashed curiously amid the dark, his wings folded cross his small, furry chest as she watched the girl move, his enhanced, powerful vision zooming in on her with clarity as she made short work of her pursuers! Her movements were so swift and sure, her knowledge of the terrain bordering on scary... She was both bold and competent in equal measures, her dexterous maneuvers and path-changes truly leading the guard on a merry chase!
...It was lucky he could almost everything from this perch... or even HE might've lost her! It was only when she inevitably came to a stop on her own near the farthest edges of the city did the Golden Bat spring from his position, spreading his wings and gliding down in that general direction with the tiniest sprinkles of shimmering dust trailing behind... The creature knew very little of this world and where the lines of justice were drawn... He had come from a place many years ahead of this one, a place that had long since left this era behind in favor of modernization... Even with no way to return, the bat would continue his legacy here and now, to become the hero this world needed!
...and if this woman was being chased by armored knights, beings historically portrayed as beings of honor and valor... He was going to aid them in their duty!
_______________________________________________________________________________________________
"Hahahahahahahahahaha...."
A man stood atop a flat roof's edge to the right of Fae, his towering form a foreground to the full, shining moon behind! A butterfly-like mask hid his chiseled, Adonis-like features, slit-pupiled blue eyes staring down at the woman below him with a blazing passion!
"WHEN THE FORCES OF DARKNESS DESCEND, IN THE NAME OF JUSTICE: THIS FIST!

IN THE NAME OF TRUTH: THESE MUSCLES!

IN THE NAME OF HONOR: THIS BLOOD!

HAHA!!!!!"

From at least several stories, the man SPRUNG from the roof, his body tucking inward in a QUICK cannonball-flip before landing FIRMLY in a squat, his feet impacting with the ground so hard, the dusty-dirt road cracked beneath the soles of his boots! Rising to his full height, the man stood before the thief, taking a step forward proudly!
"Champion of truth and justice Grand Papillon! Ready to fight
all evildoers!
"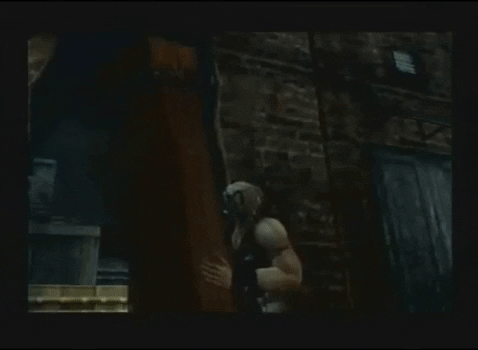 Reaching down, the man would suddenly pull up onto his shoulder a large, THICK binding of timber, scrap abandoned long ago that stubbornly refuses to resign to the trails of time! Smirking heroicly in the face of such VILLAINY, the man would reveal the long, curved fangs of a vampire!
"IF YOU CAN FACE THE UNFETTERED FURY OF MY RIPPLING MUSCLES THEN...
COME ON!
"

Cicilia




Posts

: 2863


Join date

: 2017-11-24


Age

: 22


Location

: 07/21



"What?"

"Wh҉at̡?"

What?

It was hard to say much else. Fae had wandered the Earth for over a millennium. She'd been around longer than scum like her had any right to be. She'd built up a collective bounty that any single king could never hope to satisfy in his entire, privileged life. She'd tangled with tricky magicians, haughty nobles, and legendary knights from about every corner of the continent. She'd seen enough weirdness and galavanting to satisfy the mind's curiosity for several lifetimes.

None of that could prepare her for Grand Papilion. Not one bit.

Fae and the shade watched with wide eyes and furrowed brows as the masked man appeared on high in dramatic fashion. It was only after the muscular figure had landed on the ground that she'd realized her mouth had been slackened open for a good few moments. It was rare that even Damien was one lost for words, but here they were. The thief blinked a few times, her senses coming back to her just in time to realize she was being challenged.

"Hey, Damien. All-powerful demonic spirit..." She leaned over to speak closer to the shade, even though that wasn't necessary. "Thought you said there wasn't anyone around."

"T͜hęre a҉re͜n't̨." The ethereal mass phased from one shoulder to the other, eyeing the man up and down through its red-eyed gaze. "T̷his g̵u̡y ̵ìns̸'t͜ ͢gi͠v́ińg o҉f͡f ́a ͢l̸i͏fe f́ǫr̴çe. M̢i͢n̶im̴a̢l҉ b̵o̶d̛y̴ ̷hea̶t. ̨No ͜p̛úļse.͟ Ei͟t́hȩr he'́s ͜very ͠g͠ood ̧wi̴t̴h ͠m͞a͘gi̕c o͜r͢-̨"

"Undead." Fae's lips stretched from ear to ear with a malevolent grin at the realization, her vulpine eyes noticing those fangs at the corners of his mouth even in the deep dark of the dilapidated street. Her gaze darkened as her eyes flashed with moonlight. "Been a long time since I killed a vampire."

A lot of questions should have been running through her mind at this point. What were the chances she'd run into another immortal in this part of the world? Where had he been cooped up all this time? Why was he interfering, and why here and now? Was he part of the king's guard? What kind of vampire demonstrated a clear sense of honor and chivalry? Were there more of him? What was his game here? That was what she should have been thinking about, maybe gauged if it was even worth the fight doing this.

But Fae just gripped the bag of money in her left hand tighter and-

"I'M GONNA EAT THE SHIT OUTTA YOUR LIVER, BICEPS!!!" Fae's free hand flashed a row of claws, fur sprouting from the palms of her hand up her entire extremity in an instant. Muscle and fibers building upon the supple and delicate skin, taking on a bestial structure as her entire right arm was instantaneously transformed into a ferocious, wolven limb. She placed the arm to the ground as she hunched over in a low stance absent humanity, the defined musculature and ridges of her new appendage accentuating as she suddenly bolted forward, lunging at blinding speed towards the vampire. From ten feet away, she leaped straight at him, slashing her razor-sharp claws toward his neck to cut it clean from his head.

Berial




Posts

: 2128


Join date

: 2017-07-10


Age

: 100


Location

: The Center of the Universe. Where else, idjit?



The woman's sudden turn into a savage creature wasn't something overly terrifying to the hero... After all, he had seen worse things when parading around Europe and Japan with Yuri all those years go. Her speed, however... that was something to be respected! Perhaps this would be a fight to remember! Something for Grand Papillon to look back on fondly! The woman lunged at him, her movement so quick, she very nearly got within arm's distance before the speedy super-hero could react! With claws brought back, prepared to slash at his masked face, Grand Papillon did the only thing he could think of in this situation: Fall back on his training as a wrestler!

Teacher had taught him well in the arts of cinematic combat, the man SHOOTING his boot out in front of him in a massive super-kick, his heel aimed to strike DEAD into the wolven-woman's jaw an effectively clothes-line her down into the floor... HARD! If his attack connected, the blonde-bandit would suddenly whirl around, bending back in a MASSIVE suplex-like motion, bringing his timber-weapon down HARD upon the potentially fallen wolven creature, the impact on the ground CRACKING the hard-earth floor with ease, leaving a solid square imprint where it had connected!

"EXCELLENT TRY, MADAM! BUT YOU CANNOT HOPE TO LAST WITH THOSE SORTS OF TACTICS!" The man would boast as he rose back to his full height!

Should the vampire have connected his attacks and Fae was slow to recover, the vampire would only smile, lifting his free-hand up in a SUDDEN motion! Just as quickly the earth below Fae would PULSE upward in a sudden jerky movement, intent on sending the werewolf FLYING into the air: His crest magic Rock-Rot!

"TRY THIS ONE!" Papillon would announce, bringing his timber-weapon back behind his head, his stance simulating that of a batter as he lifted up a leg, his eyes flashing red with brilliant intent! With a loud grunt, he would SWING his weapon around in a massive GRAND SLAM attack, aiming to send Fae FLYING for a home-run!

Cicilia




Posts

: 2863


Join date

: 2017-11-24


Age

: 22


Location

: 07/21



---
Permissions in this forum:
You
cannot
reply to topics in this forum