Who is online?
In total there are
33
users online :: 0 Registered, 0 Hidden and 33 Guests :: 2 Bots
None
Most users ever online was
418
on Tue Jul 30, 2019 9:51 am
Champions & #1 contenders
Looking for matches
Fri Nov 25, 2022 8:50 pm by Void Effect
Comments: 0
Looking for fun Fights
Wed Nov 23, 2022 1:55 pm by Leon564
Hi hiiiii
Hope you are well my fellows! Happy holidays to those that celebrate. Though some of you may indeed be busy, some of you might be bored and alone. Well I'm here as well bored and alone
So same boat. But not always the same tastes.
Anywhoooooo I've got my two characters available for some battles. James is decently flexible on whom he fights. But Melanie is strictly for the men. She can't get enough of'em
Take a gander at them and hit me up either with a …
[
Full reading
]
Comments: 0
Free Face Claim
Thu Nov 17, 2022 6:11 pm by Void Effect
Three of my character is getting Axed, just ya guys want em, just let me know in DM
https://www.afwrpg.com/t20236-ellie-haise-kaneki#543253
https://www.afwrpg.com/t20341-satella-the-witch-of-envy
https://www.afwrpg.com/t20571-eveline-lector-the-cruel-rabbit
Spoiler:
Spoiler:
Spoiler:
[
Full reading
]
Comments: 0
Page 2 of 7 •
1, 2, 3, 4, 5, 6, 7
Rachel was definitely slipping, no manner of civil decency could really stop her but she made a huge effort to stop and give her little fräulein a minute to cope. She was about to pull away until she felt the gentle caress of their hand on hers, it was surprising given how they seemed to be fighting back but she couldn't deny herself or Sakura of what they both wanted, if she did want this, that is.

Her hands slide down to the cheerleaders waist, the model slips from behind, slowly making her way to their front, her frame covering the shower as the two's gaze meet. She pants softly, her attack still fresh in her mind as her fingers curl under the girl's vest, she began to slightly tug it upward but she halts her advance. Questioning herself for a mere moment as their gaze was locked on one another, she felt it reasonable to continue.

She returns to working off their vest, their was a method to removing clothing from one of her more erotic novels she kept hidden in her bedroom, those sorts of books weren't allowed to be in her collection in the living room or for the eyes of guests, yet. She despised being quick with those she choose for the night, taking her time suited best. Having said that she wasn't going to just throw up their vest and toss it, no, she wanted every second to feel like a year for the cheerleader as she had to wait for it to come off. The model could be quite the tease at times, she couldn't help it, prey squirming beneath her just riled her up and Sakura fit the letter to a T.

Her fingers and palms have a firm hold on the vest, she didn't want to ruin it so she handled it with care, the rise was slow as planned, her knuckles ride against the thin fabric of her white button up, only inching closer to being removed. "You can touch if you want, you know. Just follow my lead and I promise, everything will be okay." she didn't mind taking the reins, she much preferred it but she wanted Sakura to be comfortable with her, to take that kind of chance. It took some time to finally reach her bust, the large mounds, made removing the vest a bit difficult but she was partially to blame for it since her knuckles dragged along the fabric even now.

Finally she reached the collarbone, her knuckles pick up to pull the vest up and over, she smiles as she straightens the vest between them, laying it over too her clothes hamper to be washed later.

The model steps in, he fingers about her bow tie, pulling it to loosen the ribbon around their throat. Her gaze softens "Sakura, if you ever want me to stop just tell me, I don't want you to feel like you have to do this for me..." Rachel wasn't an animal, even if this was taken from her she wouldn't press on.
Last edited by LilyStar on Mon May 14, 2018 9:51 pm; edited 1 time in total
_________________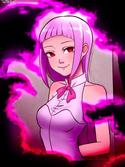 LilyStar




Posts

: 894


Join date

: 2018-02-27


Age

: 26


Location

: Your heart



Sakura shivered ever so softly as the taller model slipped around in front of her, granting her breast the freedom it didn't want as her hands shifted down to her waist. Lucky's emerald eyes locked onto Rachel's, the two of them confirming their desires once more before going any further... She appreciated that, Lucky did... These pauses for her to see if everything is okay, to see if she wanted to second-guess her decisions... All the signals came back as positive and that reflected in her gaze, the tiniest smile of anticipation flicking up the corners of her lips as the German beauty wedged her fingers under her vest.

The cheerleader was practically squirming in anticipation of freedom and Rachel seemed to know it, taking her time in raising the vest, inch-by-inch slipping it up her frame. She... she was playing with her, wasn't she? She was having FUN just toying with Sakura, huh!? Well... she liked it, though she would never admit to that out-loud... Stuff like this... big things like this are things that can't be rushed... The anticipation of her clothes being taken off by another woman only added to the potency of the moment and that reflected in the ever-present non-waning blush that burned in Sakura's cheeks!

Rachel took a moment to pause, letting the smaller woman know that it was okay for her to... to touch her... She just had to follow her lead! Like it was those dances Lucky had gone too in highschool, she just had to follow the steps of her partner! ...Right... she could do that... After all, prom-queen was a title she had often frequented back in those days. She could do this... she could do this... Come on, Sakura, focus... STOP STARING AT HER CHEST AND FOCUS!

The German, after a slow climb, had managed to gently slip the vest out from over Sakura's head, the japanese cheerleader, taking a moment to gently shake her head, letting her silver hair fall back into place... She was so pretty, Rachel was... the images Sakura was already conjuring up with her illustrator's mind were... compromising at best... But she had said she could touch her... So long as she followed her lead...

Slowly, Lucky reached out with a hand, gently taking Rachel's shoulders as she, in turn, reached out for her ribbon, once again pausing to let her know that if she was doing anything uncomfortable, Lucky could let her know... She smiled at that and leaned up to give the model a nice soft kiss on the lips. It was by no means a quick one, either and was a great outlet for all the hot passion Rachel had been building up in her and teasing her with since they had gotten back to her apartment...

"I know..." She whispered, gently tugging on the arms of her shirt. "I trust you..."

Cicilia




Posts

: 2866


Join date

: 2017-11-24


Age

: 24


Location

: 07/21



The hold at her shoulders, it was a start for the cheerleader, one she could appreciate but she felt that Sakura could be bolder thought that was an opinion best kept to herself for now. Rachel felt it was better for her to become more comfortable with her than to push for it, besides she didn't want to rush such a lovely affair, if possible she wanted it to last all night long.

With the ribbon loosened she slightly tugs it one last time to pull the fabric away, the silken cloth making a whish sound as it was pulled from their collar. She sets it down on the sink just in time for the kiss. "Mmmphf." The kiss forced out her voice of reason to take on the more lustful approach. She supposed it was only a matter of time before one of them made a move but she accepted it whole-heartedly. Her lips mash, slipping into place like pieces of a puzzle. Rachel was undeniably more invested than she cared to admit but was that really a bad thing? Sakura seemed just as into it as her.

The model holds her ground, neither seemed interested in breaking the kiss for what was it? A minute? Two minutes? Maybe ten? At this point, she didn't care, each lock and unlock only to be locked in again was breath taking, dragging her further in. When they finally broke she heard those three words, words that made her heart flutter and her expression soften "I trust you." Honestly she couldn't believe it, she was stunned by it, Sakura had put so much faith in her at this very moment, so why not reciprocate it? Bringing her forehead in to station at the others, a warm smile graced her face "I trust you too, Sakura." she whispers before pecking the girl's cheek, her fingers slightly fumbling at the first button on her button-up

She took it slow once again, each button removed skillfully but agonizingly slowly. She wanted to convey her message that she was still holding back and very wary to the cheerleaders wishes. Each button revealed a bit more than the last, she'd make sure that she gave Sakura time to do as she liked with herself, be it remove her shirt or maybe explore her build, either didn't matter to her. Her only regret was she didn't pardon herself sooner to put some music to really set the mood, it seemed to out of touch now since they were already to far in, maybe another time if the lucky cheerleader decided to visit again.
_________________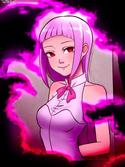 LilyStar




Posts

: 894


Join date

: 2018-02-27


Age

: 26


Location

: Your heart



Lucky and Rachel stayed locked together for what felt like several minutes, pulling away the tiniest distance only to breath before diving back into it. It had to be one of the best kisses she had ever felt... So soft... So warm... Passionate... Their connection caused an entire swarm of butterflies to flutter up into her chest... There was so much behind it... more than the other kisses they've shared. It felt very... personal in the best possible ways. When they eventually broke contact, Sakura admitted her trust for her friend and that seemed to shock the taller woman. She appeared surprised by the fact that Lucky would trust her so much but eventually that faded into the background... Rachel leaned in, their foreheads gently pressed together as the German model expressed that she felt the same way, Lucky smiling softly at that...

"Thank you..." She whispered, blushing softly as her partner's lips gently graced her cheek. She smiled softly, glancing down at Rachel's fingers as they began to undo her buttons one by one. Each time one would be undone, the Raven beauty would glance up at her, as if questioning if it were okay before continuing on to the next. Each time, she would smile and nod, her heart-rate increasing with each button. Eventually... over the course of several minutes, Lucky's shirt would be fully unbuttoned, revealing a light pink bra covering her large breasts... She let out a heavy, shaky breath, slipping her arms out from within her sleeves. She grabbed her newly shed shirt, setting it with the rest of her clothes on the sink before looking over at Rachel... Now it was her turn, right...?

Reaching out shakily, Lucky would take the rim of Rachel's top and slowly, courteously begin to roll it up, checking every so often to make sure her friend wasn't displeased with her actions. After a minute... maybe two, she would attempt to slip the article over Rachel's head, pulling it free from her, leaving them both bare, from the waist up, their chests only covered by their underwear. Smiling sweetly, Sakura would set the shirt upon the sink besides her own clothes, sighing softly, happily, as she reached out again. This time her palms would grace the German's sides, her palms gently running down her ribs and along her hips, her skin tingling in contact with hers! She stopped only when her fingers reached the rim of her pants, glancing up questioningly at her friend. Would she be okay with this...?

Cicilia




Posts

: 2866


Join date

: 2017-11-24


Age

: 24


Location

: 07/21



With each button came a new view to adore and love, each button revealed something else about Sakura that Rachel felt could be new to her. The cheerleader was like a lamb, so shaken and nervous, it made the model chuckle softly, someone so innocent couldn't possibly ruin her expectations. The raven haired beauty was prepared to slip the shirt down and away but the other seemed to have that covered and that was fine, no need to handle her like a baby or a child.

She was rather excited to see Sakura go for her this time around, the electrifying touch shook her core. The feeling of those fingers curling under her top was a bit more than she was expecting but the sensation was pleasant all the same. Her arms raise up as her first article makes its way toward freedom, it was their turn to taunt and tease her with a agonizing removal but in truth she didn't mind. Payback was special when it came to tgisbsort of thing, she didn't exactly partake in revenge unless it was far more beneficial than just a lyrrachic victory where no benefit was made at all. Still she liked this, it was...refreshing.

With her top now reaching her neck, it came over and down, laying nicely against the sink with the first set that she had began to work on first. Both women were stripped from their necks to their waist, her gaze shifts to her breasts, toward her stomach, the waistline, and then back to her. She was beautiful, far more than she gave them credit for.

"Du bist schön Sakura... Ich meine, dass." It was comfortable for her to say her phrase in German, in her eyes it held more sentimental value but if she had to translate for her she wouldn't mind at all. Her spine tingles as she feels fingers at her waist, awaiting the chance to take the next article at its masters command but she'd hold. She smiled as she steps in, her bust pressing against the cheerleaders, she was careful not to press to hard but unfortunately it wasn't enough. Sakura would more than likely be pushed against the back of the door, Rachel's cyan eyes lost in hunger but she had to hold it in, there wasn't any room to give.

"Not yet." she whispers, her left hand stations at her wait while her right cups their cheek. Her warm breath running over their lips as she closes in on the woman trapped in the bathroom with her. Her index fingers slips into the waist band to give it a nice tug but she said to wait so she would. Bit by bit, their lips closed in, she wanted this no needed it. Their busts squishes tightly together as the taller woman presses her frame further into the other, she'd accept any push that came her way.
_________________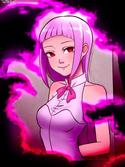 LilyStar




Posts

: 894


Join date

: 2018-02-27


Age

: 26


Location

: Your heart



Sakura couldn't help but shiver as she felt Rachel's eyes run along her features, her body tingling everywhere they traveled almost as if her fingers were gracing her instead. She felt so... vulnerable without her shirt on but maybe that wasn't such a bad thing... Rachel certainly didn't think so seeing as soon as the their tops were discarded and set upon the sink, the German closed in slowly, their busts lightly squishing against one another and sending pulses of stimulation throughout the cheerleader's body! She squeaked in surprise, taking a tiny step back but the German was persistent, closing whatever distance Sakura attempted to make RIGHT up until she backed into the closed bathroom door! Lucky pressed herself against it, her breathing picking up, her body temperature spiking as the beautiful black-haired model pressed herself up against her, the smaller girl's eye-lids fluttering as a tiny, nearly imperceptible moan escaped her lips. That little moan only increased in volume as Rachel's finger fiddled with the elastic of her skirt, their lips instinctively closing the distance with one another, halting with the sensation of their heated breath upon them.

"...Hmm...?" She asked, completely ignorant to the German language. "W-what's that mean...?"

Lucky nodded dreamily as Rachel requested they hold off on the stripping for now, the smaller girl leaning into the hand that cupped her cheek with a gentle purr. It felt so good to be held by her... So safe and close... When she looked upon the model, she felt nothing but happiness of the warmest kind. When she saw her smile, her heart fluttered in her chest. When they touched, it was something truly magical... And speaking of which...

Rachel closed the remaining distance, their lips locking perfectly as if they were made for one another. Their kiss gave the cheerleader's confidence a well-needed boost, no longer trying to retreat from her... Now she only wanted her... Rachel and only Rachel was who she desired in this moment... and the next and the next and the next. Lucky wouldn't let Rachel go... not easily. Every half-minute or so, she broke contact to satisfy the frustrating limits of her lung-capacity but as soon as she got a breath, she eagerly dove back in. Much like the first time their lips locked, time seemed to have to meaning for her... She lost track of how many minutes she stood there, pressed against the door kissing her friend eagerly like it was the end of the world. Her mind was left so fuzzy, so...

...perfect...

Cicilia




Posts

: 2866


Join date

: 2017-11-24


Age

: 24


Location

: 07/21



Rachel was a bit of failure when it came to personal space especially when she was sticking her nose where it didn't belong but with something like this, being this close to Sakura, kissing with all the emotion she could muster, it was...different. Different in the sense that she was so invested, so much more than when they first kissed in the ring, more than when the second came in their match. Her new found friend was just the cutest thing, the soft moan, the squeak, the rising confidence. It was too much for the model.

With the breaks in their kisses Rachel found time to decipher her words for the woman, brushing her bangs behind her ear and another passionate kiss she smiles. "I said you're beautiful Sakura, I mean that." she explained, leg rising up the cheerleaders calf. She loved this, teasing and taunting Sakura, in hope that she'll burst eventually but she had to make sure she was within bounds. If there was anything that Rachel held to any degree it was the willingness and consent of her partner, those two things meant a lot to her.

"Don't be afraid to make a move with me Sakura. I'm pretty flexible~." another confirmation for the cheerleader to enjoy themselves without restraint or with, she didn't mind either. Her mind was already made up on that fact, besides, why not let her have a turn, she might end up surprising her in the end. Oh shoot, she didn't even turn on the shower to at least let the water warm up, well that could wait for now at least, Sakura was much deserving of her attention.

Their lips continued to mash and lock as both fell deeper and deeper down that passionate rabbits hole, both of her hands had managed to find their way at her waist. To say she was enjoying herself would be an understatement, Sakura was special. She couldn't put her finger on it but just this whole situation had her thinking that way, it was like that in the ring as well. She wondered if this was the cheerleaders plan and she had fallen for it hook, line, and sinker but then again so what? Rachel didn't mind it right now, her mind only had two things on it: those lips and this skirt. Scratch that, her top priority on her mind was Sakura herself, the other two were just sidenotes.
_________________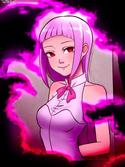 LilyStar




Posts

: 894


Join date

: 2018-02-27


Age

: 26


Location

: Your heart



Sakura blushed fiercely as Rachel so kindly translated her german for her, the poor girl being left completely speechless... though given how much they were kissing, it was hardly likely she would get a word edgewise in anyway. the two women stood there pressed against the door, seemingly completely forgetting about their shower for the moment. For minutes at a time, they stood, wrapped in eachother's arms, their lips sucking hungrily but cautiously at one another. After a little bit, Rachel would tug away, reminding the cheerleader that she didn't have to play second-fiddle if she didn't desire it. If she felt compelled too, she could try anything she wanted... She smiled a goofy grin at that, her emerald eyes flicking very quickly to several different places on the model's body: Her exposed neck, her bountiful chest, her still concealed rear... There were so many things she was compelled to do... Her eyes then flicked back to Rachel's deep blues and she smiled confidently, leaning in to give her a quick peck on the lips. Her body buzzed with anticipation of this new power... She could make a move, hmmm...? Okay then... Little Lucky was finding all these... clothes rather uncomfortable all of a sudden... Maybe it was because the temperature in her rose by... like... 20 degrees but she no longer felt cool in her skirt... Of course, it wouldn't be fair to assume Rachel felt differently and so she would do her a favor!

Sakura kissed Rachel, kissing her with all the passion a lover of the craft could expel, pressing into her in such a way, it was as if she were trying to push herself off the bathroom door. She would need that control for what she was about to attempt next. If she managed to gain some ground on the larger woman, she would smile cutely, pulling back from their contact just enough to put a half-inch of distance between their lips as her hands slipped around the model's waistband. She would pause, a question in her eye and if she wasn't stopped, she would slowly begin to tug down, lowering her bottoms off her hips... and eventually enough for rachel to step out of them herself... From there, Lucky would simply press into her once again, savoring the sensation of their bare skin rubbing ever so sensually against one another. She pressed her lips against the taller German's thirstily, practically addicted to her flavor.

"*huff.... huff...* You... you're beautiful too..." She whispered during one of their very brief moments of contact. "...So... so pretty..." Her hands needed something to do... something to feel and so they traveled up along Rachel's hips, up her sides as they kissed, until her thumbs gently graced the underside of her breasts. Sakura's touches were nervous at first, very brief, but if she recieved no resistance, she they would become a lot more frequent... her fingers brushed them at first.... but would slowly grow to cup them, her palms cradling them as if they were treasures, giving them a soft squeeze ever now and again...

Lucky sighed... This must've been what bliss felt like... slow... constant... forever...

Cicilia




Posts

: 2866


Join date

: 2017-11-24


Age

: 24


Location

: 07/21



"Mmmhn." Her moans escape slightly through her lips, both women just losing themselves in each other, the exchanging of moans and kisses and body contact, Rachel was in pure bliss. Each new kiss each new touch sent a shock of pleasure down her spine, her body began to tingle with anticipation and the longing of more.

Her begging would be answered and oh would it. Those tender thumbs slip into the waistband of her shorts, at first she didn't notice the subtle slip. She was far too occupied to really give it much thought until she sensed the fabric running down her thigh. Such a bold move but that wasn't necessarily a bad thing, the model was actually happy the cheerleader had the wit to do it, her confidence was booming and that was enough. Rachel loved this side of Sakura, the sheepish cheerleader was blossoming.

She followed their direction and stepped out of her shorts as they dropped to the floor, she stood their for her, only in that dark purple colored panties and bra. She smiled as her arms wrapped around the cheerleaders neck "Has the Wolf come out of sheeps clothing?" she teased, pressing her barely clothed body up against Sakura once more, her right hand running down their body as she searched for her zipper to the skirt. She wanted to make things even and she would.

Fumbling for a few seconds, Rachel decided to distract them with a tender kiss as she searched for it. It took long, too long for her to actually find it but hopefully the other didn't notice. The slight cry of the metal being released filled the bathroom despite the sound of lips locking furiously.
_________________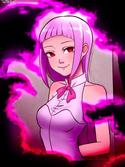 LilyStar




Posts

: 894


Join date

: 2018-02-27


Age

: 26


Location

: Your heart



"MMmmh..." She moaned softly into their kisses. Every second their lips remained in contact was another second she had to keep from losing herself... Every moment their breasts pressed and slid against one another was one she fought to remain aware of her surroundings. Even so, she was hardly able to think with how much she and Rachel kissed... Her actions, where her hands went... Almost all of it was instinctual, her mind blanked out by the sheer attractiveness of her friend. The two of them remained locked tightly together even as Sakura pushed down Rachel's shorts, the Cheerleader blushing softly as the taller model's underwear was revealed to her: A dark purple bra and panty pair, the sight of which nearly made Sakura's heart burst out of her chest.

Rachel questioned if the true Lucky had finally shown herself, the smaller wrestler smiling up at her warmly as she leaned in for another kiss.

"...Maybe..." She whispered a moment before Rachel closed the remaining distance. Sakura moaned softly, lewdly as Rachel took the fight to her, keeping her completely under her spell as her hands graced down Lucky's sides and hips, her fingers feeling all around for the zipper that kept her skirt up. Meanwhile, Lucky's own hands wrapped around the model, pulling the two of them closer, but also her fingers beginning to toy with her bra-strap, lazily plucking at it in an attempt to finally make it drop and reveal that beautiful chest to her in full.

The German certainly worked faster than Sakura did, eventually finding and undoing Lucky's zipper, causing the skirt to fall down by her feet. Sakura stood there, embracing one of the hottest women she's ever met, in her light blue panties and bra, almost a direct contrast to the darker colors of the model before her. She was vaguely aware of the sounds of their furious, passionate kisses bouncing off the walls, only getting louder and louder with each lip-lock but... one noise eventually overcame even that... or rather a lack of one: There was no running water...

"...Mmmmmuh..." She gasped as she pulled away, their lips popping loudly as they parted. The cheerleader kicked her skirt away as she stared up into those beautiful blue eyes, one hand still tugging on her bra-strap, another slowly pulling back so she could rest her palm on Rachel's cheek..... So warm... "...Shower...?" Her voice was ragged, her breath heavy but her eyes glowed with passion for this woman. If she ever left her arms it would be too soon... MUCH too soon. "...W-we're still doing that... right...?" She hoped so... The only thing hotter than Rachel right now... would be Rachel covered in a thin shimmering coat of water.

Cicilia




Posts

: 2866


Join date

: 2017-11-24


Age

: 24


Location

: 07/21



Page 2 of 7 •
1, 2, 3, 4, 5, 6, 7
Similar topics
---
Permissions in this forum:
You
cannot
reply to topics in this forum