Who is online?
In total there are
21
users online :: 2 Registered, 0 Hidden and 19 Guests :: 2 Bots
Jobber/squashfan
,
Unlife
Most users ever online was
418
on Tue Jul 30, 2019 11:51 am
Champions & #1 contenders
Looking for matches
Fri Nov 25, 2022 11:50 pm by Void Effect
Comments: 0
Looking for fun Fights
Wed Nov 23, 2022 4:55 pm by Leon564
Hi hiiiii
Hope you are well my fellows! Happy holidays to those that celebrate. Though some of you may indeed be busy, some of you might be bored and alone. Well I'm here as well bored and alone
So same boat. But not always the same tastes.
Anywhoooooo I've got my two characters available for some battles. James is decently flexible on whom he fights. But Melanie is strictly for the men. She can't get enough of'em
Take a gander at them and hit me up either with a …
[
Full reading
]
Comments: 0
Free Face Claim
Thu Nov 17, 2022 9:11 pm by Void Effect
Three of my character is getting Axed, just ya guys want em, just let me know in DM
https://www.afwrpg.com/t20236-ellie-haise-kaneki#543253
https://www.afwrpg.com/t20341-satella-the-witch-of-envy
https://www.afwrpg.com/t20571-eveline-lector-the-cruel-rabbit
Spoiler:
Spoiler:
Spoiler:
[
Full reading
]
Comments: 0
Page 7 of 7 •
1, 2, 3, 4, 5, 6, 7
"My, my. Aren't you bold my little wolf." She'd reply, muffled by the intense kiss soon after as they did away with the formalities and indulged in one another. Rachel's thigh would lightly brush against their bare side, making its presence known to them and demanding a bit of attention. She'd shift her head upward just a bit to give the cheerleader a better angle for her thirty minute of top time, she supposed that it's be a bit better angle to work from but that was up to Sakura and how she wanted to use her time.

The look on Sakura's face when her tongue was denied forced a sharp laugh from the model, she couldn't help it, it was both cute and kinda funny but it was just for a little tease. She placed her palms from their back to her cheeks and pulled them in for the longest smooch she could muster before running out of breathe as an apology. With the lip contact broken and then the sudden flurry of kisses attacked her throat and jawline, she'd shift her head against to give, Lucky ample room to kiss and mark as she pleased.

She couldn't get enough of this feeling, Rachel couldn't remember a time when she had been this lovingly pampered by anyone. It was a nice change of pace for the model and one she'd happily enjoy for the rest of her nights. Sakura seemed to just know what she wanted in their short time together and that was surprising.

Her spine would tingle as she felt, Sakura lower her kisses down her collarbone. A light gasp escapes her lips as she feels their lips lightly kiss her bare breasts, only to find her little wolf nestled into her chest. She raised an eyebrow but only smiled as her finger would rake through those lovely locks of hers. "Do you need a minute?" she lightly pokes. "... Or maybe you're ready for it to be my turn again?" Rachel would joke.
_________________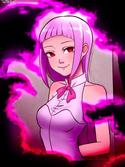 LilyStar




Posts

: 894


Join date

: 2018-02-27


Age

: 26


Location

: Your heart



"No..." she whispered softly, pressing her lips against the inside of both breasts, suckling upon the soft skin of each before pulling her face back out, gently locking lips with Rachel again! The cheerleader would linger for one of their longest kisses, Lucky wrapping her arms around the German's neck to hug her even closer! Their breasts mashed and pressed against one another, their bare nipples rubbing and pressing as Sakura made out with her very special person... until she no longer had air to support their connection! Lucky would pull away after almost a full minute of solid kissing... only to rub her cheek softly against that of Rachel... She loved this so much... how tender she could be, how soft... It was so unusual how slow this was going! Usually Lucky and her lovers went back and forth at the speed of sound, eager to have at each other!

...But Rachel... It seemed she liked the foreplay, to drag this out as long as possible... And Lucky was perfectly content with that... Just not used to it is all!

"...Lemme..."

Sakura gently raised her own hands up to Rachel's cheeks, holding them softly in her palms before pulling her in close for another smooch... another one... Her kisses came in rapid-fire, bombarding Rachel's lips with one smooch after another! She was so hungry for those lips, for Rachel's body... Lucky couldn't help but grind herself against her as she softly suckled upon the German's sweet, full lips each and every time they came together! The cheerleader would be left breathless after so many smooches... her forehead gently pressing against the model's as she stared into her eyes intently... Slowly, her hands would slip down off her face, one wrapping around the back of Rachel's neck... the other gently resting on her shoulder as she pulled her sweet in for one more LONG, LONG kiss... again poking at her lips with her tongue...

Cicilia




Posts

: 2866


Join date

: 2017-11-24


Age

: 24


Location

: 07/21



She softly chuckled at their answer, but it soon turned into a soft, drawn out moan at she felt those lips against their inner flesh of her breasts. Her back arches inward as Lucky continued her assault only to pull away and come back in for another kiss. Rachel could confidently assume that they really loved kissing or maybe that was just something they did to get into the mood. Either way she couldn't remember the last time she had kissed anyone as long as this. With the feeling of their breasts mashing together, the model was forced into another daydream, how could she keep pushing and pulling her in and out of reality like this? It was so unreal and the only thing drawing her back was another kiss that became a battle over these wanted feelings.

To say Rachel liked to drag these sorts of things out wasn't far from the truth. She much enjoyed exploring her lovers and got a thrill out of bringing them close to the edge only to let the feeling for before bringing it out of them again.

"Hm?"

That was the only word she managed to get out as the cheerleader made her move. Catching her face in those soft palms of hers and then bombarding her with kiss after kiss as she enveloped the German in their touch. Rachel shifts her hands. One running back through their hair, grabbing a handful as her instincts and core instructed and then another along their thigh. Rachel was a grabber, it gave her comfort and soft things were a favorite of hers, luckily Sakura fit the criteria nicely. The model took it upon herself to meet every kiss with her own, each one coming more aggressively than the last but this felt normal for two predators seeing the other as competition, although this wasn't the time or place to be competing. No, this was meant to be enthralled with and enthralled she was. As foreheads met she'd grin as their pools met with such intense longing, she knew that Lucky still had time but why not at least put a little fight in it, give her a chance to really show that wolf hiding under all that thick sheep's wool? As the long kiss began, she'd give them a sense of submission by allowing their tongue in, it felt obligatory seeing as how hard they had been working. Although she was molding with the kiss and the loving tongue, she'd make her move, grabbing tightly onto her footholds, she'd roll, rolling the cheerleader onto their back in the middle of her bed with Rachel taking top, she wanted to see more of that fire in Sakura, why? She couldn't very well explain it but she could sense it was there.
_________________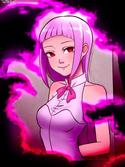 LilyStar




Posts

: 894


Join date

: 2018-02-27


Age

: 26


Location

: Your heart



After much persuasion, kissing and nuzzling, Lucky had convinced the German to let her tongue in, the muscles softly intertwining, licking and wrestling in each other's mouths as they kissed! Her eyelids fluttered closed as she lost herself in the pleasure Rachel brought her, pressing harder and harder into the German as her lover re positioned her hands... Mhmm.... She tasted so good, Rachel... It was heaven, like tasting the ambrosia of the gods, the two women swapping saliva...

"MMm...." Sakura whispered as she pulled away, a long trail of saliva still connecting their tongues. "Rachel... I... WHUP!" Before she knew it, the German had taken advantage of Sakura's distracted state, flipping them over so that the cheerleader was now on bottom, the model's body pressing down HARD into hers! Lucky gasped and moaned as their breasts mushroomed out against each other, their nipples pressing and piercing against one another as Sakura's hands shot up, resting on her lover's shoulders! She stared up into Rachel's eyes with a longing emerald gaze, a small, sly smile spreading across her lips as her palms ran up and down her arms... Her skin was so smooth and soft... It was like touching a cloud... Sakura, if she hadn't known better, would've never thought Rachel a wrestler! With her natural beauty, sweet and loving personality and how she held Lucky... a fighter in a ring wouldn't have been one of the professions she thought she'd take...

...But then, the same could be said about herself!

"Oh, Rachel..." She moaned, her arms slipping up around her lover's neck, fingers slipping through that long, gorgeous black hair, small pink hearts fluttering in her eyes as she stared up into her mistress'. "I... I feel.... so much for you.... Rachel, I.... I...."

Cicilia




Posts

: 2866


Join date

: 2017-11-24


Age

: 24


Location

: 07/21



She didn't expect a response like this as Sakura's tongue passed the barrier of her lips. It was immediate with its wants and desires as she had to focus on keeping it down or at the very least fight back. She was definitely surprised on how not-so-innocent the cheerleader was becoming. The model had to think though, if she was like this because of her, that could only mean it was because of her that she drew out this wolf. Rachel smirked at the thought but with the battle of tongues still going on, she'd definitely have to put up a fight as saliva was exchanged, the poor bystander. Her body was heating up, more so than usual when they started, her core felt like hot coals as she held the cheerleader in her hands, the softest nice of such a well toned figure coupled with such a sweet and trusting personality, the model was floored she had never met anyone like her.

With Sakura's dazed state and the trail of saliva that followed after the pull away, the German couldn't help but re position herself on top. She wasn't sure how much longer she could keep her own wolf down before it burst out of her chest to make a meal of Sakura. She'd press her right shoulder with her right to pin them down while her left ventured down their side and waist. As she felt her lovers arms embrace her, she pressed her body back down against the cheerleaders bust, squishing the mounds of flesh while making sure to work on her nipples to give an added sense of pleasure.

With the cheerleaders moans filling her room, she leans forward, pushing up their chin slightly to lightly peck their throat. Her words began to spill and capture the model, she was...overtaken, perhaps feeling joy and then love. She smiled as she made eye contact with the love stricken woman, the woman who had kissed her first in that ring, the woman who'd caught her eye and now laid in her bed. "You don't have to say anymore mein schatz. I feel the exact same way, perhaps I can thank the stars that we got to meet tonight, I can't think of any time I felt like this with someone else. her left would run down to the nook in her left thigh and slightly could raise it from the bed. "I can't hold back my feelings Sakura~, if you want more all you have to do is give me the word." She states, pecking their lips for another kiss.
_________________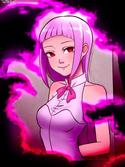 LilyStar




Posts

: 894


Join date

: 2018-02-27


Age

: 26


Location

: Your heart



Sakura let out the softest, most innocent moans as Rachel reasserted her position on top, their bodies mashing and pressing together in a way that was SO much different than any the cheerleader had ever felt... She had slept with many different and wonderful girls in her time here... Some that were as sweet and bubbly as herself, others not quite as much but maybe just as skillful in the art of hentai! But... But the German... She was something else... SOMEONE else! She invoked feelings deeper and more meaningful in the cheerleader than anyone else! The way she looked at her... The way they touched... They way she held such passion for someone as small and, inevitably, meaningless as her...

Sakura's eyes locked on Rachel's, her lips slightly apart as the model promised that she felt the exact same way about her, that she had never once felt stronger towards anyone... Lucky's eyes shot wide... then slowly began to tear up as she smiled a soft, loving grin up towards the beautiful woman who held her so, the naked, helpless Lucky locking lips with her in a passionate, and firey kiss!

She wouldn't let Rachel simply get away with a peck... No, she wanted to show her how much she loved her because GOD, did she... Her heart raced just being in her presence, taking in her smell and feeling her touch... Her body seemed to come alive as their bodies pressed together, their collective heat building off one another... Sakura kissed and kissed Rachel with almost a feverish kind of desperation... as if her life depended on making Rachel happy...

Cicilia




Posts

: 2866


Join date

: 2017-11-24


Age

: 24


Location

: 07/21



Rachel was suddenly surprised with the slight tears welling in Sakura's eyes, the smile that was added to it just to make her wonder how happy they must've been to be overcome with this emotion. She'd slip her hand out of their hair, her thumb lightly wiping away the slight tears welling up. She'd smile back as the model would pull her knees in just a hair to reaffirm her position. As the two kisses, she could feel the heat and passion Sakura wanted to portray with every bit of contact. Rachel found it harder and harder to not launch herself and take full control of the situation. She wanted them both to enjoy this, to revel in each other's company more than she could every dare to explain.

Rachel's mind was a blur, how long had they been laying here, kissing and holding each other so close? How long has she had to battle with herself? The German couldn't tell, she was far too focused on Sakura to even give time a second to make itself know. Sakura...Sakura...that was all that popped into her head, she could only think about the living cheerleader in her arms, the one that had managed to capture her heart so suddenly. God it was intoxicating even now, she just wanted more and more. This selfish feeling of being with them like this al the time without caring about the consequences.

Her hand latched to the nook of their knee began to move. It moved up the soft feeling cloth of their pants and slowly made its way up to the waistband. The German could be patient but a little incentive never hurt anyone. With a slight tug, she'd attempt to grab Sakura's attention with the notion but ultimately thy was their decision to make not hers. Rachel only wanted the cheerleader happy, so if she wanted to keep kissing and take her time then that's what she d do. She'd pull away for a moment only to breathe, she had to be impressed with their stamina, she couldn't remember another time when she had kissed this much and for so long, it was other worldly if she were honest.


_________________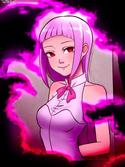 LilyStar




Posts

: 894


Join date

: 2018-02-27


Age

: 26


Location

: Your heart



Page 7 of 7 •
1, 2, 3, 4, 5, 6, 7
Similar topics
---
Permissions in this forum:
You
cannot
reply to topics in this forum