Who is online?
In total there are
50
users online :: 1 Registered, 0 Hidden and 49 Guests :: 3 Bots
killcarrion
Most users ever online was
418
on Tue Jul 30, 2019 9:51 am
Champions & #1 contenders
Looking for matches
Fri Nov 25, 2022 8:50 pm by Void Effect
Comments: 0
Looking for fun Fights
Wed Nov 23, 2022 1:55 pm by Leon564
Hi hiiiii
Hope you are well my fellows! Happy holidays to those that celebrate. Though some of you may indeed be busy, some of you might be bored and alone. Well I'm here as well bored and alone
So same boat. But not always the same tastes.
Anywhoooooo I've got my two characters available for some battles. James is decently flexible on whom he fights. But Melanie is strictly for the men. She can't get enough of'em
Take a gander at them and hit me up either with a …
[
Full reading
]
Comments: 0
Free Face Claim
Thu Nov 17, 2022 6:11 pm by Void Effect
Three of my character is getting Axed, just ya guys want em, just let me know in DM
https://www.afwrpg.com/t20236-ellie-haise-kaneki#543253
https://www.afwrpg.com/t20341-satella-the-witch-of-envy
https://www.afwrpg.com/t20571-eveline-lector-the-cruel-rabbit
Spoiler:
Spoiler:
Spoiler:
[
Full reading
]
Comments: 0
Page 3 of 7 •
1, 2, 3, 4, 5, 6, 7
Rachel had completely forgotten the shower. Having been consumed in her efforts for Sakura, the shower now seemed less important than keeping the cheerleader in her grasps. Their kiss, the pressure against each other's frames both of those held her mind she wanted so much more of this.

During the last of passionate kisses, Sakura broke away while fiddling with her bras hook, she mentions the shower and if they were still going to take one which instantly snapped the model back to her senses. "O-oh right. The shower, I almost forgot." she coyly smiles as she pulls away from Sakura.

She turns, heading back towards the bath and shower, she'd turn the hot water faucet a few times before adding in a bit of cold water. The shower head bursts with water as it rains down onto the porcelain flooring. Her cyan gaze turned to the towel rack which consisted of only one towel, the model wouldn't be rude. Turning toward the cupboard on her left, she'd reach in to grab a second white towel to hang. It didn't take long for the room to fill with steam, so perhaps the water would be too hot, Rachel would turn the hot water dial down just a bit and add a little more cold water to mellow out the temperature. She smiled toward her companion, her hands slip behind her back to finish what the cheerleader had started.

There was something interesting about undressing in front of others, the way they watch you, their comments, or their initial reaction to seeing you discard your clothing. The German didn't at all mind if Sakura decided to watch, besides she'd do the same, that made her grin. With that said, her bra hooks unlatch, the straps over her shoulders going slightly limp as she pulls down and allows it to slip into her hands before setting it down.

"I know it's a bit cliché since I'm in Japan but I use Cherry Blossom shampoo, conditioner, and body wash. Will you be okay using that?" She asks, her gaze locked on them as her thumbs slip into the waist band of her panties, sliding them down her thighs as she prepares to enter the shower. She had thought on numerous occasions to supply her guests with different aromas for their bath needs but it always slipped her mind when she was out and about.
_________________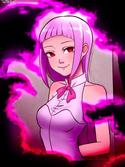 LilyStar




Posts

: 894


Join date

: 2018-02-27


Age

: 26


Location

: Your heart



Sakura had never felt quite as lonely as when Rachel pulled away to attend to their showery needs, despite the fact she was standing right there in front of her, beautiful as ever. When she turned her back to her, Lucky couldn't help but feel the temptation to JUMP her like the german had done when they first got here, fondling and kissing her neck with all the revengeance she could put into it! She narrowly overruled this impulse with the thought that it might make her friend uncomfortable and break the mood... The last thing she wanted was for them to miss out on their mutual shower... Rachel had built it up to REALLY be something special with her... hospitality so far and so, she would play it safe, fidgeting form foot to foot as she resisted every urge to do something especially naughty. With the water going and the soft steam of the hot water starting to build, Rachel slipped past Lucky on her way to the towel-cabinet, her fingers lightly gracing the Cheerleader's thigh absently as she passed. She couldn't help but shiver at the contact, intentional or not, the poor girl biting her lower lip to suppress the moan that had suddenly appeared in her throat...

It was so EMBARRASSING how turned on she was right now! With an extra towel ready, Rachel stood before Sakura with that smile... that devious, knowing smile on her lips as she reached behind herself, her bra starting to loosen only moments later. The Cheerleader barely even caught what her friend was trying to SAY to her just then, the poor girl far too enraptured by the mystery of what Rachel's breasts would look like fully uncovered...

...Needless to say, they didn't disappoint.

"Uhhhh.... Wh-what?" Sakura asked, snapping out of her dream-like haze. "...O-oh... Cherry-blossoms... Yeah... uh... th-that's... good." She didn't really care what kind of soap Rachel was using... she just wanted to feel her naked body against hers... And to do that, she had to uphold her end...

Reaching behind her much as Rachel had done, Sakura undid her bra-strap, letting her top fall into her hands, releasing her large, impressive chest hang low and free! Her whole face flashed the darkest of reds as she set it on the counter with shaking hands, pulling down her panties as Rachel had done the same... With those too put on the counter, there the two women stood, bare naked, free... And Sakura was the first one to make a move for a change...

Overtaken by her desire, Lucky closed the distance between her and Rachel, placing a hand on her shoulder to gently push her towards the shower, more of an encouragement than a shove. She didn't want her to trip on the rim after all! Lucky would follow in not a moment later, the warm water falling down on them both, slickening their skin and suppressing the cheerleader's curls so that her silvery-white hair hung straight and wet down her back. She stared not up at Rachel, but down... down at their shiny, water-coated forms pressed so tightly in the shower, her hands moving to wrap around her friend's back to keep her as close as possible... their nipples pressed together in such a way, it sent shocks down her spine that nearly turned her knees to jelly! Without a word needing to be spoken, Lucky leaned in to kiss Rachel feverishly, her hands slipping all up and down her back before moving to trace the curves of her rear. She had no idea what her hands were doing, so absorbed into their contact was she... All she could feel was them slipping around something... Something firm and round and... perfect.

Cicilia




Posts

: 2866


Join date

: 2017-11-24


Age

: 24


Location

: 07/21



She half expected Sakura to follow her lead, but her eyes were graced and impressed with the general display. Her voluptuous breasts bouncing free from the bra, her hands running down her thigh with undergarments in tow, Rachel bite harshly on her lips to suppress any noise of appreciation. Her gaze couldn't pull away, the model was finding it hard not to rush her and explore all her body had to offer but that was being saved for later.

Rachel lightly gasped at the gentle "encouragement" she hadn't expected Lucky to become so needing and attempt to assert her dominance. This was a fact the model couldn't allow, she didn't mind it a little bit this was her prize and she'd take those reigns by force if she had to. She used prize loosely in her mind, Sakura was her friend but tonight her lover. Although this is what she felt, the other wasn't too rough, especially with how dangerous a harder push could've been.

With the soft pitter patter, pitter patter of the water raining down from the shower, her body began to warm up as the steam mixed with her arousal. Her black and red hair hugged her waist and backside as it dampens, lips obliging Sakura as their hands roamed her body. A light whine left her as the cheerleader gave her bottom a saueeze. This sprung Rachel to act, her arm stiffens and slams, well more like a tap or a audible thump against the porcelain shower wall. Her free hand pinned the hand at her bottom up and over Sakuras silvery head.

Her cyan gaze showed longing but she had to lay down the law and remind the cheerleader who was in charge. She didn't see it necessary to use her words besides as the saying goes "Actions speak louder than words." And that'd hold true even to her. In that moment her hand, pressed firmly against the wall would grab the massive ball of flesh, her hungry lips would press and lock passionately against the opposite set. The steps to reestablishing her dominance were simple yet she had to be much more aggressive, her kisses were a good start. They became fierce and precise, each kiss meant just as much as the last but with the next kiss she'd introduce her tongue to the others mouth. It's goal the same as hers, it begins to poke and tangle with its opponent, her mind struggled to keep up with the raw and primal desires building up inside of her.
_________________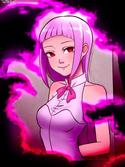 LilyStar




Posts

: 894


Join date

: 2018-02-27


Age

: 26


Location

: Your heart



Sakura gasped in surprise (and mayhaps arousal) as Rachel pushed her back, taking one hand that cradled her round, plentiful butt and pinning it against the shower wall! The cheerleader's eyes widened as her much larger friend pressed into her, her free hand grabbing hold of one of Lucky's plentiful breasts, squeezing and kneading it with JUST the right amount of force to get a loud, lustful moan out of her! It was like she knew JUST where to press and how to hold them... Had she been doing her research...? It would've seemed so... She had an admirer-...

Lucky didn't have much time to marvel at Rachel's choice of boob-fondling as her lips came in for a double-pronged assault soon after, locking HARD with hers, much harder than the kisses they had shared in the recent past! She gasped and moaned softly within the hiss of the evaporating water and the perpetual finger-taps of those hitting the floor and those standing atop it, her one hand still latched onto Rachel's ass tightening like a vice! She never wanted this woman to leave her... Every time their lips separated, every time their eyes broke contact, anything that kept them from being as intimate as possible made the poor cheerleader wilt a little on the inside. She was so into this model... She wanted her and only her... And she was ready for them to get even closer...

Luck was on her side, it would seem as Rachel came at her with the bold introduction of her tongue, the cheerleader's wishes all coming true today... She huffed and gasped for breath as their tongues added to the war of kissing, newcomers to the fight that went at it like war veterans! They entangled, twisted and fought for control of the other inside Lucky's mouth, only ever separating at the behest of their masters.

Sakura couldn't move, she couldn't think, though she'd like to think that had less to do with the lack of oxygen and more to do with the ungodly hot woman pressing into her. Her mind completely clouded over the instant Rachel decided to take the domination of this... shower into her own hands and her kisses and fondling only fogged it up even more... Eventually, even the immense amounts of lusty euphoria washing through her couldn't suppress the YOU'RE GONNA DIE IF YOU DON'T BREATH instinct and she had to pull herself away from their kiss. She stared up into the Model's eyes, her chest rising and falling heavily against Rachel's as she gasped for breath, her face tinted the reddest it ever had as she felt their closeness... her free hand eventually left Rachel's rear, instead gently wrapping around her lower back just above it and holding her close... She stared up into her eyes not with much lust, but with so much warmth...

Happiness.

"Rachel..." She whispered, leaning forward to kiss her cheek, her neck, then her lips, holding the contact with the last one for at least a minute before pulling away once more. "...Y-....You want... me...?" It was impossible to miss, honestly but still, Lucky could hardly believe it... This woman was one of status, of importance and power and she was coming down on her like Lucky was her LIFE'S GOAL... in erotica at least. It was... empowering to say the least.

Cicilia




Posts

: 2866


Join date

: 2017-11-24


Age

: 24


Location

: 07/21



Rachel was the natural predator, if she saw prey that caught her eye, she'd attack and attack and attack until she got what she wanted. That was the deep dark instinct harboring in her core, she could barely contain herself most of the time and this would most likely prove true tonight if she could keep the cheerleader there. Each kiss, each grope was another jab at Yayuuki's frame, chipping away slowly to ensure herself that she could keep the girl complacent but still aware.

The model was always precise when she started. Her lips were veterans, her touch the mastermind, Rachel wouldn't give herself the option to retreat when she had the cheerleader pressed against her shower wall. The soft pitter patter continued to hammer at her back; running down her frame as their lips locked like wild animals. God, why would anyone want to stop? To breathe? Psh, that was for wimps, although she occasionally found herself in need of breathe but it was too quick so it didn't count.

Sakura on the other hand needed it, perhaps her mind was sane enough to show Rachel that much as she happily obliged. Their chests rise and fall almost in unison with one another, it was hard to believe that it was this intense but she could believe it. The model had completely forgotten about the other hand covering her backside until she felt the tingle on her skin as it moved up her spine; pulling her in to her embrace. The Germans own hand, slips from their breasts down to her waist side, they stare into one another's gaze lost in happiness, warmth...want.

"Yes?" With the sudden mention of her name she cocked up her neck as the cheerleader kissed up her throat then stationing at her lips. The kiss, like all the rest, lasted for an eternity before they broke, her question caught her off guard slightly, the models body acting accordingly as she shifted her frame against the cheerleader. "Don't tell me you haven't been paying attention, Sakura. Did you really need to ask me? I thought I was being very obvious but if you need help understanding, I think your body would be the best way to teach this lesson."

The model would step back, looking over her shoulder as she went to grab her cherry blossom body wash, she wasn't too keen on letting Sakura go unpunished for such a silly question. She'd pop open the lid and squeeze a copious amount of the soap into her hand, closing it, she begin to mix it between both hands. Rachel soon turned the cheerleader to face toward the wall, placing one hand of soap over the front of her before squishing her soapy breasts on Sakura's back. Her hands now went to the other woman's front, covering them with the soap as her chest rose and descended along her spine. She worked like a master craftsman, like her body was the canvas, the clay, molding it slowly to form the perfect sculpture, cupping the massive orbs of flesh as her lips trailed up their tender neck.

Rachel felt adventurous, her right hand taking charge as it rode down her frame, slowly closing in on the cheerleaders sex, her lips taunting her ear with soft whispers. "My turn: Sakura, do you want me?" her tone was deceptive, a portion of it sounded like longing while the other demanding, almost as if she expected the right answer.
_________________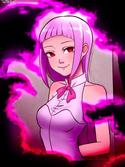 LilyStar




Posts

: 894


Join date

: 2018-02-27


Age

: 26


Location

: Your heart



"I... No- I-I mean.... Yes... I mean..." She was left completely flustered by Rachel's response, her eyes shooting to the floor.. or rather their naked breasts mashing up pleasantly with one another. She didn't know how to respond to that! Of course she's been paying attention! Every kiss, every fondle was met with the most erotic, in the moment response the poor girl could come up with! She was so lost in Rachel, she had instead shut everyone else and not this beautiful woman! Sakura's gaze flicked back up into those blue eyes of hers and shivered, sensing all the tension within them, the desire to do so much more... God, she was turned on right now... She was so sexy... so cute and hot and strong... She found it so... good when Rachel took control of her... It was like this was meant to be, that her purpose was being fulfilled...

"...Please don't go..." Lucky whispered as the German model retreated for a moment, leaving the cheerleader huffing and puffing against the shower wall, taking in the scent of the gentle cherry-blossoms as her partner began to lather her hands in soap... The smell of it seemed to act like a magnet for the entranced young woman, the sight of someone as beautiful as Rachel associated with a smell that could only be described as nature's gift to humanity drew her helplessly to the other woman... Like she was under hypnotic possession, Sakura drew off the wall, taking a step towards the model, compelled to be in her embrace once more! The smell itself wasn't... sexy persay, but it was relaxing! It helped take the edge off the nervousness that was building in her stomach, preventing her from truly experimenting tonight. She felt like some big rule had been lifted, that for just this one night, she could let herself go fully... She oggled her friend, rival, and now partner as she lathered up her front, the suds running in between her cleavage and along her tight, fit belly before she reached out a hand, flipping Sakura around and pressing her front against the wall! Confused, Lucky began to push off the wall only to feel Rachel come up behind her, moaning a loud, sultry moan as she felt both her breasts being attended too once more and Rachel's scrub the soap into her back! If it weren't for the other woman holding her, poor little lucky would've melted into a puddle on the floor, unable to take how perfect this all felt... The tendrils of soap tickled down her rear and across the back of her legs, the water helping to make sure soap got to all the right places while Rachel's masterful hands tended to her front...

Sakura shivered and gasped as the model's warm, gentle hands running along her belly and chest, ever so kind as to get within ever crevice, trace every line, going over once... twice... three times to make sure no dirtiness polluted her body... She couldn't help but moan and gasp the whole time, either... She... she couldn't even take what feelings this brought up in her... Her ears tingled as Rachel threw her own question back at the cheerleader, making her whole face flash a deep red.... She stared at her over her shoulder, desperate to kiss her but unable to reach, giving up and instead resting her forehead against the shower wall...

"....Yes... I need you, Rachel!" She moaned, her eyes clenched shut! "I want you with me so bad..."

Cicilia




Posts

: 2866


Join date

: 2017-11-24


Age

: 24


Location

: 07/21



Each sultry moan that left Sakura's lips drove her mind wild, Rachel couldn't help but want to push on to earn more of those complimentary moans. Genuine arousal and sheer loss of words to retort with as she challenged her attentiveness. It was cute seeing and hearing the cheerleader lose her ability to form a response but she didn't need one.

Rachel felt a sense of woe as she parted for only a second, she faintly heard their plea through the pounding sound of the shower. She couldn't place her finger on what to say so perhaps it was better to say nothing and just go ahead with her initial plan. With her front covered in suds, she pushed the other up against the damp wall, facing away, her hands and body instantly upon them. She was generous to lather them in the excess soap she still had left, her breasts doing a some passable job cleaning her back well her hands roamed and "cleaned" her front.

She could see them desperately turning to try and steal a kiss but the model wasn't having it, she couldn't always be nice and give her what she wanted some things had to be earned not given. Her left hand teases her stomach, threatening her sex as her right pulls away to swiftly yet softly, stank her bottom. A dominant display to reestablish, to herself if anything, that she was in charge. She grinned as Sakura gushed her guts out to Rachel, practically begging for her to be with them. With something like that, she had no choice but to comply. "Such an honesty girl you are, Sakura. I don't leave you for a second tonight, trust me." She assures her.

Her threatening hand relents and runs or more so glides, along her baked lips, her finger tips rubbing the full length before running back up to kiss her clitoris. Her tongue slipped from the barrier of her teeth, with the distance she had, nothing was out of reach. A good target she felt to start with was her ear, she'd neglected it so why not give it a little attention? Cocking her chin, her tongue runs the rim of her ear, light licks at first to set the mood before heavier kicks followed. She could tell the cheerleader was barely standing and she was of course worried about that but the model wanted a few more minutes if this, she'd let her relax them. That is to say, to maybe watch a movie before things got a little heated in her room.
_________________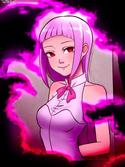 LilyStar




Posts

: 894


Join date

: 2018-02-27


Age

: 26


Location

: Your heart



Sakura squirmed and shivered in pleasure as Rachel worked her, the other woman's hands running all up and down her belly, teasing at her sex before swiftly pulling back. Confused, Lucky glanced back over her shoulder, her eyes faded, dazed... ONLY for a spank to wake her right up! Shocked, Lucky let out a LOUD gasping moan completely against her own will, her reflexes bypassing any form of control she had over herself! The smack, the slight sting, the feeling of Rachel cupping her ass-cheek if only for a moment... Sakura might've just found her new fetish... God, her face was on fire right now... She was so aroused but so embarrassed at the same time! Rachel had her COMPLETELY under her control just like during their match! Sure, she got in a few hits of her own but it was ultimately the model that was in control here! ...It wasn't like she disliked it or anything... She was so gentle and courteous but also adventurous, teaching Sakura about all the nice places she could go... But Lucky wanted to give back... She wanted to pin her too and shower her with whatever she could offer!

When she cried out and confessed her feelings at Rachel's behalf, her response made Lucky wanna just... fall to pieces right there on the shower floor. She wouldn't leave her tonight... Good... She wouldn't know what to think if she was just... left out there after this... She took a small amount of comfort in that... Knowing that she would still be there with her when she woke up in the morning.

Now Wasn't the time for musing about that though as Rachel dove right back into it, her fingers running all up and down Sakura's privates now, sending shockwaves of sensations through her!.... Unfortunately, what she felt was quickly dulled by the feeling of her tongue running along Lucky's ear! That... that was the one thing she DID not enjoy... Anywhere else but there! It just... it was nasty to be perfectly frank! Sakura's head twisted and tucked down, trying to escape her adventurous tongue... TOO adventurous...

"Rachel..." She gasped, trying to speak through the crippling pleasure that was her sex being massaged! "...S-stop licking me there..." Lucky didn't think she needed to say why... Hopefully she didn't need too... Even with this little break, she could feel herself growing weaker by the second, her legs literally about to give out on her... She... She couldn't take much more of this before she just collapsed right there!

"*Huff... Huff...* S-s-so.... uhm... D-do I g-get to wash your back s-soon...?" She asked innocently, looking over her shoulder as her whole body shivered with pleasure... "...I... I want too..."

Cicilia




Posts

: 2866


Join date

: 2017-11-24


Age

: 24


Location

: 07/21



The huntress was far deon down with her prey, she expected a lot from this, from Sakura and she wasn't displeased. The soft mounds of flesh at her backside rung with a satisfying sound and the cheerleader let out such an intoxicating moan. Rachel wanted to be selfish and work her over all night but that wasn't fair to them or her water bill. Rachel mused over this fact for a few moments, that was until she sensed their discomfort and their sudden movement to hide their ear. Perhaps she overstepped her boundaries that or something else entirely, whatever the case her tongue quickly retracting and she offers a slight hug in apology. "Was that too much?" she asks "Im sorry, I shouldn't have done that. I won't do it again, promise." She states wotha peck to her neck.

Rachel still felt that she should at least continue her attack, perhaps that took away from her apology but she meant it all the same. Her touches were more sincere, less aggressive but just enough to keep Sakura under her finger. She twisted her flexible body inward slightly to give Sakura a better angle to kiss ather leisure and to be honest, she wanted one now.

She couldn't help but smile at the cheerleaders question, so sweet and innocent, a complete opposite of Rachel. The model mused it over, her fingers running over their stomach before threatening her sex once again. "Hmm, I suppose I could let you but where I come from we always take care of our guests first, ourselves second. Give me ten more minutes. No, twenty. No, thirty." She couldn't give a moment to where they could switch. Her wants crushing her thoughts as she held Sakura.
_________________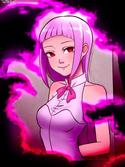 LilyStar




Posts

: 894


Join date

: 2018-02-27


Age

: 26


Location

: Your heart



Lucky sighed softly as Rachel tightened her arms around her belly, hugging her close against her as she apologized for the move on her ear, promising to not do it again... Her emerald eyes peeked open softly as she glanced over her shoulder, spotting that her friend had moved her face in closer, just barely in range for their lips to touch... Unwilling to miss this opportunity, Sakura pulled back a hand from where it rested on the wall, reaching around behind her to gently rest a palm on the back of Rachel's head, pulling her in for a sweet, succulent kiss, their lips locking so intimately, without hesitation... She kissed her for as long as she had breath... which as to say not too much considering she had one of the hottest women she'd ever laid eyes on pressed against her back... She pulled away only for a moment to breath before stealing another kiss, this one lasting even longer than the first... Their lips would separate with a soft *pop* after several minutes of connection, Sakura's eyes glowing with want as she stared into the light blues of her partner and fellow wrestler...

"Mmmm... It's okay..." She whispered softly, her free hand gently running down along Rachel's arms, gently resting upon the back of her hands. "...Just don't ever leave me again..." Her own needs spoke through her, having fallen prey to them faster than the beautiful model... She was completely overwhelmed by them... Rachel simply played her like a fiddle! Some girls liked the dangerous aspect of being taken advantage of... Excitement, you know and Lucky was no different to an extent... a very defined extent. She didn't mind autonomy but she found it even hotter when her partner recognized her protests and found a work around... She discovered that tonight and with that discovery came at the cost of her higher functions... Thinking was gone... She was barely aware of her surroundings, only the woman who fit up against her like a puzzle-piece and the steamy temperature of the shower.

"*Hufff... Huffff....* T-t-too long..." She whispered breathily, her eyes widening and her lungs taking in a heavy breath as she find Rachel's fingers trace close around her most vulnerable sex! She loved this.. But she'd love the fight more... Lucky began to squirm, trying to flip herself back around to face her partner again... to lock lips with her in unrestrained passion.

"...L-let me..." she demanded. "...L-let me have some of you too..."

Cicilia




Posts

: 2866


Join date

: 2017-11-24


Age

: 24


Location

: 07/21



Page 3 of 7 •
1, 2, 3, 4, 5, 6, 7
Similar topics
---
Permissions in this forum:
You
cannot
reply to topics in this forum