Champions & #1 contenders
Highfly Flying Out Of Town
Tue May 22, 2018 1:31 am by HighFly
Hello everyone, I just wanted to inform all I have threads with that I will be gone from this coming Wednesday through Sunday. I won't be able to post consistently if at all during this time, but I will try to make up for it next week! I am sorry for the inconvenience to everyone.
Comments: 7
The Austrailian Mudslide is Back.
Sat Apr 21, 2018 6:20 am by Softsquad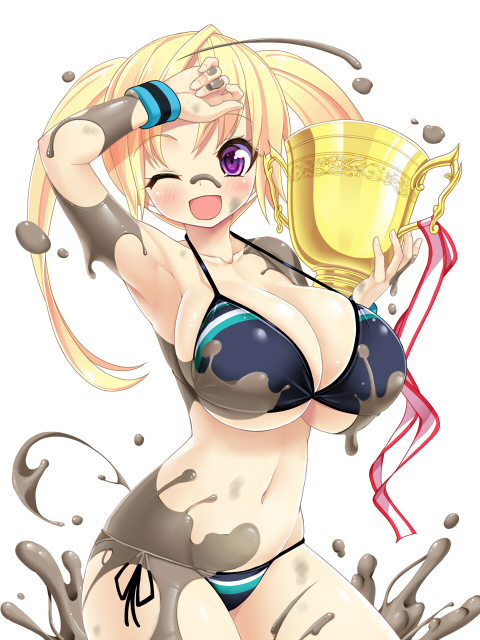 Granted that most of you won't know me or remember me, but I've had a few matches here and there some time ago. Well I think its time to become a regular around here and try to have some fun again, but at the same time keep coming back. Anyway I think its time to jump into some matches with Zoe Taylor, my mud wrestling character from Australia and get her back into the squared circle. Furthermore I will update my characters as I think some proper changes need to happen.
So if anyone would …
[
Full reading
]
Comments: 5
Page 1 of 2 • 1, 2


Life in the AFW medical ward was much more interesting than one would expect. Pyro accidents, hardcore matches gone awry, and thugs just causing trouble all over the place, it was an interesting experience to say the least. Aletheia "Thea" Beckett had been working here for almost a year. With no medical degree, she started cleaning bedpans, straightening rooms, prepping needles, and filling out charts. But a series of crises had allowed her to shine. Bus accidents, food poisoning, even a supply room fire. Whatever the problem was, when catastrophe hit, it only took a couple of all-nighters by Thea and a few others to ensure the infirmary continued operating properly. People noticed, and quickly gave her a much more prevalent role. While she could not exactly be called a doctor, she was in charge of a great deal of the logistics for the infirmary and allowed to treat a couple of patients on the side. It was taxing work, and not always pleasant, but Thea would not have it any other way, especially now that she was working at a place where she could make all of her acquisitions legally.

It was a relatively quiet afternoon. The only noise in the infirmary lobby was the muted roar of the crowd, a Pay Per View hentai match was going in the main arena, and the lobby televisions were muted and tuned in. Thea was not interested in that, though. Sitting behind the receptionist's desk, Thea stared intently at the computer there, eyes going back and forth between a clipboard braced up next to the monitor. Thea was one of the few members of the medical staff working today who did not want to bug out to see the hentai match, and she was stuck doing inventory, prepping the month's order, as well as tending to the few patients still recovering.

To make matters worse, the infirmary's best supplier had stopped taking paper order forms. "Annoying... gr... machine," Thea grumbled to herself. She was not particularly good with computers.
Last edited by 241 on Sun Jun 19, 2011 1:56 am; edited 1 time in total
Z.Z. was finally settling into the AFW. She was hoping to get her first match soon enough and then everything would be alright. But working legitimately was something she wasn't accustomed to so she was still trying to find other means of scoring some loot. She, thankfully, wasn't a gambler like her captain, but she still had a love for the coin and needed to slake her thirst for gold. She also loved the thrill that ran through her when she was put into dangerous situations. She decided that she would combine these two things with a tour of the AFW facilities to get accustomed to things.

She strolled casually past the lobby, ignoring the people watching the sexy ladies have their way with one another. "Oi, Yaya." She said aloud. "Not a bad place." She then grinned and lowered her head, speaking softly. "And how nice a dem ta be all occupied. Wonder if any patients got anytin good on dem, eheh." With a casual stroll she would walk back tot he infirmary portion and look for a room with a patient in it. She'd be happy to rifle through their effects and lighten the burden of material goods weighing them down in this life.
Thea was used to fortresses. Wherever she lived or worked, she made it her own. She knew every nook, every cranny. Anyone who invaded was on her turf. This infirmary included. The late nights she worked helping to remodel the place had not gone to waste. This had always proven to be a good policy and had saved her life on more than one occasion.

Thea also was quick to read trouble. She knew who could be reasoned with and who was going to be a problem. For a brief instant, she was pleased that this woman who had walked right past the desk was so obviously a troublemaker; it would be a welcome respite from that nonsensical computer. Quietly, Thea stood up to follow her. The Friction grounds were supposed to have security, but most of them were no match for the talent and the rest were too enraptured by the show.

Following the troublemaker, Thea quickly slid a metal tray under her arm. A weapon that would not draw attention. As she approached the woman stealthily, trying to get the drop on her before she could make the store rooms or, worse, the patient areas, Thea cleared her throat. "Excuse me ma'am, can I help you?" Thea gave Z.Z. a pleasant smile. It was a pleasantry, but maybe a subtle hint that she was being watched would make her turn tail.
Last edited by 241 on Tue Jun 21, 2011 4:47 am; edited 1 time in total
Z.Z.too had her own weapon on hand if she needed to use it but she thought this would be nice and quick and easy. She was a little flamboyant looking in her cloak but she figured that with cat girls and costumed weirdos running around, she wouldn't stand out too much. When she was addressed by Thea, she stopped and frowned. She then turned around and grinned at the girl. "Oy!" Sh said and brought her hand up to give Thea a little nod. "So 'ow are ya?" She said and shoved her hands in her pockets.

"Na, na." She said as she looked Thea over. "So ahhh, ya workin 'ere, ya?" She said as she pushed her face closer to Thea's and grinned even wider. "Eh, Yaya what'cha tink? Ya tink she's a part o da guys dat are runnin all a dis?" She asked her imaginary friend.
Thea surveyed the interloper with a wary eyebrow. A mighty peculiar girl, this one was. "Erm, hello then?" Thea managed a nervous smile. She brought the tray up front, hugging it to her chest.

Her white coat was shorter than the average doctor. Not many outside of the field would know, but it signified the coat of a student. Thea was still not a REAL doctor, but it gave her away as an employee.

"Who are you talking to?" Thea's muscles tensed a bit as the peculiar intruder put her hands in her pockets, but she remained steady. "Anyway, I'm just a d..." She caught herself. "An assistant here." It was a small amount of shame to be reminded of her status. "Do you need medical attention?" Thea gestured back to the lobby, "I can get you checked in properly." In more ways than one if you really are here for what I think you are here for...
Z.Z carefully inspected Thea as she spoke. She then t looked away. "Yaya!" She said. "She's askin bout ya! Why'dn'tya say 'ello!?" She said and then there was silence for about fifteen seconds before Z.Z. shrugged. "Guess he don't wanna say notin, eheh." She said and grinned before slapping Thea's shoulder. "naw, Ya wouldn't be able ta 'ear 'im anyway. E's ma pal but ya know e's all invisible an junk ta everyone but me. Funny 'ow that works, right?" She said and then looked down at Thea's coat.

"Ya, I gotta cut or a headache er sometin." She said and turned around. She waved her hand at Thea. Z.Z. wasn't particularly good at lying but she usually never had to. She was a pirate. She cheated and stole. Lying usually didn't come into the equation. "So, ya. Nice chattin wit ya an all but I'm jus gonna go grab a bandage er a pill er sometin No need ta fill out any forms er anytin. Sure yer busy an all so I'll just sneak in an sneak out, right?" She said as she began strolling away from Thea to the back area.
Thea gave Z.Z. a curious stare as they sat in silence. Seems to be under some sort of delusion. Maybe she is on a bad trip... She stiffened a bit and winced as Z..Z gave her a friendly slap. "Ah, huh yes... well..."

Thea's eyes brightened with a sort of eagerness at Z.Z's awful attempt at a lie. "Oh, is that so?" She followed Z.Z., keeping close pace with her. "How fortunate! We have a special today on headaches and lacerations." She took Z.Z.'s elbow gently, "I just need to check you in properly up front. We... don't run a self-service clinic here, you know." She gave Z.Z. a polite smile. "This way then, I can take care of you in two shakes of a cat's tail."
Z.Z. turned around curiously at Thea's words. "Special, ya say?" She asked. "What's dat all 'bout?" She questioned the validity of such a convenient special. Z.Z.glanced down when she felt her elbow grabbed. She didn't really care for this busybody of a woman. She was veryclose and very annoying. This was supposed to be a simple exercise in petty larceny and yet now she was being cock blocked by some stingy haired bitch! Fathia would not be very proud and Z.Z. sighed. "Oy!" She declared. "If ya gotta do all dat den it's fine wit me, ya?" She said and ten grinned brightly.

She turned around with Thea and began to walk back. "Oy, Yaya?" She called allowed. "Why ya tink dey do it like dat? Wastin ev'ryone's time wit all dis?" She hoped her words would distract Thea as she tried to kick the girl's legs out from under her with a swift boot of her leg into the back of Thea's calf.
Thea smiled brightly, "Glad to hear that. Right this way, then." She led Z.Z. down the hallway back to the reception area. Thea trusted Z.Z. about as far as she could throw the Friction complex but at least she seemed to be taking to the social flustering well enough. She might just be run off without violence. "Well, today we are offering buy one laceration treatment, get one free." Thea glanced back with a playful wink, "So if you had, say, been thrown through a glass window, you'd practically be robbing us blind. Of course, it only applies to the loyalty reward program members but we can get you signed up for that in a jiffy." Thea was talking nonsense but it helped her keep the momentum going.

Thea glanced back at Z.Z.'s remark to Yaya, who Thea could still not see, "Well, proper procedures are hardly a waste-- Aiah!" Thea yelped as felt Z.Z.'s kick to the back of her leg, sending her toppling to the ground. The tray she held in her arms clattered to the ground, and she caught herself on her hands and knees.

The first rule of self-defense was to run really fast. Fighting came as a reluctant alternative. It was a flaw in the Beckett family genes that they often ignored that first step, and Thea was no exception. While she did not really own it, this was HER clinic. She would not run from it. If someone had plundered her last clinic, she would have lost everything. It was hard to let that defensiveness go.

She quickly rolled over into a sitting position, scooting back, she glared up at Z.Z. Thea knew Z.Z. was a rascal but hoped it would not come to this. "Wh... what are you doing?" She asked, somewhat facetiously. She knew the answer but, for her own satisfaction, wanted to hear Z.Z. gloat. It would make the fight easier. Scooting a bit further back, she came against a cart set up against the wall. She knew right away, without looking, that the biggest drawer in it was a sturdy, light metal, filled only with surgical tubing, and would slide right out. A crude weapon but just the sort of thing to bash against a would be bandit's skull if necessary. She kept her hand close to the drawer, watching Z.Z. carefully. "Get out of here or I'll call security!"
Z.Z. stepped forward with a menacing grin on her face as she watched Thea topple to the ground. "Oi!" She said and lifted up her hand in a clenched fist. "Why ay tinkin 'bout doin tings da hard way, huh?" She spat out. "All A wanted was a little bit o coin an maybe sometin ta take back to me cah-tin an ya gotta go an be a little busybody nosy little ting."

Z.Z. paused and narrowed ehr eyes a bit. "Tch! 'Ow exactly ya gonna call security if ye aren't even conscious den?" Z.Z. then grinned. "Oi, Yaya! She's pretty funny, eh? If she weren't such a nosy one I might like her a bit."

"Better start countin sheep." The pirate said as she lifted up her foot, intending to jam her heel down as hard as she could into Thea's face.
Page 1 of 2 • 1, 2


---
Permissions in this forum:
You
cannot
reply to topics in this forum