Champions & #1 contenders
Moonhearts Promo intro thread is O p e n.
Mon May 21, 2018 4:21 am by XSirenX
Feeling brave?, lost?, or without a thread to post in?, hit up the newest Moonheart if any of those apply!
CLICK HERE
What Moon has to offer?, many things...:
Comments: 0
The Austrailian Mudslide is Back.
Sat Apr 21, 2018 6:20 am by Softsquad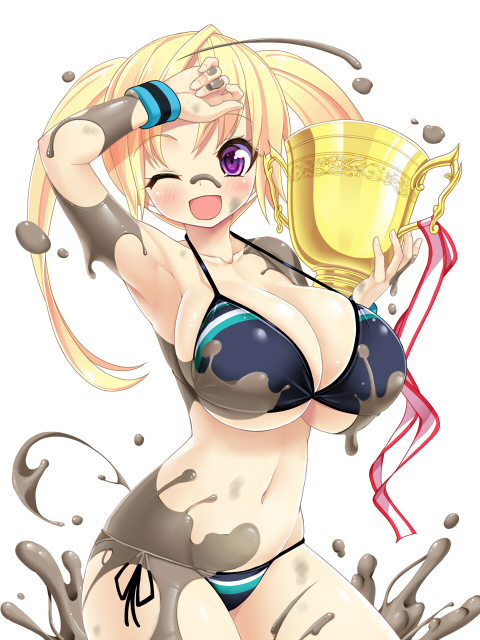 Granted that most of you won't know me or remember me, but I've had a few matches here and there some time ago. Well I think its time to become a regular around here and try to have some fun again, but at the same time keep coming back. Anyway I think its time to jump into some matches with Zoe Taylor, my mud wrestling character from Australia and get her back into the squared circle. Furthermore I will update my characters as I think some proper changes need to happen.
So if anyone would …
[
Full reading
]
Comments: 4
Page 1 of 6 • 1, 2, 3, 4, 5, 6


Valkoinen Simo had surveyed the gym in the AFW facility for some time now. She had been sitting in a corner, barely moving, her eyes shifting everywhere and a scowl on her face as she merely watched. There was no law against it and even if it had made others uncomfortable, no one seemed so uncomfortable that they were willing to approach the girl who was dressed in wintry camo and had a large knife strapped to her side. In fact, most of them were glad that all she did was stare at them. She'd been in the past few days and did the same routine. Staying for about an hour, never speaking, barely moving and just observing.

Anyone who was able to recognize her and put two and two together did not stay in the gym for very long. She was ruthless in the ring and there were even rumors that she killed a girl with that big knife of hers on live television. The rest, were those who were oblivious to the Finn or so committed to their training that being a little nervous didn't seem to stop them.

Val wrinkled her nose at the light crowd. These people were all worthless. How was she supposed to accomplish her 'mission' with these wimps around? She recalled the meeting she had had the other day with the person she had been body guarding.

"It pains me to have to speak vith you like zis." Lukretia Von Creuzfeldt had said as Val had been called to a meeting. Something she was never privy to. "But I have some bad news for you. It's excellent news for me, however!" She beamed with great delight. "I have hired a new bodyguard so your services are no longer required. Please pack up your things and get as far away from me as possible, you disgusting troll." Lukretia waved her hand dismissively, hoping to get Val to leave and be done with it.

"I am not with the leaving." She said in a stern voice. "Pleased to be with the understanding that I am with the having best skills. You are with the putting yourself in danger if you are with the hiring wimpy simpy bodyguard." Val sneered. "What is with the fruity tooty bunny girl having that I am not?" She questioned. "I am with the being sleek efficient killing machine!" The Finn pulled out her knife and thrust forward into the air.

Lukretia sighed heavily at Val's words. She knew she couldn't be rid of Valkoinen that easily. She wasn't even paying the woman and had no real clue why Val was hanging around. "That's exactly meine point. You... are... an... assassin. Get that through your thick skull. I do not need people killed. I need people stopped. You do not have ze skills necessary to bring someone down vithout excessive violence. Do you understand?" Lukretia didn't wait for the Finn's answer. "You are technically a wrestler in ze AFW. Perhaps you vould do vell to learn a tamer form of combat zat doesn't rely on lethal tactics. Grappling, for example. Can you even take a person down vithout breaking a bone?"

Val furrowed her brow. "If they are with the having broken bone then they will certainly not be with the being able to fight back!"

Lukretia stood up and kicked her heels off so that Valkoinen could clearly see it. "Get out und do as you are told unless you think you can finish vat you started und vat I ended." She said in a low tone as she placed her hands on the edge of the desk and leaned in, threatening Valkoinen with a glare.

The Finn stood up suddenly and looked through the crowd. Her eyes focused on Cassie Elliot. Valkoinen had seen her working out in the gym the last few days she was here and the orange haired girl seemed to be the most competent of the group. She marched over to the girl and stood next to her. "You." She said. "You will be with the teaching me of wimpy simpy grappling techniques. I am with the having need to crush opponent without having the injuring of body. I am with the need to crush only pride with easy peasy grappling." Her tone was harsh but made comical by her high pitched voice and doubled in hilarity with her childish Finnish/Russian accent.

"I am with the seeing that you are with the being least pathetic here." She then added. "And I am with the having slight comfort with the knowing that you are coming from land of slightly less frigid winters than icy Finnish winter." She clutched her fist at that last remark as though she indicated that even if there were parts of Canada that were just as cold or colder than Finland. By some strange thought process Finland was colder. Val also did her homework on Cassie though she was not intentionally trying to emphasize that point.
In the far back corner of the gym, the one covered with a section of blue wrestling mats, Cassie was diligently exercising and stretching and doing jujitsu drills. She was by herself, she had not found any widespread popularity so far in her time at AFW, and had yet to find anyone with a jujitsu background sufficient that she could have a reliable training partner. It made her a little sad to be there alone. There were plenty of other girls in the gym, usually, but they all did their own thing and Cassie was left to work in her corner by herself. It was okay, though, she actually sort of liked the solitude... she wasn't used to it, but in the same way that a runner might take a long run to clear her head, Cassie could get down on the mats and work out and ponder the finer points of submission grappling.

She was especially glad for her gym time today. She'd received some bad news the day before when she called home, an uncle of hers who was often in the family gym while she was growing up had been in a car accident. He was in the hospital, and he doctors were still waiting to see if he would stabilize or... not. It left Cassie's stomach in knots, just thinking about it and knowing how far away she was and how even if she was there she couldn't help. Everyone was asleep at home at this time of day, so she started her day like she usually did and had been working up a good sweat while working out some of her anxiety.

She held tightly between her hands an 8 pound medicine ball and was rotating between squats with the ball held behind her head and moving the ball around in big circles like the hands of a clock. She was focused on her breathing and on the effort of the exercises, controlling every movement to make them perfect and to develop the sort of sustainable strength that grappling required. She was so focused that she'd been completely oblivious to Valkoinen's presence, and did not notice her approach.

Once Val spoke, suddenly standing so close, Cassie jumped and stifled a scream and the medicine ball slipped out of her hands in mid revolution. It smacked into the top of her head before bouncing away off the mats. Cassie bent over slightly, holding her head with both hands while she looked around to find where this person was who was speaking to her. She started to pick up right around the point where Val graciously termed Cassie the 'least pathetic here'. She was utterly confused and a little alarmed and her brain was racing to catch up and arrive in the present in time to put intelligent words in Cassie's mouth.

"Whi...wu...y-I...um." It didn't quite make it. "H-hi. Hi!" Val was still talking. "Y-yeah, Canada's kinda cold. Colder than here..." Why on earth did this woman ambush her with talk about how Iceland-er, Finland- was colder than Canada. Was she crazy? Was Cassie crazy?

"Um... sorry, hi, I'm Cassie! What's your name? And sorry, I, ah... didn't quite catch what you were saying. Snuck up on me, eh, didn't see you coming." Cassie looked Valkoinen over. She was certainly.. unusual. Most girls wore some sort of shorts and a tank top or sports bra or something. Val had... gone a different route. Was she not here to work out? Had she been hoping that the gym was snow covered so she could blend in? She certainly wasn't dressed like she came to work out, and when Cassie noticed the large knife she carried she couldn't help but tense up. What was she saying, anyway? Cassie tried to think back but could only come up with the word "peasy".
Valkoinen furrowed her brow at Cassie's display. If she couldn't even hang onto a medicine ball, then how was she supposed to grapple with her or teach her anything. She was guessing this whole thing was a waste of time, especially since she was having trouble even speaking. "I am with the already knowing name." She said. "Elliot comma Cassie." She rattled off the girl's name like she was reading it from a file. Indeed she had. She could probably also give her date of birth, hometown and some fun facts about the girl if she had cared to. But Val wasn't interested in that and she had bigger things on her plate, like trying to figure out how to fix the girl's broken mouth.

As Cassie asked for her name as well, Val closed her eyes and opened her mouth, reciting something she had said many times int he past. "Simo comma Valkoinen, Spetsnaz GRU, 1136397." Name, rank and serial number. It was the only information that Cassie would be getting from her. Valkoinen then shook her head. "Maybe I am with the being wrong about you being least pathetic. I was not even with the being conspicuous. I am with the having need to learn grappling. Pleased to be teaching me now. You are with the having capability. I am with the seeing match. You were with the beating of opponent in mildly efficient manner."
"Simo, Valkoinen, Spetsnaz GRU, 1-1-3-6-3-9-7." Cassie repeated back to her. She had a good short term memory. "So your name is Valkoinen? You're not Russian... maybe Norwegian, or... not Polish..." Cassie also liked figuring out accents and where people were from. It's something she did at home in the gym. A lot of Russian Sambo guys would come through to train to prepare for competition, she got to know them.

"It is a pleasure to meet you, Valkoinen Simo!" Cassie exclaimed, in a very convincing approximation of Val's accent, and wrapped her new friend in a quick unexpected hug. "You want me to teach you to grapple? Awesome! Have you ever done anything before?"

Cassie looked Val over again. She sure acted frosty, but she was the cutest little thing, she couldn't be that bad. Though the crack about her maybe being pathetic, or... more pathetic... something like that. Something about being pathetic. She decided that she'd get things up to a quick start. Cassie smiled.

As if she'd done it a thousand times before, Cassie exploded off her front foot, shooting her double leg takedown and driving through Val. For some added flair, Cassie straightened up and picked Val up off the ground like a rag doll before bringing her down on her back, not quite as softly as she could have. Cassie ended to Val's side, using her upper body to press down all of her weight onto Val so keep her stuck to the mat.

"Is that a good place to start?"
Last edited by 1167 on Mon Feb 14, 2011 7:28 pm; edited 1 time in total
Valkoinen couldn't help but be slightly irritated by this girl's inability to decipher her nation of origin. Clearly being a member of the Spetsnaz should be obvious that she was Russian, at least in citizenship. And her comparing Canada to Finland should have been her other indication. "Nyet! Nyet! Nyet!" She squeaked in annoyance. "I am with the being born in Finland but I am with the having Russian Citizenship." She then looked away. "I am with the havign doubt about who is with the having real pleasure, Elliot comma Cassie." Valkoinen muttered coldly.

"I am witht he being trained in all manner of Russian killing techniques." She said as her muscles tensed when Cassie came at her. Her first instince was to grab her knife and slash the girl's throat open before she could make her move. But she realized that this wasn't operation. She had to go with Cassie's moves and let the girl take her down. She fell to the mat with an 'oof' and felt herself picked up and slammed down.

She looked up as Cassie was pressed against her, keeping her shoulders pinned down. Her scowl didn't change. "It was not with the being terrible if I was with the having to learn how to tickle opponents to death." She tried to snap her knee up forward to slam it into Cassie, hoping to free herself up enough to roll away.
"Killing techniques? What the heck good would that be? You can't just go around killing people. What about techniques to win fights?"

Val tried kneeing Cassie, but from her position she only hit with her upper thigh. "Okay, I think I see where you're coming from now." Cassie stood up and helped Val to her feet. "So maybe your good with guns and knives and all the military stuff, but you don't seem to know much about grappling. That's okay! You can roll with me, I'm a really good teacher." Cassie said with a big smile.

"Also, I figured you were a Russian citizen, but your name and your accent aren't. And I think you said something before about being Finnish anyway, but I had a medicine ball bouncing off my head at the time. Either way you look like you're more than capable of doing... well whatever you want. Would you like to get started? I think a good place to start would be learning to sprawl. Do you... know what a sprawl is? I'll give you a hint, it's what you didn't do a minute ago." Cassie said, in one of her rare good natured moments of poking fun.
Last edited by 1167 on Tue Feb 15, 2011 2:44 pm; edited 1 time in total
"They are with the good for killing of course!" Valkoinen said as she wrinkled her brow at Cassie as though she said something completely ridiculous. It was true. Valkoinen was a killing machine. It was the only thing she knew and she ate, slept and drank it. It was her routine and her life and had been for most of her short life. She still didn't understand the need to know anything that wasn't lethal or as close to it as possible.

She waved off Cassie's hand and hopped up on her own. "I am with the being killer. I am with the having no need for information that is not with the having to do with killing. She pulled out her knife and thrusted it at Cassie. "You are with the already being dead." She said. "So I am not with the understanding need to grapple you." She holstered her knife. "I am with the being ordered by client to follow instructions. Since I am with the currently being bodyguard I am told that "non-lethal force is being with the necessity." She used little quotation marks and rolled her eyes as she spoke. "Patooey." She made a mocking spit gesture. "She is with the hiring wimpy simpy new bodyguard to handle "soft targets."

She looked at Cassie seriously. "I am with the thinking it would be with the easier to be with the eliminating her instead of having to deal with rumbly tumbly foo-foo girl." She said as her red eyes glowered at Cassie. "But I am with the having headache if I am with the killing all people." She looked at Cassie as though she would even have an idea. 'It is with the having troublesomeness to be with the trying to cover your tracks all the time from Spetsnaz."

Val then glowered at Cassie. "Sprawling, brawling?" She said and tilted her head. " She closed her fist and swung it at Cassie's head. It wasn't exactly grappling. But likely it'd get her to 'sprawl'.
Cassie made a high pitched peep and jumped backward when Val poked her knife at her. Then a mixture of shock and horror and bewilderment and intrigue gurgled up in her gut. Was this little girl really serious about... doing those sorts of things? She can't be serious... well, maybe. Cassie became a little uncomfortable.

But... she was so cute! She was like a little kitten, even smaller than Cassie. She just wanted to put her in her pocket and take her to the mall. Or something.

"If you killed your client's new bodyguard, then you'd be attacking your client, and then you'd be his enemy. Then if you were his bodyguard you'd have to kill yourself." Cassie illustrated her unimpeachable logic with elaborate hand gestures. She didn't have time to go any farther. Val suddenly threw a fist at Cassie's head, taking her by surprise, though not completely. She kind of got the idea that something like that might happen with this girl.

Cassie went to duck under Val's looping punch and it skipped off the top of her head. While she was low, she shot for another takedown, plowing her shoulder into Val's exposed midsection and pulling her legs out from under her. Just like before, she ended at Val's side with her chest pressed into Val's side, rolling her slightly to one side, using all of her weight to pin Val down. "That's not what I meant." She said flatly. "Ow."

She popped back up to her feet and again offered to help Val up. "So, um..." This whole encounter was getting trickier by the minute. Cassie wasn't the smoothest person around, but she could usually get the hang of someone quickly enough. "You're a... a bodyguard, then? An ex-Russian military Finn who kills people and guards people? And your... and the guardee wants you to learn to subdue people without hurting them? So you found me and... How old are you? And, um... why are you dressed like that? Um. Why don't you tell me a bit about yourself, so we can get to know each other before... grappling."

With some trepidation Cassie managed an uneasy smile.
Last edited by 1167 on Wed Feb 16, 2011 8:39 pm; edited 1 time in total
Val once again let out an 'oof' as she was knocked to the ground and wrinkled her nose at the situation. It was becoming irritating having to get knocked down so effortlessly by this girl. She could snap her neck in one quick jerk if she wanted to, so why wasn't she able to counter the takedowns? She dismissed them as leaving an opening. She didn't need to be on guard with Cassie, that was true enough. And she needed to experience what a takedown was like anyway. Val once again hopped up when Cassie offered, ignoring her hand and giving a surly scowl tot he cheerful girl.

"II am not with the understanding why I am with the needing to give you entire life story." Though phrased as a question, there was a definite period on the end of her sentence. "I am with the giving you name, rank and serial number. You should be with the being pleased to be with the having that information." She said and nodded. She turned her head in a scoffing gesture at Cassie. But finally she turned her head back to address Cassie's earlier point. "And that is not with the attacking client!" She said. "To be with the killing of body guard is only in the interest of doing what is best for client. You are not with the understanding intricacies of body guarding with your feeeeeeble brain." her emphasis on the word feeble was done in a very childlike and taunting manner. In many ways, Val was still much a child. Her personality had been stripped from her when she was brainwashed by the Russian government and her only means of expression was rudimentary at best.

"I am with the having twenty years." She stated, deciding that her age was not valuable information." She then eyed Cassie carefully. "And I am already with the knowing that Cassie comma Elliot is with the having eighteen years. Pleased to be enjoying Birthday." She added, quite possibly sarcastically. It was hard to tell. "What is this with the having to do with teaching me wimpy simpy grappling?" She said as she crouched and tensed her muscles. She brought her arms out. "I am with the preferring hands on method. Pleased to be telling me if this is appropriate." She would then lunge at Cassie in what amounted to a tackle/partial cross body block.
"I guess it doesn't..." Cassie began. Really she was just looking for some assurance that this girl wasn't going to knife her. She was cut off by Val's rush.

Cassie reacted without thinking. As Val came in she held her arms out in front like a fork lift and caught Val under her arms. She shot her feet back so that Val wouldn't be able to get behind her base and upset her balance, and as Val pushed into Cassie she used her leverage to turn her to the side and deflect her altogether. Just to be thorough, Cassie darted in at Val while she was still getting used to the idea of facing the wrong direction and slipped behind her. She wrapped her arms around Val's waist and bent her knees to keep her weight low.

"Good! Now we just need to do a feeeew things differently, but I think you can learn to shoot in no time. Of course you can learn to shoot without learning to sprawl, but we'll get to that. Ookay?" Cassie pushed her weight under Val's and hoisted her up off the ground as she would to go for a suplex, but she put her right back down. She was little. And young! What had this girl done to end up this... weird. Cassie was largely oblivious to Val's prickliness, except for her rather prickly knife, and found that she quite liked her.

"Weee!" Cassie giggled. She let Val go and turned her around to give her another impulsive hug. "Okay, now watch me. Like this." Cassie turned to the side and assumed her stance one step at a time, first stepping out so her feet were shoulder width apart, then stepping back with her right foot so she had a stable base to work with. She demonstrated a level change, bending her knees and lowering her body down to almost half her full height. She did it slowly once, then fast once. "See? Start with... are you paying attention? This will help you kill lots of people."
Last edited by 1167 on Wed Feb 16, 2011 10:12 pm; edited 1 time in total
Page 1 of 6 • 1, 2, 3, 4, 5, 6



Similar topics
---
Permissions in this forum:
You
cannot
reply to topics in this forum