Who is online?
In total there are
36
users online :: 1 Registered, 0 Hidden and 35 Guests :: 3 Bots
TheVillageIdiot
Most users ever online was
418
on Tue Jul 30, 2019 9:51 am
Champions & #1 contenders
Who wants a match?
Sat Aug 13, 2022 2:28 am by Bahamut01
Hey all its been a while. So trying to get some matches going! Reply here or pm me and let's make something happen!
Comments: 2
Apologies.
Tue Aug 09, 2022 1:04 am by ihateocrecolors
Due to some issues that I think have been popping up because of my involvement in stuff, I believe it's in the interest for me and everyone else that I take a temporary or probably permanent leave from AFW-related stuff. I have been nothing more than a burden to most of you. I won't make this into a giant paragraph. All I want to say is that I apologize to everyone who's ever rooted for me because I can't hack it not anymore.
Comments: 1
Retiring some wrestlers
Sun Jul 10, 2022 11:42 am by Deus001
Hey all
Deus here, I've been thinking it over and I'll be looking at benching some of my roster. Been thinking its a bit over bloated and with newer ideas on the horizon for me I've figured its time to shuffle them off to greener pastures or let their faceclaims be free to use.
So at the moment I will be retiring Chuang Lingxian, Qi Lingxian and Leon La Rouge effective immediate. I might be considering benching other people but atm the above three are getting axed. If you want to adopt any of …
[
Full reading
]
Comments: 1
Page 3 of 5 •
1, 2, 3, 4, 5
It took her an extra moment that she would have liked to get up on her feet. The crowd seemed to enjoy the struggle as the clap and jeer for them to go back at each other. She wasn't going to play their game, this was her match to fight and to win.

Time seemed to slow as the events, quick as they might've been, unfolded. Her mind focused solely on plan, her violet gaze locked onto that bad leg she managed to chip at. Her body was feeling heavy, they had been in this match long and Sara was already making her sore. Danger signals went off like sirens in her head, she could do this, no need to panic just yet. What the Egyptian didn't expect was the blonde to raise her arms up to defend.

It was perfect. The scene had been set as good as she could've hoped for, with their attention up, she was defenseless on the down. Her shoulder caught their leg first, her body feeding into the rush/tackle to topple them over and did they fall. The ring shuddered from the take down, earning a sharp, hoarse cry. Sara grabs her leg, she could only imagine the pain she was feeling now but she wasn't finished.

Eshe wanted to break them down, taking away her mobility was the first step, taking away their fight came after. Just as she reached down to work over their pained limb, they rolled away, putting distance between them just as she had. They tried to get to their feet but it was slow, painfully slow. "Where there was a chance, there was opportunity" as her father once said, she wanted to press her advantage, it seemed like the best chance she had. She eyed it carefully, Eshe couldn't just rush-in, nor could she let herself be caught, her chest found that out early on. Her violets turned to the ropes, a grin spreading across her tanned face as a plan came together.

The violet bolts toward the ropes, her weighted body moving with vigor as looks to put the Android back down on the mat. Her body collides with the tethered material, flowing back with her force before spring boarding her forward. With the added force from the more than helpful ropes, Eshe would jump, extended out her legs in an attempt to take Sara down with a lariat. Her legs hoping to collect around her head to spike them into the mat for her to continue to mold and shape as she desired.
_________________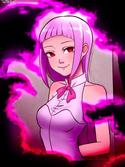 LilyStar




Posts

: 894


Join date

: 2018-02-27


Age

: 26


Location

: Your heart



Sara could hear her old trainer, admonishing her for letting too many opportunities slip by in such a short time, for making stupid mistakes that led to the sorry state she was in right now. He would've had a decent point, too. She was being sloppy, letting too much slip past. There was no reason she should've let Eshe get to this point, even if the Egyptian was turning out to be more formidable than she had originally calculated. It was her fault for not seeing it coming, and her fault for not handling it now that it had slipped off the reigns.

She could fix the mistake, bring it all under control. But getting to that point, with an opponent who was bent on pouring on the pressure…

Eshe didn't leave her alone for long, instead moving to close the gap between them before Sara could recover much, if at all. She was moving smart, too - not rushing in too fast, but not going slow, either. The little bitch was learning. A worrying idea.

She moved to the ropes, bouncing off for more steam, the kind of silly maneuver that Sara tended to scoff at. There was no denying its effectiveness here, though, as she came barreling towards her. Sara put up her arms to defend, but that wasn't enough - she still crashed into her with enough force to knock her over, leaving the Android laid out, on her back, groaning and muttering curses.

Get it together, Sara. Come on...


_________________

acuyra




Posts

: 19142


Join date

: 2014-02-14


Age

: 36


Location

: Charlotte, North Carolina, WOOOO!



This can work, she tells herself, she can do this! Sara as much of a threat as she was, still had the limits of a human given their title(Eshe definitely thinks the woman's an Android, it's honestly scary how tough they are). If there was one thing she could be thankful for, it was that she wasn't in the receiving end right now, seems Lady Luck was favoring her but for how long? She wasn't sure but she wasn't going to wait and find out, not when this steal woman was still kicking and still more than eager to take her head off.

She wanted to play it safe but she knew there would need to be some risk with pressing her advantage. The Egyptian was careful to not simply rush in to her utter defeat but instead she went for the ropes to practically ricocheting with a swiftness she never thought she had. She'd use the extra propulsion to jump and extending her leg outward for a potential lariat, she knew she could hit this, her opponent was slow to their feet easy pickings for such a move.

For a moment, she felt genuine fear as Sara set up their guard, a recent memory appeared in their head as the not so distant past reminded her of that painful experience. She mentally shook away that painful memory, focusing on what was in front of her! Despite colliding with their guard, she managed to overpower them, sending them back down to the mat, leaving the to groan and moan as she slumped to a seated position to breathe.

It worked, she managed to take them back down but not unharmed. Those strong arms of theirs revamped the pain in her legs. The bone in her kicking leg was throbbing, pulsating pain signals up her thigh and to her spine only to bounce back down. It was a fools dream to fight like this but then again, Eshe was known to do the foolish and unthinkable. In a weird way, she was beginning to like Sara. The way they showed no mercy, the way they demanded a challenge, she could see herself respecting that in them, but they were still rude, still possibly trying to kill her, and of course a rather perfect example of how scary, not to mention tough, AFW could be.

She rolled on her bottom, slipping her legs out to lay across their body, the Egyptian wasn't playing games here and neither was the downed Android underneath her. Applying her weight, she reaches down to hook up their rather thick leg. The ref dropped to the mat, beginning the count, she prayed this would end it but Lady Luck seemed to favor another tonight besides herself. She only hoped she could keep it to the end.

ONE!
_________________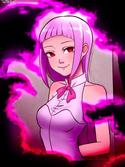 LilyStar




Posts

: 894


Join date

: 2018-02-27


Age

: 26


Location

: Your heart



'Frustrated'.

That would be the word most would use to describe Sara's current state of mind. Having her progress thwarted, coming up short on Eshe more than a few times in a short while, having to struggle against this woman in a weird getup. It wasn't an envious position, and it was easy to imagine how a woman with her background, her pedigree, her priorities, might view things in a negative light. How she would hate running into a wall and getting bested like this.

Sara, herself, would use a harsher term to describe her mood. Words, actually. Three. 'Fucking pissed off'.

That mood wasn't helped by what came next, either, as her opponent came over, dropped down, and seized her leg for a pin. It was always a surreal thing for someone with her background to experience a pin like this, her fighting instincts not even recognizing it as a proper threat. She registered that she could lose like this, however, and registered what it meant to be in this position in the first place. Never an option for her - Eshe was either tapping or napping.

"Off."

The referee's hand was just coming down for the second count, close to the mat, when Sara straightened up and kicked out, getting her shoulders clear of the mat. She gave Eshe a parting gift, as well, in the form of an elbow to the face, aiming the point of it right for her eye.


_________________

acuyra




Posts

: 19142


Join date

: 2014-02-14


Age

: 36


Location

: Charlotte, North Carolina, WOOOO!



Eshe wasn't a spiritual inclined person she never had been nor did she thing she would but she felt she had a gift. A gift to sense people's aura in an odd way, it was like the air about them that she felt she could read almost like a fortune teller. Her hunches were 65-35, but this one? She was one hundred percent sure she could sense this one. Sara gave off such an angry aura, it was daunting to say the least and it felt like it was going to crush her underneath this weight.

All she could do was cling to this leg, having pushed the Android she expected some resentment but to this level? The Egyptian couldn't help but shudder at what they were thinking. As the first count had come she leaned in, pressing her weight down and offering more of her abdomen to keep them down, expecting at least two.

It never came, the direct command "Off." She resounded in her ears, she felt obligated to listen but she wasn't quick on the draw, just before she peeled away and elbow came darting up, Eshe didn't see it until it was too late.

"GUAAAGH!" She cries out, rolling backward her hands instantly cover her now aching eye but it was so much worse then that. The entire left side of her face pulsatated with pain and her eye was beginning to swell, closing off her vision and leaving her with just half of what came to deal with in her everyday life. She pounds the mat with her boots, her thoughts consumed with the fear of what would happen next she was vunerable and prey now open for slaughter. She felt something for the first time towards anyone in her life, hate.
_________________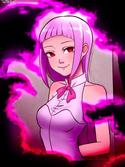 LilyStar




Posts

: 894


Join date

: 2018-02-27


Age

: 26


Location

: Your heart



Eshe was going to have a black eye when this was all over, and Sara couldn't lie - that thought made her happy. She had every intention of winning this fight, but even if the worst came to pass and she failed, there was comfort in knowing that, regardless, her opponent was going to bear the damage of this match for a while, and that damage would be plain for anyone to see. It was almost a way for Sara to advertise. A silent warning to the next wannabe wrestler she had to face.

What was more, it created an opening, a big one, as her opponent wallowed and wailed on the floor, dealing with the pain. An opening she fully intended to exploit.

Just as soon as she managed to get up. That proved to be a little more difficult than she had anticipated, her leg not cooperating with the effort. It was still working, but she could tell that it would need a moment before she could get it back up to fighting shape. Until then, it behooved her to do more groundwork. Eshe was on her back, why not keep her that way.

Sara brought her leg over Eshe's waist to straddle her, and the referee kneeled down nearby, as if she expected her to try a pinfall. That wasn't the case - it wouldn't have worked if she went for it, and that wasn't on her mind at the moment.

Instead, she reeled back and unleashed a barrage, throwing lefts and right at Eshe's face in a brutal ground and pound. It wasn't all that focused, no finesse, but that wasn't the point. As long as a few blows got through, it was well worth all the effort.

_________________

acuyra




Posts

: 19142


Join date

: 2014-02-14


Age

: 36


Location

: Charlotte, North Carolina, WOOOO!



A cheap shot, that's what this felt like. Her left eye bow completely shut she pressed the palm of her hand into her eye, attempting to quell the searing pain. She couldn't focus, this was all to much, not only did she have to worry about loss of vision, she had to worry about Sara too. In fact, where was she?

An answer came as soon as she asked but she didn't like it. The blonde mounted her, slipping their leg over her waist, were they going to try and pin her now? No, this felt to weightless for that, so what could it be? Her face explodes as she's jolted sideways as a fist lands across her cheek. The reality of what was coming was all to real. First came a right then a left, another right followed and again came a left. The Egyptian winced, her arms attempting to guard as her as the barrage continued.

Her face, now battered and a guard barely managing to withhold much of the force made her weary. It made her realize something, people like this, they exsist to, not everyone would be as sportsman like as she anticipated when coming here. Something she should've known from the beginning but she wanted to have faith.

Her legs shift upward, Eshe knew she couldn't keep this up for long. If Sara was too busy with their barrage, the violet would shoot her legs up, looking to find their mark around her neck. If she managed that, she would swing down her legs to slam the Android down to the mat to at least stop this ungodly barrage of punches.
_________________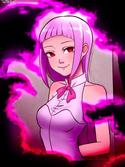 LilyStar




Posts

: 894


Join date

: 2018-02-27


Age

: 26


Location

: Your heart



Sara wouldn't have long to do this. She was well aware of that, knowing that wrestling referees tended to frown on things like ground and pounding, wanting to keep the match moving for entertainment sake. It was just another annoying aspect of wrestling that she would have to put up with, and she was coming to terms with that.

All it meant was that she had to maximize her time, and make sure she got the most of this moment, squeezed every inch of damage she could from it. So far, it felt like she was making an admirable job of that, too. Eshe was trying to block her shots, putting up an admirable job of it, but it was like trying to cover up with an umbrella in a rainstorm - no, it wasn't as bad as it could've been, but she was still getting wet.

Sara was getting into it more with each passing moment as well, savoring every blow that managed to meet its target. This wasn't the first time she'd been in this position, a long shot from that, but she couldn't recall the last time she had taken such a thrill from it. A smile crept on her face before she even realized it, and it was growing wider by the second.

It stopped, however, when a pair of legs wrapped around her neck, Eshe showing flexibility she hadn't counted on. She resisted as best as she could, but the position was awkward and off kilter - she was going down, no stopping it. She came down bad on her head and kicked off, pushing at Eshe's legs in a bid to rip her head free before this got any worse.

_________________

acuyra




Posts

: 19142


Join date

: 2014-02-14


Age

: 36


Location

: Charlotte, North Carolina, WOOOO!



The one thing the violet could be grateful for was these punches didn't seem to have a rhyme or reason. Their only motive was to hurt so it didn't feel as precise as she first thought. That didn't take away from how painful it was though. Each punch felt like a twenty pound slug slamming into her face and weakly set up guard. She couldn't keep it up long against the barrage; breaking here and again to allow a couple of those fists land.

Eshe wanted out of this, she needed to get Sara off first and put some distance between them. Her foe was aggressive, even more so now it seemed then when they began. She must've triggered something for the change but she didn't have the time to focus on that, not now. Between her guard she thought that she saw them smiling. She peered again and in fact, the Android formed a creepy, yet sadistic smile as they beat her. She hated to look at it, it was unsettling to say the least.

Luckily for her, she was rather flexible, her legs shot up, her calves looking for a threshold to grab onto. Her neck was the Egyptians best bet, as they wrapped tightly, she used every muscle she could muster from her position to force them back, hitting their head but not enough to do a lot of damage it appeared. The kicked off using her legs to try and free her head but the violet squeezed hard. She was angry, and the wrath of an Egyptian was seldom kind.

If she managed to keep Sara's head tucked in her legs, she'd reach forward to grab their arms. What she wanted was that bad leg but after that barrage, she wanted these arms. Eshe wanted to make it hurt to use them, she felt like being technical for this match, her opponent proved that being brawler would only lead her here, she was going to break them but by bit, bone by bone until she was satisfied. A feeling she rarely ever had, even when she knew she was outclassed but just for Sara, she earned this.

If her captive didn't free themselves in time, the violet would pull their arms down, looking to lock up their shoulder joints. She suspected the Android to feel this, in fact, she hoped she felt every bit of it. The nice and estactic Eshe wasn't here right now, the violet felt disrespected, her soortsmanship felt tarnished. Someone was going to pay.
_________________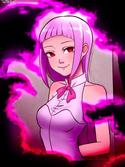 LilyStar




Posts

: 894


Join date

: 2018-02-27


Age

: 26


Location

: Your heart



Sara considered herself a pro when it came to reading her opponents, analyzing their moves and working off of them. It was a good part of the reason for her success, as she aimed to enter the ring with as little emotion as possible, keeping her mind clear and focused. It didn't always work out that way, but it was a good goal, and one that let her more accurately monitor her foe's mood. Sussing them out. Planning.

Because of that, she was in a prime position to tell that, yes, Eshe was pissed off, and she couldn't have been happier about that. It was the right kind of mind for an opponent like this to be in. Heated. Pressed. Making mistakes that Sara could exploit. She just had to stick with it. Wait for the opening.

In the meanwhile, she had to deal with this - having her head squeezed by Eshe's legs. They were stronger than she had thought they would be at a glance, with the Egyptian showing some real muscle under the surface, crushing her skull with tight pressure. It wasn't easy to get out of, and her foe made it even more difficult by gripping her arms and pulling them down, keeping her secure

It was a smart move, she would admit that. Limiting her options, locking her down, albeit in a weird way. For now, Sara just had to deal with it, suffering in the hold. She planted her feet on the floor and lifted up to alleviate some pressure, but that was the best she had for now.


_________________

acuyra




Posts

: 19142


Join date

: 2014-02-14


Age

: 36


Location

: Charlotte, North Carolina, WOOOO!



Page 3 of 5 •
1, 2, 3, 4, 5
Similar topics
---
Permissions in this forum:
You
cannot
reply to topics in this forum