Who is online?
In total there are
53
users online :: 2 Registered, 0 Hidden and 51 Guests :: 2 Bots
Extremebrutalryona
,
Whitecrow233
Most users ever online was
418
on Tue Jul 30, 2019 9:51 am
Champions & #1 contenders
Tension matches wanted
Tue Sep 26, 2023 1:25 pm by Midori Hyuga
Comments: 0
Page 1 of 7 • 1, 2, 3, 4, 5, 6, 7
One fallVictory by pin, submission, or KO
The crowd was buzzing with excitement tonight as the stands were cleared for yet another Tension match. Rumour had it that some of the new talent in Tension was going to be showcased tonight as well: given the fact that the Tension roster was constantly expanding further and further, it was anyone's guess who the new girl might be.
Whoever the new face was, her opponent soon made herself known.
Spoiler:
"Lotus" by Dir en Grey began to play in the background, and the fans cheered as Makie Akamatsu suddenly burst into the arena. The younger of the Akamatsu Siblings acted her usual, energetic self, clapping her hands and appreciatively cheering her fans back as she skipped her way down the ramp. Hi-fiving a few fans as she walked past, Makie quickly burst into a run, athletically backlipping up onto the ropes and, just to show off, doing a leg split across the corner, continuing to clap back at her fans all the while.
Makie had been itching to get back out into the ring with some singles matches. True, she liked tagging with her brother Kyo, and the two had had some really good matches together even. But Makie wanted to make a name on her own, to get another shot at the Tension championship. Makie's hard-fought loss to Belinda Northman was still fresh in the audience's memory, not to mention Makie's: it was obvious that the Akamatsu girl was itching to overcome this loss with a win in the ring tonight. Dropping down from the ropes, Makie stepped toward the center of the arena, waiting for her opponent to show up...

Underdog21




Posts

: 6213


Join date

: 2008-04-26


Age

: 37



Another match, is what the adrenaline junkie needed. Her recent string of matches was kicking her into high gear. The workload was impressive, booking after booking kept coming but it kind of reminded her of home in a way. The busy day to day activities, working and satisfying her reckless escapades. In a weird way it felt just like that.

As she prepared herself in the back, she'd try on something new tonight, she just recently got it made. A new costume to fight in and boy was she excited! Her opponent was special, a fiery upstart that made her claim deep in the tension scene with their older sibling. In truth, ever sense she heard of her, she wondered what they were like and if she would ever get the chance to fight her. Call it fate, but something was pulling the strings to make her dream here come true.

Throwing her veil over her back, she'd lightly tug at the white and red leotard. It felt weird but right at the same time, she wondered if her growing fan base would like the change or her opponent an appreciation for her feminine charms. Checking herself in the mirror, striking posse at her reflection. She nods with acceptance and slips on her red boots.


Her theme begins to play, the bass as always taking over the arena and as soon as the Egyptian stepped out her body went into action. The veil glides with her waist, her hips striking the empty space with the sound, she loves every minute of it, in truth she was having fun. After a few sways of her hips, she heads down the ramp to meet her newfound foe.

Makie Akamatsu, a few years older than her but still quite the reputation. As she entered the ring, the violet got a good, long look at the rising star. She smiled as she dropped the veil in her corner and found herself in the center, her arms outstretched as her hips began to sway again, her stomach rolling as her belly dancing practice showed off with her theme.

As it died down she'd smile at the younger Akamatsu, she was a bit shorter but she looked stacked in all the right places, well built. "It's so good to finally meet you, I watched all your matches before I joined, I'm just so excited to finally be here!" The violet couldn't contain her enthusiasm, the adrenaline junkie was maybe a bit more open than she would've liked to be.
Last edited by LilyStar on Mon May 25, 2020 5:21 pm; edited 1 time in total
_________________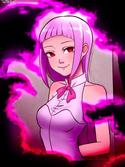 LilyStar




Posts

: 933


Join date

: 2018-02-27


Age

: 27


Location

: Your heart



There were several things that took Makie by surprise about her opponent as she entered.

The dark skinned girl was taller than her (no surprise there, Makie thought with an irritated pout), and she came belly dancing down the arena ramp, moving with a sensual grace that the crowd really seemed to appreciate (and from where Makie was standing, she couldn't blame them). Her violet hair was incredibly long-- far longer than Makie would have expected to be practical in the ring-- and she wore a long silk veil over it. Both hair and veil seemed to glithe and swirl around her slender form as she danced her way towards the ring.

It was as the newcomer-- Eshe Abdallah, as the announcer declared her-- entered the ring, that Makie got her second surprise as the other girl gleefully declared that she had watched all of Makie's previous matches before she had joined the AFW. Makie blinked in surprise at this. She had known that she had a sizeable fanbase, and was appreciative every day for them...but never once had she imagined that she would face a fan in the ring.

She blushed, not sure how to respond to Eshe's enthusiastic greeting. "Th...thanks!" she replied awkwardly, extending her hand to Eshe for a friendly pre-match handshake. "I hope you liked what you saw, then!" Her face became a little more serious then. "I just hope you don't think I'm going to go easy on you just because you're a fan!"


Underdog21




Posts

: 6213


Join date

: 2008-04-26


Age

: 37



Makie seemed to be watching her the whole way down, was she entranced with her dance? Perhaps, it was a skill Eshe came to lavish when she could sway a crowd. A rush all on its own, it was just a piece that the Egyptian came to appreciate in its own right.

Gushing and over sharing to the rising star felt a little awkward but it earned her a blushing response, it made the violets smile grow wider. Of all things she said thanks and stuck out their hand for a sportsman like handshake. The tanned beauty took a firm hold of the pale hand extended to her. "I did, you showed so much heart and fire, who wouldn't be impressed." suddenly she noticed the change in expression, her gaze narrows as she takes a step closer.

The Egyptian already expected this kind of response. "It never crossed my mind. Although, I wouldn't have been satisfied if you held back on me. I want you to know I'll be fighting with my best too. Don't expect me to pull my punches, Makie-Sa- oh, is it okay to call you Makie-San? I'm still new to Japanese culture." She admits, although a little reserved to the fact.

With her hand free dome the shake, she'd hold her grin as she set her hands on her hips. "Lets make this a great match! I know it's going to tough beating." She was only teasing but there was truth to her words.
_________________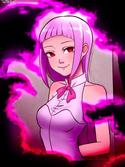 LilyStar




Posts

: 933


Join date

: 2018-02-27


Age

: 27


Location

: Your heart



Despite hersef, Makie found herself blushing further as Eshe talked about how much she admired Makie as a fighter. She was used to outright hostility with opponents in most matches, along with plenty of trash talk. Even when facing wrestlers who were of a good-natured disposition, it was still pretty much customary them to engage in some good-natured verbal sparring before the match. But this was the first time that an opponent approached her with flattery and admiration. Even if Eshe didn't intend it, she had just made it so that this upcoming match would feel a little awkward for Makie.

"Eh...just 'Makie' is fine," she said with a weak smile as Eshe used the honorific. Backing away from Eshe, Makie re-adopted her more serious expression, though she was still smiling a little. "Okay then, if you wanna to show me your best, then let me see what you've got, fangirl!" she declared, backing away as she waited for the bell to ring...

Underdog21




Posts

: 6213


Join date

: 2008-04-26


Age

: 37



Pale skin made for a easy indicator for blushing. Eshe wondered what forced roses to bloom on their cheek but it could've been anything. It didn't matter, it was cute but that wouldn't stop her from pushing herself to beat this rising star. Her mind already began to formulate a strategy, thinking about her size to her advantage.

"Sure, 'Makie' it is. You can just call me Eshe then." She replies, the weak smile making her wonder just a tid bit. Maybe she was making it awkward, the Egyptian figured that could very well be a possibility.

With the fighters now distances, the violet would begin to bounce on the balls of her feet. Makie adopted a more serious expression, prompting Eshe to do the same. The Japanese woman encourage her to show them what she was made of even going as far as to call her a fan girl. She'd lightly scoff "Maybe after this you'll be a fan of mine." she stated, jokingly of course.

DING! DING! DING!

The bell suddenly rang out, instantly, Eshe was in position, her hands raised, she was inviting her foe into a test of strength. It was a chance to see what her oppenent could offer her.[/color]
_________________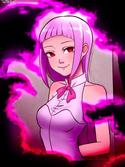 LilyStar




Posts

: 933


Join date

: 2018-02-27


Age

: 27


Location

: Your heart



Makie watched as the Egyptian girl moved lightly, bouncing on her soles with the balletic grace of a dancer...though of course, everyone knew that she was one, after seeing the way she had entered the arena. Makie, for her part, darted in circles around Eshe as well, eager to see what this tall newcomer could do, and also eager to teach her a lesson or two in the ring.

Seeing Eshe was motioning for a lockup, Makie smiled and accepted, darting in to tie up with her dark-skinned opponent. For a few seconds, the two girls would push and twist against one another...that was, until Makie suddenly darted under Eshe's guard, slipping around behind her to squeeze her waist from behind! "Too slow," she said with a grin.

Underdog21




Posts

: 6213


Join date

: 2008-04-26


Age

: 37



With Makie accepting her lock up, Eshe would begin to push, attempting to overtake the smaller woman. Leaning in to contest, she'd gasp in surprise when she didn't feel her opponents  momentum against her own. Makie seemingly disappeared but, there was a feeling.

Her feeling was right as she felt arms wrap around her waist. A soft blush covered her cheeks as violet pools found the Japanese woman hugging her from behind with a smile.with a soft squeeze, her body began to tingle. "Nnngh. I didn't even see you move." she states, leaning in to their hold. She bends her body forward, her own hands going to the arms hugging her tightly.
_________________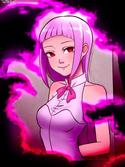 LilyStar




Posts

: 933


Join date

: 2018-02-27


Age

: 27


Location

: Your heart



Makie grinned as she squeezed tightly into Eshe's midsection, her arms locking around her firm abs...though in the process this caused her opponent's butt to press up a little against her. "Heh, I'm just getting warmed up," she said, which was true: this was just a little bit of chain wrestling so far, to test Eshe's speed, reflexes and skill.

Suddenly unwinding her arms from around Eshe's waist, Makie grabbed her by the arm to whip her towards the rope. The moment Eshe came bouncing back, Makie would explode into action, ducking low to grab for Eshe's arm and judo toss her firmly down to the mat!

Underdog21




Posts

: 6213


Join date

: 2008-04-26


Age

: 37



Eshe softly groaned as Makie squeezed her, for someone a few inches short she sure did have some strength to her. The Egyptian wasnt the fondest of being held captive. The Japanese woman seemed to agree as she unwinded her arms from her midsection. What she didn't expect was the sudden arm grab.

She could feel the sudden act of tension as the Japanese woman would grip her tightly. With the sharp shift in momentum, her body began to move with their attempt at an Irish whip.

The violet would act fast, linking her tendrils on their own arm to spring her back towards them. In an attempt to get gain the upper hand, Eshe would extend out her arm and yanked Makie hard into a very hopeful lariat. Her aim was to catch them surprise like they did her. If her maneuver was successful she'd step into the lariat to add her weight into the attack and send them to the mat.
_________________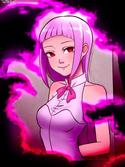 LilyStar




Posts

: 933


Join date

: 2018-02-27


Age

: 27


Location

: Your heart



Page 1 of 7 • 1, 2, 3, 4, 5, 6, 7
---
Permissions in this forum:
You
cannot
reply to topics in this forum