Who is online?
In total there are
23
users online :: 2 Registered, 0 Hidden and 21 Guests :: 3 Bots
Teenwrestler
,
vhamelin
Most users ever online was
418
on Tue Jul 30, 2019 9:51 am
Champions & #1 contenders
fraction match wanted
Tue May 23, 2023 6:46 pm by Rohi Yamin
Comments: 1
Tension Match Hunt
Fri May 19, 2023 9:50 pm by GrandAkumaShogun
Looking for matches for my boys
Takeichi Mori
Takeshi Kawai
If anyone is interested feel free to hmu. ty in advance to anyone who responds.
Comments: 1
Looking for Friction Hentai debut match
Tue May 23, 2023 8:50 pm by SigmaMorgan
Comments: 3
Page 1 of 2 • 1, 2
VS.
Handicap Tag Match
The competitors will face off one on one, the opposing team may tag in their partner and then switch after a 20 second time limit. The match is won either by pinfall, submission, or by knockout.
Eshe looked on at herself in the mirror, a band in her mouth as she put up her hair. With her right hand bunching it together, she takes the band and clasps it in place, her violet hair flowing down her back in a ponytail. The Egyptian steps back and looks at herself in detail with the help of the full body mirror, she turned to the right, bent in her right leg and placed a hand on her hip. She twists her body in the same direction showing herself off, smiling at her reflection as she accepted her style for the day. The adrenaline junkie thought over the match all day, even before setting foot in the locker room. Her debut was already so exciting, so worthwhile; facing off against a tag team on her first day, no one could tell her that it wasn't fate at work. Still, she had to keep her focus, not pointing losing it in the mixed reality of fun and business. Eshe was determined to make her mark tonight, she wasn't so lone flower the world would need to coddle and she hoped her opponents wouldn't either. She checked the clock: 10 minutes before show time. Reaching into her bag she pulls out her phone and opens her contacts, her finger runs along the screen until her fathers number came up. She pressed the button and let the phone ring.
Brrrdododo..Brrrrrdododo....Brrrr
*Click*
"Hello?"
She sat down as she pressed the phone to her ear. "Papa? Hey, it's me."She tucked a strand of her hair, looking over at the clock and back to her thumbs.
"Oh! Eshe! What are you doing calling me, don't you have a match soon?"
Eshe couldn't help but giggle, her father was more worried about making her late than about himself. "It's fine, papa. I have a few minutes before I'm on. I just thought to call to see what you were up to. Just thinking about home I guess."
She could hear her father scratching his beard before taking in a soft breath.
"Habiibtii, don't worry about me. Your papa is fine, I just want my little girl to be happy and if this is where you think you'll find it, then I will support you."
Darn it, he always knew how to make her choke up. "I think I needed to hear you say that." She wiped the sniffle that had started in her gaze. "I love you papa, I'll message you later, okay?"
Her father only laughs
"I love you too, Habiibtii, I'll talk to you later."
She hangs up and turned off her phone, setting it back in her locker. She'd check the clock, four minutes, closing the locker door she heads out of the locker room and then down the hall. She was ready, lightly rolling her shoulders as she found herself staring at the entrance, her mind was running. Excited, nervous, excited, nervous. She couldn't make up her mind to save her life but Eshe was going to focus on the here and now.
"Ma'am..ma'am!"
The Egyptian snapped back and turned to the sound of the voice, one of AFW's many kind staff.
"You're on."
 She nods, bouncing on the balls of her feet. Suddenly the music blasted she'd step out onto the ramp with her hands up high. This was it! A roaring crowd, the stage, the ring, here it was just as she dreamed. With the best of her theme, she'd sway her hips to bass. Back and forth, back and forth before striking one more beat with her hips before heading down the ramp with the biggest smile on her face. As she came down, Eshe would turn to climb the small flight of steel steps, slipping between the ropes, and taking her first steps in the ring.
Eshe heads to the corner, climbing the top rope to entice the crowd. She waves and blows kisses, hopping down and heading to the far side of the ring. She sets her hands on her hips and faces the ramp, tgis was gonna be good, she could feel it.
_________________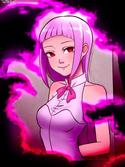 LilyStar




Posts

: 916


Join date

: 2018-02-27


Age

: 27


Location

: Your heart



Daphne and Astra were making a competition out of their warm-up. They tried to see if they could 'beat' each other in terms of number of push-ups and sit-ups done. Daphne won both contests, leaving Astra in a considerable state of good-natured frustration.

"Kerdísate anéntima!" She laughed, smacking Daphne on the arm.

"Yes. I cheated in a contest of pure physical strength. You got me, sis." Daphne chuckled as she got to her feet and helped her sister do the same. They adjusted each other's bikinis and gave each other one last once-over. When they were satisfied, they walked toward the door, Daphne consciously letting her sister go first. They walked down the hall and into the backstage area. They heard their opponent's music as they reached the curtain line, and Daphne had to yank her sister back to keep her from peeking through the curtain.

"Enough. Quit acting like a rookie." Daphne snapped at her sister as Astra slapped at her shoulder. Then, their entrance theme played over the speakers and they grinned at each other, all squabbles put aside as they walked through the curtains, adopting their goddess-like personas. They smiled benevolently at the audience, waving as they strolled down to the ring, arm-in-arm. They climbed into the ring to see their opponent. Daphne smiled at Eshe, striding over to shake her hand.

"Hello! I'm Nike. My sister is Artemis." She introduced herself, letting Astra slip back between the ropes to stand on the apron.

_________________
The House of Divas

LadyX




Posts

: 335


Join date

: 2017-03-21



Eshe shifted her weight as she held her hips. Surprised with two partially clad  (if you could call it that)  women stepped out, arm-in-arm as if they were going on an adventure. Still, they seemed close and maybe friendly, as they say, you can't judge a book by its cover or un...the lack there of. The Egyptian shook her head, she couldn't be so hudgemental, it wasn't like her to do that. Eshe bet they were nice and competitive just like her.

The redhead stepped into the ring first, the girl in blue hung out on the apron. "Oh, yeah, hi. Nice to meet you Nike, Artemis. I'm Eshe." She lifted her hand from her waist, then took their hand and shook it with formal posture. She smiled in response to Daphne, attempting to at least keep the tension light before their match.

"I hope you guys weren't too surprised when I accepted this match. I figured it'd be cool to have something big on my record." The violet states her pools showing off her confidence but a tinge of excitement layered underneath. "I take it you guys are Greek right? Nike? Artemis? That's from Greece mythos, right? I like it." Eshe was making small talk, something to keep her opponents at ease as the referee cake to intervene and explain the rules. She turns to the violet asking if she was sure about this, the Egyptian only laughs and pulls the Ref in with a wide grin. "Heck yeah I'm sure about this. I'm not backing out now!" She then turned to Dapbe for approval.

Even if the older looking sister didn't give it to her, she was in rather high spirits, the excitement of such a one-sided match got her blood flowing and made her heart beat race for joy at the thought of giving it her all.
_________________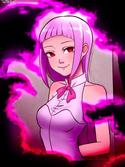 LilyStar




Posts

: 916


Join date

: 2018-02-27


Age

: 27


Location

: Your heart



Daphne chuckled as Eshe seemed a bit... flustered by their choice of dress. When the Egyptian woman talked about wanting a big notch in her belt, the redhead smiled.

"Confident! I like it. We'll see if you can take on both of us." She chuckled. When Eshe demonstrated knowledge of the Greek Goddesses from which they took their ring names, she smiled in surprised approval.

"Good... Very good." Then, Daphne's opponent excitedly pulled the referee in and declared her certainty about her decision to take on this match. She nodded to Eshe with a small smile as she cracked her knuckles, ready for the bell to ring. She went to her corner and, as soon as the bell rang she ran towards her opponent looking to rain down hammer blows on the poor girl!

_________________
The House of Divas

LadyX




Posts

: 335


Join date

: 2017-03-21



The Egyptian would react to her Greek attacker. They were far to eager but it wasn't anticipated with their sudden decision to attack. The violet would step in to meet them, instead of trading blows she'd maneuver in an attempt to capture their waist. If successful she'd bend them forward and exert a bit of pressure.

She'd smile as she bent with them, clutching tightly to squeeze a bit of life out of them. "I love that you're eager to fight me, but maybe just a bit reckless aren't cha?" Eshe asks, adding another squeeze to their bare gut. With how Nike approached, this had to be a brawler, were they both like this? No, Artemis seemed reserved but what was she about? She supposed she'd figure that out.

If Nike began to twist and resist her hold, Eshe would look to use their combined weight and gravity to throw the girl onto their stomach in an effort to hold her advantage. Her options were obviously to hammer into them or put them in a submission hold to take away their fight.
_________________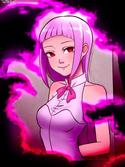 LilyStar




Posts

: 916


Join date

: 2018-02-27


Age

: 27


Location

: Your heart



"Let's dan- Hrk!" Daphne grunted as her opponent put the squeeze on her! She squirmed in her opponent's grasp, trying to slam her forearm into Eshe's head.

"Reckless? Sure. Urgh... You've got strong arms!" She tried to put a hand on her opponent's head and push it away, hoping to fluster her opponent a bit. As Daphne squirmed and tried to escape, her opponent threw her onto her stomach, causing her generous bust to be nearly crushed under her.

"Ouch! Testy!" She started to get to her feet, adopting a fighter's stance as soon as she was able in order to ready herself for Eshe's next move.

_________________
The House of Divas

LadyX




Posts

: 335


Join date

: 2017-03-21



Eshe battles the situation named goddess as they begin to struggle, caught off guard by her sudden grab. She throws a firearms back that barely stings the Egyptian. Still, she'd not like to get hit again by that elbow of theirs, the violet squeezes just a bit more as Daphne attempts to push her into uncomfortable territory, though she wouldn't be having it.

The compliment wasn't missed, she'd grin showing a bit more effort as she squeezed her iron bar arms against the Olympian. "Well thanks, I try to keep myself in shape you know. Can't let anyone get out when they're in my grasps." She replies, spinning her captive before slamming them down onto the canvas, stomach first to show she menat business. So far, she had a neat advantage to this match, however she still had to contend with the other sister even if she managed to get one of them down.

As the red-headed Nike settles into her stance after getting to their feet rather quickly from her slam, Eshe would lower herself into her own stance. She'd eye her opponent, they seemed ready for her, poised to strike when the moment arose. She'd take a step in close, offering her hands for a test of strength, a common signal between wrestlers who wanted to gauge each other's strengths. She wanted to know more about these Olympians.
_________________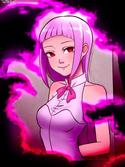 LilyStar




Posts

: 916


Join date

: 2018-02-27


Age

: 27


Location

: Your heart



Daphne let out a strained chuckle as Eshe talked about not letting anyone out of her grasp.

"No kidding..." She grunted, the breath forced out of her briefly as her opponent slammed her to the canvas. When she got to her feet, she watched Eshe to see what she would do next. She noticed her opponent glancing at her sister, and smirked.

"Hey, hey! Eyes on me! You'll get to fight her in due time." Then, her opponent offered a test of strength, and Daphne whooped giddily.

"Now you're speaking my language!" She walked up to Eshe and locked up with her, immediately starting to push her towards the ropes.

_________________
The House of Divas

LadyX




Posts

: 335


Join date

: 2017-03-21



She smiled at the compliment or what she could assume was one about her strength. It was nice hearing her efforts rewarded if only for a moment. Daphne was proving to be an interesting opponent so far, she had a aura about her that made them aopealing. Both sisters seemed to give that off, and Nike seemed to take note of her wandering eyes.

Eshe smiles with the call out, giggling softly. "Dont worry, I haven't forgotten about you one bit. Get over here, I'll give you some attention." she was teasing of course, Nike already had her attention. She could feel that muscle structure as she clamped onto them, she could be in trouble if she let them get the ball rolling.

As the Greek approached, she'd press her dark tanned hands against the pale pair before her. Her fingers interlocked tightly to hold on, she'd brace herself as the red-head speaks. "Hey, shows I care right?" She felt she could have a lighter tone with them, nothing like getting comfortable with a place to make it easier to just be yourself. She'd suddenly push hard, stepping in, attempting to force her Olympic opponent back towards her sister.
_________________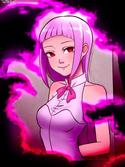 LilyStar




Posts

: 916


Join date

: 2018-02-27


Age

: 27


Location

: Your heart



Daphne gave an easy grin back as Eshe smiled at the compliment. She was enjoying duking it out with the formidable Egyptian. Perhaps she'd found someone who could really go blow for blow with her? As Eshe talked about giving her attention, she gave her hips a sultry wiggle.

"I certainly hope so. Girl like me needs a whole lot of attention." She giggled, unable to keep a straight face for very long. As they locked up, Daphne's arm muscles started to make their presence known, flexing as she pushed against her opponent.

"You care, huh? Lucky me!" She said teasingly, though her teeth were grit as Eshe started pushing. Daphne was forced back a step by her opponent, towards Astra on the apron. Daphne did her best to push forward, eyes turning serious as they met Eshe's.

"Alright. Time to get serious. Neither me nor my sister is particularly fond of losing. And losing a handicap match? We'd never be treated as real competitors." Daphne planted her feet and pushed harder, eyes narrowing a bit with the effort.

_________________
The House of Divas

LadyX




Posts

: 335


Join date

: 2017-03-21



Page 1 of 2 • 1, 2
---
Permissions in this forum:
You
cannot
reply to topics in this forum