Who is online?
In total there are
40
users online :: 1 Registered, 0 Hidden and 39 Guests :: 3 Bots
killcarrion
Most users ever online was
418
on Tue Jul 30, 2019 9:51 am
Champions & #1 contenders
fraction match wanted
Tue May 23, 2023 6:46 pm by Rohi Yamin
Comments: 3
Leaving here because of a baby
Fri Jun 02, 2023 4:22 am by Coolgirl1999
Goodbye everyone but I have to leave as I longer will have the time to roleplay as you seen by the title I have recently got legal custody of a family member 3 month old son and I have to focus on him, pets and work now which means I won't be able to do any more roleplay matches for a while, so goodbye
Comments: 1
Tension Match Hunt
Fri May 19, 2023 9:50 pm by GrandAkumaShogun
Looking for matches for my boys
Takeichi Mori
Takeshi Kawai
If anyone is interested feel free to hmu. ty in advance to anyone who responds.
Comments: 2
Page 2 of 2 •
1, 2
The violet could see her light hearted banter was making some headway with her opponent. A soft giggle there, a taunting swing of their hips there, she felt she could teach them a thing or two about swinging hips. Eshe would hold back for now, just because the reception was good didn't mean this was over, not by a long shot. "I'll try, but I can't leave your sister out of this you know. You can't be greedy." Eshe couldn't bring herself to ignore the looming threat of a fresh opponent whenever the two would decided to tag in.

As the two of them met in the lock, they would begin to push, back and forth. The Egyptian managed to take the fight to them, sending the red head back a step or two towards her sister. Her boots digging in as they battled it out for dominance. Nike flexed their muscles, showing effort as she began to push with her second wind. Eshe was forced back a step and then another, gritting her teeth now as she felt she had to show them what they were messing with.

She could only smirk, she felt that sentiment. "I couldnt have said it better. You'll have to do your best if you want to beat me." She replies, flexing her own muscles, her body pumped up with her second wind, stepping out to practically toss Nike away from her sisters aid if she managed to push her there and instead toward her side of the ring. She would attempt to use all her might to press the red head into the ropes if she managed to take her there.
_________________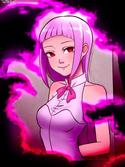 LilyStar




Posts

: 919


Join date

: 2018-02-27


Age

: 27


Location

: Your heart



Daphne laughed as Eshe told her she couldn't be greedy.

"Just watch me!" She winked as she planted her feet, doing her damnedest not to lose any more ground. She pressed her advantage, trying to force her Egyptian opponent backwards even further. She grit her teeth as she fought to avoid being forced towards her sister. She knew she could rely on Astra if she had to, but she would really rather not have to. Eshe tried to steer her away from Astra, and Daphne sighed as she got impatient with the test of strength and planted her feet, trying to whip Eshe toward the ropes as she decided that enough was enough.

_________________
The House of Divas

LadyX




Posts

: 335


Join date

: 2017-03-21



Things were definitely in her favor, the harder she pushed the further Daphne went back. The sister was coming close, perhaps a bit to close for comfort especially since this was an handicap tag match after all. The redhead seemed agitated over her position, surprising the Egyptian with an unexpected turn to earn ground back. She grinned, enjoying the fierce competition before stepping into her next phase.

Stepping outward with her left foot, Eshe would attempt to use the position to capture the Greek. Inching forward, she'd whip her own body out before stepping back in again to catch them by surprise. If she managed to cash in on her gamble, she'd pull Nike in tight against her body in a tough headlock.

"Gotcha now Nike." She'd beam if her plan proved fruitful, showing off her prowess by giving the darling redhead a firm squeeze.
_________________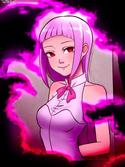 LilyStar




Posts

: 919


Join date

: 2018-02-27


Age

: 27


Location

: Your heart



Daphne gritted her teeth as Eshe was really giving her a hard time. Her eyes blazed with a frustrated fury that she hadn't felt in quite a long time. She felt the spirit of competition roaring inside her, and she was looking for a way to turn the match around. Then, Eshe tried to put the redhead in a headlock. Daphne celebrated internally and let the woman get her in a headlock.

"Do you? Got me? Sounds good." She chuckled as she tried to wrap her arms around the slim Egyptian's waist and lift her up. If she succeeded, she would immediately lean back and give her opponent a bridging suplex!


_________________
The House of Divas

LadyX




Posts

: 335


Join date

: 2017-03-21



It all seemed to work in her favor, the redhead coming in close and tight against her body as she locked in her headlock. She'd wrench but Daphne didn't seem to mind her current position, which struck the Egyptian until she felt those rather tough arms around her waist. It was too late by the time she realized what wears happening.

Nike had her up, her feet leaving the canvas as wind suddenly brushed through her hair only to feel the immediate sting of impact against her skull. A suplex out of nowhere, she felt she had the up her hand but this must've been what the Greek was after. She'd tuck in her legs and break the bridge, it was to early for that but darn it did this hurt.
_________________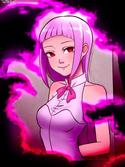 LilyStar




Posts

: 919


Join date

: 2018-02-27


Age

: 27


Location

: Your heart



Daphne grinned as Eshe really seemed to feel the effects of the suplex. She wasn't shocked of course, she was a strong woman and was good at what she did. The Egyptian woman broke the bridge pin easily, which was fine by the Greek powerhouse. The pin hadn't really been the point.

Daphne stood up as Eshe stayed on the canvas, and dropped down with her legs out in front of her, trying to hit her opponent's head with a leg drop. Hopefully, Eshe wouldn't be able to dodge in time and Daphne's weight would crash down on top of the poor woman, throwing her for a loop.

_________________
The House of Divas

LadyX




Posts

: 335


Join date

: 2017-03-21



She rolled onto her front, ready to get back into the swing of their match, the duplex wasn't enough to put her down and she'd show the redhead that. Although that was the plan, she didn't expect a sudden weight to crash down onto the back of skull make her contort in pain. The Egyptian curled up holding her head, the pain running down her spine as pain began to overtake her thoughts. She had to get some distance between them, this was a handicap match after all, the last thing she needed was them going for her partner.

With a slight stream of tears in her eyes, she would attempt to roll, hoping to break free from the Greek and head toward the ropes. If she could get there, she'd have a shot of escaping to the cold floor below and maybe a couple seconds to get her head on straight, literally.
_________________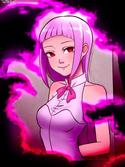 LilyStar




Posts

: 919


Join date

: 2018-02-27


Age

: 27


Location

: Your heart



Daphne followed Eshe as the Egyptian tried to get away toward the ropes. She aimed a hard stomp at the woman's back, trying to force her down and stop her from doing... whatever it was she was trying to do when she got to the ropes!

_________________
The House of Divas

LadyX




Posts

: 335


Join date

: 2017-03-21



Eshe attempted to roll herself some distance to get to her feet and back into the match. She couldn't waste stamina on fighting for freedom, not when she had a second sister to contend with, one that was just waiting in the sidelines to pounce. The Egyptians hope however was instantly thwarted as she felt a boot stomp into her spine. She gasped as air left her lungs, more like forced in this instance. She grits her teeth, the Violet well aware the danger of getting stuck in this position.

With her body flat against the mat, she'd squirm to free herself. Smushed flat left much to be desired of a proper escape and she was no where close to the ropes. Her pools began to look about, panicking she saw their boot just inches away. The Egyptian contemplates going for it and pulling the Olympians foot out from underneath her.

If she managed to yank their foot out, she'd immediately push up on her hands and knees to breath before making a bid to climb atop her opponent.
_________________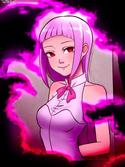 LilyStar




Posts

: 919


Join date

: 2018-02-27


Age

: 27


Location

: Your heart



Page 2 of 2 •
1, 2
---
Permissions in this forum:
You
cannot
reply to topics in this forum