Champions & #1 contenders
Who wants a match?
Sat Aug 13, 2022 2:28 am by Bahamut01
Hey all its been a while. So trying to get some matches going! Reply here or pm me and let's make something happen!
Comments: 2
Apologies.
Tue Aug 09, 2022 1:04 am by ihateocrecolors
Due to some issues that I think have been popping up because of my involvement in stuff, I believe it's in the interest for me and everyone else that I take a temporary or probably permanent leave from AFW-related stuff. I have been nothing more than a burden to most of you. I won't make this into a giant paragraph. All I want to say is that I apologize to everyone who's ever rooted for me because I can't hack it not anymore.
Comments: 1
Retiring some wrestlers
Sun Jul 10, 2022 11:42 am by Deus001
Hey all
Deus here, I've been thinking it over and I'll be looking at benching some of my roster. Been thinking its a bit over bloated and with newer ideas on the horizon for me I've figured its time to shuffle them off to greener pastures or let their faceclaims be free to use.
So at the moment I will be retiring Chuang Lingxian, Qi Lingxian and Leon La Rouge effective immediate. I might be considering benching other people but atm the above three are getting axed. If you want to adopt any of …
[
Full reading
]
Comments: 1
Page 2 of 5 •
1, 2, 3, 4, 5
For a moment, only a moment, Eshe felt the urge to puke. Sara was proving herself to be the sort of woman made with steel but she couldn't give in to the feeling, last thing she'd want to do is clean up a mess from a kick. Her plan was set in motion, she used her new footing and her body to lift the blonde up and out of balance, a manauever she thought impossible was slowly coming to bear results. The light clap of the canvas signals her resolve.

Surprise seemed to take over the Android, who had other plans for the Egyptian. Surprised maybe that she was the one on their back or by Eshe's sudden display of strength? The violet wasn't sure but she had to keep working. Picking up their free leg, she'd attempted to turn them over into a submission hold but the blonde had no reservation to the idea. Bringing in their legs, she practically threw Eshe away, rolling to their feet with a poise that impressed not only the crowd but her as well.

She'd grit her teeth, plans were falling apart but she wasn't in the spirit of just giving up. Getting to her feet she'd don her usual grin and ready herself into a stance. "I hope I've at least proven myself to you just a little." she announces. Hoping to take the blonde by surprise again, the violet launches forward, extending out her leg to aim a direct hit to their chest in an attempt to knock over the steadfast woman.
_________________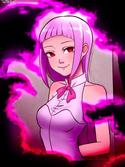 LilyStar




Posts

: 894


Join date

: 2018-02-27


Age

: 26


Location

: Your heart



Sara came up to her feet fast and went into a defensive position right away, backing away with her fists clenched tight and her body covered. It was more than a little embarrassing on her end - the fight had just started, and she was already on the backfoot. She could accept that might happen eventually, but not until the latter stages of this fight, and for a brief moment at that. This was too much, too soon, and it was a bad mark on her image.

But okay. All right. Irritating as it was, this was nothing she couldn't get back from, this wasn't a ship she couldn't get back on course. She was still the superior woman, here, and she would prove that shortly.

"Tch."

That was the only response she was willing to give Eshe to her question. Prove herself? She should be happy that Sara wasn't laughing her out of the ring. That sort of thing just didn't factor into her equations. This woman was an obstacle to be put down, nothing more and nothing less.

She gritted her teeth as her opponent closed the distance, striking out with a kick aimed at her chest. Sara brought her arm up absorb it, and found it packing a surprising amount of impact, enough to make her take a step back...but not enough to stave off her retaliation. She planted her feet, reeled back, and threw a hard right cross straight at Eshe's face, looking to plant it square on the nose and demonstrate why trading blows with her was a bad idea.

_________________

acuyra




Posts

: 19142


Join date

: 2014-02-14


Age

: 36


Location

: Charlotte, North Carolina, WOOOO!



Her kick swung with the force of her body, her wind up could have been better executed but with her merciless opponent practically at her front door, there wasn't much choice. It seemed she at least caught Sara somewhat offguarx but not enough to land a direct hit. Eshe clicked her tongue with a hint of frustration as they absorbed the blow with their rather built arms. Luckily, it had enough power to force her back a step but that was all it managed to do, one measly step back.

The blonde didn't even bother to answer her question, if things didn't seem tense now then the line on that fine edge was getting thinner by the second.

The Egyptian had decent reflexes of her own, although they didn't seem to compare to the Android and her rather quick uptake. With planted feet, a raging fist came hurdling toward her, a dangerous right cross. It felt as if time slowed, the tanned woman rose her arm, attempting to absorb the blow just as they had but it wasn't enough. Surely as time began to move again. Her arm wasn't brought in high enough as she felt the solid fist connect. Eshe backpedals from the blow, taking three steps back to cover her wounded nose, thankful if anything that it didn't break.

Small droplets of red began to paint the canvas, her nose bleeding slightly down her lips. This sort of thing didn't frighten her, it was the fact she couldn't do anything that scared her most. She'd wipe away the slight stream with her arm, her violets locked onto her opponent with a sense of gratification, perhaps. This wasn't something she had necessarily planned but, she wasn't going to let anyone, including Sara, think that she couldn't handle it.

The violet would need to think, she needed to find a chink in this armor of theirs. Where should she begin? That was the biggest question posed to her and even now she didn't have an answer.
_________________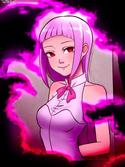 LilyStar




Posts

: 894


Join date

: 2018-02-27


Age

: 26


Location

: Your heart



A direct hit, and a devastating one, too. Sara could feel the way Eshe's face gave at the impact, feeling the feedback coming through her fist, so there was no question to her on whether or not it did real damage - those sensations told the story just fine by themselves, and even if they didn't, that red trickle on the floor could easily fill in blanks..

First blood. That put a smile on her face. A small one, barely perceptible to the human eye, but still.

It wasn't a surprise that she managed to connect with that blow. While she was more of a kicker, her upper strikes were dangerous, too, and she'd been working on keeping them sharp, recently. The blow that crashed into Eshe's face was the result of all that hard work, and she couldn't say the result left her unpleased. Blood. Real damage, marring up the face of the Egyptian beauty.

What did surprise her, however, was how quick her opponent came back off a blow like that. Still standing, still ready for more. Tough little thing...or trying to act tough. She knew how to find out which was which, though. "Okay, then."

Sara brought up her guard, tightened up, and moved forward, moving towards her opponent in a solid stance, working her way towards her with slow, bold stes. The moment she was up close, she lashed out through a low kick aimed at the side of Eshe's knee, then pulling back and swinging at the same spot an instant later, coming even harder the second time.


_________________

acuyra




Posts

: 19142


Join date

: 2014-02-14


Age

: 36


Location

: Charlotte, North Carolina, WOOOO!



She clicked her tongue, it'd been a while since she'd seen her own blood drawn before. The last time being an accident that was entirely her fault, but this wasn't. Sara seemed in a war path, plain and simple to break her apart. Eshe found herself stuck on the receiving end. A veteran and a tough one at that was menacing in just prescences alone. She wiped what was left of the trickle rubbing from her nose, she'd have to get them back for that one.

Her focus shifts, the Android now closing in on her. The Egyptian was quick to throw up her guard but the pain didn't subside, it stung and breathing out of her nose was uncomfortable. She narrowed her gaze. From the looks of it, they were coming for a punch. Her thoughts cleared as she stepped inward, thinking that this was their motive, she looked to shorten their buildup and go right for their center.

A dull, pulsing pain erupts from her leg, her knee taken a shot making her buckle from the shock. It was then she saw them setup the maneuver again, the one she should have been looking at the entire time instead of focusing on those fists. The second kick came, knocking her down onto her knee but the violet wouldn't let herself get bullied. As the third kick came, she found herself in a shorter position than before.

Her arm would reach out to grab it, tucking it into her side if she was lucky enough to bring the force of impact. Her gaze hardened as she balled up her free hand, intent in fighting back until she was either out cold or left to pass out. If her attempt found success, she'd dig her punch into Sara's knee. Just as the soulless machine had done to her, she aimed for their own appendage, looking to hammer away with a couple more quick jabs. Her hope was to take Sara down with her.
_________________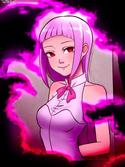 LilyStar




Posts

: 894


Join date

: 2018-02-27


Age

: 26


Location

: Your heart



Good, strong kicks. Sara's bread and butter.

She threw them into Eshe with a little extra spice, too, wanting to make sure they really left a sting on the woman. There were a lot of little things about this fight so far that had her worry, not least of all was the constant, irritating defiance coming from her opponent. That sort of will wasn't new to her, she'd encountered it before, and she knew how much of a pain the try-hards could be if you let them run away with a match. As far as she was concerned, this whole thing was a chance for her to showcase her skills, and she wasn't about to let Eshe ruin that.

One hammered home. Good.

Another kick, right on target. Great.

And one more, coming in strong-

Sara's eyes shot wide as Eshe managed to hold onto her leg, tucking it in tight and close right after the impact and not letting her pull away. Before she could do anything about it, the woman started through sharp, quick blows into her leg, hammering away at the joint with fierce precision, doing rapid damage.

Sara was going down, there wasn't much she could do to stop that at this point, but that didn't mean she couldn't work with the situation. Hissing, both in pain and in rage, she lashed out and swung her elbow at the side of Eshe's face, trying to knock her off to create some space when they both went down.

_________________

acuyra




Posts

: 19142


Join date

: 2014-02-14


Age

: 36


Location

: Charlotte, North Carolina, WOOOO!



To say this wasn't one of the most painful start she'd ever had to a match would be an understatement. Her face, chest, and knee pulsates from the brunt ness of their attacks. Sara was a natural powerhouse, in truth she shouldn't have been surprised, after all these types are everywhere. It was the fact that she was precise with her blows that made it difficult. Her chest and knee especially knew now that they had suffered their intent.

Lucky for her, she had the blondes leg tucked tightly against her ribs, although she somewhat cushioned the blow, her ribs slightly ached from the impact. She wouldn't show mercy as she threw jab after quick jab into the muscley leg in her clutches. From what she could tell, Sara had a good center of balance, a coordinated fighter who depended on her legs if anything else. The violet was hesitant to go along with that thought process having received a wicked blow to her own face, her nose now trickling red lightly instead of streaming.

Expected of the outcome, the Android came tumbling down, like a thunderous trunk, Eshe felt a sense of relief, if only it could last. Even though she was making progress, her opponent was a tough one herself. Even though they hissed through the pain. They didn't for a moment take their focus of the Egyptian. Without warning she felt a blunt elbow knock across her cheek. She couldn't stop herself from following the flow and ineveitably went with the sweeping arch.

The violet falls to the canvas, her opponents leg still thankfully in her hold but for how long? Her mind began to swirl, she couldn't let this throw off her game but Sara wasn't pulling any punches nor should she. Her brain rattled however, there was only one fair option to play here: Retreat.

If she could muster up her senses fast enough. She'd loosen her hold on their leg and roll backward for the ropes. Wether she fell onto the cold floor or found a haven under the ropes she wasn't sure which she would get but putting some distance between her and this steel-like brawler didn't seem like a bad idea.
_________________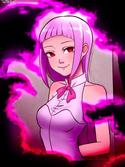 LilyStar




Posts

: 894


Join date

: 2018-02-27


Age

: 26


Location

: Your heart



In the back of her head, Sara was filled with an emotion she didn't want to acknowledge, not in a fight like this - fear. It wasn't much, only a faint hint, but it was still far more than she would've ever expected in a match like this, a testament to how far she'd been pushed in such a short time. She didn't know what a woman like Eshe could do on top of her, and she was in no rush to shed light on it, either. She just needed the little brat off of her.

And what was more, she had her opponent in retreat, making her roll off and give her space. That would make her a sitting duck, and all Sara had to do was get up, and…

...fuck.

She stared to push up on her leg, trying to rise, but she only got half way before she realized what that was a bad move. Eshe's little flurry offense had left her leg hurting. Nothing serious, but it could easily get that bad if she wasn't careful.

Gritting her teeth, she focused on using her good leg and rose up, managing to stand with a slight limp. In a way, it was a good thing - it pissed her off and made her more determined to grind Eshe into the dirt. That was her aim as she stumbled forward, making her way to her fallen foe's position.

_________________

acuyra




Posts

: 19142


Join date

: 2014-02-14


Age

: 36


Location

: Charlotte, North Carolina, WOOOO!



The room began to mix in a flurry of colors and shades as she rolled to safety. In her current state, the rattling of her brain and the sudden influx of sightcuk information made her feel nauescious. She had to tell herself not to puke to avoid being laughed out of the ring. She couldn't think of showing weakness now, not with a monster like Sara so close behind.

Her body stopped right on the edge of the ring, her violets focusing in and out as she began to breathe in and out slowly. She'd been whalloped pretty hard with that elbow, her hand rubs her jaw, a slight sting followed from her touch. Sheesh, talk about brutal. The EgyptIan's gaze shifts back to her Android like foe, slowly they were getting up.

Eshe couldn't stay here for long, reaching over for the ropes, she pulls herself close to sit up on the canvas. Looking over her shoulder as the blonde attempted to push up on their leg, the one she so mercilessly beat into a short while ago. They stumbled...they stumbled! Even if it wasn't much she had made just a bit of progress, Sara was almost down a leg, but that didn't equal out the beating she took. Multiple parts of her own body ached and now being scatterbrained on top of it, this wasn't looking like a good scenario by any means.

She needed to pick up her pace, going for the highest rope, she tugs upward with a bit of excertition. The blonde had pushed up on their good leg and was now in hot pursuit, she looked angry and perhaps in an odd way, rightfully so but this wasn't the time or place to admit that.

Eshe realized there was only one thing she could do: Attack before they could get into a stance. She felt she had no choice, through labored breaths of her own, she settled her body low, low to flow into a launch and just enough to avoid enough cross punches, Sara may throw. It was now or never, pushing off her boot with gritted teeth, she'd look to aim low, her objective was that bad leg, it was hers for the taking if she played her hand right.
_________________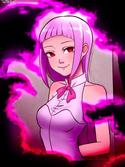 LilyStar




Posts

: 894


Join date

: 2018-02-27


Age

: 26


Location

: Your heart



Okay, so maybe, just maybe, Sara could admit that Eshe had some talent. A little.

It wasn't an admission that came easy, either, but it was a little hard to deny reality when it was coming in the form of her aching leg. The Egyptian hadn't quite risen to a level that rivaled the last Egyptian she fought - a score that she was going to settle, sooner or later, but so far she'd proven to be a cagey foe, giving her a wealth of trouble from the moment this match started. She was still confident she could win this match, but she had to at least admit it was going to be a greater challenge than she had originally anticipated.

That was the belief she held as she closed in on her opponent, too, ready to pounce and take advantage. She thought she had Eshe on the backfoot, at least, even with her aching leg. That it would just be a matter of closing the deal from here on, that the danger had passed.

She was proven wrong almost immediately, as Eshe sprung into action and came at her. She brought her guard up on reflex, thinking the woman was going to try something to hit her up top, but no - her target was lower and more practical, slamming into her leg at full steam, hitting the worst spot.

Sara let out a hoarse cry and fell away after the impact, hitting the floor as she grasped her aching leg. This was worse than before, an explosion of seering pain that had her gritting her teeth as she rolled around, hissing and wincing all the way. Knowing how vulnerable she was, she pushed off the floor and tried to make her way up, but it was slow going - couldn't be helped.

_________________

acuyra




Posts

: 19142


Join date

: 2014-02-14


Age

: 36


Location

: Charlotte, North Carolina, WOOOO!



Page 2 of 5 •
1, 2, 3, 4, 5
Similar topics
---
Permissions in this forum:
You
cannot
reply to topics in this forum