Who is online?
In total there are
45
users online :: 0 Registered, 0 Hidden and 45 Guests :: 3 Bots
None
Most users ever online was
418
on Tue Jul 30, 2019 9:51 am
Champions & #1 contenders
Who wants a match?
Sat Aug 13, 2022 2:28 am by Bahamut01
Hey all its been a while. So trying to get some matches going! Reply here or pm me and let's make something happen!
Comments: 2
Apologies.
Tue Aug 09, 2022 1:04 am by ihateocrecolors
Due to some issues that I think have been popping up because of my involvement in stuff, I believe it's in the interest for me and everyone else that I take a temporary or probably permanent leave from AFW-related stuff. I have been nothing more than a burden to most of you. I won't make this into a giant paragraph. All I want to say is that I apologize to everyone who's ever rooted for me because I can't hack it not anymore.
Comments: 1
Retiring some wrestlers
Sun Jul 10, 2022 11:42 am by Deus001
Hey all
Deus here, I've been thinking it over and I'll be looking at benching some of my roster. Been thinking its a bit over bloated and with newer ideas on the horizon for me I've figured its time to shuffle them off to greener pastures or let their faceclaims be free to use.
So at the moment I will be retiring Chuang Lingxian, Qi Lingxian and Leon La Rouge effective immediate. I might be considering benching other people but atm the above three are getting axed. If you want to adopt any of …
[
Full reading
]
Comments: 1
Page 5 of 5 •
1, 2, 3, 4, 5
So much pain, so much pain. Her head was practically throbbing with the sensation as Sara executed that brutal finisher. Her mind was drawing a blank, where was she right now? Trying to focus on sight in such a darkened world proved to be futile. She needed some indication of location. Her hands began to drag in, looking to prop her up with what strength she had left. It hurt so much to move, geez, Sara really hit hard.

Just as she was prepared to at least sit up or at the very least prop herself up, the Android came down on her, pushing the Egyptian onto her side and hooking up her leg for the three count. Only one word fashioned it's way into her mind right now: Heavy. Feeling their weight against her, she felt pinned down, just as Makie had done her that day. She couldn't believe she was going to lose against this woman, she had a plan, a strategy to win and it fell apart over one bad move. It was slightly infuriating but in the end she had to admit that Sara was stronger than her.

With the first count behind her, Eshe's body did little to nothing besides breath. She was out for the moment, completely subservient to the blondes will, her finger lightly twitch against the mat, her eyes begin to focus on the light. She was still in this, with what little she had, she couldn't give in just yet!

Two!

The violet began to feel a small surge of strength take over, she had a chance, she could fight back, even if it was just a little, she would take it. Just a bit more and she could break free.

Thre-

Her body surged upward, her legs with what little strength she had left, pushed up, sharply turning her body to buck Sara away. She was on her side now, lightly groaning as she shifted, attempting to push herself up. Not yet, she tells herself, not yet. The egyptain was slow, to push up, her breaths were labored and light. Lucky for her, Sara was just as bad off.
_________________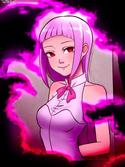 LilyStar




Posts

: 894


Join date

: 2018-02-27


Age

: 26


Location

: Your heart



Sara wasn't there anymore. She wasn't in the ring, she wasn't in the arena. She was back home, in her bath, after she'd got through taping up her wounds and getting checked out. A nice, hot bubble bath, too, the one with the scents that she only used on special occasions. She'd put on some music to go with it. A little jazz. Something snappy, low ki. The kind of music she could drift off to. Just sit there, soak, and forget this day ever happened. Melt into tomorrow.

It was a lovely little dream, and she was almost there. So close.

Until Eshe had to ruin it by kicking out.

For a moment after the pin was broken, Sara didn't move. Didn't budge. She simply looked at the Egyptian, staring at her with confusion, almost thinking that had bene a twitch. But no, no it wasn't - it was a legitimate move. The woman kicked out of her move. Her finisher. The exact last thing she'd needed for this to work as an advertisement, and she'd done it. "You...fucking…"

Fine. Fine. Sara had given Eshe the option to do this the easy way, but no, that wasn't good enough. So now they were going old-school.

As Eshe started to push her way up, Sara reached over and snatched her wrist to pull it in between her legs. She fell on her back, planted one leg along her foe's chest and the other over her face, and jerked back with all the strength she could squeeze from her failing body, wrenching her arm in a tight armbar. "Give up!" She thrust her hips up, pumping against the arm to maximize it. "Just. Fucking. Submit!"

_________________

acuyra




Posts

: 19142


Join date

: 2014-02-14


Age

: 36


Location

: Charlotte, North Carolina, WOOOO!



Freedom! She could feel the freshness of breaking out a close pin overwhelm her senses, she had managed to hold on but what now? She was barely even conscious let alone obvious to her predicament, Sara could come for her and if she wasn't ready what then? She wouldn't have time to even answer that question that lingered in her mind. For the Android was already showing her hand.

Cursing at the Egyptian for ending her victory pin, Eshe immediately felt that surge of malicious aura again. She tried to move, tried to escape before she could be caught but speed wasn't on her side, not after a rattling finisher like that. Before she could even remotely pull herself away, she felt the blonde grab hold of her arm, was she about to get slingshot or worse...?

Worse! Definitely worse! Her arm was caught between their legs, falling into her back and laying her legs over her chest and face. She suddenly wrenches hard, pumping up her legs and squeezing her arm so much that it felt like the joint was about to separate. She couldn't handle it, couldn't take this. She had endured so much and this was what was going to end her? "N-no!.." She exclaims defiantly. Crying out as the pain began to surge again.

She wanted to fight it, to endure it again but she knee deep down this was it. She couldn't believe she was doing this but her body wouldn't last much longer. "O-okay, I give, I GIVE!" She cries, tapping their leg for relief. The violet was beaten, rattled, and now at her limit, she couldn't do anything but curl into a ball to cup her arm if Sara released it. "Damn it..." She would softly whisper.
_________________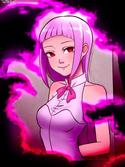 LilyStar




Posts

: 894


Join date

: 2018-02-27


Age

: 26


Location

: Your heart



Eshe tapped out. Of course. She liked her arm attached to her shoulder, so it was the only option. Sara made sure it hurt, too. Even though she was exhausted, even though her leg protested, she poured everything she had in the hold. Gripped tight. Tested every muscle. Wrenched it with every last fiber of what she had left.

She was done. Sara was utterly, completely, done. "Give up! Just give up!"

"Sara! Release the hold!

She opened her eyes as the referee's words echoed through her head, and she felt her prying at her fingers, desperate to dislodge her grip. It was only now that she heard the bell ringing, registered the crowd's chorus of boos, released that, yes, Eshe had submitted. The match was hers.

She blinked, almost not believing it for a couple more seconds, before she released Eshe and rolled off to the side. Her first impulse was to push up to her feet, but she wasn't even capable of that much. Everything hurt. She could scarcely breathe, couldn't remember the last time she felt so tired. Forget heading home, she needed to take a trip to the infirmary.

Grimacing, she spared Eshe one last, long look, staring at the woman she'd just been through hell with as the referee tended to her. Wordless, her face a pained mask, she rolled under the bottom rope, making to her feet on the outside, and started a slow walk up the ramp. Never looking back.

_________________

acuyra




Posts

: 19142


Join date

: 2014-02-14


Age

: 36


Location

: Charlotte, North Carolina, WOOOO!



She wasn't letting go? Why wasn't she letting go?! She tapped out, she gave in, why didn't Sara release her? Another shrill cry erupts from her throat as they pump her arm in the arm bar. She couldn't take this, not anymore. The Egyptians shoulder felt so close to shattering or in a less dramatic sense, popping out of socket. It hurt, it hurts so much. She felt like crying into the canvas but she couldn't let herself do that, not here.

Finally, she felt the tugging stop, the referee had managed to make Sara register her win. A win Eshe was obviously sour about. She wanted to win, no, she felt she needed to win. To prove to them all she wasn't an easy target, to show them she could throw down with the big girls but she failed, utterly, miserably. She gripped her arm, a burning pain ran through her muscles as she tried to sit up, although easier said then done.

The Android was in their feet, walking away but they stopped, what were they-? Violet hues meet blue, they stopped to stare? Was she about to gloat? To shove it all in her face? The violet attempted to stand, easing herself up on shakey legs as they rolled out of the ring. Eshe made her way there, slowly she made her way there, using the ropes for support.

"Sara!" She shouts. "You were better this time...but next time, I'll win, for sure!" Eshe exclaims, the fire of desire for a rematch burning in her pools. She felt underestimated, weak, helpless. She couldn't forgive herself for giving in, but she'd have her chance again. Next time, she'll have to be just as savage.

Winner by submission: Sara Connor
_________________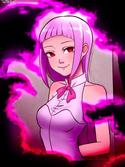 LilyStar




Posts

: 894


Join date

: 2018-02-27


Age

: 26


Location

: Your heart



Page 5 of 5 •
1, 2, 3, 4, 5
Similar topics
---
Permissions in this forum:
You
cannot
reply to topics in this forum