Who is online?
In total there are
23
users online :: 0 Registered, 0 Hidden and 23 Guests :: 2 Bots
None
Most users ever online was
418
on Tue Jul 30, 2019 9:51 am
Champions & #1 contenders
Apologies.
Tue Aug 09, 2022 1:04 am by ihateocrecolors
Due to some issues that I think have been popping up because of my involvement in stuff, I believe it's in the interest for me and everyone else that I take a temporary or probably permanent leave from AFW-related stuff. I have been nothing more than a burden to most of you. I won't make this into a giant paragraph. All I want to say is that I apologize to everyone who's ever rooted for me because I can't hack it not anymore.
Comments: 1
Retiring some wrestlers
Sun Jul 10, 2022 11:42 am by Deus001
Hey all
Deus here, I've been thinking it over and I'll be looking at benching some of my roster. Been thinking its a bit over bloated and with newer ideas on the horizon for me I've figured its time to shuffle them off to greener pastures or let their faceclaims be free to use.
So at the moment I will be retiring Chuang Lingxian, Qi Lingxian and Leon La Rouge effective immediate. I might be considering benching other people but atm the above three are getting axed. If you want to adopt any of …
[
Full reading
]
Comments: 1
Page 4 of 5 •
1, 2, 3, 4, 5
Another plan seemed to fall into place as Sara was locked in her off hold. She didn't know what to call this exactly but as she held onto her captive Eshe could feel it was jarring. This could the making of a whole new move entirely but she wasn't going to let that distract her from the reality of her predicament. Worrying about what would happen when she let them go made things complicated. The Android proved to be a far greater brute than she imagined. They were tactful too, as most would expect out of a wrestler but this was a more sinister tactful. Eshe couldn't put her finger on the why.

As Sara pushed up what little they could in their feet, Eshe would shift her legs, sliding her knees inward in an effort to drag them in. Her hands clenching tightly onto those arms, pushing them down with all the force she could muster from her position. If it went well, she'd offer them another squeeze, her aim now to cut off their air supply. It felt personal, more personal to anything she'd done yet. Her entire goal now was to make Sara ever regret underestimating her, no matter what the cost would be.

Even though she had locked in a new hold, the referee wasn't lenient on the fact she had held it longer than they would allow. The ref girl began to count, the Egyptian was at a loss now, she couldn't keep this hold much longer but releasing her captive would mean certain trouble. She grumbled under her breath as she heard three, the tanned woman would release the Android, kicking off the mat to roll backward towards the ropes. Keeping her distance was the best play here, had she stayed in place, she was sure Sara would've ended her right then and there.

Now what could she do? That bad leg of theirs was still an option but now they were on guard. Trying to take it again could end her back on the mat facing another barrage of those steel fists. She'd rather not go through that again if she could avoid it. Eshe surmised she would have to wait for an opening, unbennouced to her, that was the same thing running through her opponents mind. As the saying goes, great minds think alike.

Her violet pools focused, her eyes practically asking them to come at her, she didn't care what anyone thought or what they would say: Sara was going down, she had to make it happen.
_________________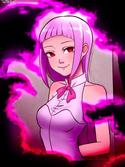 LilyStar




Posts

: 894


Join date

: 2018-02-27


Age

: 26


Location

: Your heart



What was this move even called? Sara hadn't bothered to look too deeply into wrestling submissions prior to come to the AFW, figuring they were mostly idiotic, overhyped displays meant to look good rather than do actual damage. That might have been the case for quite a few of them, too - but she couldn't say it applied to the one she was currently in. It was unorthodox, yes, but that was a point in its favor, because it meant that Sara didn't have a clear and quick way out of it. It wasn't that painful, but it was wearing down on her in its own way, taking her by inches while she suffered through the scissors. She wanted out. Needed out.

So it was a good thing that the hold seemed to be illegal, prompting the referee to start up a count and tick away with it. Sara expected Eshe to milk it out, take every second she could to wear her down. That would be the smart thing to do in her position, the thing SA would have done, but no - she was a little too smart for that, it seemed. Her loss.

Sara smacked her fist against the mat and rose up, pushing off the canvas to compensate for her leg as she rose. She moved back into her ready position, though now she moved in left-handed, keeping her bad leg behind her, making it less of a target. Cautious now. Careful. Eyes forward.

She moved in fast, took hard step forward, then backed away, just outside of Eshe's range. A couple of steps to the side and she move in again, this time throwing out a couple of quick jabs at Eshe's face. Light. Quick. Not too much impact to them.

Testing. Assessing. Prodding. Poking.

_________________

acuyra




Posts

: 19142


Join date

: 2014-02-14


Age

: 36


Location

: Charlotte, North Carolina, WOOOO!



Eshe could chalk up his misfortune to Lady Luck's favor changing, she had no back up now it seemed and the only thing keeping her from certain defeat was this hold, slowly but surely wearing them down. It was bad enough she had to let them go but worse still was that the hold hardly did enough to warrant the risk, Sara pushed up off the mat with their fist, keeping themselves left leg forward. She figured this would happen and she was right on the money, they kept that right legged covered, making it even more difficult to take down, this was definitely her loss in momentum.

As she rose to her feet, her violets focused on the prize, the Egyptian was certain that she wore those arms down a bit but the Android was still looking to make full use of them. The violet was aware she'd need to be careful but her back was against the wall at the moment. This was going to be a battle of patience, a virtue few and far between possessed, Eshe unfortunately, didn't quite take to it. Her personality always had her in the go, keeping herself busy all the time, if it wasn't one thing it was definitely another.

Here they came, the blonde stepped in close, Eshe throws up her guard, she could feel the bones ache under her flesh. The earlier barrage had taken a toll on her own limbs but she would push through, that's what she had always done after all. Sara pressed in, aiming for her face, light peppered shots hammered at her bruising arms. Again, even against these light shots, her guard wasn't enough. A shot came around her guard, peppering he face, another following suit.

Eshe takes a single step back, shaking off the hurt before stepping back in again, she wasn't going to let them bully her like this. She had speed on her side, two good legs, so she'd better use them. Stepping in, she'd throw her own light jab, looking to pierce through their guard. She'd take the fight to them, later in he in a thick barrage of light punches, she wanted them to think this was all she could do. The violet would drive the point home though, her next shot would have some power behind it, attempting to land anywhere unprotected, perhaps like that stomach?

Whatever she could manage, she'd pull back and reset her guard. She knew her body better than anyone, she'd have to take them down and fast if she wanted to win. Slowly, her body was showing signs of collapsing.
_________________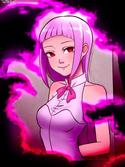 LilyStar




Posts

: 894


Join date

: 2018-02-27


Age

: 26


Location

: Your heart



Sara paid attention to Eshe's movements as the woman came in, noting the way she stood, the way she leaned, taking everything she saw into account and painting a picture. It was a good way for her to read her opponent - everything the human body did was a hint to what the mind was going through.

Eshe's body was telling her all she needed to know - this woman was dead on her feet. Not beaten, not yet, but far closer than perhaps even she realized. She was trying to hide it, but the signs slipped through regardless. All Sara needed was one hit, one solid hit, and she would fold like a deck of cards.

But getting there, that was going to be the trick. Eshe was a stubborn-as-fuck girl, and she wasn't sure she could close that deal before her legs gave up on the whole affair.

The woman came at her fast now, throwing out a barrage of light punches. Not much sting to them, nothing she couldn't handle with her guard, but that wasn't the problem - no, the trick was getting in something meaningful through the hail. She wanted to take Eshe out in decisive fashion, and that meant she had to cut through all the chafe. She was formulating an idea on that, however. It would just take a little working.

Sara took a shot in the stomach, a good one, but not too much worse than the ones she had been eating all match. It wouldn't have been obvious to the naked eye, however, as she went reeling back from the blow, staggering away with a weakened guard, creating an opening for her opponent to exploit.

In other words, bait.
_________________

acuyra




Posts

: 19142


Join date

: 2014-02-14


Age

: 36


Location

: Charlotte, North Carolina, WOOOO!



Was it fair to say she was getting tired? Perhaps, but Eshe wouldn't admit that. She felt that the only reason she felt this way was primarily from Sara's barrage. Mentally and physically bruising, she could tell it was only a matter of time before she fell out. That didn't seem like an option however despite being in her predicament, the Egyptian held onto her determination, offering a stubborn aura that the Android seemed to detect. Eshe couldn't give in, not to Sara, not until she made them realize she wasn't some lightweight.

The violet went blow for blow with her blonde foe, she managed to land most of her light barrage she didn't anticipate to do any reall damage and that was evident by Sara's guard. She was steadfast, somehow, someway she managed to strike their midsection band she went for it hard. Throwing a bit of her power behind the strike to force her foe back. She was beginning to enjoy herself again, this back and forth, it felt so thrilling, like everything was tethering on these moments. A smile began to creep on her face as they retreated backward.

She was slightly astonished that she managed to drive them back but something felt off, something didn't feel right? Sure she put some effort into that guy punch but, was it really that effective? She wasn't sure nor could she really get a vibe from Sara unless she got closer. Eshe wouldn't have a choice but to get in there, there was an opening and she'd be a fool to dismiss it.

Detecting the warning her instincts were screaming at her, she went for it anyway, extended img out her arms, her hands open palmed as she closed in. She had to take the risk, even if it was bait, she couldn't gain any ground or make any progress without getting her hands dirty. If she managed to close the distance relatively quickly, the tanned woman would reach out, sinking her fingers into their shoulder and cupping their neck for a lockup.

If her attempt her proved successful, Eshe realized she had a few options here, that leg could possibly be hers again and maybe, just maybe she could force the blonde to tap if she played her hand right. On the other hand, she could hammer in that midsection to, a possibility to remind them of what they had previously done to her. So many options to choose from but so little time, she'd have to aim for her current objective: The bad leg.
_________________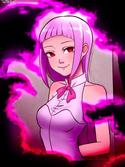 LilyStar




Posts

: 894


Join date

: 2018-02-27


Age

: 26


Location

: Your heart



It really couldn't be understated how irritated Sara was at this moment, having to suffer under Eshe's offense, driven back by what she knew were inferior attacks. As much as her senses were telling her how dangerous this woman was, as much as her aching leg was living proof of the fact, she did her best to discard it. This woman wasn't up to her level, couldn't compete, and she would prove it.

An opening. All she needed was an opening.

It did come. Eshe moved in close, reaching out and taking her in a tight hold, locking up with her. The weakness in Sara's leg was on full display, as she was forced back with little effort, her bad leg unable to handle the pressure. Whatever her foe was coming with now, it would be a pain to deal with. She just was not in a position to give adequate resistance. If this were MMA, she would be lacking options, blood in the water.

But it wasn't. This was wrestling, and in wrestling there were things that she could do and get away with that would've disqualified her elsewhere. Things like, say, a headbutt.

Sara reeled back, gritted her teeth, and jerked forward, slamming their skulls together with full force, smashing them together and filling the ring with the sound of clashing coconuts.

_________________

acuyra




Posts

: 19142


Join date

: 2014-02-14


Age

: 36


Location

: Charlotte, North Carolina, WOOOO!



Sara seemed disoriented from her gut punch, her mind was putting up a red flag but Eshe knew she couldn't relent. This person wasn't someone you could let recover not when she was throwing that kind of power around. She needed to get in fast and she needed to hit hard is she wanted to take them down.

As she managed to close that distance, her hands already taking position, one gripping tightly onto their shoulder, the other meeting their collarbone. The Egyptian found little resistance as she forced Sara back, it must be that bad leg of theirs. Plans to work it over we're beginning to be set into motion, what she didn't count on was this being a ruse.

Her skull cracks with an explosion of pain, her hold on the blonde loosens complete as she stumble back. Her hands shooting to grip onto her aching noggin, she feels sick and dizzy, what the heck just happened? One second she was pushing the Android back and the next...she didn't..did Sara really just headbutt her? From that small distance? Her mind was swirling, making the nauseous feeling even worse.

She stumbled backwards again, vunerable as the wear and tear began to take her. Did they count on this? Eshe wouldn't put it past them, her vision was going blurry, she needed a chance to recover herself but would she get it? Probably not. She grit her teeth, the only thing she felt she could do now was brace herself, something was coming.
_________________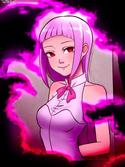 LilyStar




Posts

: 894


Join date

: 2018-02-27


Age

: 26


Location

: Your heart



This match had gone on long. Too long, in fact.

Sara's headbutt connected, and it was almost as devastating to her as it was to her foe. Her vision went white for a second, and when it came back, it wasn't much better than before - stars dancing across her line of sight, colors messed up, the world turned into a sea of chaos. It was hard to get a read on anything, make out anything coherent. She had to focus. Just calm down and focus.

There.

Through the haze, she could see her opponent moving away from her, looking every bit as winded as she was. The difference, though, was that Sara was in a position to do something with this space, and she knew exactly what to fill the gap with. Even now.

She took a step back, then another, and found her back up against the corner. Perfect. It wasn't quite as much distance as she would've liked for this, but it would have to do - if she wasn't ending this now, she felt like she never would.

Ready. Aim. Fire.

Sara broke into a run, closing in fast on Eshe. She stumbled along the way, nearly fell to her knees, but she managed to right herself at the last second, straight up, and fly towards her foe's face with a running knee - her finishing move, the Shut Down.


_________________

acuyra




Posts

: 19142


Join date

: 2014-02-14


Age

: 36


Location

: Charlotte, North Carolina, WOOOO!



The violet staggers back, her world going white as the head but rattled her brain, was this what they meant by white out? Perhaps not, she didn't understand the term herself but it was definitely white before she could notice anything else. Her vision was blurry by now, she couldn't focus, couldn't exactly see where her opponent had gone but they were somewhere, hopefully feeling these same effects.

Eshe began to worry. A premonition went through her mind again but when would it happen? She knew the what but the when and how made her shake, she cursed herself for falling for that trick, it was obvious to a more experienced wrestler perhaps but she resisted her instincts and went for it, now here she was was: in a blurry world with no bead on the where shouts of Sara. This couldn't possibly be any worse.

The world seemed to prove her wrong, she could hear footsteps now, backing away as they met the canvas. To the where, she couldn't quite make out. Something was coming, the quakes of the ring made that all to obvious but from where? The sound wasn't making it any easier to pinpoint, she turned to the side to find a different color blur in the mess of her vision but nothing.

Her chin suddenly snapped as she felt something hard connect with her jaw, her brain rattled even more so now with the knee. She stumbled again, her world slowly going dark as she drops to her knees. She attempted to push up to her feet but the motion was denied and harshly so. With no ends or means to stand, her body collapses on her front, breathing in and out heavily as she reaches out to pull herself up.

Weakness began to sink in, she was done for, she knew it. Eshe couldn't help but be angry with herself, the violet didn't want to lose, not to them but that was a dream now. She couldn't bring herself to build any momentum to fight now, she lost.
_________________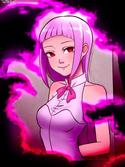 LilyStar




Posts

: 894


Join date

: 2018-02-27


Age

: 26


Location

: Your heart



Roadkill.

There wasn't anything pretty about Sara's move. It wasn't subtle. It wasn't meant to please the crowd or get them chanting. It was brutal, swift, decisive. An unyielding blow to the skull, meant to leave her foes reeling, and it did its job well. Sara rushed forward, shot her leg out, and one of the hardest parts of her body colliding with Eshe's skull, hitting with a force that could rival sledgehammers. The effect was brutal and immediate - her foe flopped down and hit the mat in a heap.

It was a shame that Sara couldn't see it, but she was too busy dealing with her runaway moment to truly appreciate the spectacle. After the strike, though, she was forced into a rough tumble, her body in such poor shape that she couldn't come down properly afterwards. She landed on her back, popped up, and tried to raise to her feet like she was trained to, only for her leg to finally give out all the way, bringing her down on her back. A grim, ugly reminder of the hell she'd just been through.

But it was worth it. It was over.

She could see Eshe over there, defiant, pushing her way back up, and she moved in to shut that down right away. Scrambling over, she grabbed her foe by the side, rolled her onto her back, and took position over her, seizing the leg for extra insurance. She'd wanted a knockout or a submission, but fuck it - at this point, she would take what she could get.

The referee slid in and started up the count . "1…!"

_________________

acuyra




Posts

: 19142


Join date

: 2014-02-14


Age

: 36


Location

: Charlotte, North Carolina, WOOOO!



Page 4 of 5 •
1, 2, 3, 4, 5
---
Permissions in this forum:
You
cannot
reply to topics in this forum