Who is online?
In total there are
23
users online :: 3 Registered, 0 Hidden and 20 Guests :: 2 Bots
killcarrion
,
Teenwrestler
,
vhamelin
Most users ever online was
418
on Tue Jul 30, 2019 9:51 am
Champions & #1 contenders
fraction match wanted
Tue May 23, 2023 6:46 pm by Rohi Yamin
Comments: 1
Tension Match Hunt
Fri May 19, 2023 9:50 pm by GrandAkumaShogun
Looking for matches for my boys
Takeichi Mori
Takeshi Kawai
If anyone is interested feel free to hmu. ty in advance to anyone who responds.
Comments: 1
Looking for Friction Hentai debut match
Tue May 23, 2023 8:50 pm by SigmaMorgan
Comments: 3
Page 4 of 5 •
1, 2, 3, 4, 5
Soft labored breaths escape her lips in droves, she didn't expect the tone of the match to sway so heavy like this. Her back was practically aching in every single spinal disc. The muscles strained to the max from the pain. Rachel began to slowly push herself up off the canvas, her mind coming together to formulate a plan, something to really show the Neptunian she wasn't a pushover. Just as she was getting  prepared to make a counter attack she was caught.

The blonde took advantage of her weakness, climbing into her back then settling her arms over their knees. Her neck and spine cranked as they settle into a camel clutch. Rachel groans in pain as she forced to curve with Patrice's demand. She didn't like pain, she never did. Her mind told her to submit, to get this over with so she could reserve her stamina but her instincts forced that thought down.

The option to submit resurfaced again with the Neptunian's taunt, ushering her to give up. Rachel clenched her fists, with a claim like that she couldn't let herself give them that satisfaction. "In your dreams." She replies through grit teeth. "Youll eat those words when this Venusian triumphs over you, Neptunian!" Rachel adds, gathering her bearings to get herself back into the match.

The Venusian fights through the screams of her spine. She slips her legs underneath her body, with Patrice on her back it was a bit more difficult then she would've liked. With effort, Rachel manages to get her legs under her to prop the pair up. Her arms began to slip over the blondes knees. The model slips her left foot under her body, she has the height advantage here. If her bid for freedom paid off, she'd fire upward, hoping to not only free her arms but buck the Neptunian off her back.
_________________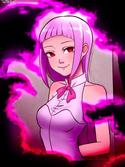 LilyStar




Posts

: 916


Join date

: 2018-02-27


Age

: 27


Location

: Your heart



It was especially satisfying this time for Patrice to hear Rachel's groans of pain. Why? She didn't know - but being in such a dominant position with the Camel Clutch, controlling every inch of her opponent's spine to her will, surely had lots to do with it. Especially as her Venusian opponent was taller than her, it was nice to remind that it wasn't an automatic stairway - or an escalator - to heaven.

"Ha! Well see about that!" Trice responded to Rachel's defiant words through gritted teeth, as she yanked her opponent's body an inch further backwards to prove her point. She really wanted to inflict a great deal of damage to Rachel now, to help her with assuring her own dominance for the rest of this long match!

But Trice committed one dangerous error, and that was ignoring the movement of Rachel's legs. The Sleek Spacebabe was too committed with her submission move to recognize the danger, and as a result, her model opponent managed to get into a position where she could surprise her Neptunian foe! As soon as Rachel suddenly sprung up, Trice's hold became unstable and soon enough the spacebabe found herself falling with her back hitting the mat!

Letting out a shriek of pain, the blonde knew that she couldn't just stay put on the mat - or else she'd be in yet much greater danger. Thus, Trice quickly tried to scramble over and backwards and get back up, hoping that she could do so before she became yet again a target for her Venusian foe!


Jaystar




Posts

: 1636


Join date

: 2017-03-18


Age

: 32



Rachel couldn't stand being underestimated like this. Even caught up in the space babes submission she felt she had to be defiant until she sprang free. And that's am exactly what she did. The model didn't give them the satisfaction of a whine as they wrenched her neck back. Her knees sneaking under her body, while Patrice focuse on doing more harm. With her preparations in order the Venusian slipped her foot under herself, propping the pair up just a bit. With a mighty battle cry, she shouts upward, tossing the blonde actress to the mat. Rachel takes a deep breath, enjoying the sudden influx of air with relief. 
Being free meant turning the tables, even in her pain ridden state, the model pushed on. She'd had to endure long hours of modeling, the pain from that was somewhat on this level…she supposed. Patrice began to scramble, trying to clear some distance between her and the talk Venusian. What she lacked with her height before wouldn't matter much now, her height played to the advantage. Leaning down, she grabs the spacebabe's attire, pulling them back into her grasp, she wasn't getting away. 
Rachel pulled them back first into her embrace, was she angry? No, not particularly. Perhaps just a little bit Patrice had nothing to worry about, the model didn't hold a grudge. Her arms wrap around their waist squeezing them tightly in an attempt to keep them in her vice grip like prison. "You're not going anywhere, Neptunian. You're going to learn first hand what happens when you underestimate a Venusian." she states, rather coldly. 
If Patrice didn't resist after her plan flopping, the model wouldn't waste a moment playing nice. She'd pump her knees and practically throw the smaller blonde back for a possible devestating German Suplex. 
_________________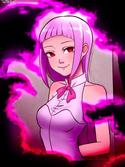 LilyStar




Posts

: 916


Join date

: 2018-02-27


Age

: 27


Location

: Your heart



Patrice knew she had to get away, but Rachel's plans were halting her movement very efficiently, which was very unfortunate for the blonde actress. She really tried to scramble away, but the Venusian's reach was just too great for her to escape - it seemed like the Venusians were trained to always reach for the sun!

But even if they did, Mercury always existed...

But that fantasy was soon erased from the mind of the Sleek Spacebabe. Things were much more periculous now... Was she being caught in ... a ... bear hug??? ... Or ... a ... reverse ... bear ... hug ...? Trice's brains were working as slowly as the rest of her body, and escape did not seem a probable event to happen.

And even less so when Rachel decided to throw her over with a German Suplex. Trice could really not resist at all the Venusian's hugging torment, and when she appeared already weak enough, throwing the blonde around was an easy feat for the brunette to achieve! And it was not just another feat - but a ravaging German Suplex that left Patrice reeling on the mat. She was trying to tend her back, but in reality, the Sleek Spacebabe knew that she was now in a prime position to be targeted by some other devastating moves!

Jaystar




Posts

: 1636


Join date

: 2017-03-18


Age

: 32



With the Neptunian flying overhead, splaying her out against the mat with her German Suplex. Rachel supposed she was a bit to rough with that move but then again, Trice wasn't holding back either. Her back began to ache again, she'd turn to see the blonde reeling on the canvas in pain, tending to her back. The model couldn't help but note how vuberabke they looked, so easy to pick apart bit by bit, piece by piece. She kicked her lips with a new wave of determination as she pushed herself up onto her feet, they weren't going to get away and she'd make her mark on them very soon. They wouldn't underestimate her anymore.
She crawled towards them, making herself the predator, her fingers sliding along their shoulders hooking in to pull them up, befor her hands glide to grab hold of their arm. She had every intention of pressing her new found advantage and showcasing her abilities to the fullest. Guiding the blonde up to her feet, Rachel would ceremoniously toss their arm over her neck. Her fingers reach down to coil under the crook of their knee. It was smart of them to wear some so sleek, the model honestly had a hard time getting a grip on their attire. From her position, she'd bounces to lift the actress up in the air for a fisherman suplex.
With Patrice now at her mercy, she'd gloat just a bit, it wasn't often she got to show just how strong she actually was to the crowd. Perhaps she shouldn't over do it though. She still felt every bit of damage the Neptunian dished out, her back especially wasn't fit to working to hard even now. 
Without a moments hesitation after playing with her prey, Rachel kicks out leg, following gravi- er, forces of an lonowing nature b-because they're in space! She'd slam them down with all her weight and the unknown force to make another notch into the spacebabes pain counter. She'd whittle them down to take that first point of it's the last thing she'd do. 
_________________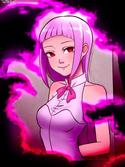 LilyStar




Posts

: 916


Join date

: 2018-02-27


Age

: 27


Location

: Your heart



If Rachel had any concerns over the roughness of her moves, Trice had none. Even if she was on the losing end for now! But this was wrestling, and rough moves were the standard...and totally expected! So even if the German Suplex thrusted the air out of the French Neptunian blonde's lungs, she was still perfectly willing to accept it as a perfectly legal move...

Besides, it was flashy! And Patrice loved putting on a show more than anything... But her love for performances was rapidly getting into question as Rachel wasn't wasting any time with transferring from putting on a show to putting her Neptunian opponent as a bewareing showcase!

Trice didn't at first even realize that she was being the prey, but soon the fact dawned on her as she felt herself guided up to her feet. And as she felt Rachel's choice of move getting locked up around most of the limbs of her body, she also realized being in deep trouble... But what could she do?!?

Well, nothing. Rachel really had her shine in the spotlight now, and the previously oh-so-sleek Neptunian Spacebabe appeared to be just the day's catch in her clutches! But as it turned out, that was quite literally what she was as the blonde got her back slammed against the mat, properly draining her out of any air that she might have had to keep on fighting this first round any longer... And unfortunately for her, the forces of gravity weren't providing her any favors.

But the referee, she didn't waste an opportunity to start a count.

"1!"

"2!"

"3!"

Jaystar




Posts

: 1636


Join date

: 2017-03-18


Age

: 32



The model had practiced this move before, her tutors made the move seem so easy and for the most part, it kind of was. She never thought it would out anyone away though but much to her surprise, Patrice didn't buck, didn't push, she just laid there like everything had been sapped dry inti the canvas, radiating out into nothingness. The Venusian clutched their leg tightly, it was either she keep pushing to gain the upper hand or she let go and continue this fierce battle. She opted for the point instead and the referee seemed to as well. Her fingers dig into the sleek covered leg of the Blonde, she wasn't going to let go not that it may ye red seeing as how she hit three without so much as a stir from her opponent.
She felt a sigh of relief leave her lips as she releases their leg to flop to the mat. She pulled herself up to a seated position; rubbing her back from the onslaught the model had to endure up until this point. Rachel had to admit, Patrice wasn't a weak little actress, not that she thought that once but to anyone who did, they'd get a rude awakening. 
Rolling onto her knees, she looked down at her defeated foe, they'd get a slight break for now but she couldn't help but observe. She wanted to gloat but that wasn't like her, despite how mean Trice could be, that just wasn't her. "Looks like first point goes to me, huh Neptunain. If it means anything to you, I had to work really hard for it." She declares, offering them a helpful hand to at least get up with and return to the corner for their break. If they took it, that was up to them but Rachel wouldn't deny them the sportsmanship they rightfully deserved. 
_________________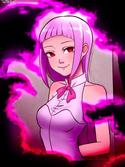 LilyStar




Posts

: 916


Join date

: 2018-02-27


Age

: 27


Location

: Your heart



To tell the truth, Patrice could have probably still had some energy left in her to continue the battle, but the trickiest part of the Fisherman suplex for her was that the pin was quite a strong one! And she wasn't really sure if she could have made it so quickly after the impact... But also, she knew that this match was had multiple rounds, and she needed to save some of her strength, endurance and energy to the later ones. And also, the referee did not seem to waste time with this count...

In any case, Rachel had now scored the first fall. And she wasn't wasting much time before rubbing it into the blonde's face... Or to be fair, it wasn't as much as rubbing it into her face as it was a simple statement, but Trice wasn't one to really recognize the difference in tone...not when her back was aching like this.

As Rachel was on her knees looming over her, the Sleek Spacebabe was really, really tempted to just shoot another kick to the Venusian's face...but just before she would have acted on that urge, her opponent began offering her her hand to help her up. And Trice couldn't really not appreciate it, at least not at this stage... Maybe later, if things turned even more hostile between them. Also, it appeared that the Venusian still for some reason was interested in remaining rather friendly with the Neptunian...but maybe that was just a character of women from Venus.

"Thank you." Trice lightly communicated her appreciation for the aid, before both women proceeded back to their corners. Recomposing her thoughts, the Sleek Spacebabe knew that she had only one mission now... To prevent Rachel from getting her hand on the star hanging from the ceiling! Glancing at the stairs in another corner, the blonde evaluated how sturdy they looked, how easily they could get tripped, and how potentially they could be used as a weapon...and realized that this match had the potential to turn really painful now, if things went that way.

But then again, she also still needed to score a pinfall or submission, so maybe that was just good...

As the ref signaled for the second round to begin, Trice proceeded immediately right into the center of the ring, dead square below the star hanging from the ceiling... And took a defensive stance with a determined expression on her face.


Jaystar




Posts

: 1636


Join date

: 2017-03-18


Age

: 32



One to nothing, a good position to be in for sure but she had taken a lot of damage during the first round. Her back pain resurfaced again just as she was pulling the blonde up to her feet. The soft "thank you" was appreciated, she honestly didn't expect them to take her hand or even communicate with her with how tense the last moments before her point were.

"It's no problem." She replies. Rachel now had to deal with that Star hanging overhead. Patrice was going to be gunning for her while she tried to get the ladder, if anything this was now a massive problem. What could she do for a strategy then? She'd have to gun for them too, right up until the moment they couldn't move, but then that raised another problem: what would she do if she pushed herself to hard and couldn't get the ladder in the ring?

So many new variables added itself into the match. The potential danger was increased tenfold now that steel was in the mix. Her cyan pools glued onto the Neptunian, she could see those fears turning and whatever they were concocting, it wasn't good.

Just as the second round started, Patrice immediately stepped into the center, the Star overhead, looming with its promise of victory. Rachel grit her teeth, she didn't exactly expect this to be easy but she didn't think things could get this complicated either. For now, she'd play along with them, earning herself some time to drop down and grab her took to ascension was vital and she'd do anything necessary for her planet.
_________________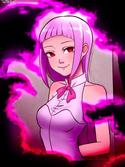 LilyStar




Posts

: 916


Join date

: 2018-02-27


Age

: 27


Location

: Your heart



Patrice had only one mission on her mind right now: prevent Rachel from getting the star from the ceiling! And to her, there seemed to be no better place to do that than the spot right below the hanging star. It seemed that Rachel was also appreciating the complexity of the dilemma, since the Venusian appeared to become buried rather deep in her thoughts, probably trying to come up with some plan to get her blonde opponent out of the way.

Meanwhile, Patrice was also slowly starting to appreciate the fact that maybe just staying on the defensive and protecting the star wasn't enough. In order to win, she still obviously needed to get a pinfall or submission over Rachel of her own, before she could start the hunt for the star herself. But how could she achieve that without risking the access to the star?

The only option that the Sleek Spacebabe could come up with was trying to get sneaky. Somehow, she should try to poach Rachel into coming at her, and then she should somehow strike somewhere that she least expected it! And then, hopefully take the whole rumble further away form the star, until she could gain the required submission or pinfall...

And as Trice was pondering the dilemma, she recalled Rachel's earlier remarks, that had suggested that the Venusian held some liking towards the Neptunian. And even if Trice didn't really care about Rachel, maybe that was something that the blonde could use to conspire against her opponent... "So, are you going to just stay out there like a coward, or come and get me? Or the star, I mean, if that's what you actually care about..."

Jaystar




Posts

: 1636


Join date

: 2017-03-18


Age

: 32



Page 4 of 5 •
1, 2, 3, 4, 5
---
Permissions in this forum:
You
cannot
reply to topics in this forum