Who is online?
In total there are
55
users online :: 1 Registered, 0 Hidden and 54 Guests :: 3 Bots
ARStudios2000
Most users ever online was
418
on Tue Jul 30, 2019 9:51 am
Champions & #1 contenders
fraction match wanted
Tue May 23, 2023 6:46 pm by Rohi Yamin
Comments: 3
Leaving here because of a baby
Fri Jun 02, 2023 4:22 am by Coolgirl1999
Goodbye everyone but I have to leave as I longer will have the time to roleplay as you seen by the title I have recently got legal custody of a family member 3 month old son and I have to focus on him, pets and work now which means I won't be able to do any more roleplay matches for a while, so goodbye
Comments: 1
Tension Match Hunt
Fri May 19, 2023 9:50 pm by GrandAkumaShogun
Looking for matches for my boys
Takeichi Mori
Takeshi Kawai
If anyone is interested feel free to hmu. ty in advance to anyone who responds.
Comments: 2
Page 3 of 6 •
1, 2, 3, 4, 5, 6
Perhaps it was the deities that overlooked the universe that gave her the strength to move, or perhaps it was the will of her planet. The Venusian couldn't say for sure which of those theories could be true but still she wouldn't question her luck. All she could hear was the sudden impact against the turnbuckle and then silence. She would roll her long form over to see Patrice hugging the corner, arms slumped over the middle rope as her body leaned against those plastic wraps covering the dangerous metal that looked underneath.

She was slow to her feet, pain still alive and well in her back and chin. She had to admit, even after managing to avoid her recent attack, she still wasn't fully back into the match. The crowd began to clap for the two of them, hyping them up to begin again and continue on. Rachel couldn't ignore it, she'd gotten to used to the applause on the runway or during shoots. It was intoxicating to have that sort of praise pushed on her, it made the model want to preform her very best for a crowd so willing to sell their hearts to her.

Her hands reach down for her blonde rival, peeling them away from the corner as she brought them against herself for support, her hands were careful in where to grab for now. This wasn't the time or place to be getting frisky, despite the space babe's wonderful choice in attire. She just had to get one herself, but later though.

If she was able to maneuver Patrice as she pleased, she'd pull the woman up to her feet, spreading their legs a fair distantance apart before throwing their arm over her neck. From here if she found success, she'd wrap her leg over their own, covering their sleek covered thigh; digging her elbow into their side with a grin for a abdominal stretch. She leaned in close, wrenching back if her hold found success, her elbow hopefully digging into their exposed side.
_________________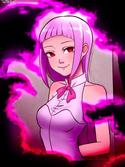 LilyStar




Posts

: 919


Join date

: 2018-02-27


Age

: 27


Location

: Your heart



The Neptunian Spacebabe had taken her chances, and unfortunately for her, that turned out to be a galactic mistake. She had grossly misjudged the Venusian's level of strength and endurance - or gotten tricked into misjudge them - and now it was inevitably time to pay her dues for that.

Before Patrice could regain enough strength, she already felt Rachel taking hold of her arms, pulling her away from the corner. And that could have been a good thing, right? At least she wasn't going to get her head rammed against the ringpost, or anything... Maybe she was going to get a good chance to strike in the center of the ring?

Wrong. Trice getting her hopes up turned out to be grossly in vain. Instead of being provided with an opening, the model decided to put the blonde spacebabe firmly locked up. Trice wasn't really expecting a move such as an abdominal stretch, and couldn't really provide any meaningful effort to prevent it - or to get out of it for that matter. She couldn't deny preferring to take this over a kick or a stomp, for now, but slowly but surely the blonde was getting to feel that the stretch was really beginning to dig into her.

"Nnnngh...! Ohhh...! Nnnngh!"

Jaystar




Posts

: 1638


Join date

: 2017-03-18


Age

: 33



Patrice's galatic mistake proved to be her galatic miracle. Taking a move like that head on from where she had been laying would've been a knockout for sure, thankful for her it was the Neptunian paying the price. As she pulled herself to her feet, she'd be so kind to unwind her space rival from the confines of the tethered rope. A kindness that would undoubtedly lead to a world of hurt to repay them for the earlier disservice to her back.

It was a flawless execution, it seemed to flow so easy, so simple. Their legs spread apart, her own laying over to tug and anchor the captured leg down. The blondes arm rested over her neck while she dug her elbow into their exposed side. The texture of their attire had such a comfortable feel to her skin. The stocking like material was so smooth, the model was honestly jealous, but that was a thought for another time. Her lips spread into a grin as she leans close, making sure to rotate her elbow to dig hungrily into their hip. Their pained moans made her want to hear more, fitting for a woman who was about to experience the wrath of a Venusian.

Her lips were narrowly brushing their ear, she liked to be intimate with her opponents. It gave a sense of closeness, like she was the one controlling the fight, whatever happened next was according to her whim. An odd feeling for sure but she reveled in the possibilities. "I'm sorry, does this hurt?" She asks coyly, rubbing her elbow in to dig further along their hip bone. "All you have to do is give up and you can make it all go away~. Unless of course you want this to end another way?" She whispers, her leg lightly tightening around their thigh. "The choice is yours, my sweet fräulein, but just know that Gravity is going to crush you flat so very soon~." She was alluding to a finisher of her own making but perhaps Patrice wasn't aware of that. This was all psychological warfare, a tactic used quite often in her line of work.

If Trice squirmed or not didn't matter to her, what did matter was if the blonde would knowing defy her and open herself up to that path or would she give in to save herself. Rachel wasn't sure what they would pick. An actress was a pro in their craft, attempting to read their mind would be like reading the mind of twenty other people. Despite all of that, there was one thing she could tell: they would give her everything she wanted out of this match.
_________________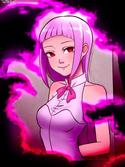 LilyStar




Posts

: 919


Join date

: 2018-02-27


Age

: 27


Location

: Your heart



In hindsight, getting away from the corner and the ropes hadn't been such a good thing after all. While the Sleek Spacebabe had thought she was getting away from imminent danger, in reality she was getting sucked into the wrath of a black hole, from where there was no escape!

Although in this case the black hole had a very physical form called Rachel Nova... Essentially though the end result was still the same. Patrice was stuck and trapped, with a painful stretch and an elbow digging to her side causing her to truly fall into predicament! And there was really no escaping from this one....

The real difference to a black hole though was the loudness of it - or rather, simple words. While Rachel's choice of speaking softly right into her ear had the potential to be rather alluring, her choices of words guaranteed that Trice wasn't going to feel anything positive about it. "Does this hurt?" "All you have to do is give up?" Not exactly any news, or words and ideas that the blonde would have needed to hear right now...

There were a couple of words that stuck out to her though. The first was Fräulein. Maybe it was due to the fact that the Neptunian was actually French, but it just irked her the wrong way - even if all of her other predicament was still dominant. The second one was gravity... And combined with the prior irking, despite her very uncomfortable position, Trice couldn't help but point out the obvious!

"You...agh...fool! There's...ugh...no gravity...aagh...in space!"

Jaystar




Posts

: 1638


Join date

: 2017-03-18


Age

: 33



Oh the soft groans of a caught rival, even defiant as they were, Rachel couldn't help but find the Spacebabe cute. If there was one thing she couldn't stand in this league it was all the cute girls. If only she had more time, lips, and arms to hug and kiss them all, she would. The explorer , tugged their leg lightly with her own in the stretch as they spoke, at least giving them to speak even if they gasped in pain between their words.

"In space? You're right about that, but this isn't space now is it?" She gave the benefit of removing her elbow to guide their gaze toward her with the free hand. "You and I aren't in space right now are we? This is earth after all." She whispers, her thumb lightly rubbing their cheek, obviously she had struck a sensitive chord and that wasn't what she wanted, not out of this fight against such a cutey at that. The Venusian however wouldn't let them get away with calling her a fool however. Her fingertips run down their exposed side, scrunching into a claw she digs into their fleshy side as she wrenches their arm back to wrench them further. "I think we'll need to work on your rudeness, but let's forget that. I want to know more about you, what makes you tic, what you want. I want to know Patrice~." She teases.

If they had no way to escape, Rachel would edge them on, providing the carrot and stick approach. She knew very well it wasn't that sort of match but Patrice seemed like the cutest little button to play with, The Ger- Venusian couldn't help herself. The want to whisper her sugar words quenched itself, she didn't want to continue rambling on, not with this. Her clawing nails would turn into a soft palm as she rubbed their pain, her gaze soft if the hold held. She rather liked this, the indulgence of her opponent even if they didn't lock lips or held hands(Oh, what a bold thought). The mood however was ruined as the referee intervened, beginning to count for them to break. Rachel didn't want to let go, she wanted to enjoy this vice embrace for a little longer but when they threatened three, her limbs unraveled from her blonde captive and she pulled away.

She could be kind, if Patrice was freed, she'd step back and give them the space needed before they got up after all, she wanted to enjoy herself. The Frenchwoman was tough, that the model was assured of, she just had to be mindful not to let herself be caught up in the moment again, or let those knees of theirs connect with her chin anymore. Her fingers rub the pained chin and lower jaw, an ache still pulsating but she'd have her chance soon enough.
_________________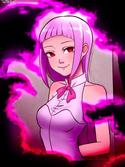 LilyStar




Posts

: 919


Join date

: 2018-02-27


Age

: 27


Location

: Your heart



Patrice wasn't happy. Well, of course one wasn't, when they were stretched very uncomfortably, but she also had another reason to be irked.

First and foremost, Patrice always wanted to put on a good show. She was the French Actress! And if there was going to be a space theme in a match, she was going to go all the way... She was going to put her soul into it, and if she was supposed to be somewhere in space with her opponent, then she was - and then there most definitely wasn't gravity!!!

""This is Earth after all..." Who did she think she was? Trying to play a Venusian, but failing miserably..." The model would deserve a kicking purely for that reason!

Unfortunately though things weren't going that way. Quite the contrary, Trice was getting put into even tighter predicament in Rachel's wrath....until it softened up once again. Only to tighten once more...before again going to the other direction. When all that was combined with her words, it was becoming painfully obvious that right now Rachel was just playing with her...until it finally stopped.

By the ref, it seemed. It wasn't the fanciest way to escape, but Trice was happy to take it. Finally getting out of Rachel's clutches, the blonde got a chance to have a breather...which she however soon decided to turn down. Seeing Rachel retreating a bit, the Sleek Spacebabe suddenly sprung once again into action! Even though she had just had to endure quite a lengthy abdominal stretch, she wanted to find out whether she could still surprise her foe with a Clothesline!

Jaystar




Posts

: 1638


Join date

: 2017-03-18


Age

: 33



We're they ignoring her? They must be, she's not talking to the wall here is she? She couldn't play any of her usual tactics, there wasn't any give for that, she could feel herself wanting to do so many things but she knew she may end up getting in quite the spell of trouble for that. "Oh come on, you can talk to me. We can enjoy a little chatter while you're trying to escape, I want to know more about you, Neptunian~ " She states, pools locked as she stared into their blues. She wanted them to at least play along with, maybe she'd have to show them she meant a little business, wrenching them a bit harder in her submission hold to get her desired results.

It wasn't until the referee had broken them apart did she feel so stupid. She let herself get lost in the moment and broke character. Ugh, she was annoyed with herself, this was probably why she wasn't an actress, she couldn't keep the mental fortitude to keep up such an appearance and not let her true self out. In reality, she felt she was letting people down, it's perhaps why she opted to be a model all this time, she wanted to do better though, not just for herself but she wanted to appeal to someone as amazing as Patrice. The French actress was an inspiration, so deep into character, Rachel was honestly jealous. Perhaps the blonde would teach her a thing or two about acting after their match, Rachel wouldn't even mind paying for it.

Her thoughts were abruptly interrupted as she felt a sharp pain in her chest. Patrice had caught her off guard yet again and again the pain was enough to knock the air from her lungs clear away. She lands on the mat with a Thud, her arms instantly cover her chest as she coughs from the sudden pressure and force of air from her lungs. Her back began to hurt as she rolled onto her side, she supposed she earned this. She was being a bit to confident and less focused than she would've liked to admit. The Venusian needed to get to her feet. Slowly, she began to crawl towards the safe haven of the ropes, she just needed to get there, maybe she could think of a plan.

If there was one thing she didn't want to happen, it was their earlier attempt at driving her deep into the turnbuckle. Rachel was adamant on avoiding that, even if she had to break herself to do it. Well maybe not to that extent, it's be bad for her career if she wouldn't be able to make her next shoot coming up, in about a month of course but..still.
_________________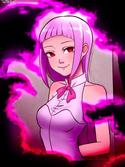 LilyStar




Posts

: 919


Join date

: 2018-02-27


Age

: 27


Location

: Your heart



Trice surely enjoyed some chatter or casual conversation at times, but being wrenched in an abdominal stretch was hardly conducive for friendly chit-chat. Sure, Patrice's full aim was to let Rachel get to know her more, but her method of choice for that was going to be something completely else. Maybe a suprising clothesline! And in any case, Trice wasn't really looking for friends in this ring tonight. The only thing she really was interested in Rachel was making her a statistic in her own win column. And well, of course using her as a character in the show she was putting on tonight.

As it turned out, the blonde's clothesline did its job, sending Rachel tumbling down to the mat! But Trice was far from satisfied yet. If the model wanted to know what made her tick, she had plenty of more of that in store! And now that Rachel was downed, it was best to start off right away.

Bouncing off the ropes after her Clothesline, the Sleek Spacebabe saw her opponent scrambling on the mat, attempting to get herself towards the ropes. While it was a somewhat satisfying sight, the Neptunian still wanted to cut that progress short right away! Charging towards the Venusian, the spacebabe would then try to jump up as high into the air as she could, and land on her opponent's back with a double leg drop!

Jaystar




Posts

: 1638


Join date

: 2017-03-18


Age

: 33



Getting out of role or perhaps her own misguided flirting brought about the ends of her misfortune. She thought she was making some headway with the actress but maybe not in the way she had hoped. Everything was such a blur her mind scrambled to put pieces together as she quite literally scrambled to the ropes. Her chest hurt, the clothesline really did it's job and on top of that it was hard to breath. She got in a sure fire shot, it'd be a good minute before she was fully recovered.

The sound of approaching feet made her hair stand on end. Rachel was very aware of her vulnerability, despite knowing that, she couldn't go any faster nor could she properly defend. She expected to be scooped up but it wasn't hands she felt next, no what she felt was comparable to a meteor striking her spine.

The Venusian practically curled back from the impact, a hoarse cry of pain left her lips as an explosive wave of pain shot up her brain and down her legs, bouncing back to meet in the center. She groans in pain, her mind now blank and she pants. Rachel was definitely getting the feeling she touched a nerve. The model had to turn this around, taking another shot like that wasn't ideal nor did she want to be out of her next shoot. Rachel needed a plan.

For now, she was down and out. Her body began to ache, she didn't expect to take so much damage in the first few minutes of the match. Patrice wouldn't get away with this and she'd get them to like her, somehow… the model pushes up on her hands, she's shakey; not fully recovered or even decently for that matter. The only thing pushing her in her current state was determination.
_________________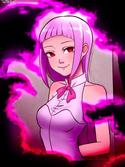 LilyStar




Posts

: 919


Join date

: 2018-02-27


Age

: 27


Location

: Your heart



Patrice had gotten the upper hand now, and she was determined to capitalize on it. It was time to show this Venusian that much greater powers laid in fighters from planets far away from the sun! The Clothesline had been a good start, and the double leg drop provided an opportunity to turn that progress even greater...

The Sleek Spacebabe charged towards her opponent, hoping that her opponent would be unable to defend herself - and her hopes became realized! Rachel was just a helpless victim for the Neptunian's move targeting her back, and based on what Trice could see and feel beneath her, taking the move was a really hard hit. Which was obviously just good... Now all she had to do was to keep her opponent downed!

Observing Rachel for a moment, Trice was pondering on what to do next. And the answer was conveniently provided by her opponent! As soon as she began pushing herself up, the spacebabe decided to position herself onto Rachel's upper back, and trying to take control over her opponent's arms to pull her into a tight Camel Clutch hold! If her plan worked, then she would be in a prime position to taunt her opponent...

"So, wanna give up already? You hapless Venusians can't even compare to the fighters coming from our great planet..."

Jaystar




Posts

: 1638


Join date

: 2017-03-18


Age

: 33



Page 3 of 6 •
1, 2, 3, 4, 5, 6
---
Permissions in this forum:
You
cannot
reply to topics in this forum