Who is online?
In total there are
31
users online :: 3 Registered, 0 Hidden and 28 Guests :: 3 Bots
Diesel_Electric_Razor
,
LilyStar
,
Lobo
Most users ever online was
418
on Tue Jul 30, 2019 9:51 am
Champions & #1 contenders
fraction match wanted
Tue May 23, 2023 6:46 pm by Rohi Yamin
Comments: 1
Tension Match Hunt
Fri May 19, 2023 9:50 pm by GrandAkumaShogun
Looking for matches for my boys
Takeichi Mori
Takeshi Kawai
If anyone is interested feel free to hmu. ty in advance to anyone who responds.
Comments: 1
Looking for Friction Hentai debut match
Tue May 23, 2023 8:50 pm by SigmaMorgan
Comments: 3
Page 2 of 5 •
1, 2, 3, 4, 5
Her upward kick managed to connect and even without any build up, it managed to serve its purpose rather well. Patrice would stumble back almost dropping but to the Venusians surprise remained on her own feet. A strong specimen indeed, her curiosity for strong fighters always peaked when she found herself in battle. The Neptunian wasn't going to earn an easy win or have her way, especially now that the model had her sights set.

As she managed to get back on her own two feet thanks to help from the rope, the blonde spacebabe didn't even seem ready to pounce just yet. Perfect becuase neither was she, not yet anyway. The surprise attack made her stop and think in how to deal with such a crafty opponent. A war with such a conniving foe didn't seem to add up in her favor but maybe it could.

Suddenly her opponent would charge forward, from the position it looked to be a spear. Her body was low and she was fast to boot, a combination Rachel found trouble with. She grinned, it didn't matter, she had one think Patrice lacked and that was reach. As the blonde spacebabe barreled forward, the German model uses the ropes as springboard, sending herself forward to meet them.

Using the bounce from the ropes, Rachel would commit to a short hop, lifting up her leg to take Patrice by surprise again with her superior reach and own level headed thinking ability. She'd aim center and fire an upward kick in an attempt to super kick the lights out of her cocky opponent. "Don't hate me for this~." She warns if it managed to connect with their chin.
_________________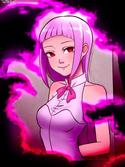 LilyStar




Posts

: 916


Join date

: 2018-02-27


Age

: 27


Location

: Your heart



Patrice was a little stunned after Rachel's surprise kick, but she wasn't going to stay stunned for long. Despite the slight setback, the Neptunian wanted to start things off strong, just as she had done with getting her opponent grounded right off the bat! She really wanted to get Rachel grounded once again, and chose after some brief pondering to launch herself ahead for a Spear.

At first Rachel seemed to be right on the line of fire, but then the taller girl realized that she needed to react to the blonde's imminent attack. Subtly bouncing from the ropes, Trice could see her getting prepared and coming at her - which only made her to stiffen up her arm, hoping to cause a big impact nonetheless! But what followed was once again unexpected by the French Actress...

Another very audible *SMACK* echoed in the ring as Trice fell victim to her opponent's Superkick. And this time the blonde's direction was all the way down, straight to the mat. It was clear that Rachel's superkick was a perfect success, and that Trice wasn't likely to get up very soon.

Seeing stars was a common theme in this match, but right now Patrice was seeing a few too many of them.

Jaystar




Posts

: 1636


Join date

: 2017-03-18


Age

: 32



Everything seemed to fall into place. Patrice was on her way towards fook as she closed in on her. Body low seeming to come like a billet, Rachel calculated her aim just perfectly as she springs from the ropes. Like a mad genius she lightly hops, her boot runs upward in an acute angle. First air then success.

The solid smack echoing from her blonde oppoent made that fact clear to her, fallen victim to her reach once again but she had to give it to the actress, she was bold, and frightening. As the spacebabe fell to the mat, dazed and seeming to be in the stars herself, the German could take a moment to think, recover from their little mishap.

It seemed silly to try so early but, the model wanted to know how resilient her foe was. How far would her rival push themself to be the star? Dropping to her knees, Rachel snakes her arm under the crook of their sleek covered leg. She pulls the leg up tight, expecting Trice to kick out and indulge her in this flashy battle more. She couldn't deny she was having fun despite her treachery.

The referee seeing the attempt dropped and began to count the Neptunian out, slapping the mat with vigor.

One!
_________________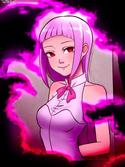 LilyStar




Posts

: 916


Join date

: 2018-02-27


Age

: 27


Location

: Your heart



Patrice had been looking to leave her Venusian opponent stunned and reeeling after a mighty Spear, but things had turned severely into the Neptunian's own misfortune as a kick to her head had sent her down seeing some stars. It was far from the ideal situation, and the blonde soon realized being a prime target for another move - luckily one of which did not seem to be coming...

Until she realized that her leg was getting hooked. And the referee was starting the count.

Trice could have maybe kicked out after "One", but she had all the time in the world to wait for "Two". Any second of more recovery was going to be crucial.

"Two!"

The French Actress then promptly kicked out of the pin, but staying still at Rachel's knees. She opened her eyes though, and clearly signalled her displeasure of what was going on. And her words too...

"So, you Venusians like kicking bitches in the face?"

Trice wasn't about to wait for an answer though. Trying to benefit from the situation where Rachel was still close to her, and to back up some of her own words, the blonde suddenly curled up her legs, and tried to drive her other knee to the model's chin!

Jaystar




Posts

: 1636


Join date

: 2017-03-18


Age

: 32



Maybe she was being a bit cocky, or maybe it was just the sort of person she was. Even with the actress down and seemingly dazed, it felt like the perfect oppurttunity to play around with her opponent. Still she expected Patrice to pull something but for the time being she'd indulge herself with a bit of contact.
Rachel had to admit, Trice was rather built, not excessively so but enough to illicit a response from the model.  A soft coo leaves her lips as she hugs their leg close to their body, stationing herself over top of her star seeing rival. The blonde seemed so complacent, the first count came and she didn't really stir to the sound of the referee slapping the canvas. Instinctively hugging their leg tighter, the feeling of their sleek attire creaks from her arm.
Two!
Suddenly, she'd feel a jolt as Patrice kicked out, stopping the count and continuing the fight for the prize. She'd situate herself, neither seemed to move, it was almost romantic in a way, like a scene from some cheesy movie with the characters looking at each other is some dumb stricken gaze. Those eyes of theirs flutter open, her heart shot with such an adorable display. Captivating and cute, she was really acting her role, it was what came next that surprised Rachel.
Her crude comment took her aback, she looked stunned for a moment. 
N-no, of cou-!"
Rachel didn't get to finish her sentence before she was rolled back, her chin exploding in pain as the blondes knee smacked her dead center. The pain was unbearable as she squeamed against the ropes. She got her good, the German was going to need to get back on her feet and quick. It might've been just a hunch but she had a suspicion that Patrice had something painful in mind.
_________________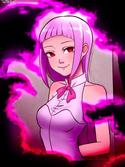 LilyStar




Posts

: 916


Join date

: 2018-02-27


Age

: 27


Location

: Your heart



Patrice almost regretted her decision of waiting for count two before kicking out, as she felt Rachel suddenly tightening her grip even further. Luckily for her though, the grip turned out to still be not quite tight enough, as the blonde Spacebabe eventually managed to muster up enough strength to kick out without a problem! But it still served as a good reminder for Trice to take things seriously and not underestimate her opponent...even if she was a bit of a showgirl.

While Rachel seemed to be more mesmerized by the moment that followed, Trice wasn't about to grant her the courtesy of a reprieve. Romance was not what the Neptunian was looking for in the ring tonight, even if Venusians might have been stereotypical of leaning that way... Instead, she was looking to pay back the model's earlier kick to her face with a strike of her own!

Perfect success was the right term to describe Trice's knee strike. Rachel fell backwards and squirmed towards the ropes, which signalled the spacebabe that now was the time to attack!

Trying to get quickly back up, Patrice wanted to waste no time with her next move. Swiftly launching herself towards her opponent, the French Neptunian blonde could see her settled against the ropes. So Trice decided to jump up high towards the stars, and try landing so that her arms could grab support from the top rope, while both of her knees would land hard against the back of Rachel's head and her neck!

Jaystar




Posts

: 1636


Join date

: 2017-03-18


Age

: 32



Patrice was conniving with her execution, she had to give them that, the pain her chin was now experiencing was bearable for now but that didn't mean she deal with the fact it was still aching. Rachel didn't expect them to ram their knee right out of a pin attempt, the model could only course herself for being so cocky that she considered and even went as far as to go through with it. This was the result.

As she hunkered against the ropes, she tried to get herself back up and running, the Neptunian didn't seem the type to wait for her. Wait they did not as they rushed her in the corner, the Ger-, Venusian was to late to react. The moment she reached the ropes, she dropped to guard herself but that didn't pan out as she thought it would. The play in her mind was a frontal assault to drive her into the turnbuckle but it was quite the opposite as she looked up to see their hands gripping the ropes, suspended above her before coming down with those knees exposed.

Her neck was saved from the impact but her back took the brunt of the attack, driving Rachel into a contruded form against not only the corner but also the mat. She groaned softly as she clutched the rope tightly. Her space rival had gotten her good again, the model couldn't keep taking hits like this, just like at the start of their battle, Patrice just seemed to be one step ahead or clever enough to spring something unexpected on her.

She hated she was being driven into a corner, literally and figuratively of course, but, she had to address their fierceness first. She had to be just as fierce in return if she wanted to even compare let alone stay in the match. These were thoughts she'd have to put on hold for now, as she laid at the blonde's mercy.
_________________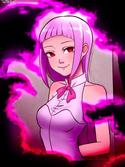 LilyStar




Posts

: 916


Join date

: 2018-02-27


Age

: 27


Location

: Your heart



Patrice felt like she was on something good here after her knee strike to Rachel's chin had forced the model to retreat, and wasted no time with keeping on with her assault. This time she just paced up, and fearlessly jumped to attack her Venusian prey! And while to Trice's disappointment, Rachel did manage to have a moment to prepare, the disappointment was not a big one since her knees still managed to strike her opponent's back! And it all also left Rachel now reeling on the mat, very close to the corner...

Trice decided that she once again had a chance to retreat, and gain some speed and momentum for another attack. Relasing her hold of the ropes, the blonde spacebabe retreated towards the center of the ring, before setting her sights again on her opponent. The cosplayer knew that this was a chance to maybe plan something great - but her instincts were actually now telling her otherwise. She was smelling blood, and the only thing Trice really wanted to do next was to ram Rachel's body even worse to the turnbuckle in front of her.

Hoping that her timing would be right, Trice surged towards her cornered opponent again, trying to smash her body hard against Rachel's back, expecting the impact to send her opponent hard against the turnbuckle. And provided that it would turn out to be a success....why not try another one? If everything went as Trice planned it to, she would take once agan a few steps backwards, before attempting to produce a sequel of Rachel getting rammed against the corner.

Jaystar




Posts

: 1636


Join date

: 2017-03-18


Age

: 32



She groaned against the turnbuckle, pulling herself up slightly as the pain surged suddenly through her spine up to her neck and then down to her feet. Patrice retreated, a grace that she welcomed kindly and thankful that she wasn't stomped down further inti the corner. That left the question: what were they planning on doing now? It seemed the Venusian was going to get her answer soon but maybe this could prove to be for her benefit.

The soft patter of the canvas gave her a idea of how far the Neptunian was now, she was able to roll over onto her backside to see them getting ready to charge. This sparked an idea, one she could exploit if she okayed her hand correctly. The pain she felt was very real, she groaned, looking almost defeated from her throne of woes. She wasn't sure if the actress bought her possum act or not but her they came, rubbing at full speed to crash and burn her against the cold steel and the warm canvas.

The moment the were upon her was the moment she sprung to her side, using all her willpower to barely escape the oncoming threat if she timed it just right. If she managed to trick her rival space foe, she'd grab onto the ropes to use as leverage to pull herself up. If they were a crumbled pile she'd take full advantage of that, karma was such a wicked mistress and she'd prove that to her adorable blonde opponent one way or the other.

_________________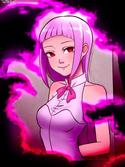 LilyStar




Posts

: 916


Join date

: 2018-02-27


Age

: 27


Location

: Your heart



Rachel was cornered, and Patrice wanted to get every benefit out of the situation that she could possibly have. One very attractive way to achieve that was provided in the form of the turnbuckle that was right in front of her Venusian opponent, and Trice knew very well that even if she wasn't the strongest powerhouse on the roster, with a little aid from the furnishing available, she could still provide some devastating results.

The prospects of executing her plans took a turn for the worse though as Rachel managed to turn around, now facing her blonde opponent. This was a signal that she had to act fast - and Trice wasted no time with launching herself towards the corner! The impact would surely be devastating anyway...

Devastating it was, but as it turned out, Patrice did not hold a monopoly on conniving tactics in this match. Just as unexpectedly as her knee had struck Rachel just moments ago, the Venusian rolled to the side dodging her attack now, leaving the Neptunian blonde to crash against the turnbuckle instead of Rachel's crumbled form!

Needless to say, the Sleek Spacebabe was now left reeling at the corner, with her arms slumped over the middle ropes, and upper body leaning against the turnbuckle with her legs spread out...

Jaystar




Posts

: 1636


Join date

: 2017-03-18


Age

: 32



Page 2 of 5 •
1, 2, 3, 4, 5
---
Permissions in this forum:
You
cannot
reply to topics in this forum