Champions & #1 contenders
Summer Splash interest in Natasha Loclear?
Mon Apr 09, 2018 11:30 pm by daemongirl
Well my girl hasn't missed a summer splash yet, would anyone be interested in a match with her? Open to just about anything match wise, just pm me!
Comments: 1
Been Out with the Flu
Sun Apr 22, 2018 7:47 pm by daemongirl
Just letting those I have threads with know I've been out with the flu since early last week, but I will be back to posting tomorrow.
Comments: 0
The Austrailian Mudslide is Back.
Sat Apr 21, 2018 6:20 am by Softsquad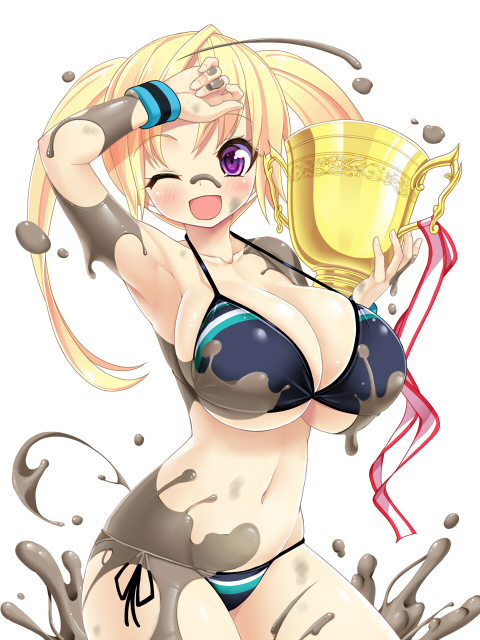 Granted that most of you won't know me or remember me, but I've had a few matches here and there some time ago. Well I think its time to become a regular around here and try to have some fun again, but at the same time keep coming back. Anyway I think its time to jump into some matches with Zoe Taylor, my mud wrestling character from Australia and get her back into the squared circle. Furthermore I will update my characters as I think some proper changes need to happen.
So if anyone would …
[
Full reading
]
Comments: 0
Page 2 of 9 •

1, 2, 3, 4, 5, 6, 7, 8, 9


Aiko's predicament was worsening more and mre with each new second in the hands of the sadistic giantess. From the starting of this so-called match she had been overwhelmed by Mama Heel without a chance to fight back, reduced into a cute living doll in her clutches.

With her lithe body, Aiko might not spring up into the air like in a cartoon, but she was still bounced by the ropes into slumping down to the mats, whining and writhing from the burning pain to her private parts.

"N-Nyah...let me go... let me gmmmpffhhh...!!! o///o".
Her desperate pleads would be soon stiffled within the squeezing embrace of Laura's thick thighs as the petite gymnast was put into a taunting standing headscissor lock.

Forced in such awkward positon with her cute little butt sticking out, Aiko wriggled and tried to pry apart Mama's powerful thighs with her little hands, but she might as well have tried to move two concrete pillars. Prisoner of an endless cycling of squeeze-and-release pulsations of laura's legs muscles, Aiko was allowed to watch down at Laura's meaty calves and crossed ankles every time the sadistic giantess went slightly down, only to have her little face completely covered when Mama got on tiptoes and straightened her legs up, having her squeezing thighs swell larger and quite literally devouring Aiko's little face.

Squeezed again and again like that, the petite girl was being helplessly rocked back and forth while Mama constricted her softened neck, getting closer to merciful oblivion with each new boa-constricting squeeze. But there was no such luck for Ai-chan: Suddenly, a loud slap to her cute butt was followed by a sharp course of burning pain, followed by another... and another!
"Mrrpff....!! Mppffhh!!!... Mnnff..!!!". Aiko's stifled cries of pain, fear and humiliation were stifled by Mama's massive headscissors, but the sultry giantess could certainly feel them vibrate nicely through the sensitive flesh of inner thighs.
Mama heel would be showing zero mercy to the poor Aiko and Why would she? This was so all for mama's pleasure and her fans. "Aww poor baby, I'm only getting started! if you think this is bad, just you wait!" Mama would continue her hard spanking and scissoring for a good 5 minuets until she got a really evil idea.

Mama heel would stop the spanking but continue the squeezing. Her fingers would than  grab at the skin tight fabric and do her best to give Aiko a merciless wedgie. Mama would yank on the wedgie as hard as she physically could wanting to lift Aiko's entire lower body up off of the matt with her head still engulfed in her sweaty meaty thighs. Mama would bounce Aiko a few times to get a feel for the new move. Mama would have her toy lifted up but she believed that she could still go higher. Mama heel would than put all of her strength into her thighs ending up on the absolute tip on her tippy toes as she raised her arms above her head basically trying to turn her opponent upside down getting a very nice vew of the wedgie she is applying and really testing the limits of how far Aiko's leotard could stretch.
In spite of the burning and humiliating pain of Mama's spanking, not to mention the crushing pressure of her vicious headscissors, Aiko was unwilling to beg. But even if she wanted to, her words would be lost inbetween Laura's leggy coils, just like her screams were now being absorbed and stifled by the warm flesh of the giantess' strong thighs. "Mmnngghfffff... mmnnhhffff..!!!"

But, the petite girl's predicament was only going to get worse: Pulled up with a nasty wedgie, Aiko was now suspended in mid air while getting her little neck squeezed tighter and tighter. Aiko would gladly change her mind about begging her opponent for release now... the problem was, her face was totally engulfed and smothered inbetween the almost airtight squeeze from Mama's swelling thighs. "Mnnghffff...nnffhhh....! @///@".

Muffled cries of shame and pain kept vibrating niccely through Mama's velvety skin while Aiko was lifted into an upside-down position in her relentless standing scissorhold. The small gymnast was now getting dizzy from both the prolonged squeeze and the blood flowing to her head, making her twitch in delirious helplessness.
Her leotard was proving being made of a very durable and stretchy material... but it was not necessarily a good thing for Aiko, as thte extreme wedgie was now mostly exposing her cute peach-shaped butt, furtherly torturing her ass crack and her already sore pussy, which was now shamefully drenched with her juices.
Mama heel couldn't stop herself from moaning. Looking at the beautiful peach shaped bottom of poor Aiko. She would notice Aiko's wet spot on her crotch and slyly grin.

"You dirty little pervert" mama would whisper as she slowly leaned forward and kissed Aiko's soft butt. She wouldn't stop at a kiss though. Mama would continue pulling on the wedgie and squeezing Aiko's puny little neck as she began trying to lick in between Aiko's sweet peach cheeks.

Mama had a plan. She planned on licking her poor doll until she was on the verge of an orgasm. As soon as Aiko couldn't hold it in any longer, mama would jump up and Slam Aiko's poor head on the ring floor for a weird version of a pile driver.

Once landed and sitting on the mat. Mama would release the wedgie but not the scissors and wrap her strong arms around Aiko's midsection putting full pressure into a upside down bear hug head scissors combo continuing to lick Aiko's poor bottom.
The last thing that Aiko wanted was to be lead into a disgraceful climax while being tortured and dominated in such brutal way... but it was not something she could control. With her conscious thinking almost shut down from lack of oxygen, her body and sex were reacting reflexively in that delirious state of hers, making Mama's dominance over her complete!

Feeling her peach-perfect butt kissed and licked fondly by the lustful giantess, poor Aiko tried to twitch and wriggle it around... which unwittingly made her little ass just more appetizing to tease and lick.
"Mnngghfff.... @///@", Aiko would let out a cute muffled cry, squirming meekly as she was getting too dazed, humiliated and aroused to fight back.

...And that's when Mama Heel decided to plant the poor little girl head first into the mats with her pervy version of a pile driver!
"MMNNGHFF!!!! M-Mmmnff... @_@ ...nrff... <3".
Stunned and lead into a totally helpless aroused drowzyness, poor Aiko was all hers now and Mama could happily squeeze her petite body and cute little head with her strong arms and thighs respectively. The squeezing thighs around her little head were now wet from both drool from poor Aiko's little mouth, and tears from her glazed eyes while she was being suffocated and stimulated by the perverted "amazon-mommy"
Stuck in such lusty double squeeze, poor Aiko could only twitch reflexively at each playful lick from Laura's tongue, her delirious mind swooning in and out of consciousness with each flexing of Mama Heel's "amorous" embrace.
Mama heel's crotch would be noticeably soaked. There was no way Aiko wouldn't notice the warmth on the back of her head but that was no worry to mama's mind. The only think on her mind was how much fun she was having. This caused her to squeal like a little school girl and flex her arms and thighs as tightly as she could.

She would continue to lick Aiko until she finally felt Aiko climax. Mama heel would nuzzle into Aiko's but one last time before delivering a sharp bite to her butt cheek. She would than drop Aiko and let her body fall to the mat.

Mama heel would slowly roll Aiko onto her back and go for a simple match book pin. The ref would go down and count "1...2...3..." but as she got to three, mama would grab one of Aiko's ponytails and tank her up into a sitting position. "DANGIT!" Mama would say sarcastically and throw Aiko down onto the mat.

Mama heel would turn Aiko onto her back and spread her legs with one foot on each side of Aiko's head. Mama than grand Aiko's hands and pulls her up so her neck is caught in between her thighs again this time facing mamas large bubbly ass cheeks. Mama heel will than begin to flex her thighs again repeatedly going onto her tippy toes and down. Each flex causing Aiko's mouth and noses to press deeper and deeper into mamas ass.
Aiko's cute little body spasmed out of control as the delirious, barely conscious girl was lead into a shameful orgasm, unwillingly yet copiously squirting her love juices in such utterly humiliating way.
"Mnnnrffffhhhhhh...mmmnnhhhh.... ". A prolonged muffled moan of erotic surrender could be heard and felt between Mama's constricting thighs, along with the smothered sobbing from the utterly humiliated little girl.

While Mama Heel was squealing happily and double squeezing the poor little gymnast like a squeezy-toy in her anaconda-embrace, Aiko would almost drift into merciful unconsciousness... almost, just because Laura's dominant bite to her butt cheek kind of kept the poor girl around in a stunned and delirious state, pleasuring the sadistic giantess with another cute stifled scream from her smothered lips. "MMrrpfffhh!!! 0///0".

Easily turned around for a matchbox pin, Aiko was not only powerless to resist... but even somewhat grateful for the imminent pinfall. If nothing, it would allow her to take a much needed break from Mama's sensuous torturing holds.
But the lusty giantess had different plans for her child-sized opponent: forced to "break Mama's pinfall" by getting up into a sitting position, poor Aiko was like a doll in her playful hands, and before she knew what was going on, she had been placed into another sensually lethal hold from Mama Heel.

It was a textbook reverse headscissors this time, having Aiko's cute ponytailed head barely sticking out from Mama's massive thighs, her little face somewhat hugged inbetween the giantess' curvy buttcheeks!
"N-No...no please... stop I gimmmmgghfffff....!!!". Tears in her cute eyes, Aiko was not even allowed to cry out her submission because, with each sensuous flex from Mama's strong thighs, her face was engulfed by her swelling thighs, her nose and mouth stifled and smothered into her soft curvy ass.
"Mrrpff... mnffff.. mnnffhh...!!! @_@", the desperate little girl was rocked back and forth along with mama Heel's pulsating headscissors, her tiny hands pawing meekly at her powerful thighs and round buttcheeks in the cutest wannabe-attempt at fighting back.
Mama heel would moan as she felt Aiko's cries and moans gently vibrate through the walls of her enormous ass. She would do repetitions starting with a 5 second squeeze, each repetition adding 5 seconds on. Once she would get to 60 seconds of uninterrupted squeezing, she would be forced to let out a very small fart right into Aiko's awaiting face due to the pressure she's putting on her lower body.

"Oopsy, mama made a stinky" mama heel would giggle as she realeased another one, this one longer and raunchier actually pushing Aiko's hair back a little bit. Mama heel couldn't help but laugh at Aiko's helplessness. She would continue her torturous gas attack for a good 10 minuets.

After she was out of gas for now, Mama heel couldn't help but flex as hard as she could as long as she could until her thighs would give out which wouldn't be for a very long time.


Poor Aiko kept squirming and struggling desperately to no avail while mama Heel squeeeezed and squeeeeezed her cute little prey in her leggy coils.

And, just when the petite girl thought that her predicament couldn't get worse, the pungent smell of Laura's fart enveloped her!
"Mnnrrgghff... n-nooo mmnnpppfffhh.... @_@".
The trapped gymnast started to wriggle and struggle in panic, but Mama would just pull her head deeper inbetween her buttcheeks as a response, furtherly suffocating her with her gas while laughing happily about it.

Eventually, Aiko was reduced into a pityful, barely conscious state... and in that same moment Mama Heel flexed her massive thighs all out around her overpowered little neck, constricting her tighter and tighter. Before long, a cute pityful sigh escaped from Aiko's lips, her teary eyes finally fluttering shut, her mind slowly drifting off to sleep as she became limp like a ragdoll in Mama's unrelenting headscissors.
Mama heel would moan as she felt Aiko go limp in her relentless scissors. She would continue the scissors for 10 more minuets until she got bored and realized Aiko wasn't going to wake up for a while.

Mama heel would release the scissors and lay there for a minuet letting Aiko use her big soft bottom as a cushiony pillow. The ref would walk over to them and grab Aiko's wrist to do see if Aiko was knocked out but as soon as mama heel saw this, she quickly stood up out raged at the ref. "You have the audacity to try and end this round without my permission???!!! Your lucky I don't give her a break and start trying some moves on you!!!" She would scream into the refs face. The ref would back off immediately with her hands raised not wanting to be in poor Aiko's position.

Mama heel would roughly drop down butt first on Aiko's body and start slapping her to try and wake her up. If that didn't work, she would get a devious idea slowly putting her hand down her own bikini bottom collecting the sweat between her butt cheeks. Mama would than force her hand into Aiko's mouth and preform a mandible claw making sure to really get a hold of her tongue. If Aiko happened to wake up, she would taste a very salty and sour hand in her mouth along with the horrifying sight of mama heel's motherly eyes staring down at her.
Page 2 of 9 •

1, 2, 3, 4, 5, 6, 7, 8, 9



Similar topics
---
Permissions in this forum:
You
cannot
reply to topics in this forum