Champions & #1 contenders
Posting delays
Sun Jun 24, 2018 12:14 pm by Harrier
Dear posting partners and people who are waiting for an reply from me by PM,
I am terribly sorry that you have to wait for my replies for so long.
Maybe the one or another from you knows the situation, you were flying high for some weeks posting wise and then you hit rock bottom again because of some RL BS and then you barely manage to churn out enough creative output for a meager 100 words post in a week and you ask yourself how you could have seriously overextend your supply lines so much. …
[
Full reading
]
Comments: 0
Kawaii Opportunities
Sun Jun 17, 2018 3:04 pm by Daaharu
Hey, guys!
With the kawaii title match at Avalanche taking on an interesting wrinkle with the interruption by the Brat Pack, we are moving forward with the overall kawaii storyline, and at this point I'd just like to take stock of what kawaiis are out there that are interested in participating in a cohesive storyline.
Can't make any promises about titles or what exactly each girl's given role would be. We can talk a little more about the specifics of where the story is going soon, but I …
[
Full reading
]
Comments: 3
Match for Takeichi
Tue Jun 12, 2018 6:13 am by GrandAkumaShogun
So with my other two guys having their own matches I figure I should do something with my first character on here, Takeichi Mori. If anyone is interested feel free to post here or get in touch through a pm so we can plan it out. I can either have Takeichi remain a jobber or begin to work him towards being a more serious competitor.
Comments: 1
Page 1 of 9 • 1, 2, 3, 4, 5, 6, 7, 8, 9


Best 2 of 3 rounds match. KO, verbal submission or long pinfall (count of 5) to win each round.
Aiko approached with her standard attire: a skintight leotard suit that complimented her petite yet well toned body, and that cute twin-ponytails hairstyle of hers that complimented her wide innocent-looking eyes, making her an adorable and very appreciated visions for all the audience.
But in spite of the warm welcome from her fans, the Japanese gymnast was a bit worried about tonight's opponent. Well more than a little bit, actually. She didn't know much about Laura Grayson, except for her intimidating bios and her ring name... "Mama Heel", which was anything but reassuring.
With a name like that, Mama Heel was probably willing to make herself a name in her new wrestling federation by squashing the much smaller Aiko for good... but Aiko was certainly not there to comply with her plans!
"Come on Ai-chan... don't worry. The bigger they are, the harder they fall... hopefully", the petite gymnast told self encouragingly, waiting for her amazonian opponent to show up.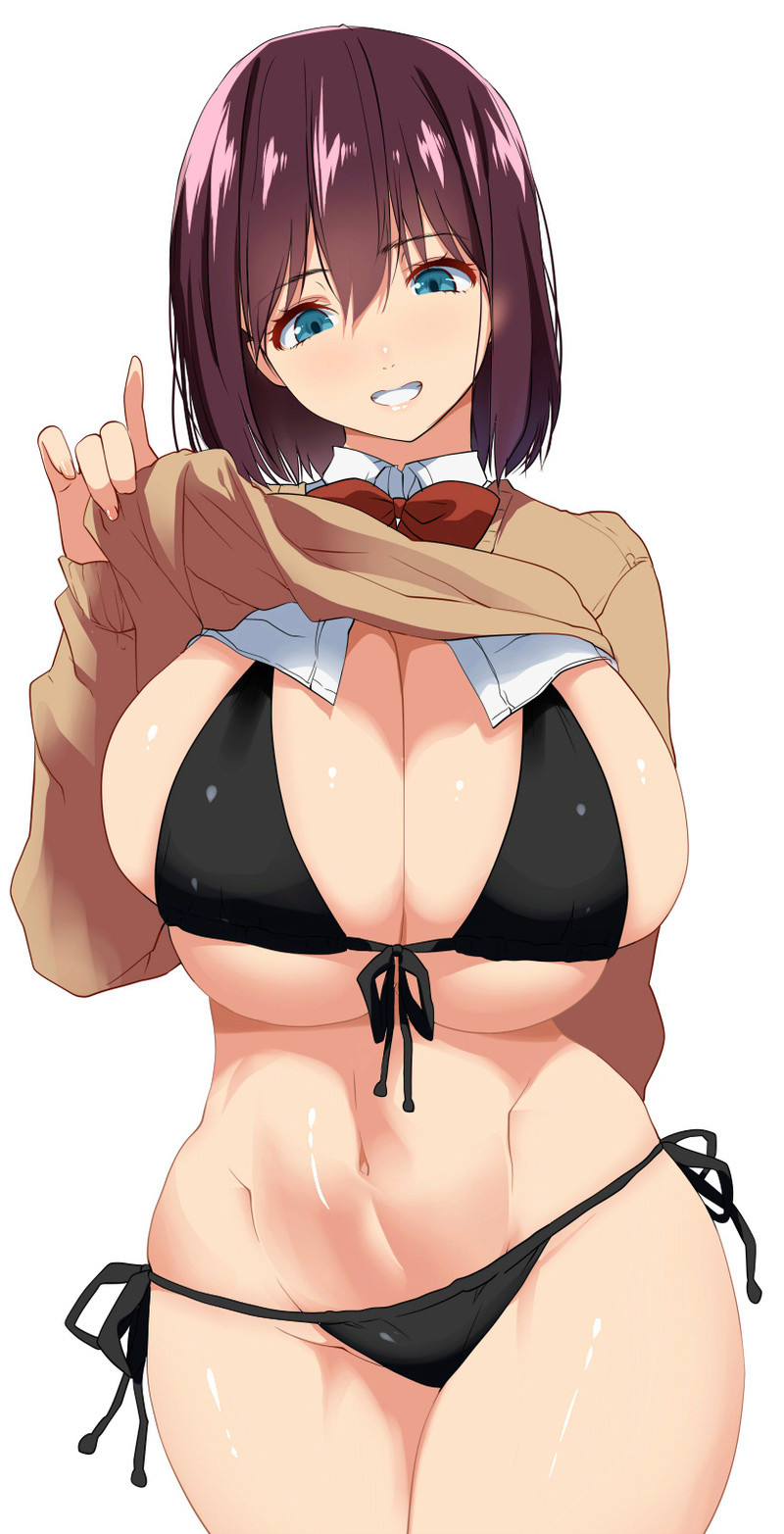 "Todays the day" Laura chimed as she sat in her dressing room naked studying a picture of her opponent Aiko. Laura couldn't help but feel just a little wet in between her legs thinking about completely squashing this cute little kawaii.
Laura heard her song"party girls" start to play. She quickly slipped into her very tight swimsuit and made her way down to the ring. As she approached the ring she would make sure to have a little hop in her step to show off her large jiggling assets.
Once she makes it to the ring, Laura cant hide her eagerness to completely crush this small girl. Laura approaches Aiko and bends down to to show off her massive cleavage to the smaller lady. "Why hello there baby, are you ready to play with mama?" Laura says as he moves in closer to just barley touch Aiko's lips with her own. This is all just a tactic to sexually intimidate Aiko. As soon as Aiko shows a slight sign of intimidation, Laura smiles and stands back up brushing her enormous breasts over Aiko's face. Mama Heel than backs off into her corner to begin to stretch turning around and touching her toes to show off her beautiful behind to Aiko.
The crowd was a mix of excited roars and aroused-intimidated mumblings at Laura's entrance. Aiko watched gulping in shocked concern at the sexy voluptuous giantess sauntering her way to the ring, her impossibly huge yet perfectly round assets jiggling and bouncing around, like mysteriously defying gravity.

And like Aiko could fear... her much bigger opponent immediately started to play mind games with her, literally brushing into her little face the undenable fact that, compared to Laura, Aiko looked like a baby-girl in front of a towering curvy mommy.

"W-Wha...??? Play with m-mama??? 0///0", the cute gymnast would blush to the brightest red at Laura's sensuous teasings, then trying to give a polite reply. "J-Just let's get ready to have a good fight. Good luck at Friction b-but I'm here to win...!", Aiko said trying to keep a composture, but being all-face-flushed as she pulled back from Mama Heel's huge soft bosom.

The bell rung and Aiko assumed a cute martial arts stance, but the sexy amazon could certainly tell that her mind games had worked just fine on Aiko, making the cute girl intimidated and hesitant about how to attack such a busty giantess of an opponent.

Mama Heel would turn around to face Aiko and When Mama turned around and saw the cutie in silly martial arts stance, She couldn't help but burst out laughing, Her enormous chest bouncing with every heaving laugh. "Well aren't you just the most adorable little thing! I cant wait till I can just have my way with you!" Once the bell rung though, Mama's laugh stopped immediately  and her face turned from a laughing smile to a almost disturbing sinister grin.

Mama's would simply lean back on the ropes looking as though she was relaxing but little did Aiko know, Mama was planning on using the ropes as a projectile and launch her humungous curvy form straight towards Aiko to preform a spear.

If the spear would work, Mama heel would take advantage of landing on top of Aiko and immediate lock on a hard lip lock, trying to suck the oxygen out of Aiko's body and into hers. If Aiko became still and couldn't do anything, Laura would begin to send strong punches into Aiko's sides mixing the pleasure of the make out session with pain trying to drive out every last drop of air in the poor little girls body.
If Aiko was uncertain about what to do, Mama seemed to have very clear plans in her wicked mind, both about her match strategy and about her much smaller foe.

Noticing the bigger girl laying almost leisurely against the ropes, Aiko thought that she could use that apparent opening to attack, but she couldn't be more wrong.

Caught by surprise, she was suddenly grappled and lip-locked by Mama Heel!
"Wahh??? M-Mnnghhfff.....!!! Mmnnghhh.... 0///0" .
Aiko's air supply was getting sucked away so early in the match, while she struggled and squirmed desperately to no avail.

The petite gymnast's predicament would not improve a bit, as Laura also started to punch her lithe sides, making it a horrible pleasure & pain torture.
"Mnngg..!!! Mnfff....!!", the poor little girl let out muffled groans that were absorbed by Mama's kissing lips, going light headed from air deprivation.
Mama had no plans on easing up on the poor little one. She would continue to enjoy the suffocating kiss sending her tongue deep into Aiko's mouth and only make her punches stronger by the second. After about three more minuets of this torture, Mama would slowly part her lips and send one final punch stronger than the rest into Aiko's gut.

As Mama heel got up and off of Aiko, She would notice a large wet stain on her own crotch. Mama smirked as an evil idea popped into her head. "UH OH! somebody had an accident!" She would point towards her own crotch and show it to the crowd. "Trust me I know what your thinking, You think this is my mess! But I know for a fact that this is Aiko's mess!" Mama Heel would than point at the grounded Aiko. "Do you know what happens when naughty babies make a mess?" Mama would ask Aiko and the crowd. Mama would than grab one of Aikos ponytails and yank her to her feet. Mama would than knee her in the crotch and throw her towards a corner. "Naughty babies get punished!" Mama Heel would than get onto her knees infront of Aiko and begin sending rapid punches into poor Aiko's crotch.
Aiko was getting dizzier and weaker from Mama Heel's dominant kiss alone... but the punches to her lithe body were making the unending torture worse than a nightmare for the poor little gymnast.

The match had just only started, and she was so totally helpless already?!? Aiko wanted to react to such utter humiliation, but the difference in size and strenght was just too huge.
"Uhnnngghff...!!! @.@". Punched one last time into the guts and forced to collapse down like an empty shell, poor Aiko was soon lifted up by her ponytails, having her cry out in distress.

Laid face down across Laura's lap like a naughty baby, Aiko started to wriggle and protest, not wanting to suffer such humiliation in front of her fans.
"Nyaahhhh... l-let go of my hair you... GAASP O.O !!! UNFFHH...!!! GAHHH!!!".
Repeatedly hit into her crotch, poor Aiko had covered her sore nether regions with her small hands, doubling over and remaining down on her knees and her face, twitching in excruciating pain. To her further humiliation, the crotch area of her leotard really showed a small stain now, similar to the bigger one on Mama's front.
"mmm Their so pretty when they twitch." Mama would sigh contently. Mama's mouth was watering as she continued to dismantle the poor gymnast. Evey time Aiko reached to protect her nether regions, Mama would grab her hands and pull them away. After sending at least 50 solid punches to Aiko's crotch, Mama thought it would be a good time to move on to a new move.

Mama Heel would send a hard spank to Aikos ass and shove Aiko off of her lap. Mama heel than rolls Aiko onto her back and drags her to the center of the ring. Mama heel slowly circles the grounded gymnast and thinks about what to do. suddenly she puts a finger in the air as if a lightbulb lit up in her head.

Mama heel would go to the ropes and lean against them to gain momentum before launching herself straight at Aiko's grounded body. When mama is close enough, she would jump into the air and preform a devastating belly splash. Mama would stand up right after and preform another one. She repeats the process three more times before she positions herself to just lay on top of Aiko.
Mama looks deep into Aiko's eyes realizing how beautiful they are. "AWW mama's baby has the prettiest eyes. yes she does, yes she does!" Mama Heel would coo as if she were actually a mother talking to her baby.

Mama would wrap her arms around Aiko and begin to roll around the ring using her weight to her advantage. Not taking her eyes off of Aiko's for a split second. Every time she lands on top, she would take a deep breath in to utterly crush poor Aiko. Mama would than roll to the edge of the ring and land on top of her poor victim. Mama would try and crush Aiko one more time before getting up.

Mama will grab poor Aiko under her arms on her armpits and hoist her up so shes held on mamas hip as a mother would hold a toddler. Mama heel would walk baby Aiko around the ring gently bouncing her and still staring deep into those beautiful innocent eyes.  " Has baby Aiko played with the ropes yet? No??? Here let mommy help you!" Mama heel would than lift Aiko up high and slam her crotch onto the ropes holding her legs together and forcing the rope to press harder against her crotch. Mama would laugh loudly as she began to shake the ropes trying to get them to actually penetrate Aikos inner walls. Once Mama sees that the rope has penetrated, she guides Aiko back and fourth on the rope giving her hard rope burn in between her legs.

Mama heel is having the time of her life
After three brutal body-presses from the voluptuous maternal giantess, Aiko was still conscious only because of pain. The small girl felt like beinflattened under Mama's massive breasts, and finally the cute gymnast was whimpering faintly, laying down in a stunned daze.

Watering with tears, her cute eyes had to look even more adorable for Mama Heel, as she started to enjoy a "tender" moment with her cute baby-opponent, rolling around the ring with the powerless little girl as she kept pressing the air out of Aiko's lungs with her rolling cuddles.

"N-Nyahh..... @///@". Crushed and with her poor head spinning, Aiko was powerless to stop the infantilizing humiliation as Mama Heel held her small dazed frame at her hip like a cute little baby.

"N-No..nono please.. NYAAAHHHH !!!!". The relentless torture continued with a perverted game on the ropes as Aiko was forced to ride it, sliding back and forth with her sore crotch as she screamed in pain.
Aiko's screams were music to Mama heel's ears. She couldn't help but moan as she would yank on Aiko's legs until she forced Aiko to squat. Mama had pulled Aiko as far down as the ropes would let her. Mama heel would do one last ride over the ropes and suddenly let Aikos legs go. She kinda hoped it would be like a cartoon where the rope would act like a slingshot sending Aiko to spring up and off the ropes.

Once Aiko landed, Mama would pull Aiko up to her knees and force her head in between her massive thighs. Mama would than begin to slowly squeeze Aiko in a strong standing head scissors that was gaining strength by the second. Mama would giggle as she saw Aikos cute little butt wiggling as she fought for air. "You've been a very naughty girl!" Mama would yell loud enough so the whole crowd could hear.

Mama would begin to spank Aiko hard going from cheek to cheek along with her thighs continuing to swell and engulf poor Aiko's face.
Page 1 of 9 • 1, 2, 3, 4, 5, 6, 7, 8, 9



Similar topics
---
Permissions in this forum:
You
cannot
reply to topics in this forum