Champions & #1 contenders
Avalanche 2020 Postponement
Mon Nov 23, 2020 10:04 pm by killcarrion
Due to various circumstances, including some board members becoming ill (whom we all wish a prompt and speedy recovery), magnified stress levels due to the holiday season, and the fact that our delay of SummerSplash may have inadvertently pushed some storylines further down the line...this year we've decided to postpone the beginning of Avalanche from Dec 1st to
Dec 15th.
This is to give members more time to finish threads or further storylines in preparation for their Ava match, and hopefully …
[
Full reading
]
Comments: 0
Retirement
Thu Nov 19, 2020 7:17 pm by WrestleMind
Howdy everyone, 
I've recently had a bit of an appifiny that drives me to retire from this forum for the foreseeable future.
I'm sorry to everyone I have an active thread with. Unfortunately, I won't be finishing our threads. If you wish you have my blessing to finish the threads however you like. 
If anyone wants to take my face claims or my characters as a whole please feel free to reach out and ask. 
It's been a fun ride. Good luck and thanks for everything. 
Edit: Sorry I didn't …
[
Full reading
]
Comments: 14
Poll regarding the possibility of Mods booking PPV matches.
Sat Oct 24, 2020 1:43 am by Old_Man_Tai
So, basically, was wondering all of your thoughts regarding the possiblity of mods booking ppv matches.
The thought was, since people often seem to have trouble finding partners for ppv matches until the last minute or so, what if the mod team was to step in and, well in advance of the show, book the show ourselves, and try to put together the best matches we can, including title defenses, no.1 contender matches, and so on and so forth?
While I doubt our more popular members need such a …
[
Full reading
]
Comments: 9
Name: Okami
Genre:
Male
Species:
Halfbreed human-werewolf
Age:
20ish
Height
: 5' 8"
Weight:
150
Eyes:
Blue and gold
Hair
: Ice / silver
Nation:
Japan (alternate medieval reality)
Alignement:
Good guy - random when in 'wolfie' state
Powers:
Enhanced perceptions and physical abilities in general. Furtherly enhanced when in half-lycan state.
Wrestling style and moves:
grappling and street fighting
Signature moves:
1) Claw of the Wolf - Grabs opponents' wrist to pull them in, and nails them with a clothesline.
2) Predatorial Ambush - Basically a spear aimed at the opponents waist.
3) Wolf Bite - Clings the opponent into a tight hug and lovebites their neck hard, while grinding his hips against them (frontally or from behind).
Image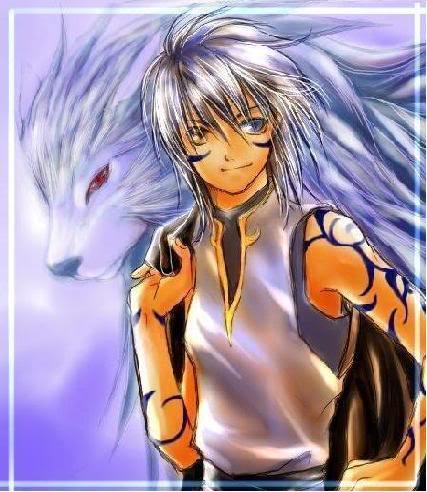 Story:
Okami's origins are a mistery: Found in the deep of an ancient mysterious forest when he was a little child, he was raised in a guild of fighters to become one of their affiliates. At the age of 14, during a tough sparring match, his half-lycan nature suddenly decided to show up for the first. Quite unfortunate for his occasional opponent as the incident lead to a nearly deadly outcome. As a consequence, the young confused wolfboy was immediately banished from the Guild.
Since then, Okami has been living as a wandering adventurer, accepting occasional jobs as guardian of small villages, monster hunter or witch hunter. Oddly enough, in this far far away region of the world most of the villains, monsters and schemers are, in fact, strong and beautiful looking females. That makes male adventurers weary and supsicious around female fighters and strong women in general, leading to more male vs female fights.
Okami's past experiences had made him not easily trusting towards strangers in general, until the young fellow adventurers and demon-hunters Ryu and Ataru Toranami became his friends, giving him shelter without expecting anything in exchange for the first time in his life. Through common adventures and perils, the 3 young fighters strengthened their mutual friendship and loyalty, and eventually the wolfboy was like a newfound brother to Ryu and Ataru.
In time, Okami had found a way to repay his dearest friends, when his werewolf abilities had been decisive in saving the Toranami boys from a very dire situation, as two busty lamias had firmly decided to take them as their husbands (and lamias marriages are, like, literally forever!). The wolfboy would always rush to their aid whenever it was needed, and the thought that his friends would do the same for him was very comforting. Finally, Okami felt like he really had a family.  
Personality:
Considering his starts (living his early childhood in the forest, getting booted from Guild because of WHAT he was) Okami is a relatively positive guy at heart, tending to see the good side of people more than the bad.
While the silverhair boy is overall easy going, dealing with the werewolf boy is a bit more complicated: intense rage, fear, pleasure are the main triggers to awaken Okami's inner wolf and change him into his half-lycan self. When transformed, he still remains MAINLY human in looks, and brain, except for his reactions getting more instinct-driven, and overall less rational. Particularly naive and hot tempered in this state, Okami can become fierce like a wolf or be  turned into a docile puppy, depending on the situation and, sometimes,  the fighting and seductive abilities and tricks used by his female opponents.
Appearance
- Human: Same as the picture.
- Half werewolf: Slight gain in muscular mass and definition, improved physical stats. Wolf ears, longer hair, canine fangs and tail will instantly grow, giving him quite the "wolvish looks" but without major alterations of his human appearance in body and face.

wrestleryu




Posts

: 11408


Join date

: 2008-05-07



Similar topics
---
Permissions in this forum:
You
cannot
reply to topics in this forum