Champions & #1 contenders
Avalanche 2020 Postponement
Mon Nov 23, 2020 10:04 pm by killcarrion
Due to various circumstances, including some board members becoming ill (whom we all wish a prompt and speedy recovery), magnified stress levels due to the holiday season, and the fact that our delay of SummerSplash may have inadvertently pushed some storylines further down the line...this year we've decided to postpone the beginning of Avalanche from Dec 1st to
Dec 15th.
This is to give members more time to finish threads or further storylines in preparation for their Ava match, and hopefully …
[
Full reading
]
Comments: 0
Retirement
Thu Nov 19, 2020 7:17 pm by WrestleMind
Howdy everyone, 
I've recently had a bit of an appifiny that drives me to retire from this forum for the foreseeable future.
I'm sorry to everyone I have an active thread with. Unfortunately, I won't be finishing our threads. If you wish you have my blessing to finish the threads however you like. 
If anyone wants to take my face claims or my characters as a whole please feel free to reach out and ask. 
It's been a fun ride. Good luck and thanks for everything. 
Edit: Sorry I didn't …
[
Full reading
]
Comments: 14
Poll regarding the possibility of Mods booking PPV matches.
Sat Oct 24, 2020 1:43 am by Old_Man_Tai
So, basically, was wondering all of your thoughts regarding the possiblity of mods booking ppv matches.
The thought was, since people often seem to have trouble finding partners for ppv matches until the last minute or so, what if the mod team was to step in and, well in advance of the show, book the show ourselves, and try to put together the best matches we can, including title defenses, no.1 contender matches, and so on and so forth?
While I doubt our more popular members need such a …
[
Full reading
]
Comments: 9
Name
: Unknown
Wrestling name
: Okami
Genre
: Male
Age:
20(ish)
Height
: 5' 8"
Weight
: 150
Eyes
: Ice blue (left eye) and gold (right eye)
Hair
: Icy silver
Nation
: Japan (Okinawa)
Theme:
Born to be wild (Hinder version)
www.youtube.com/watch?v=SqgM240GoU4
Wrestling style and moves
: street fight with some basic grappling moves.
Taunt: Naughty Naughty
- forces opponents body over his knee for a playful/humbling spanking.
Finisher: Wild Slayer
- Clothesline attack empowered by jumping from the turnbuckle or taking a boost from the ropes, aimed at crushing opponents down for the count.
Hentai: Wolf Bite
- Hot reverse bearhug that will allow Okami to lovebite his opponent's neck while grinding their hips from behind, aiming at a humiliation or hentai submission.
Appearance:
https://imgur.com/a/sp4Kl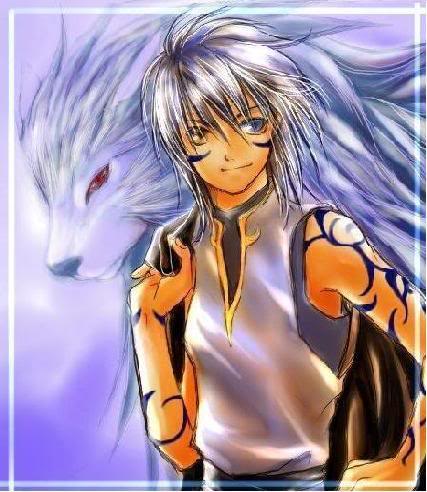 Personality
:
Okami's personality can be described in 2 words: instinctive, ingenuous:  he can be go berserk during a tough fight, but most of the times he's nice... and gullible, which will turn at his disadvantage in mixed matches. Sensuous attacks/distractions are a big point of weakness in his fighting style: he would like his female opponents to stick with "normal wrestling"... but it rarely happens when they realize the advantages they can have against a boy like Okami, easily flustrated and embarassed... and uncomfortable at the idea of using brawler style moves against a girl.... Okami's fighting prowess is matter of factly reduced to just average against a female opponent who knows how to use her femininity to sway a guy off his game.
Story
:
Okami grew up all alone in a forest in Okinawa as a wild little boy (maybe the lost son of some of those legendary Japanese soldiers who kept believing for years that the II World War was not finished). Escaped from an orphanage at the (supposed) age of 7, he lived as a street kid until he was taken under the wing of a Yakuza clan. They "completed his instruction" making him into a fighter toi throw into illegal underground matches. As soon as he got the age to decide what was right and what was not, Okami ran from his criminal "adpotive family", aiming at a "normal life". Not being skilled in anything in particular except for fighting, he decided to make it his job, and one day he bumped into this new wrestling business called Tension. The pay was good and it looked like some beautiful girls were going to be part of the show too. No more brutal underground fights, and a number of lovely girls as collegues??? Okami didn't have to think twice to sign the contract. What he didn't know was that this wrestling show is a bit... different. Mixed wrestling matches with plenty of embarassingly erotic stipulations anda mischievous vixens were ahead of Okami, and soon he would realize that his previous fighting experiences against bad, ugly guys had not prepared him for... this!
Attire
:  naked torso with tribal tattoos, wrestling pants or jeans shorts.
Fun facts:
The guys who found him in Okinawa thought that Okami (which is Japanese word for "wolf") would be a good name for a kid who had been found in a forest. And so the name stayed during his underground fighting period. Because of his peculiar hair, he was sometimes called the Silver Wolf or the Snow Wolf, just to make his presentation more theathrical. Okami hated it, but somehow it remained sticked to his wrestling persona when he joined AFW. So in the end, Okami is also known as "the wolfboy" by many Tension fans, regardless of his will.

wrestleryu




Posts

: 11408


Join date

: 2008-05-07



---
Permissions in this forum:
You
cannot
reply to topics in this forum