Champions & #1 contenders
Highfly Flying Out Of Town
Tue May 22, 2018 1:31 am by HighFly
Hello everyone, I just wanted to inform all I have threads with that I will be gone from this coming Wednesday through Sunday. I won't be able to post consistently if at all during this time, but I will try to make up for it next week! I am sorry for the inconvenience to everyone.
Comments: 7
The Austrailian Mudslide is Back.
Sat Apr 21, 2018 6:20 am by Softsquad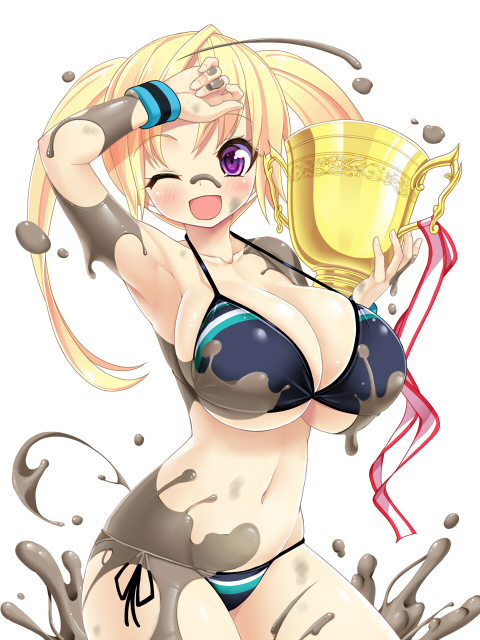 Granted that most of you won't know me or remember me, but I've had a few matches here and there some time ago. Well I think its time to become a regular around here and try to have some fun again, but at the same time keep coming back. Anyway I think its time to jump into some matches with Zoe Taylor, my mud wrestling character from Australia and get her back into the squared circle. Furthermore I will update my characters as I think some proper changes need to happen.
So if anyone would …
[
Full reading
]
Comments: 5
Page 2 of 5 •

1, 2, 3, 4, 5


Needless to say, Valley Doll was quite intrigued to find out wherever Julia was going with what she said. The young luchadora reminded her of herself when she was younger, in a lot of ways. So bright and perky and fun, and their styles matched each other to a tee. The main differences were the mask - something Valley always regretted never trying - and the fact that Julia was much, much better than she was at that age.

She managed to push all that aside for now as the questions started. She stood tall and proud next to Ace, hoping that it wasn't too obvious that she was the oldest one here by a fair degree.

"My turn." She threw a quick wave to the camera and folded her arms. "My favorite match? I'm with Julia, that's a hard one off the spot. But!" Valley raised a finger. "I will say that I really enjoyed the match with Panther Risako and Chris Morgan at last Summer Splash. Not so much for the quality of the match - which was fine, of course, they're both great - but because I've always wanted to catch a Wrestle Angels main event live, and that was probably the closest I'll get to seeing one in a while. So it was kind of like taking a trip in a time machine for me. Very nice."
"Oooh, good choice. Hmmm...as for mine..."


Haley tapped her finger against her chin, gently swaying her hips around innocently, the towel around her waist swaying just enough to let a glimpse of her tan leg show. While Haley personally didn't have the confidence to think she could be found as sexy and beautiful as the other girls, she was still the one that wore the most gear in the ring and showed the least amount of skin, so she expected the camera's to exploit getting what shots of her they could.


"I'd have to say...I've made it no secret that Angel has been a huge influence on my and my career. She's my idol, I look up to her. So my favorite match...would have to be her first title defense against Taylor Parker, where she pinned her clean in the middle of the ring and officially cemented her spot as the top wrestler in the entire league!"


"Alright! Impressive answers from our stars!" Madison said, pulling out another card for the next question. "Alright, our next question is from a 19 year old fan named Tajiri, from Yokohama, and his question is for everyone on the panel. "Hi girls! Thanks for all you do to entertain your fans worldwide! I was wondering though, how come none of you ever do hentai matches? Cmon ladies! It's what the world wants to see!"


"Oh, oh my..." Haley blushed, sitting back down and crossing her arms over her chest a bit.

"W-well, if nobody minds if I answer first...I mean...I've fought some of the biggest stars in the league, I was in the only scaffold match AFW will ever do...but I gotta say...the idea of a hentai match...in public...that terrifies me! All those people watching...It took a lot just for me to get in a bikini in public, but getting all naked and hot and...that's scary as hell! I could never do that! Plus, I'm a taken woman, in a very happy relationship, with a woman I love, thank you very much!"



Posts

: 7323


Join date

: 2008-04-29


Age

: 28



Alaina chuckled a little bit at the question. She figured it wasn't long before one of those made its way into an interview based on fan submitted questions. "I just think of wrestling as an athletic event, where the best person that day picks up the win. I don't mind showing off a bit of skin, but will never do hentai. I love my baby Bryan, and to me sex is an intimate thing to be done in private between two consenting adults." Alaina said honestly. She did love Bryan, and their activity in the sack was only a small part of it.

"I guess that I understand why a few fans would want us to do that type of thing especially the way some things shake down in AFW. To me it seems like a female athlete won't get that same level of fame as an equally skilled male athlete without being seen as sexy or attractive. Like, if a male and female champ are together the only way the female gets the same attention is if they are attractive. Its much less of a requisite for a guy I think." Alaina added with a shrug. "I should probably shut up, I might open a whole new giant can of worms with my gender equality train of thought..."
Julia laughed a little too after hearing the question. Not that it was a bad one, but it was amusing. "Well first, thanks for the compliment." Julia said, winking at the camera. "Kinda like they've said, I'm a taken gal too. Me and Drake decided when we first got together that out of respect for each other we wouldn't do hentai." That hadn't been the easiest thing to settle, but looking back on it now it was a decision Julia was more than happy she'd made.

"I don't really have anything against hentai wrestling itself, though, to be honest." she continued. "I mean, wrestlin' goes through lots of different changes and evolutions. I'm sure when hardcore wrestlin' first started makin' the rounds there were plenty who hand-waved it, or didn't think it had any place in the ring. But nowadays it's a legit style that several people specialize in. I think it's really similar with hentai now, though just like hardcore it's a style that ain't meant everyone, y'know? And personally I don't have any desire to give it a try."



Posts

: 4657


Join date

: 2014-11-13


Age

: 25



Valley kept her smiles up on the outside, but inside she couldn't resist a little groan. `Should've known it would come down to this, eventually. This was the AFW after all.

"Well, let's see, why don't I do hentai matches?" She tapped her chin, as if the question required serious deliberation. "Lot of reasons, really. First and foremost, my fine, beautiful girlfriend." She gave Haley a quick elbow and winked her way. "Add on the fact that my mother would either kill me or have a heart attack or kill me and have a heart attack if I so much as showed a nipple on air. Speaking of which…" She winked and smiled at the camera."Hey, Mom."

"Those are two pretty good reasons." Madison nodded, along with a light giggle. "And I can certainly understand wanting to stick with what you know best. Even in the short time you've been here, you've had quite a few matches and picked up some impressive moments. You all have." Madison swept her hand down the row. "What's been your biggest standout moment in the AFW, so far?"

This one, Valley didn't even have to think about. "My match with Ace. The second one." She nodded towards Haley. "I was in such a rut back then. I even considered hanging it up for a moment, thought that my best days were behind me. But that match really reignited my spirit." Valley gave Haley a pat on the thigh and turned to her with a soft, loving smile. "It really saved me."
Haley blushed bright red, leaning over and giving Valley a quick peck on the cheek, before the interviewer turned to her for her response.

"Well uh...hmmm...as much as I love wrestling Valley, as proud as I am of winning that Entropy Title, and people are still talking about that Scaffold match with Amethyst. She's still hurting after that. But my biggest standout still has to be the match with Taylor Parker.

She's one of the absolute best wrestlers in the business, despite my personal feelings about her, and in my second match in the company, I knocked her the fuck out, took her too the limit, and it took her going overboard with piledrivers to stop me. People still talk to me about that match to this day. Nobody ever came closer to beating Taylor in a fair fight without any controversy than me, until Angel actually beat her. So yeah. That's still my biggest stand out, and one I'm very proud of."



Posts

: 7323


Join date

: 2008-04-29


Age

: 28



Alaina listened as the other ladies gave their answers, and she couldn't argue that those matches were all amazing. When it was her turn things were a lot less complicated. She knew her answer the second that the question came up.

"By far and away winning the title at Avalanche is the biggest highlight of my career." Alaina said with a smile, and gentle pat on the back to Julia. "Julia is downright amazing, and a tough matchup for anyone on the planet so winning the title against her was nuts!" Alaina added. She had a far shorter wrestling career than these ladies and was the only one that could say that the AFW represented the majority of her time in the ring. She wrestled less than one year back in San Diego before coming here two years ago in March of 2014.

"Anything involving a title just seems to amp up the impact I guess." Alaina said, looking down at the Entropy title.
"Well, not to steal Alaina's answer, but I just might have to pick that Avalanche match too." Julia answered. "Biggest crowd I've ever performed in front of, and it damn well might've been the best match I've ever had the privilege of competin' in in over half a decade of wrestlin'. May not've come out as the champion, but that's fine. I've gone back to the back of the line, and I'll work my way right up to the front again. Who knows? Once I've earned another shot somewhere down the line, maybe you'll get to see a little Avalanche sequel." the blonde gave Alaina a playful little nudge with her elbow.

"I see. Those were all fantastic moments fans will be talking about for years to come." Madison said before moving on to the next question. "Ah, well we've just heard about your proudest moments. But now 24-year-old Ise Nakahara asks, 'What's been the lowest point of your career to this point?'"

Julia crossed her arms and gave a small sigh. "Think I'd probably have to say SummerSplash, against Gwen. It was my first title shot here, and I was in as a replacement for Cassie. I felt like there was pressure to win the title not just for me, but the dojo. And Gwen weaseled her way outta that by rippin' my mask off." Julia was having to bite her lip just to keep her rising irritation at reliving that little fiasco from being too obvious. Still, she continued.

"So even though I 'won,' Gwen retained the title, and in one of the most disrespectful ways possible. I talked about it after, but a luchador's mask ain't just a fancy accessory. I worked my ass off to earn it, and I've worn it in every match I've ever wrestled in. It's a symbol that represents every step I've taken in my career to get where I am. When she ripped it off like that..." she paused for a moment and shook her head. She could practically feel her blood boiling. "It was humiliating. And it robbed the people of a chance to see a legitimate ending to what could've been a great match. I was heartbroken. Furious. Disappointed. More so than I've ever been with a match before... She may not be champ anymore, but I still haven't forgiven Gwen for that. Not by a long shot. If I ever get a chance to get back in the ring with her again, you can be damn sure I'll be lookin' to pay her back." Typically it would've been quite uncharacteristic of Julia to hold that much of a grudge. But in this special case, she just couldn't help it.



Posts

: 4657


Join date

: 2014-11-13


Age

: 25



Valley gave Julia a playful punch in the shoulder, smiling her way. "Very much looking forward to that rematch." It was true, very true. Gwen had screwed a long, long list of people, Valley's girlfriend included. Though she'd gotten some comeuppance at the triple threat, she deserved a lot more. Julia would be just the right person to deliver it.

Now it was her turn. Valley swung her attention back to Madison with a deep sigh. "Well, I've got a few more years behind me than everyone else here, so that naturally means I've got more embarrassments to go around." She opened her mouth to speak, then pointed a finger straight at Madison. "Only AFW matches, or is the whole career fair game?"

"How about both?"

"Right, then." Valley rubbed her chin, took a moment to contemplate, then moved on. "Well, as Slamazon, I'd say the lowest point was my match with Sara Knox. Veteran of the company, was on her last year. I came in as a rookie, got a match with her, and I was way too cocky. Talked all sorts of trash, called her old and washed up...and then she beat me clean. Very informative day, that was."

Valley enjoyed a wistful moment of nostalgia, before moving on to more current things. "In AFW, it's a little harder to pin down. The tag match at Summer Splash was pretty bad for me," She exchanged a quick, sympathetic glance with Haley. "But what followed really drove the nails in the coffin. Getting demolished by Akashi, Taylor coming in and making fun of me, getting stripped by Morrigan and having to walk back nude..." She shook her head, going quiet for a few seconds as she let it all flow out. "It was rough. But I came out better for it. I learned things. I got stronger, and here I am, sitting beside three of the best wrestlers in the company."

Valley's smile made a return, as she straightened up and proudly looked around. "I'm doing okay."
Alaina's own memories of Gwendolyn popped in her mind when Julia mentioned their common opponent. She smiled at the playful punch and sat back, Madisons attention turning to her.

"I think I've pulled off more losses and embarrassments in a short time than anyone else sitting here. Having Gwenniecakes use a ref with a favorable count sucked.... but I think my low point came when I faced Cassie Elliot. She was the first woman I faced who was really supposed to wipe the floor with me. Sure I am bigger but she was the favorite. I wiped the floor with her the whole match and at the end she beat me in one move, her only offense of the whole match. She turned my finisher into hers and I was passed out in the middle of the ring." Alaina said with a sigh. "After that I doubted that I would ever be able to beat anyone who had real skill inside the ring. Like.... that doubt lingered a lot longer than I care to admit." Alaina added at the end quietly.

Sure that doubt was long gone... but for a long time it was all too real, holding her back.
Page 2 of 5 •

1, 2, 3, 4, 5


---
Permissions in this forum:
You
cannot
reply to topics in this forum