Who is online?
In total there are
32
users online :: 12 Registered, 1 Hidden and 19 Guests :: 2 Bots
Clobber Jobber
,
Harrier
,
k0hryuu
,
KaosKato
,
KillerV
,
LadyX
,
LARIATO
,
LunarWolf
,
Mystery Dragon
,
Old_Man_Tai
,
wrestleryu
,
xalex
Most users ever online was
155
on Sun Oct 09, 2016 8:33 am
Champions & #1 contenders
Belated Apologies
Sun Mar 26, 2017 9:58 am by Clobber Jobber
So, I'm not super fond of doing non-match threads because it messes with my organization, but I feel I owe everyone an apology. I just kind of up and dissapeared for, what, a few months? With the exception of one wave of posts, I've been super quiet, and a lot of threads have been held back because of me. So, I'm sorry to everyone about that, and I'm going to at least get another wave in.
To explain myself a bit, I've had a few things going on that slowed me down. For the first couple months, …
[
Full reading
]
Comments: 0
Looking for debut matches/RP's/microphone exchanges/Gym sessions/What have you
Sun Mar 26, 2017 6:14 am by JohnnyFlash
Hey gang!
According to our wonderful administrator
Person
I am happy to report that both
Buzzy Armstrong
and
Johnny Flash
have been deemed acceptable. Woohoo!
Logically, the next step would be to get their proverbial balls rolling with their respective debuts. I am interested in any kind of
match
,
promo segment
,
gym meetings
,
backstage
elbow rubbings, or whatever else have you with either of the two boys. I could always just do an open promo but I am up for ideas and story building with …
[
Full reading
]
Comments: 2
i am sorry
Sat Mar 25, 2017 2:51 pm by xalex
Hey guys
I won't talk much about it just wanted to put it out here
I need to step back from are dramatically because of stress in the uni and some problems of mine
I will keep working on the ppv matches I am in and maybe one or two more but to the rest I need to say sorry
Thanks for understanding
Comments: 4
NAME:  Peggy McIntyre
Sex/Gender:  Female
Age: 20 (D.O.B 9/7/96)
Eyes:  Green
Hair:  Red
Height: 5'6''
Weight:  149 lbs
Nationality:  Irish
Ring Attire:  Green one-piece swimsuit, with green boots that have gold trim.  She also wears gold knee and elbowpads.
Entrance Theme:  Whiskey In My Jar - Metallica
Alignment:  Tweener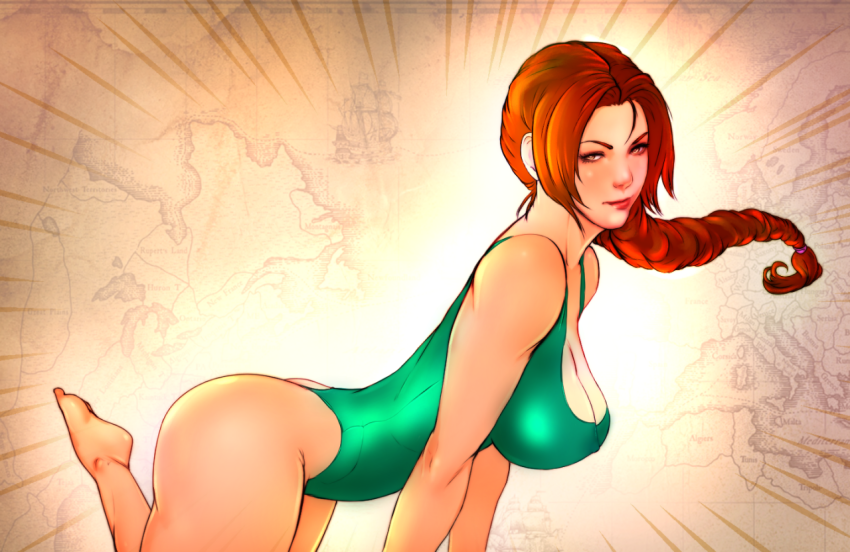 " />
Stat Spread:
Strength- 4/5
Durability- 3.5/5
Submission- 3.5/5
Technical- 5/5
Speed- 4/5
Charisma- 4/5
Hardcore- 3/5
Stamina- 4/5
Strikes- 4/5
Finisher:  Luck Of The Irish- Peggy sits her opponent up on the top of the turnbuckle facing away from the ring.  She sets up behind them securing her feet around the middle rope, delivering a spider suplex to her foe before perching atop the turnbuckle to immediately follow up with a big leg drop and pin in quick succession.
Style:  Technical grappler/striker.  Peggy has a solid foundation of moves thanks to growing up around the ring, compliments of her aunt.  She favors suplexes of all varieties, and can reverse a lot of moves.  Her strikes are hard, and most importantly precise.  Strikes wear down and stun foes while her suplexes and occassional slam or submission help add more flavor to her offense before she moves in for the kill.  She prefers not to cheat, but she will if it means she will end the match with her hand raised instead of laying flat on her back.
Difficulty Level:  Medium
Preferred Moves:
-Cross body block
-Shoulder block
-Leg drop
-Scoop slam
-Snapmare
-Fireman's carry
-Snap Suplex
-Vertical Suplex
-T-bone suplex
-Northern lights duplex
-Fisherman suplex
-Double underhook suplex
-Belly to belly suplex
-DDT
-Hurricanrana
-Frankenstiener
-Moonsault splash
-Springboard dropkick
-Springboard elbow smash
-Reverse DDT
-German suplex
-Tiger suplex
-Backdrop
-Backbreaker
-Running powerslam
-Camel clutch
-Rear naked choke
-Ankle lock
-Surfboard stretch
Appearance:  Peggy's figure is curvy, and her fitness is considered average at best for a wrestler.  She spends more time learning footwork, technique and mat skills than she does doing strictly fitness oriented things like lifting.  She does have enough weight to pack a punch, but not especially so.  Combining her so-so fitness with her girlish young looks, and many women tend to underestimate Peggy.  Her pretty face and bright eyes have captivated a few people before, hiding her inner intensity and drive to win.
Background Story
Peggy was born outside Dublin, Ireland and grew up in a typical middle class home.  As she grew up, she watched old tapes of her favorite aunt Velvet McIntyre in action inside a wrestling ring.  Peggy got along better with her aunt than she did with her parents, forming a special bond with wrestling at the center of that bond.  Peggy saw her aunts successes…. and failures…. as she wrestled abroad in the USA and Japan.  Peggy wanted to make her aunt proud, and show everyone that an Irish woman could hang in the ring with anyone.  As she entered highschool, Peggy trained on the side with her aunt, learning the ins and outs of the ring.  Peggy wasn't the most physically gifted, but she picked up on the technical aspect of wrestling very quickly.  When she was 17 she wore a mask and wrestled in a part-time promotion near her home, without her parents finding out.  She quickly went on to beat the few women on the roster, as well as a couple of the men!  
After graduating from high school, Peggy told her parents that she wanted to wrestle.  They weren't exactly happy about her choice, preferring that she go to college.  Velvet supported her choice and got her a tryout for a few larger promotions.  Peggy performed well in every try out, winning the spars against other hopefuls.  A representative from AFW Friction contacted Peggy and offered her a contract, which she happily signed.  Peggy did her homework on the Friction roster, and knows that she wants to avoid hentai like the plague.  She also scouted out a couple women who have a classic or oldschool wrestling feel to them, becoming big fans of them.  In particular she likes Valley Doll, as well as both members of Sonic Boom:  Julia Rogers and 'Amazon' Alaina Sanders.
Peggy is a new arrival in Japan, with a rudimentary understanding of the language and its culture.  While she normally means well, she is willing to do whatever it takes to get to the top.
Fun Facts
-While Peggy wants to wrestle and make it her career, she was smart enough to heed her parents, and aunts warnings about career ending injuries.  She is enrolled in online college courses to get a degree while she wrestles.
-Peggy is proud of her skills, although dislikes it when people call her 'soft' for devoting less time to fitness than most wrestlers, pointing out her curvy figure.
-Peggy loves astronomy.  She will read up on news about the stars, solar system, and universe as a whole.  If wrestling fails, she wants to work for some national space program.
-Because Peggy grew up watching an older era of wrestling due to her aunt's career being in the 80's to early 90's she has a more oldschool wrestling style.
AFW Record
2-3-0
Win vs. Gemma Faraday via pinfall
Loss vs. Julia Rogers via submission
Win vs. Josh Rogers via submission
Loss vs. Chloe Rodriguez via put through a table
Loss vs. Gemma Faraday via pinfall
Career Accomplishments
None…. yet
Friends
Julia Rogers and Alaina Sanders- Peggy watched these two and got to meet them.  She loves their style and wants to be as good as they are someday, wanting to prove she can get to that level by taking them on and coming out on top!
Rivals
Gemma Faraday- Peggy and Gemma had a contentious match, and the two talked a lot of trash... with both women taking it to heart.
It's Complicated
History
1)
Luck Of The Irish?
Peggy meets one of her three favorite wrestlers in AFW!
2)
Old Schoolers Peggy McIntyre vs. Gemma Faraday
 Peggy faces Gemma for her debut match in Friction!
3)
Julia Rogers vs. Peggy McIntyre
Peggy faces one of her favorite female wrestlers in the ring!  Can she show the world she really has what it takes and pull off the upset?
4)
Of All The People....
Peggy is training at the gym when she bumps into her favorite person Gemma Faraday....
5)
Josh Rogers vs. Peggy McIntyre
Peggy takes on a big, muscular, handsome guy crushing on her...
6)
Chloe Ruiz vs. Peggy McIntyre tables match
 Peggy takes on another cocky, young wrestler who is also early in her career!
7)
Hardcore Reckoning Peggy McIntyre vs. Gemma Faraday
Peggy faces Gemma in a hardcore rematch!

Rookie Talk
Peggy meets a young trainer who hopes to wrestle and they hit it off surprisingly nicely!
9)
Helvetica's Hotseat Episode 3:  Gemma Faraday
Peggy overhears... and interupts... an interview with Gemma!
10)
The Here And Now
Peggy paces backstage hoping for a match, and instead she bumps into Chloe Rodriguez...
11)
Gemma Faraday vs. Peggy McIntyre: Cage Match
 Peggy faces Gemma in the rubber match to decide things once and for all...
Last edited by HighFly on Sun Jan 08, 2017 9:37 am; edited 3 times in total



Posts

: 4201


Join date

: 2014-03-11



AFW Record:  4-7-0
NEW MATCHES
Loss via pinfall vs. Gemma Faraday
vs. Yajiri Kasamatsu   *
vs. Chloe Ruiz   *
Loss via pinfall vs. Allison Heart
Win vs. Rhea Sellsword
Loss via pinfall vs. Emily Nelson
Win via pinfallvs. Moe Fukuoka
Vs. Kei   *
Loss via pinfall vs. Zoey Satoshi
With "Amazon" Alaina Sanders vs. Navi/Melody *
Vs. Maria Tempesta *
CAREER ACCOMPLISHMENTS
None yet
FRIENDS, ENEMIES, ETC.
Gemma Faraday- A heated rival, or she used to be.  The two had a trio of matches with Peggy only winning one, and having a new respect for Gemma.
HISTORY
12)
End Of An Era And Beginning Of The New
Peggy moves out of the dojo and in with two of her favorite wrestlers..... as well as her biggest fan!
13)
Peggy McIntyre vs. Chloe Ruiz
Peggy gets a rematch with Chloe, bitter about being attacked backstage!
14)
Emily Nelson vs. Peggy McIntyre
Peggy takes on a Wrestle Angels veteran in an attempt to get back to winning in the ring!
15)
Fancy Meeting You Here
Peggy bumps into Gemma of all people backstage...
16(
Peggy McIntyre vs. Yajiri Kasamatsu
Peggy faces yajiri another young lady who is also a fan of Alaina!
17)
Peggy McIntyre vs. Allison Heart
Peggy takes on Allison Heart!
18)
Peggy McIntyre vs. Rhea Sellsword
Peggy takes on Rhea in a standard match!
19)
Peggy McIntyre vs. Emily Nelson
Peggy takes on the older Wrestle Angels veteran, respectful grappler vs. speedy loudmouth youth!
20)
Getting Off On The Wrong Foot
Peggy bumps into Moe and the two have a heated exchange.
21)
Peggy McIntyre vs. Moe Fukuoka
Peggy gets a shot at the girl who bumped into her, and rubbed her the wrong way.
22)
Peggy McIntyre vs. Kei
Peggy takes on Alaina's rival, attempting to show that anything Alaina can do, Peggy can also do!
23)
Zoey Satoshi vs. Peggy McIntyre
Peggy takes on the tiny Zoey!
24)
Why Are You Here?
Peggy suffers a humiliating loss and gets questioned by a mocking interviewer.
25)
Melody and Navi vs. Alaina and Peggy
Peggy tags with Alaina hoping to snap out of her losing streak, and hoping not to let one of her two mentors down...
26)
Sonic Boom vs. British bombshells
Peggy accompanies Sonic Boom and sits at the announce table!
27)
Maria Tempesta vs. Peggy McIntyre



Posts

: 4201


Join date

: 2014-03-11



---
Permissions in this forum:
You
cannot
reply to topics in this forum