Who is online?
In total there are
60
users online :: 2 Registered, 0 Hidden and 58 Guests :: 1 Bot
ARStudios2000
,
Snidey
Most users ever online was
418
on Tue Jul 30, 2019 9:51 am
Champions & #1 contenders
Tension matches wanted
Tue Sep 26, 2023 1:25 pm by Midori Hyuga
Comments: 0
Page 6 of 7 •
1, 2, 3, 4, 5, 6, 7
It took everything in her to crawl and fight her way out of the hold. She could feel all the muscles in her legs begging her to free them from this torment. She yelled back to shut up, that she's working on it but it only forces her lips to part to let out another agonized cry of pain.

"I don't… huff, huff… think so, [ya posh prick]." She pants, finding it difficult to speak as Colette keeps herself from crying out again to give Maria the satisfaction.

It seemed like a miracle that her fingertips met the welcoming embrace of those tethered ropes. She breathes a sigh of pained relief as the ref called the rope break and demanded they break. Still holding in for dear life she was graced with her muscles finally going silent but silence could be so easily broken.

Her knee spiked the mat with unmatched force, the sheer pain she felt upon impact had her reeling. The referee was bold enoughh to immediately get into the She-Devils face to tell her off but the damage was done, her knee was wrecked for the time being and she knew darn well she didn't have the time to tend to it right now.

Colette could only hold onto the aching limb, glaring daggers for what seemed like the uptenth time. She did that in purpose, despite legally breaking the hold. The Scot now knew that she had no qualms about teetering between that fine line. It only fueled her hate for the Latina.

Slowly, she reaches upward for the second rope as the pain in her leg begins to settle or settle as much as it can for her to tolerate. With the third rope in her grasp, the Scot stands up on her feet; managing to keep herself steady.
_________________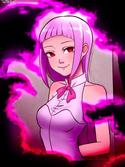 LilyStar




Posts

: 934


Join date

: 2018-02-27


Age

: 27


Location

: Your heart



"What? It was an accident, ref, I swear! I dropped her leg, that's all!" Maria protested, holding up her hands in mock innocence as she backed away. Looking over the ref's shoulder, she saw the badly wounded Collette painstakingly pulling herself back upright, each movement looking like it was taking a lot of effort. Maria grinned. After being all high and mighty for the first act of this match, Collette was now struggling to even stand. It satisfied Maria immensely to see the Scot brought low like this.

As Collette struggled up against the second rope, Maria moved to intercept her. Grabbing onto the top rope with one hand, Maria would press her knee against the small of Collette's back, pushing her down throat-first against the ropes to choke her. To add insult to injury, Maria would use her free hand to hook two of her fingers under Collette's nostrils, yanking back hard and painfully on her nose. Her antics caused the crowd to burst into even angrier booing as Maria continued to torment the bluenette.

"ONE...TWO....THREE...." the ref counted, beginning the countdown that would disqualify Maria. At the last second, Maria would release Collette, shrugging innocently, satisfied that she had weakened her foe even further.

Underdog21




Posts

: 6213


Join date

: 2008-04-26


Age

: 37



Before she can pass the second rope, she feels an impact blast into her spine. Her throat was pressed against the tethered ropes, slowly choking the life out of her as Maria dragged on her torture. It wasn't until the referee began to count out the Latina did she relent and loosen up on the hold. The crowd showering her in discontent with her villainous ways, but they only seemed to soak it in; basking in it even. Such a wretched woman, Colette thought, evident in her own standing as pain was all she could feel.

Colette would cough as air suddenly filled her lungs, the pressure on her windpipe vanished from the release. The Scot couldn't take it, Maria had overplayed her hand to much; dancing around the rules like a mad jester making their king laugh with the cruel pranks on unsuspecting patrons. She leans against the ropes gathering her bearings with the break and reprieve. Turning slowly, the Scot knows she has to suck it up and endure it, push through the pain. She'd never let a bully win and she wouldn't let it happen now.

With a fierce cry of exertion, Colette would stomp forward in her good leg, using it to propel her body towards the She-Devil. Her leg cries out with agonizing muscle pain. The joints creak as she leans in with her body to propel herself again. Wincing and sucking the air in through her teeth as she pushed to end this fast. Until she could treat her leg, she had no other choice but to go all in.

Her body was low enough that had Maria turned to face the screaming Scot, they'd potentially find their shoulder hungrily diving into their gut. Her spear was shoddy at best. With a bum leg, most of her usual power was gone but if she managed to connect, she'd use the momentum to take The She-Devil down to the mat for her own piece of justice.
_________________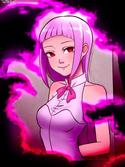 LilyStar




Posts

: 934


Join date

: 2018-02-27


Age

: 27


Location

: Your heart



Maria was grinning now as she saw Collette struggling to stand. Whereas before the dominant Scotswoman had been giving Maria no end of trouble, now she was struggling to stand. The combination of steady chokeholds and constant damage to Collette's knee was paying off, Maria knew: now not only did Collette not have the energy to move effectively, but she also was going to have a hard time moving. This match was now hers to win, and she intended to win it in a big way.

She was about to calmly walk forward, grab a handful of Collette's blue hair, and run forwards to drive her face-first into the mat with a brutal bulldog...when suddenly Collette surged forward! Surprised, Maria tried to dodge far too late, and a second later, Collette's shoulder slammed into her midsection: even with her leg hurting, Collette was still able to charge into her with a lot of force, driving all of her weight forwards like a battering ram!

"UAGGH!" Maria gagged as she toppled backwards, falling onto the mat with a crash, with Collette now landing on top of her. The crowd burst into cheers as Collette managed to strike back against her heelish opponent.

Underdog21




Posts

: 6213


Join date

: 2008-04-26


Age

: 37



She grits her teeth, braving her entire body for impact as she launched herself forward to cover the gap between them. Her arms thrust outward, her eyes close shut as she propels. The Scot can only hope that she finds the She-devil, she knows better then anyone if she fails here, there's no coming back from this. Suddenly her shoulder makes contact with their midsection, the force of her weight and speed drilling into the Latina made the sound that came out of their mouth worth every bit of pain she had to endure to get here. The Scots blue hair paints the canvas as she lays over top her rival slowly pushing upwards her bangs becoming a curtain for her to open and marvel at her handiwork.

Colette felt a bit proud overcoming her knee's screaming pain and toppling down a bully like Maria but she felt this wasn't enough. She didn't doubt for a second she knocked the wind out of her sails but she had to be double, no triple sure that she came out on top. After everything the She-Devil put her through coupled with the humiliation, to say the bluenette was seeing anything but red was an understatement.

With her vision now clear, her gaze looks upward; looking for a way to hammer in some manners to the Latina for her wrong doings. Her pools found only one thing. It shone as if a message from the powers above, the black leather and steel guiding her to properly finish them off. She reaches out, groaning as her knee began to swell, the pain pulsing like shockwaves through her muscles and joints. Applying any weight to it for the time being was a big, fat nope but it was the only way.

Her climb was cautious, checking over her shoulder as she ascends to make sure the Latina won't interfere. As she passes the lowest rope, so far so good. The middle rope sets up her higher, she checks again hoping her rival is feeling every bit of pain that she feels right now, her knee begging her to finish it before it caved in. If she made it to the top, she'd turn to see the stadium and the crowd now on their feet, roaring for what could possibly be the matcha most precarious act.

The Scot bravely lifts her bad leg up, catching it between her arms and steadying herself on the top rope where one mistake could spell her doom. She closes her eyes and whispers a quiet prayer before stepping off the rope. The bluenette gives herself over to gravity, her weight carrying her leg in the hopes to come out on top in her first ever match. If nothing stopped her, her leg would come crashing down across the Latina's bust, aiming to potentially knock any life left in her out. The pain in her knee surges, forcing her to cry out sharply in pain. She feels like she's about to cry but not yet. With a labored breath, she'd lean over to hook Maria's leg, soldfying her hopeful victory.
_________________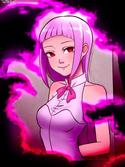 LilyStar




Posts

: 934


Join date

: 2018-02-27


Age

: 27


Location

: Your heart



"Agh...ahh..." Maria was breathing hard now as she stared up at the arena lights, the air having been knocked out of her by that one decisive shoulder tackle. She had been so close, she knew: so close to winning, to defeating the Scots amazon and humiliating her in front of this whole audience. But it was not to be: showing once again how goddam tenacious she was, Colette turned the tables, knocking Maria flat on her back. The only thing that mitigated this humiliation was the fact that the was Colette was lying down against her, brief as it was, was kinda hot...

Like all good things, it was not to last, though, as Colette rolled off of her. Knowing that Colette was probably up to some devastating move that would win the match, Maria willed herself to move in turn, hissing in pain as she arched her body off the mat. Slowly, painfully, she rolled over onto her front, before pushing herself up to her hands and knees. Swearing in Spanish, she pushed herself up, more and more, slowly but surely inching back up to her feet...

...and looked up, just in time to see Colette hurting down at her. Maria only had time to swear before Colette's knee crashed into her midsection, knocking her off her feet once again and flattening her hard to the mat. Colette's fans burst into cheers as Maria was left lying on her back once again, pinned under Collette's knee and visibly hurting...

Underdog21




Posts

: 6213


Join date

: 2008-04-26


Age

: 37



Time seemed to slow as her gullotine of a leg came crashing down, for a moment, just a moment, Colette felt genuine fear when she saw the Latina stand but it was to late for them to stop her. The Scots body had tensed causing the impact that landed across Maria followed through with the bluenette, pain taking over every cell in her body as she kept her blade across her rivals midsection. She pants, biting her lip to keep herself from sobbing from the brutal sensations taking her body but she had something to do first, something she was waiting for all this time.

Humbling the Latina, Colette's fingertips curl under the crook of their tanned knee. With a pained wince, she'd lift their leg up towards her shoulder, catching their leg along the pit of their knee and calf. Her labored breathes crash across their bare limb but she was too tired, to hurt to worry about the implications. She locks it tight against her as the referee slips to the floor and begins the count. The crowd seemed to take her side in the bout, showing their support with a continuous wave of support in her favor as the count begins.

"ONE!"

The slap against the canvas made her bod in unison, eager to care for her injured leg and lick her wounds. Colette's tendrils dig into the soft flesh of Maria, still concerned with the chance of a revival. The Scot knew if she managed to kick out, it would be all over for her. She had nothing left to give, and with a prominent handicap, the bluenette would be easy pickings. The thought only made her cling tighter, praying under her breath to finish this.
_________________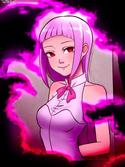 LilyStar




Posts

: 934


Join date

: 2018-02-27


Age

: 27


Location

: Your heart



"Ggnnnh..." Maria was breathing hard now after that brutal impact to her chest, which heaved up and down as best it could under the pinning weight of Collette's leg. With a slight groan, she forced an eye open and saw Collette towering over her, battered looking but still dominant. Sucking in air through clenched teeth, Maria weakly tried to push at Collette's leg; after that brutal impact, that was all she was able to do; she could barely move her body, and felt stuck in place under the immovable weight of Collette's knee.

"TWO!" the countdown continued, the fans waiting with baited breath to see if Collette would kick out...

Underdog21




Posts

: 6213


Join date

: 2008-04-26


Age

: 37



"TWO!"
Sweat drips onto her aching leg, her warm breaths crashes against the latinas leg as she clings to it for dear life. The Scot's heart began to race as the count finally settled, she was half way there and the she-devil she had pinned beneath her was hardly showing any signs of life. The weak push caught her off guard, a sharp gasp escapes her lips as her nails dig into their leg, claiming it as if a predator claiming its share. Colette wasn't going to let go, she couldn't, she could feel the end coming with every fiber of her being.
With a  shape, pained inhale, she'd scoot an inch further applying what little weight she had left in her exhausted frame. "Stay…down." she hisses, her declaration wasn't a request but a demand. Thinking back on this match, Coco felt she'd gotten the justice she was looking for but the humiliation she suffered, Maria couldn't be forgiven so easily. The crowd began to roar as the ref came down for the final count of the match, slapping the canvas with a rattling conviction to signify the end of the She-Devil.
"THREE!"
The bell would begin to ring in her ear, giving her body the okay to temporarily go slack. She'd let the Latinas leg slip from her grip before she fell backward to pant, grunting in pain as her knee and calf muscles began to pulse in pain. This was definitely going to need a massage and heat to loosen up her muscles. As she laid on the canvas, panting like a beast to gain her breath, she'd peek over her leg to Maria still locked under her weight. Contemplating… debating….the words they shared throughout the match play back in her head.
_________________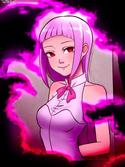 LilyStar




Posts

: 934


Join date

: 2018-02-27


Age

: 27


Location

: Your heart



The bell rang, signalling the end to this gruelling match; grimacing, Maria stared up at the lights, feeling the pang of loss as the crowd burst into applause for the victorious Collette. Maria had given her all against the Scottish amazon, and had thrown every trick in the book (and many outside of it) at her towering foe...and in the end, she had been unable to stand up to Collette's sheer power and tenacity. In spite of everything, the Scotswoman had ultimately beaten her after this hard-fought bout.

What made all of this worse was that Collette was still pinning her down. Red-faced, her chest heaving, Maria could only weakly turn to glance at her victorious opponent. "Y...you got...lucky...chica..." she barely managed to say, not in very good shape after the punishment Collette had inflicted on her. "D-don't think this is over..."

Underdog21




Posts

: 6213


Join date

: 2008-04-26


Age

: 37



Page 6 of 7 •
1, 2, 3, 4, 5, 6, 7
---
Permissions in this forum:
You
cannot
reply to topics in this forum