Who is online?
In total there are
78
users online :: 0 Registered, 0 Hidden and 78 Guests :: 2 Bots
None
Most users ever online was
418
on Tue Jul 30, 2019 9:51 am
Champions & #1 contenders
Watches wanted
Fri Sep 08, 2023 2:25 pm by Midori Hyuga
I have three characters who need matches
Wolfgang Bruan ( tension )
Sasuke Moto ( tension )
Fumiko Hyuga ( fraction )
If you are interested please private message me with a match idea and character you want me to use
Comments: 0
Back and ready for the fun!~
Fri Sep 01, 2023 3:45 pm by Leon564
Comments: 0
Debut match
Sat Aug 26, 2023 5:18 pm by Midori Hyuga
I am looking for midori hyuga's or my other three ( Alexis Jones, Roman Greco, Fumiko Hyuga ) debut match on fraction ( or tension for Roman ) pm me if you're interested, I'm up for any ideas for a match
Comments: 0
Page 2 of 7 •
1, 2, 3, 4, 5, 6, 7
The impact came just as she expected but the thing she didn't expect was to have t fought for it, not to that extent. Maria proved cunning in their first moments together, clashing wits only managing to overpower them with sheer will. The Scot could respect that but this wasn't a compliment competition. She could tell Maria wasn't pleased with her current predicament and Colette wasn't planning on letting them gain the upper hand. Not while she still had the energy to prevent it, not when she had so much more to give.

Watching them arch their back and groan in pain, the bluenette felt she could press her advantage here. The She-Devil was down for the moment, perhaps she could maneuver into something else. Spinning on her knee, the Scot would do just that.

She'd slip her fingers underneath their caramel toned shoulders, attempting to prop them up. She'd slip her foot under her knee to sit her knee against their back. If her the She-Devil complied, Colette would look to grab her rivals arms and pull back, digging her exposed knee into their center for a submission hold. She hoped that this would work to her advantage, Maria wasn't someone she knew she could take her eyes off of. With a possible yank, she'd lean down, pushing her weight into it. "Where's all that [shite] you were spittin' at?" She asks. It was principal that she face people who could put their money where their mouth was.
_________________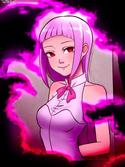 LilyStar




Posts

: 933


Join date

: 2018-02-27


Age

: 27


Location

: Your heart



At that moment, Maria was swearing, again and again, in Spanish as she clutched her hurting back. This wasn't how this had been supposed to start: as a rule, she relied on hitting fast and hitting hard, bewildering her opponent and leaving them on a back foot...and now her she was, flat on her back after being slammed down by that lumbering oaf of a bluenette.

She was trying to shut down her pain long enough to try to get back to her feet when Collette decided to "help" her do just that, pulling up on her shoulders. Alarmed, Maria tried to throw an elblow back, but by that time Collette was already digging a knee into her back, and pulling back on her arms in an effective surfboard hold. Maria bit back a cry of pain, her eyes screwing shut behind her mask as the hold arched her body further, causing her generous bosom to jut outwards.

"Right...here..." she managed to rasp through clenched teet. Trying to press her boots up against the mat, she would try to use her natural flexibility to kick back, hoping to drive her knees up into Collette's face! If that didn't work, though, then she would continue to be at the mercy of the Scotswoman's submission hold...

Underdog21




Posts

: 6212


Join date

: 2008-04-26


Age

: 37



The Scot was being aggressive here, normally she would've tested the waters a bit before going all in but she could tell this wasn't the place to be taking it easy. Her instincts were telling her to push and push hard. Colette managed to lock in the surfboard hold, pulling the tanned woman's arms back to dig her knee into their spine seemed to really be doing a number on her rival. She followed with her body into the stretch, as their arms came back so did she. She didn't focus on any of the cheers the crowd seeemed to throw her way for Maria's view. They could sod off for all she cares.

She felt she had the She-Devil at their breaking point, taunting them just a bit to get them motivated. That turned out to be a miscalculation on her part, Maria seemed to have an answer and Colette wouldn't like it one bit.

With a surprising amount of flexibility and perhaps willingness to endure the hurt, the Latina managed to not only crank herself upward but land a decisive blow. Bone mashed against flesh as she was forced to release her hold. Her hands instantly covering face as she stifled any cry's her body dared to utter. The pain was excruciating. Her nose stung, tears began to form from the burning pain in her face. The force of the blow sent her flying back, as she would roll to her side. Soft groans now escaping her lips as she curled into a ball. Damn her! What was it with the knees? She wouldn't let this slide, not when they kept aiming for the face, it was like she was begging her to let loose like a canon. She couldn't move just yet however, luckily for her, she saw no red splotches paint that canvas, so no broken nose. Colette was thankful for that.
_________________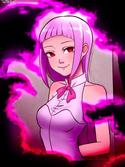 LilyStar




Posts

: 933


Join date

: 2018-02-27


Age

: 27


Location

: Your heart



Maria felt her knee collide solidly with the Scot's face, and she grinned a little as she heard a pained cry from her opponent. She smiled even more, of course, as Collette finally let her go-- her knee-strike had actually struck with enough force to send Collette crumpling onto her back, taken completely by surprise by Maria's retaliatory strike. Now it was her turn to show Collette some pain.

Standing up, and rotating her shoulders a little to get some of the soreness out of her shoulders after that surfboard submission, Maria would stride over to Collette and yank up on her hair to pull her up. "Let's go on a little trip, shall we?" she purred, before grabbing Collette's arm and whipping her across the ring. As Collette bounced off, Maria would come running at her, seemingly raising her arm for a clothesline...

It was all a feint, of course. At the last minute, Maria would suddenly leap up, legs-first, at Collette, trying to snag the bluenette's head between her legs and whip her down hard onto her back with a fierce hurricanrana!

Underdog21




Posts

: 6212


Join date

: 2008-04-26


Age

: 37



The Scot pushes up slightly, she shakes her head as she attempts to get to her feet. Being caught by Maria wasn't a fate she wanted to go through, her face stung like crazy, the bone to bone contact made her head hurt, like a hangover after a long night at the pub. The She-Devil was agile, she didn't expect them to hop up and connect with her knees. The Latina was going to get a good thrashing for this, she only needed to get to her feet.

Her rival didn't give her the chance, she felt the burning sensation as her hair was pulled upward. Her hands immediately went to the tanned pair running through her scalp. "Youre going to regret this." She growls, her chance of making a move thwarted as she's sent flying towards the ropes.

Off she went, guided by the harsh pull, she rebounds from the leathery tethered ropes. She could make a comeback here, the Scot saw the clothesline as she came barreling towards the Latina. She'd duck, running underneath the supposed arm but instead she felt legs clamp around her throat. Her eyes went wide with surprise as she felt the mat leave her feet. Her body soaring as the bluenette found herself in her back. The impact sending another wave of pain through her body as her spine tingled with the fierce sensation . She gasped as air left her lungs, oh, Maria was going to get it now.

She'd have to wait for the She-Devil to get close, she wanted them to feel confident to grab her before she cut loose. If the Latina was foolish enough to bend down and grab her the bluenette would kindly attempt to tug them downward and drive a boot into their center.
_________________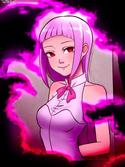 LilyStar




Posts

: 933


Join date

: 2018-02-27


Age

: 27


Location

: Your heart



As Maria camed bouncing back, she saw Collette react to the fake raise of her arm, and grinned, knowing that she had the bluenette now. She leapt forward, latching her legs around the Scots girl's head, and savoured the look of surprise on her opponent's face before twisting her body around in midair and throwing Collette across the ring. The crowd collectively winced as Collette crashed hard, and was left sprawled on her back in the middle of the ring.

Rolling back to her feet, Maria casually brushed her hair back and stalked towards the downed Scotswoman. "Aw, whatcha doing sleeping, bogtrotter?" she taunted as she sauntered over to Collette, reaching down to grab a handful of her hair. "I'm not done with--"

Collette's boot shot up, spearing Maria in the gut. There was a loud "OOOPH!" as the air was knocked out of Maria's lungs, and she was sent staggering back, leaning against the rope as she covered her hurting midsection, breathing hard...

Underdog21




Posts

: 6212


Join date

: 2008-04-26


Age

: 37



Her back hurt, she honestly didn't expect to get caught in a hurricana especially from that angle. It made the snap sting that much worse as she made impact, Maria again proved she was more then just a nuisance. It made Colette growl in frustration to be manhandled but she had a plan now. She would just have to endure., endure and then counter.

The She-Devil was making a right fool of herself, getting cocky at her expense but she knew more then anyone what ones who could do to a person. It could make one sloppy and easily manipulated, just as she planned to do to the Latina as she came close, she'd show this dobber the consequences of crossing her. Sure enough they reached down, her hands clamped around their wrists tugging them down to meet her boot head on.

The bottom of her boot strikes effectively in their center, the feeling of their soft stomach caving into her kick felt exhilarating. It made what she had to go through to land it all the more satisfying. Maria didn't have a choice but to retreat to the ropes as she breathed hard. A kick like that could surely knock the wind out of most but then again, her rival wasn't like most it appeared. She was weak, easily manageable perhaps. Colette could do something with this.

The climb to her feet wasn't slow but it wasn't quick either, after taking two harsh blows she was surprised she wasn't blacking out yet. She'd cross the ring for her prey, reaching out to tug them close, Coco aimed to pull them away from the rope and down between her thighs. "I hope you like laying out on the mat, [Coo]." She declares as she leans down to wrap her arms around their waist, attempting to pump her legs and lift the She-Devil up into a pile driver position. She'd hold her position if everything went to her will. She wanted to give them that glimmer of hope they could escape before kicking her legs out to try and spike the white haired woman's skull.
_________________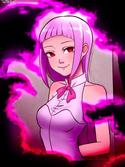 LilyStar




Posts

: 933


Join date

: 2018-02-27


Age

: 27


Location

: Your heart



Maria huffed for breath as she slumped against the ropes, breathing hard after having been spiked by Collette's kick like that. Collette was proving to be a dangerous opponent, one who could recover quickly and one who could hit hard in retaliation. As Maria watched, Collette came sauntering confidently towards her, pulling her away from the ropes towards the centre of the ring.

It was then that Maria felt her head being shoved between Collette's powerful thighs. She realized what was going on, even as Collette grabbed for her midsection. She gasped, and squirmed in her opponent's grip...all a ploy. She wasn't going to be taken out of action by a simple kick to the midsection, after all, and she wasn't nearly as helpless as Collette may have believed. The moment Collette tried to drop down with the piledriver, Maria would suddenly try to scissor her legs up around Collette's head and shift her weight back, hoping to unbalance Collette and flip her over in mid-drop, and slam her back or head-first into the mat!

If none of that worked, of course, then Maria would be unable to prevent herself from being utterly stunned by the piledriver...

Underdog21




Posts

: 6212


Join date

: 2008-04-26


Age

: 37



Just as she was getting into position, her rival begins to squirm in her grip. Normally Colette would let a fish flip for freedom but after her brief close encounters with the She-Devil, she wasn't taking any chances. The Scot pulled her hands away from their captured stomach, clasping her hands together and intertwining her fingers tightly she'd bring the makeshift club overhead. Her thighs instinctively clamp tighter around the woman's head and neck to keep them in her thigh like prison. With a fierce grunt she would bring down the club of flesh and bone to slam square into their back, aiming to take the fight out of them and accept her maneuver without question.

If her blow proved fruitful she would attempt to reposition her hands around their center. With a pump of her legs, she'd lift the Latina up, draping their legs over her shoulders. She suddenly felt a pair of legs begin to strangle her, Maria was attempting to force her back. Coco grits her teeth, bracing her boots into the canvas, she struggled. The bluenette couldn't allow the white haired woman to get free nor could she let them ragdoll her around the ring the whole night. She was much more than that and pride was definitely a prominent factor. Squeezing the She-Devil in her hold, she'd endure, looking to keep her advance going.

The piledriver seemed more stiff then she could have wanted; kicking her legs out, gravity took her and her captive down. The force of the combined weight impacts the mat, she felt the intense strain on her neck but she did it, powering through a vice grip like that to spike your opponent wasn't as easy as she originally thought it to be but if everything went to her satisfaction, it'd be Maria laid out on the mat.

Pushing the woman forward to land on their stomach, Colette would crawl to their side, hooking her fingers into their side to roll them over, she drapes herself over their center. She would then reach down to hook up their rather taught leg, sliding her arm against their thigh to hook up the crook of the tanned woman's knee. Her forearm pressed against their chest as the referee slid into position. She didn't expect to gain the win here but what she did want was Maria to know exactly who was in control.
_________________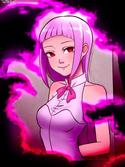 LilyStar




Posts

: 933


Join date

: 2018-02-27


Age

: 27


Location

: Your heart



In Maria's defense, that flip had worked out a lot better in her head.

With Collette now holding her upside down and the blood rushing to her head, Maria had still managed to hook her legs around Collette's head, just before the other girl began the drop. Even though Collette nailed her in the back with a clubbing axe-handle that caused her to grunt in pain, she still managed to latch on with her legs and shift her weight just as Collette dropped...

Nothing. Collette had seen through her weight, and had adjusted her grip accordingly to prevent Maria from flipping her. This was the one thing Maria realized just before her head collided violently with the ring.

The latina jolted from the impact, before her body went sprawling onto her back, spread-eagled and dazed. She put up no resistance as Collette crawled over onto her, hooking one of her legs for the pin. In an instant, the countdown started.

"ONE, T--"

With a sudden gasp, Maria's body jolted to the side, getting a shoulder up. She was dazed as all hell and was taking quite a beating, but she was till in this fight.

Underdog21




Posts

: 6212


Join date

: 2008-04-26


Age

: 37



Page 2 of 7 •
1, 2, 3, 4, 5, 6, 7
---
Permissions in this forum:
You
cannot
reply to topics in this forum