Who is online?
In total there are
47
users online :: 1 Registered, 0 Hidden and 46 Guests :: 1 Bot
killcarrion
Most users ever online was
418
on Tue Jul 30, 2019 3:51 am
Champions & #1 contenders
Watches wanted
Fri Sep 08, 2023 8:25 am by Midori Hyuga
I have three characters who need matches
Wolfgang Bruan ( tension )
Sasuke Moto ( tension )
Fumiko Hyuga ( fraction )
If you are interested please private message me with a match idea and character you want me to use
Comments: 0
Back and ready for the fun!~
Fri Sep 01, 2023 9:45 am by Leon564
Comments: 0
Debut match
Sat Aug 26, 2023 11:18 am by Midori Hyuga
I am looking for midori hyuga's or my other three ( Alexis Jones, Roman Greco, Fumiko Hyuga ) debut match on fraction ( or tension for Roman ) pm me if you're interested, I'm up for any ideas for a match
Comments: 0
Page 3 of 7 •
1, 2, 3, 4, 5, 6, 7
The bluenette held that leg of theirs close to her rib she, pressing the limb into her body as if to assimilate it to her own person. She shouldn't be trying so hard but Colette was considering this may have finished off her loud mouth of an opponent. Coco knew she shouldn't think like that, the women here were built different, even she knew that but there was the possibility. The first count came and gone without so much as a stir, was the She-Devil really going to let it end like this? Before the syllables of two could made, the Latina suddenly jolts up her shoulder to the side, breaking her attempt.

She softly grunts as she sits up, dropping their leg to fall to the canvas. Maria was out of her element at the moment, a fact the Scot wouldn't let slip her by. Despite honestly disliking her opponents methods, she had to give them some credit, they were worth the effort to beat down and give her all into, even this early in this match.

She'd shift to her feet, the sudden spike of pain in her back reappeared coupled with the aching muscles in her neck. The She-Devil could at least say she left her with some battle scars but Colette was far from done herself. Reaching down, she'd send her pale fingers running through that white mane of her rival. Clamping tightly she'd pull them up, guiding them to their feet, before turning the about face, their back towards her. She'd step in, extending out her arm to wrap up their neck from the front. If she managed to grip tightly, her free hand would scoop up their legs.

If her plan was coming to fruition, she'd suspend them at waist height, Colette, would lift them up against her chest before stepping forward, bringing her hopefully captured foe with her. With her knee brandished with the step, she'd slam the Latina's spine into the boney spike. From here, she'd press her hand against their chin while her other press against their thigh to bend them against her knee for a new submission move had her attempt proved successful. She didn't utter a word, it was no longer the time to chat, it was time for action.
_________________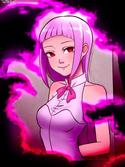 LilyStar




Posts

: 933


Join date

: 2018-02-26


Age

: 27


Location

: Your heart



Maria's skull still rang as she lay on her back, groaning as she managed to twist and get a shoulder up. So far, as much as she hated to admit this, Collette was kicking her ass so far: the blue-haired Scot was proving to be a formidable adversary whom her usual tricks weren't working against. As she tried to roll over, she blinked furiously, trying to clear out the cobwebs...

She felt her scalp burn as she felt Collette grabbing at her hair. She gasped, as she was slowly but surely pulled up to her feet. She knew Collette was up to something bad, and that whatever it was would probably hurt, a lot. And so the Devil's Handmaiden decided it was time to resort to some dirtier tactics.

As Collette pulled her to her feet, Maria would reach a hand up and suddenly try to rake the other girl's eyes. Hopefully, this would make Collette let her go, and hopefully this would leave Collette vulnerable to Maria's follow-up attack, a sudden spinning kick to the side of her skull...

Underdog21




Posts

: 6212


Join date

: 2008-04-26


Age

: 37



Colette had a plan for the she-devil. The first step was making sure they were malleable to her intentions. She couldn't have them resisting and turning the tables. The Scot ran her fingers through their white mane, pulling them slowly to their feet. Her plan seemed perfect, on paper nothing could ruin this, nothing could save them from the backdrop or what would follow but what she didn't account for was her shaking those cobwebs out. The bluenette didn't anticipate them recovering quickly.

Just as she was prepared to start the brutal beatdown, she saw a tanned blue go for her eyes. It was over before she could think on what she actually saw. Her eyes burned with a hellish fire only the She-devil could produce. She instinctively covers her raked pools, turning away as she felt out for the ropes. Damn that woman, she went for another cheap trick. It made the Scot fume with anger. Colette couldn't believe she let it happen.

She wanted to counter, to swing wildly with the night of a proud Scot. Just as she wound up her arm to throw a wild haymaker, her skull whipped harshly with the guidance of a kick she never saw coming. Her brain was rattled from the force, Colette couldn't keep her balance, stumbling before she fell face force against the mat. Groaning in pain as she tried to focus. Her eyes opening just a bit to see the creamy colored mat. Opening them any further was a no go. She needed to recover but she found herself in a vuberable position.
_________________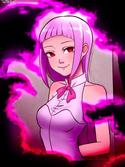 LilyStar




Posts

: 933


Join date

: 2018-02-26


Age

: 27


Location

: Your heart



Maria's sudden counter worked, sending Collette staggering sideways. before toppling face first into the mat like a felled tree. Groaning, Maria slowly rolled up to her knees, still woozy from that piledriver. So far, Collette was proving to be a pain in the ass, a highly skilled opponent who was, infuriatingly, countering all of her moves. Now, however, Maria finally had her where she wanted her, and she intended to take full advantage of that.

With Collette still face down on the mat, Maria immediately ran for the ropes. Upon bouncing off, she arched back, her agile body descending into a series of backflips towards Collette...before she brought her lower leg slamming down on Collette, hoping to bringing it slamming down like an executioner's guillotine on her head or upper back in one of her signature moves, El Bota del Diablo!

Underdog21




Posts

: 6212


Join date

: 2008-04-26


Age

: 37



Colette's mind was a blur, she tried to recount what exactly just happened but nothing came to her clearly. She was just about to unleash a hellish back breaker on the She-Devil then a fierce pounding in her head began to act out. She slowly propped herself up on her elbows, her head thumping as she attempted to gain some level of footing. Laying here would get her bo where and with an opponent like Maria, she couldn't allow herself to let them gain the upper hand.

The moment she slipped her knee underneath her body to push up, a sudden burst of pain rocked her back, sending her back down. Her blue hues found the culprit, gleaming over her, a tanned leg out stretched across her back. Her spine screams in agony as she finds herself plastered onto the floor.

The Scot was growing irritable with this one. She was being quite annoying with her little acrobatics and these low tricks of theirs. She needed a chance t I recover and quickly too, letting Maria rag doll her like this could easily cost her the match. It was just a matter of waiting for the right opportunity.
_________________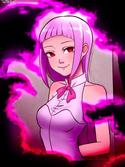 LilyStar




Posts

: 933


Join date

: 2018-02-26


Age

: 27


Location

: Your heart



Maria's leg came down like a descending axe, chopping across Collette's back and flattening the Scots girl against the mat. Landing in a seated position next to her, Maria nonchalantly swept her hair back, enjoying the site of her opponent now flattened to the mat after her dominant start. Now, of course, was the perfect opportunity to punish the bluenette further, and she had a good idea how.

Crawling on top of Collette's back, Maria pressed her hands to the other girl's shoulders and kicked her legs back, aiming to drive both of her knees into the bluenette's spine. If she managed this, then she would follow up by grabbing Collette's arms and draping them across her knees, before cupping Collette's chin and wrenching back in a painful camel clutch submission...

Underdog21




Posts

: 6212


Join date

: 2008-04-26


Age

: 37



Propping up on her arms, her blue hair draped over her shoulders onto the mat. Her teeth bared as the growing frustration she was feeling slowly deteriorated into pure malicious intent. She could take it if they clocked her good but they scraped her eyes, a truck only a coward would pull. It made her blood boil, Colette wouldn't be able to forgive herself if she lost here. The moment she felt them crawl onto her back with their added weight, she'd shoot upwards, quickly tucking in her knees to spring the Latina up, hoping to surprise her.

If the Scot managed to earn the element of surprise, she'd come for the She-Devil, not wasting a single moment if they landed on their backside. If Coco was quick enough, her pearly blue boot would stomp the Latinas chest in, her aim was to knock the wind out of them and pull the advantage back to her side, but she would make that transition slow. She wasn't a heel by any means, however, she wouldn't let Maria go unpunished.

If her stomp proved to much for the Latina to handle, Colette would scope up the hopefully drowsy opponent. Reaching around their inner thigh and hooking under their shoulder to lift them up with a pump of her legs. She had ever intention of finishing what she started, pushing through her limits despite the overwhelming pain, she'd take a giant step forward in an attempt to spike the tanned woman back against her stone-like knee for a backbreaker.
_________________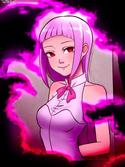 LilyStar




Posts

: 933


Join date

: 2018-02-26


Age

: 27


Location

: Your heart



Maria was smiling now as she moved to straddle her opponent, glad to finally be in control of her wily opponent for a change. Before she could grab for Collette's arms, however, the Scots Girl kicked her legs against the mat, springing forwards and causing Maria to gasp with surprise as she went rolling off and tumbling across the mat.

Rolling over onto her hands and knees, she turned just in time to see Maria striding towards her, bringing her boot slamming downwards. She brought her hands up to grab at Collette's booted heel, but was a fraction of a second too slow, and gasped loudly as her generous chest was flattened under Collette's heel. Breathing hard, she was suddenly pulled up by the hair...

Thinking quickly, Maria would try to shoot a forearm up between Collette's legs in a vicious low blow. She was hoping that this would be enough to make Collette release her: if the Scots girl let go, then Maria would immediately run for the ropes and bounce off, kicking up to drive her boot right into Collette's face.

Otherwise, if Collette did not release her, then Maria would end up being lifted up and slammed down against the other girl's knee in a brutal backbreaker...

Underdog21




Posts

: 6212


Join date

: 2008-04-26


Age

: 37



Colette was angry for sure but she wasn't blinded by unyielding rage that could cost her. No, this was a cold, calculating anger for being humiliated and toyed with by a woman she planned on breaking down only to later mount her on the wall as her prize. She took their disrespect personally, so it was only natural that she be through about her approach.

As she pulled the Latina up by their hair, she stood them up in prime position, hooking her inner thigh, while maneuvering to slope her arm under their shoulder, she noticed the She-Devil stirring. Not only did she stir but they were attempting something? In a flash, her arm hooked under their shoulder pulls away, her fist clenched tightly as she swung her elbow to click the woman's jaw and hopefully making contact to keep them complacent.

If her strike worked, she'd reaffirm her grip under their shoulder and looked to finish what she started. There was always something about executing a back breaker. During practice, she always felt that rush as her opponent suffered for letting their guard down and falling victim to her supposedly stone-like knee. Maria wouldn't be an exception, not by a long shot. With a huff and a heave, Coco aimed to lift the possible complacent Latina up into the air, exposing them to the crowd as she showcased her power. She waited, waited until the dread crept in their face before bringing them down hard.

She took a step forward, brandishing her knee with a precision of a trained doctor, her hope of executing her back breaker was perhaps reality. If she succeeded in her comeback, she'd dig her knee into their spine, only shoving them off and away after a few seconds before she went for her pray again for the next assault.
_________________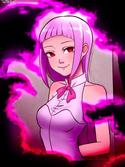 LilyStar




Posts

: 933


Join date

: 2018-02-26


Age

: 27


Location

: Your heart



The plan, at least, had been to nail Collette with a vicious lowblow, one designed to stun her long enough for Maria to make her comeback. Like all of Maria's plans tonight, though, it fell through almost immediately as Collette hit her with a clubbing elbow to the jaw that left her seeing stars. She groaned wordlessly, sagging a little in Collette's grip even as the other girl set her up for the deadlift.

The blood rushed to Maria's head as she was lifted up unceremoniously, Collette's arms going around her thigh to prevent her from attempting a counter. A second later, Maria's back connected with Collette's outstretched knee: unbelievable pain spike through the Cubana's back, and she let out a brief shriek before going limp across the Scots girl's leg, her slender form undulating slightly as she sucked in air. And then she was shoved over onto her back, still breathing hard, and barely able to move....

Underdog21




Posts

: 6212


Join date

: 2008-04-26


Age

: 37



Page 3 of 7 •
1, 2, 3, 4, 5, 6, 7
---
Permissions in this forum:
You
cannot
reply to topics in this forum