Who is online?
In total there are
28
users online :: 1 Registered, 0 Hidden and 27 Guests :: 2 Bots
Deus001
Most users ever online was
418
on Tue Jul 30, 2019 7:51 pm
Champions & #1 contenders
Melanie needs a Debut♡
Tue Mar 21, 2023 9:29 pm by Leon564
Comments: 0
Match search
Tue Mar 21, 2023 4:20 pm by GrandAkumaShogun
Looking for a match for any of my three guys. If interested feel free to get in touch and we discuss ideas for a match and either plan out who will win or wing it. If you want info on each the links are below.
Takeichi Mori
Takeshi Kawai
Imai Cosmo
Comments: 0
Friction ( toys ) match wanted
Sat Mar 18, 2023 10:45 am by Coolgirl1999
Yep! That's right I want my first match to be a toys match! I'm wondering if there's any woman brave enough to take me on!!!
Comments: 0
Page 5 of 5 •
1, 2, 3, 4, 5
The bluenette managed to gain control of the match once again. Maria wasn't someone she felt she could underestimate but not only that, she felt Maria was cooking up something. Coco wasn't exactly sure as to what just yet, however, she would have to worry about that later. She had a butt to kick. As she jumped and exposed her knee to drive into the woman's frame, she was utterly shook to her core. Colette's knees met the mat before her face scrunched up in pain. Just as she had missed her drop, Maria had managed to sneak her knee in, cheap shotting the Scot.

She bent forward, groaning in pain as she covers her womanhood now pulsing in pain. It hurt and the sensation she felt sent waves through out her entire body, she felt terrible and her balance and center were an absolute mess. God, was this humiliating, laying over, facedown on the canvas and the She-Devil looking so smug. "You….bitch." Was all the woman could manage. The Scot was down and weak she couldn't focus on anything but breathing as well as the pain that followed. She wanted to get back to her feet and rip Maria apart, it was a wish she couldn't wait to make.
_________________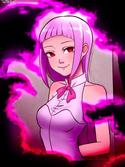 LilyStar




Posts

: 894


Join date

: 2018-02-27


Age

: 27


Location

: Your heart



Maria's counter connected perfectly, her knee coming up at just the right moment for Collette to connect with it, crotch-first. The Scots girl's shriek of pain was music to Maria's ears, as was the outburst of boos from the crowd. Rolling over to her hands and knees, Maria casually brushed her hair back, and gave a theatrical bow to the now booing audience, before standing up and turning again to face the downed Collette, who was lying facedown in a sprawl of blue hair.

"Aw, did that hurt?" she taunted as she leaned down over Collette. "Well, it's about to get a lot worse!" Grabbing two handfuls of Collette's blue hair, she would try to drag the other girl over towards the ropes; placing Collette down against the bottom rope, Maria would grab try to grab a hold of the top rope while pressing a boot down against the back of her opponent's neck, choking her ruthlessly against the ropes.

The referee would immediately get in Maria's face, while the crowd's booing increased in volume. "What? I'm not doing anything!" Maria would protest even as she choked Collette and the ref started a countdown. "ONE...TWO..."

Underdog21




Posts

: 6186


Join date

: 2008-04-27


Age

: 36



Colette could only look at them with malcontent, the pain in her core raged in agony as she could do nothing but lay there. The taunt at this point was just icing on the cake, Maria was solidifying her place on Coco's hate list. The arrogance and the tactics had made her lose sight of her goal only to feel the sting in her hair as the She-Devil grabbed two handfuls of it to pull her towards the ropes. The next thing she knew, her throat was pressed into the rope her legs frantically kicking as she begins to be cut off of oxygen.

Her hands go to the rope to push back, to give her an oppurtunity to breathe, all the while she can hear Maria claim ignorance. The Scot was going to tear them apart if it was the last thing she did. She didn't care how anyone saw her after, she was going to have the last word and out Maria in the ground.

If the referee managed to pry Maria away after the count, Coco would grab hold of the middle rope and begin her ascent. Her core still hurt but compared to her now aching throat, it was tolerable. Her gaze looked at them with a fire she couldn't contain. She was going to hold her promise and teach this woman some manners.
_________________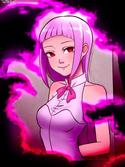 LilyStar




Posts

: 894


Join date

: 2018-02-27


Age

: 27


Location

: Your heart



Maria grinned as she pressed her boot down against the back of Collette's neck, and was rewarded by the bluenette's gagging and flailing as she scrabbled in a vain effort to breathe. Around them, the audience was losing their minds now as they boo'd Maria and her actions; she paid them no heed, continuing to choke Collette until the ref neared the end of their countdown.

"Alright, alright!" Maria snapped, releasing her foot from Collette's neck. Grabbing a hold of her opponent's hair, she would try to haul her up again, before slamming her face-first into the turnbuckle, hoping to stun her nicely. If she managed that, then she would push Collette's back against the turnbuckle, and slide up against her, her body rubbing sensuously against the Scotswoman's as she locked lips with her, her tongue darting playfully with her opponent's.

This, of course, was all a distraction from what was to come next...

Underdog21




Posts

: 6186


Join date

: 2008-04-27


Age

: 36



Coco pushed up from the mat, coughing as air filled her lungs, she was just about to make a jump to get to her feet before she felt the sharp sting. Maria's fingers gripped a handful of her blue hair, unceremoniously bringing her onto her own two feet. Before she could utter a protest or even fight back, she found another wave of pain as her face shook hands with the turnbuckle. Her mind went totally blank for why seemed like forever, she was practically stunned for the moment and the She-Devil took full advantage of her misplaced concentration. With a sharp shove into the corner, Colette was locked in both hands grabbing hold of the ropes to keep herself propped up from falling.

The Scot couldn't even make a single move before Maria's body pressed against her own. This didn't feel like the usual "Crush your opponent into the turnbuckle" kind of press. Her face became flush as soon as she realized exactly what Maria was doing. When it came to this sort of thing, Coco was all bark and no bite. There had been so many times she found herself giving in from her playful catcalls that ended up with her falling victim to more advance tactics. Colette's hands instinctively go to those tanned shoulders to push back before anything got out of hand but Maria was one step ahead and sealed the deal.

The bluenette's eyes widen, she didn't expect this, everything she had said was all a bluff, she wasn't even sure she could go through with it herself. Her face becomes darker, the beat red color of embarrassment had taken over her visage. She makes a bid to break the lip lock and push Maria away, she couldn't deal with this right now, she needed a second to think. If she could gain some ground, she'd step up, hoping to pry away from the corner, and shove Maria off to breathe.
_________________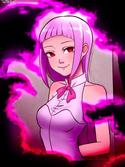 LilyStar




Posts

: 894


Join date

: 2018-02-27


Age

: 27


Location

: Your heart



Maria enjoyed the feeling of her lips meeting Collette's, of her tongue darting playfully with the Scotswoman's, of their breasts pressing close together as her body pushed in against Collette's. What made it even more enjoyable was the way Collette froze up, and tried half-heartedly to push Maria away. For all of her earlier bluster, it was clear that Collette had no defence at all against erotic tactics, and was going into as a result. All in all, a perfect distraction.

A distraction that ended as Maria suddenly grabbed the back of Collette's hair, spun around, and burst into a run,, aiming to take a big leap forward and bring Collette's chin slamming down on her shoulder in jawbreaker!

Underdog21




Posts

: 6186


Join date

: 2008-04-27


Age

: 36



Page 5 of 5 •
1, 2, 3, 4, 5
---
Permissions in this forum:
You
cannot
reply to topics in this forum