Who is online?
In total there are
46
users online :: 1 Registered, 0 Hidden and 45 Guests :: 2 Bots
Tick Tock
Most users ever online was
418
on 7/30/2019, 1:51 am
Champions & #1 contenders
Watches wanted
9/8/2023, 6:25 am by Midori Hyuga
I have three characters who need matches
Wolfgang Bruan ( tension )
Sasuke Moto ( tension )
Fumiko Hyuga ( fraction )
If you are interested please private message me with a match idea and character you want me to use
Comments: 0
Back and ready for the fun!~
9/1/2023, 7:45 am by Leon564
Comments: 0
Debut match
8/26/2023, 9:18 am by Midori Hyuga
I am looking for midori hyuga's or my other three ( Alexis Jones, Roman Greco, Fumiko Hyuga ) debut match on fraction ( or tension for Roman ) pm me if you're interested, I'm up for any ideas for a match
Comments: 0
Page 5 of 7 •
1, 2, 3, 4, 5, 6, 7
The bluenette managed to gain control of the match once again. Maria wasn't someone she felt she could underestimate but not only that, she felt Maria was cooking up something. Coco wasn't exactly sure as to what just yet, however, she would have to worry about that later. She had a butt to kick. As she jumped and exposed her knee to drive into the woman's frame, she was utterly shook to her core. Colette's knees met the mat before her face scrunched up in pain. Just as she had missed her drop, Maria had managed to sneak her knee in, cheap shotting the Scot.

She bent forward, groaning in pain as she covers her womanhood now pulsing in pain. It hurt and the sensation she felt sent waves through out her entire body, she felt terrible and her balance and center were an absolute mess. God, was this humiliating, laying over, facedown on the canvas and the She-Devil looking so smug. "You….bitch." Was all the woman could manage. The Scot was down and weak she couldn't focus on anything but breathing as well as the pain that followed. She wanted to get back to her feet and rip Maria apart, it was a wish she couldn't wait to make.
_________________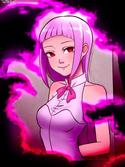 LilyStar




Posts

: 933


Join date

: 2018-02-26


Age

: 27


Location

: Your heart



Maria's counter connected perfectly, her knee coming up at just the right moment for Collette to connect with it, crotch-first. The Scots girl's shriek of pain was music to Maria's ears, as was the outburst of boos from the crowd. Rolling over to her hands and knees, Maria casually brushed her hair back, and gave a theatrical bow to the now booing audience, before standing up and turning again to face the downed Collette, who was lying facedown in a sprawl of blue hair.

"Aw, did that hurt?" she taunted as she leaned down over Collette. "Well, it's about to get a lot worse!" Grabbing two handfuls of Collette's blue hair, she would try to drag the other girl over towards the ropes; placing Collette down against the bottom rope, Maria would grab try to grab a hold of the top rope while pressing a boot down against the back of her opponent's neck, choking her ruthlessly against the ropes.

The referee would immediately get in Maria's face, while the crowd's booing increased in volume. "What? I'm not doing anything!" Maria would protest even as she choked Collette and the ref started a countdown. "ONE...TWO..."

Underdog21




Posts

: 6212


Join date

: 2008-04-26


Age

: 37



Colette could only look at them with malcontent, the pain in her core raged in agony as she could do nothing but lay there. The taunt at this point was just icing on the cake, Maria was solidifying her place on Coco's hate list. The arrogance and the tactics had made her lose sight of her goal only to feel the sting in her hair as the She-Devil grabbed two handfuls of it to pull her towards the ropes. The next thing she knew, her throat was pressed into the rope her legs frantically kicking as she begins to be cut off of oxygen.

Her hands go to the rope to push back, to give her an oppurtunity to breathe, all the while she can hear Maria claim ignorance. The Scot was going to tear them apart if it was the last thing she did. She didn't care how anyone saw her after, she was going to have the last word and out Maria in the ground.

If the referee managed to pry Maria away after the count, Coco would grab hold of the middle rope and begin her ascent. Her core still hurt but compared to her now aching throat, it was tolerable. Her gaze looked at them with a fire she couldn't contain. She was going to hold her promise and teach this woman some manners.
_________________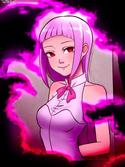 LilyStar




Posts

: 933


Join date

: 2018-02-26


Age

: 27


Location

: Your heart



Maria grinned as she pressed her boot down against the back of Collette's neck, and was rewarded by the bluenette's gagging and flailing as she scrabbled in a vain effort to breathe. Around them, the audience was losing their minds now as they boo'd Maria and her actions; she paid them no heed, continuing to choke Collette until the ref neared the end of their countdown.

"Alright, alright!" Maria snapped, releasing her foot from Collette's neck. Grabbing a hold of her opponent's hair, she would try to haul her up again, before slamming her face-first into the turnbuckle, hoping to stun her nicely. If she managed that, then she would push Collette's back against the turnbuckle, and slide up against her, her body rubbing sensuously against the Scotswoman's as she locked lips with her, her tongue darting playfully with her opponent's.

This, of course, was all a distraction from what was to come next...

Underdog21




Posts

: 6212


Join date

: 2008-04-26


Age

: 37



Coco pushed up from the mat, coughing as air filled her lungs, she was just about to make a jump to get to her feet before she felt the sharp sting. Maria's fingers gripped a handful of her blue hair, unceremoniously bringing her onto her own two feet. Before she could utter a protest or even fight back, she found another wave of pain as her face shook hands with the turnbuckle. Her mind went totally blank for why seemed like forever, she was practically stunned for the moment and the She-Devil took full advantage of her misplaced concentration. With a sharp shove into the corner, Colette was locked in both hands grabbing hold of the ropes to keep herself propped up from falling.

The Scot couldn't even make a single move before Maria's body pressed against her own. This didn't feel like the usual "Crush your opponent into the turnbuckle" kind of press. Her face became flush as soon as she realized exactly what Maria was doing. When it came to this sort of thing, Coco was all bark and no bite. There had been so many times she found herself giving in from her playful catcalls that ended up with her falling victim to more advance tactics. Colette's hands instinctively go to those tanned shoulders to push back before anything got out of hand but Maria was one step ahead and sealed the deal.

The bluenette's eyes widen, she didn't expect this, everything she had said was all a bluff, she wasn't even sure she could go through with it herself. Her face becomes darker, the beat red color of embarrassment had taken over her visage. She makes a bid to break the lip lock and push Maria away, she couldn't deal with this right now, she needed a second to think. If she could gain some ground, she'd step up, hoping to pry away from the corner, and shove Maria off to breathe.
_________________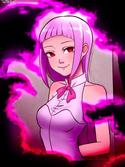 LilyStar




Posts

: 933


Join date

: 2018-02-26


Age

: 27


Location

: Your heart



Maria enjoyed the feeling of her lips meeting Collette's, of her tongue darting playfully with the Scotswoman's, of their breasts pressing close together as her body pushed in against Collette's. What made it even more enjoyable was the way Collette froze up, and tried half-heartedly to push Maria away. For all of her earlier bluster, it was clear that Collette had no defence at all against erotic tactics, and was going into as a result. All in all, a perfect distraction.

A distraction that ended as Maria suddenly grabbed the back of Collette's hair, spun around, and burst into a run,, aiming to take a big leap forward and bring Collette's chin slamming down on her shoulder in jawbreaker!

Underdog21




Posts

: 6212


Join date

: 2008-04-26


Age

: 37



Her mind was a whirlwind as she stood trapped in the corner between a not-so-hard place and a very hard place. The Scot's feeble attempt to push Maria away only made her seem more of a pushover. Their tongue invaded her mouth, sending a hot flash throughout her toned body. Collette thought that her situation was bad enough but she slipped up, falling into a trance with the kiss. Her grip seems to slip as the She-Devils body mashed against her own, flattening their chests like pancakes. She makes another attempt to weakly push Maria away but it seemed they had other nefarious plans in store for her instead.

She felt the familiar sting in her scalp as tanned fingers reached their her blue mane and grabbed her locks between her fingers. A sharp in-take of breath escapes her lips as she reads back from the pull. Had she been in a better state of mind, the bluenette would've countered or fought back more fiercely. Her body willingly follows her rivals commands and finds herself on the receiving end of more pain. With Maria taking off into a run she cries out with frustration as solid bone finds a home in her chin.

Her head rocks back harshly as the impact bursts from her chin. The explosive force drove the pain from her chin to the top of her skull, all the way down to her toes just to ring back in her brain again. With her balance severely inhibited, Colette can't even manage a step forward let alone a step back. The room began to go up and away as her body bent itself into a solid "C" before she fell flat, face first. The ring shakes as she makes impact with the canvas, giving a small bounce to her bottom as she lays there, struggling to maintain her focus. She pants softly into the mat, her body was seriously taking a toll and Maria wasn't making things any easier espcially with those underhanded moves.

Her body takes a moment to process her pain, having nothing to soothe the ache, Colette lays helpless facedown, defenseless to her dastardly rival.
_________________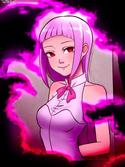 LilyStar




Posts

: 933


Join date

: 2018-02-26


Age

: 27


Location

: Your heart



There was a titanic crash as Collette collided with the ring, the Scottish bluenette losing her battle against gravity after having her chin so nicely introduced to Maria's stunner. Sitting upright, Maria casually brushed her hair back, noting her fallen opponent next to her, groaning facedown on the ring. It would be so easy to pin her amazonian opponent here and now...but then, that would mean missing out on some much-needed fun at her expense.

Leaning back, Maria would slide her legs down to scissor one of Collette's trapped legs...before reaching down to grab for Collette's other leg and leaning back, bending Collette's leg at an extreme angle, and in the process leaning against Collette's shoulder to pin her arm under her as well! Maria would effectively lock in her deadly submission finisher, La Alacran Diabolus, and if not force Collette to tap, then at least hopefully make her scream as her leg was bent further than it was meant to!



Underdog21




Posts

: 6212


Join date

: 2008-04-26


Age

: 37



Her head was still spinning and she kissed the canvas with her face. Her body lay limp as she attempts to recover but she new exactly what that could lead to. The Scot was down but worse then that she was vulnerable to a devious opponent, one who liked to tease and taunt her. She was worried the next thing to come would be another tease that would send her over the edge. She made a bid to push up but by the time she'd steeled her resolve Maria was already on the move to put the hurt on Coco.

A tired cry escapes her lips as her limbs are ensnared and she's bent in such a precarious angle. "Im going to get you for this, you [slag!]" She roars. The tension in her muscles screams as they're being pulled beyond their limit. Colette shuts her eyes, her free hand hovering over the canvas with the thought of giving in; throwing in the towel and trying again next time but her fingers curl inward, clenching into a fist. She has to endure, there may never be a next time for her, not if she could never bring herself to break past this wall Maria put in front of her.

The Scot releases another cry of pain, she knows she has to endure but there must be something she can do! Her quads and thighs begin to quake as the muscles feel ready to tear. Her calves groan as they tense without release. Colette pants softly as she tries to gain some reprieve from this. She can't get to the ropes so her only option is to let Maria run out of steam. Her heart begins to beat faster, she swears to herself when she's out of this, she'll do everything in her power to beat down the she-devil and claim her as her prize…maybe. Colette is still on the fence about the whole thing. She's not even sure she could go all the way, not just yet.

She clenched her fist harder, her blue hair covering the mat in its sheen, sweat drops onto the canvas, evident of her struggle.
_________________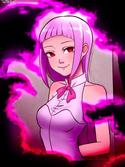 LilyStar




Posts

: 933


Join date

: 2018-02-26


Age

: 27


Location

: Your heart



Maria was grinning viciously now as she winched back further and further on Collette's trapped leg, bending it at an angle it wasn't supposed to go even as she scissored the Scots girl's free leg to keep her trapped. She was rewarded by Collette's muffled cries and swears as the bluenette lay facedown against the mat, visibly sweating as Maria began to work her over. This was Maria's nastiest submission hold, and she was sure that, before long, Colette would be tapping.

"Aww, looks like you're going to be mine after all, chica," Maria taunted even as she winched the hold back. She felt Colette starting to drag them towards the ropes; in response Maria simply kept tightening the hold, increasing Colette's discomfort as the Scotswoman was forced to crawl across the ring. It was only a matter of time before they found out which would break first-- Collette's leg, or her spirit.

The answer, as it turned out, was neither, as Colette managed to crawl in just close enough to grab the bottom rope! Annoyed, Maria unwound her legs from around Collete's trapped leg, but kept her hold around the bluenette's other leg as she stood up. With an irritated sigh, she would slam Collette's leg down, knee-first, against the mat, before walking away as the ref girl got in her face. Not that it mattered, as at this point Collette would now have a serious problem with using that leg...

Underdog21




Posts

: 6212


Join date

: 2008-04-26


Age

: 37



Page 5 of 7 •
1, 2, 3, 4, 5, 6, 7
---
Permissions in this forum:
You
cannot
reply to topics in this forum