Who is online?
In total there are
20
users online :: 1 Registered, 0 Hidden and 19 Guests :: 2 Bots
skip-stop
Most users ever online was
418
on Tue Jul 30, 2019 9:51 am
Champions & #1 contenders
Melanie needs a Debut♡
Tue Mar 21, 2023 10:29 am by Leon564
Comments: 0
Match search
Tue Mar 21, 2023 5:20 am by GrandAkumaShogun
Looking for a match for any of my three guys. If interested feel free to get in touch and we discuss ideas for a match and either plan out who will win or wing it. If you want info on each the links are below.
Takeichi Mori
Takeshi Kawai
Imai Cosmo
Comments: 0
Friction ( toys ) match wanted
Fri Mar 17, 2023 11:45 pm by Coolgirl1999
Yep! That's right I want my first match to be a toys match! I'm wondering if there's any woman brave enough to take me on!!!
Comments: 0
Page 4 of 5 •
1, 2, 3, 4, 5
Colette's patience, or lack there of, managed to find solace in the now broken form of the She-Devil. Annoyed as she might be, they were putting up a fight, making her work for her victory but truth be told, they had managed to hit a nerve too. She'd make good on her promise, when this was over, she'd teach them some manners. As they rolled off her knee, the bluenette only saw the rise and fall of their chest, breathing heavily after a backbreaker like that, she felt she'd be in the same boat if it happened to her.
It wasn't over just yet though, despite looking worn out, Colette wasn't taking a chance with this one. Reaching down she grabbed hold of Maria by their arm, pulling them up to their feet. With a light pat to their tanned cheek, she'd shove them between her thighs, locking them in a standing headscissor before leaning over them to hook her arms around their stomach. With a bounce of their knees, she'd ascend.
Maria would find herself up in the air now, threatened by the pain of a powerbomb, the Scot would show no hints of taking this slow. If the She-Devil were complacent with her efforts, Colette would step out, using gravity to aide her plan to drive the woman deep into the canvas. If the powerbomb connected, she'd leave those legs dangling over her shoulders and go for the pin. 
_________________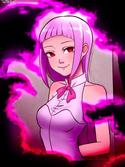 LilyStar




Posts

: 894


Join date

: 2018-02-27


Age

: 27


Location

: Your heart



Maria was breathing hard now as she lay on her back, staring up at the arena lights. Collette had been brutally taking it to her throughout this entire match: the damned bluenette seemed to be seeing through every move she was about to make, and had a counter lined up for every high-flying tactic of hers. She gritted her teeth, partly out of pain and partly out of frustration. She had to get to some of her hidden weapons-- something that Collette wouldn't be able to counter-- but she had to get up first, and right now she could barely move. She needed an opening, and fast.

As if on cue, her arm was pulled, and she was dragged, groaning, up to her feet by Collette. She felt her head being forced between the other girl's powerful thighs, and blushed as her ass was tapped. And then, suddenly, she was lifted up into the air, in a setup for a power bomb.

This....this was an opening, if there ever was one.

Maria held her breath as Collette suddenly lifted up off the mat...and then made her move. Her tanned legs suddenly locked around Collette's head as Maria pressed her palms against the mat. With a loud cry, Maria arched her body and kicked her legs forwards, aiming to flip Collette over her and bring her crashing down head-first into the mat instead!

Underdog21




Posts

: 6186


Join date

: 2008-04-26


Age

: 36



Coco wasn't sure of what to make with Maria. She felt an intense sense of loathing towards them here and there but when she wasn't yapping or being annoying, the bluenette didn't seem to mind her. Case in point, having her laid out right now. Silent, focused on breathing while she pressed on, aiming to either: A.) Finish them off or B.) Keep the pain coming and whittle them done like an expert sculptor with her hunk of stone. She'd tap thier tanned cheek , hoping to gain their attention and make them focus. A sort of wake up call of sorts with a light pat, before the inevitable shove.
Just as she had lifted them up to begin their possible descent into darkness, suddenly she felt legs latch around her neck. The primal scream of the She-Devil alarmed the Scot, her hands immediately went to the vice grip of legs locking her throat. She was to late, Maria used her new found leverage to send Colette over to spam her head first into the canvas. The wave of pain that followed spiked the crown of her skull, sending the signals up her spine to the balls of her feet. She fell like an oak.
She grips her aching head, curling into a ball as the pin began to overtake her. She groans with discomfort as her mind swirls, scrambled and broken as she laid in the fetal position, hoping to soothe her pain. The bluenette was undoubtedly vunsrable, having made the mistake of underestimating the Latina so close, she could only blame her impatience for this. 
_________________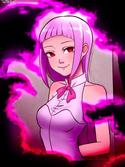 LilyStar




Posts

: 894


Join date

: 2018-02-27


Age

: 27


Location

: Your heart



Collette's head made a beautiful thudding noise as it was spiked hard into the mat. Rolling free of the toppling Scotswoman, Maria saw her flattening down to the mat, curling up into a fetal postion as she clutched her hurting head. That might have been the big turnaround that Maria had needed: Collette had gone for a big move, but had been met instead by a big counter. All Maria needed to do now was to keep hammering her.

Walking over to Collette, Maria shoved the other girl onto her back. Still breathing hard after having been battered earlier in the matc, Maria nonetheless ran to the ropes, aiming to jump onto the middle rope and spring off. If all went according to plan, she would come down hard on Collette in a sunset flip, slamming down hard on the other girl and wrapping one of her legs back in a pinfall attempt!

Underdog21




Posts

: 6186


Join date

: 2008-04-26


Age

: 36



The Scot rubbed her head, the dome of her skull was pounding with pain, she didn't expect Maria to have that kind of power but low and behold. She overestimated how much she truly whittled the She-Devil down. That was her mistake, one she wished she didn't have to pay but this was the aftermath of said slip up.
Just as she was going to make a bid to get up, she was shoved onto her back, Colette couldn't resist the guidance, not now. She heard the latter of their boots thumping against the canvas, what was she doing? Her body would soon know the answer as her pearls manage to lock onto Maria as she was now up in the air. Her eyes now blushing out of her skull as she jackknifed against the force of their sunset flip. Air forces from her lungs as her center was hit hard. 
Colette didn't have a chance to even protest as she felt her leg hooked. She was in a panic now as the referee slid beside the two and begin the count. 
One!" She couldn't let herself lose to this, to them. Nothing in her mind agreed to allow it to happen. She needed to push through, show this world and Maria that she was a warrior, it was in her blood!
"Two!" With a fierce grunt, the bluenette pressed her palm to their shoulder and with a sharp turn, broke free f the pin, panting harshly, as she weakly tries to shove the Latina away. 
_________________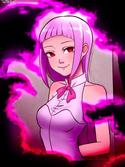 LilyStar




Posts

: 894


Join date

: 2018-02-27


Age

: 27


Location

: Your heart



That sunset flip had been executed beautifully. Maria had described a perfect arc in the air, worthy of an acrobat, as she sailed downwards to collide hard with the bluenette. Collette had impacted hard underneath her, the air blasted from her lungs as Maria's full weight came down on top of her. After that, it was a simple matter to hook one of her legs and--

No. Despite everything, the stubborn Scotswoman still kicked out after the two count. Kneeling upright, Maria swore en Espanol and slapped at the mat in frustration. If she was going to win this, then she would have to make Collette suffer even more, it was as simple as that. Standing up, Maria grabbed a hold of Collette's long blue hair; ignoring the ref's calls for her to stop, Maria would try to drag Collette up to her feet and pull her towards the ropes, before dragging her face along the the the rope towards the turnbuckle. Once she reached the turnbuckle, of course, she would slam Collette's face hard into it, in order to keep her foe nice and stunned.

Underdog21




Posts

: 6186


Join date

: 2008-04-26


Age

: 36



Colette groaned as she sat up, her core was ringing with pain and she just barely managed to kick out of that. Maria had a pretty serious advantage right now but all the bluenette needed was a chance to get to her feet. The She-Devil would pay for all this pain, all the tricks she had pulled, the Scot was determine on that front. Just before she could make an attempt to stand, her hair stung as the Latina pulled her to her feet. A rigid groan escapes her lips as she was dragged but this was her chance, the moment she had been waiting for.

With a harsh shove, adrenaline kicked in. Colette would look to push some distance between her and Maria and from the looks of things, they ended up close to the ropes. If her newfound luck served her well, she'd rush her for, aiming to dig her into the ropes before throwing her forward with a sharp turn hoping to use the ol' Irish Whip.

If her plan succeeded, the Scot would step up to the plate once the She-Devil rebounded. If she were fast enough, Colette would extend out her boot to firmly planted Maria's core to double them over or knock them flat on their back. If she accomplished either one, she'd breathe heavily, bending her knees to catch her breath as she made a bid to ease her pain before leaping back into action. She was going to end this in this most brutal way possible and keep to her word. Maria was going to be her prize.
_________________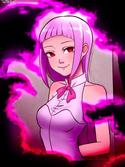 LilyStar




Posts

: 894


Join date

: 2018-02-27


Age

: 27


Location

: Your heart



The intention, at the time, had been to give Colette a generous serving of rope burn, followed by a two-way trip to la la land as she bashed her face against the turnbuckle. As was constantly proving to be the case, though, Colette just didn't want to play ball: instead of letting Maria grind her pretty face against the turnbuckle, Collette fought back, suddenly spinning and whipping Maria across the ring.

The white-haired luchadora cursed as she came bouncing back, just in time to see Collette extend a boot towards her. Hissing another curse, Maria would try to catch that boot under her armpit: if she succeeded, she would give Collette a sly smile, before dropping low, slamming Collette's ankle down against her outstretched knees. Otherwise, she would take the boot right to her chest, and go wide-eyed before collapsing onto her back, huffing for breath....

Underdog21




Posts

: 6186


Join date

: 2008-04-26


Age

: 36



Sending the luchadora bounding to the ropes seemed like the best play, it gave Colette distance, a short spell to recover, and would allow her to get her bearings back. She was eager to plant Maria into the mat and even more so to end that rude streak of theirs. They were proving to be anything but simple and the longer the match went on, the more she could see that this would be anything but easy. With Maria on her way back she extends her boot aiming to drive it deep into their center but the luchadora proved time and time again that this may end up being a bad idea, and getting ragdolled again after just escaping didn't please the Scot one bit.

She slams her boot down, changing up her own tactic to not only surprise the Latina but save herself from getting possibly countered. If she managed to prepare in time, she'd slam her shoulder into the Luchadora in an effort to stop her in her tracks and put her on their butt. If she were successful, the bluenette would tower over the snow haired Maria, who would hopefully be huffing for air as she lay on the mat. Colette would drop to her knees looking to add insult to injury by driving her knee hopefully into their stomach.
_________________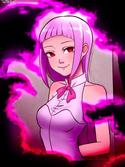 LilyStar




Posts

: 894


Join date

: 2018-02-27


Age

: 27


Location

: Your heart



Maria was primed and ready to catch Collette's outstretched leg at this point and turn her own move against her...only for the bluenette to suddenly stomp her foot down. "Wha--" was all Maria managed to say before Collette shifted her weight and drove a shoulder hard into her chest. The air was blasted from Maria's lungs, and she was dropped down hard onto her butt, momentarily stunned by Collette's attack.

Even as she caught her breath, Maria saw Collette now towering above her, looking like she was preparing for a move. Gritting her teeth, Maria reacted as Collette suddenly dropped down, trying to raise her knee so that Collette's momentum would cause her to collide with it, crotch first. Of course, if Maria wasn't fast enough, then she would instead get nailed by Collette's knee drop...

Underdog21




Posts

: 6186


Join date

: 2008-04-26


Age

: 36



Page 4 of 5 •
1, 2, 3, 4, 5
---
Permissions in this forum:
You
cannot
reply to topics in this forum