Who is online?
In total there are
48
users online :: 2 Registered, 0 Hidden and 46 Guests :: 2 Bots
Deus001
,
Teenwrestler
Most users ever online was
418
on Tue Jul 30, 2019 9:51 am
Champions & #1 contenders
Looking to get back into forum rp
Thu Dec 16, 2021 6:58 am by 321Shazam
Hello, it's been awhile. I'm trying to get back into rping on here. I'm looking for hentai style matches feel free to message me here or on discord @[FTK] Bastion#5496
I hope to hear from you guys soon. I can't wait to have some fun with you guys
Comments: 3
Health problem
Wed Jan 05, 2022 1:24 pm by Harrier
Hey,
I just want to inform you that I am taking a hiatus. I am feeling terrible and am currently in medical treatment. Sorry.
Comments: 2
Hunting for matches
Sat Jan 01, 2022 11:09 pm by GrandAkumaShogun
Hey all, as the title says looking for matches for any of my boys
Takeichi Mori
Takeshi Kawai
or
Imai Cosmo
. As a side note for Takeichi if you're interested in him I was thinking of trying to move him from being a jobber so if you're down for helping with that in particular we can discuss. Otherwise if any of my three dudes catch your interest for a match or other interaction feel free to get in touch on here or in a pm. Thanks in advance to anyone who shows
[
Full reading
]
Comments: 1
Standard Match
Victory Conditions: Pinfall, Submission, Countout, DQ or KO
Special Rules: Hentai allowed
Mariko found herself in a rather unique predicament tonight. She was scheduled for a match with a woman who had been signed to Tension for a while now, yet in preparation for it she had been quite surprised that her opponent still had yet to make her debut in AFW, at least as far as Mariko could tell. The reason why wasn't clear either. Her first assumption was that perhaps the woman had suffered a bad injury in training shortly after her signing, but there was no way for certain.
All Mariko knew was that tonight she would be wrestling a woman she knew next to nothing about, and who would almost certainly know far more about Mariko, assuming she kept up with the shows. But for the Japanese vixen, everything about tonight was a total mystery.
It was kind of exciting, really.
Music:
Mariko:
Her familiar music began to blare over the arena speakers, prompting the fans into a loud chorus of welcoming shouts and applause as Mariko emerged on the stage. She paused to take one quick, grinning glance over the crowd before striding down the aisle, giving her hips a subtle but intentional shake with each step along the way. Mariko ascended the steel steps and slipped through the ropes to enter the ring, then strode off into her corner, where she leaned back against the turnbuckles while resting her arms over the ropes. Her eyes shifted back toward the entranceway, and she was more than a little eager to meet this mystery woman she was set to wrestle...

LARIATO




Posts

: 5414


Join date

: 2014-11-13


Age

: 28



The blunette found herself at odds with her match. Of course she was happy to finally get in the ring, knock some heads around but the rules for tonight made her feel...awkward. It's not that she didn't expect this to happen but, her first match? Colette tapped her chin, thinking heavily on what she would have to do, she'd never anything like this before, usually it was best you opponent until they couldn't get up or soenthong like that. Was she nervous? No, far from it but she was going to have a hard time dealing with these tactics if what she was thinking would actually happen.
For now though, she'd push that thought behind and focus on her competition instead. Mariko Ishii, who was that again? She didn't keep up with the show nor did she really take an extensive look at the roster either. Weren't they some hotshot, big name kind of deal? She couldn't recall, but it didn't seem to matter either, Colette was going to see them soon, her hip was that she was just overthinking this fight, maybe it wouldn't happen the way she's been thinking.
The Scot pulls her white logo short sleeved shirt up from the waist, taking it overhead before tossing it onto her bag. She didn't feel comfortable changing here so Colette wore her attire underneath, you never knew who could be spying on you. Next came her shorts, trunks underneath that fit just like a button. She often felt it was a bit too small but today it fit just right. Kicking off her ankle socks, she'd grab her white stockings instead, pulling the up to the highest point in her thigh, she would grab her blue and white boots to slip on after. Pulling up her gloves, the sleeves that connected to them ran up to her elbow, getting into this attire felt refreshing, her love of the sport spring up from her core, igniting that flame again, she could feel herself getting pumped.
There was a knock at the door, she tossed her things into her locker before heading towards the door, cracking it open to look out. It was one of the staff, what did he want?
"Miss Colette? You're out in five.
He states. Oh right! She needed to be out there soon before she messed up her own entrance. "Right, I'll be out there in a minute." Her Scottish accent was thickly mixed with her Japanese. It was hard to separate, some people argued it made her sound southern .
Leaving the locker room, she heads down the hallway towards the curtain. ["Can't believe they're putting' me in this kind of bloody game, the sow probably thinks I'm a wee weaklin'."] She grumbles to herself, no one could probably understand her even if they understood English. Whoever this Mariko was, she was about to see what made the Blue Wonder, a Wonder. Wow, she's glad she didn't say that out loud, that was embarrassing.
Colette's Attire:
Theme:
The beat of her entrance brough her in, like the Dead Sea splitting, she separated this curtains with a fierce outward push. She walked with vigor and confidence down the ramp. She didn't sway her hips like her rival up there but she earned some of the audiences support. From what she could tell, they were more on Mariko's side then hers, must be a fan favorite. The scot had to admit, standing there, she did look pretty, not to mention strong but the earlier thought sprung up again. What was going to happen to her? Would they really be touching her...that way?
No, no! Don't lose focus, she tells herself as she climbs those steel steps, slipping into the ring through the second rope, she could feel her heart race as she backed herself up back against the ropes. Her  aquamarine pools analyzing them carefully. Up close you could really see their sculpted build, a nice touch. Maybe this was going to be more of a challenge then she thought.
_________________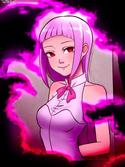 LilyStar




Posts

: 866


Join date

: 2018-02-27


Age

: 25


Location

: Your heart



Mariko was quite curious to see just what kind of woman would be stepping into the ring with her tonight. And when Colette's music finally began to play, her eyes focused on her opponent-to-be while the woman. Mariko watched her closely, trying to see just how much she could learn about Colette while she was making her way down to the ring.

Granted, there was only so much one could learn about a stranger without speaking to them. But Colette wasn't just taking a casual stroll down the street. This was a setting where people put more of themselves on display than they often even realized. For example, despite having an attractive figure, Mariko noticed Colette didn't do anything to accentuate her curves. No poses, no subtle touches added to her walk. She marched ahead like a nervous soldier going off to battle. And that nervousness was an interesting thing. It could be pre-match jitters, the proverbial "butterflies in the stomach" before her debut. That would've been understandable. But Mariko had a suspicion the stipulations of the match might have something to do with that too. Perhaps this woman wasn't comfortable in a hentai setting? It was impossible to know for sure, but she pocketed the thought for now, intent on revisiting it soon.

Once Colette had joined her in the ring, the woman immediately went to her corner. She seemed tense, like a bullet ready to fire out of a gun at the first touch of the trigger. Mariko, conversely, was completely relaxed, the corners of her lips even pulled into a very slight grin.

DING!

The bell rang, but Mariko didn't immediately drop into a stance or dive into the action. Instead she walked out toward the middle of the ring, and extended a hand toward Colette. "Nice to meet you. Let's have some fun tonight," she said. Despite the fact that Mariko almost always looked cool, calm and collected in the ring, she remembered how nervous she had been for her debut too, and wanted to help Colette relax a bit before they started pummeling, groping and stretching each other.


LARIATO




Posts

: 5414


Join date

: 2014-11-13


Age

: 28



It wasn't the bluenette's style to flaunt herself, all her life her upbringing had told her that action spoke louder than words. She didn't swing her hips or exaggerate her walk only because she was going to prove that she was more than eye-candy to the crowd. Colette was going to do this her way and if she ended up bulldozing Mariko over then that was just how the cards played. Still, there was a small sense of uneasiness in the back of her mind. A first time for everything sure but this was more on the weird side for her, the bluenette wasn't sure she could deal with this sort of humiliation.

She was tense for her first match, a whole new world awaited here, so far from home. This stage was much bigger then she actually realized compared to the small hundred or so gatherings from her previous matches. It made her feel small, impaired to the big fish she shared the ring with. Of course she had no idea who the woman in front of her was but with crowd approval like this, they were obviously a veteran through and through. Coco figured she'd need to pull all the stops against a well-versed opponent like Mariko.

With the sudden ding of the bell, she instinctively took a stance, her rival was calm, cool, collected even. It irked her just a hair as they grinned and crossed the ring extending out a hand to her. The Scot hesitates for a moment, until they greet her kindly, wanting to have a fun night. She wasn't sure about fun but, she supposed this woman was trying to be nice. She would repent her stance, extending her own hand to firmly shake shake. She cracked a slight grin, it seemed to help her nerves maybe just a bit.

"Nice to meet you too, uh....friend. Sorry, bit miffed at the thought of, well ya know." The Scot's accent seeped through her Japanese. It was a ahead dialect for her to conceal, she sometimes felt some people had a hard time understanding her. She felt an odd sense of calm now, she'd release her rivals hand and take a couple steps back, it seemed only right to allow them to get ready after they so kindly introduced themselves.
_________________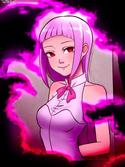 LilyStar




Posts

: 866


Join date

: 2018-02-27


Age

: 25


Location

: Your heart



Though her foe did seem tentative about it initially, she did shake Mariko's hand. Her words and the display of sportsmanship appeared to help relax the woman a bit, though the woman's response, which impressed Mariko by being in Japanese even with the unusual dialect, brought a small chuckle from the Japanese vixen.

"For what it's worth, if it comes to that, I'll try to make sure you enjoy it just as much as me~" she said, winking playfully at Colette. Mariko could understand the reservations some held about hentai wrestling, especially in their debut. But hentai was merely an extra allowance for the match tonight, not a necessary condition for victory. Mariko had no intention of stripping Colette down and forcing an orgasm out of her in the woman's debut. But there were other ways she could have fun with the stipulation while experimenting with her foe's reactions.

With formalities out of the way, Mariko backed up and began to circle the other woman before gradually inching closer. She put her hands up, but opted not to go for the simple lockup her posture might've suggested. Instead, she'd quickly drop to a knee while trying to dash around Colette's side. Slinging her arms around the woman's midsection, she'd stand up to try to hold Colette in a rear waistlock. Nothing painful, not yet at least. She just wanted to get a feel for Colette's reaction and see what she'd do about this. Whatever method she chose to try to escape might tell Mariko something important about her style.


LARIATO




Posts

: 5414


Join date

: 2014-11-13


Age

: 28



Her rival chuckled, was it something she said? Colette supposed it could've been, she supposed a veteran was used to these kinds of rules, but maybe they also seemed to understand her thought process. It was a bit comforting to know they knew how she was feeling but that couldn't consume her, no, she needed to be aggressive, the bluenette wouldn't allow them to just do as they pleased even if they were being rather nice about it.

Her comment to get past her, as she took her hand back from the shake, she placed it on her hip with a slight shift in her position. "Good luck, I won't just lay down and take it. You better bring ya A-Game, [Lass]." she replies, the wink making her blush slightly. Her blue gaze shifts to look away for only a moment. She didn't have to give them that satisfaction if she could help it, Coco settled into a stance of her own as her opponent took a few steps back to give her space. It was a welcomed decision, it gave her time to reassess herself and prepare for any oncoming lock ups, but it was the abscence of it that surprised her the most.

The moment played back in her mind as she recounted where she currently found herself. At first Mariko had bent down, their knee pushing them forward as they dashed around her. The Scot couldn't believe they were this fast, she felt their arms squeezing her waist. With the waistlocks light pressure, her body was bent to the will of Mariko. She grunts as her hands go for the lock and key first. Her thumb slips in to attempt to pry the lock open but it was a fight she couldn't afford to waste her stamina on. No, she could do something else instead. Coco wasn't a stranger to brute force tactics, her only concern was how she could manipulate the situation to her favor without giving the other woman a chance. She had to keep in mind the stipulation to their match in mind too. There was no telling when or where her opponent would begin.

Shifting her left foot in and slightly back between her rivals legs, she'd attempt to roughly turn her own frame as much as she was able to. From here, she'd suddenly shoot uo the parellel arm to reach back and clamp the short haired woman's head under her shoulder. If she managed that, she'd squeeze their head tightly against her bicep and chest, hoping to lock in a headlock, to give them a reason to release her.
_________________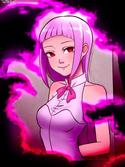 LilyStar




Posts

: 866


Join date

: 2018-02-27


Age

: 25


Location

: Your heart



---
Permissions in this forum:
You
cannot
reply to topics in this forum