Champions & #1 contenders
Who wants a match?
Sat Aug 13, 2022 2:28 am by Bahamut01
Hey all its been a while. So trying to get some matches going! Reply here or pm me and let's make something happen!
Comments: 2
Apologies.
Tue Aug 09, 2022 1:04 am by ihateocrecolors
Due to some issues that I think have been popping up because of my involvement in stuff, I believe it's in the interest for me and everyone else that I take a temporary or probably permanent leave from AFW-related stuff. I have been nothing more than a burden to most of you. I won't make this into a giant paragraph. All I want to say is that I apologize to everyone who's ever rooted for me because I can't hack it not anymore.
Comments: 1
Retiring some wrestlers
Sun Jul 10, 2022 11:42 am by Deus001
Hey all
Deus here, I've been thinking it over and I'll be looking at benching some of my roster. Been thinking its a bit over bloated and with newer ideas on the horizon for me I've figured its time to shuffle them off to greener pastures or let their faceclaims be free to use.
So at the moment I will be retiring Chuang Lingxian, Qi Lingxian and Leon La Rouge effective immediate. I might be considering benching other people but atm the above three are getting axed. If you want to adopt any of …
[
Full reading
]
Comments: 1
Page 2 of 2 •
1, 2
Mariko let out a soft chuckle at Colette's bashful reaction. It was just too adorable. "No? Well, there's nothing wrong with that. Just go with the flow, and see where it takes you~" she said. To some it might've seemed strange for Mariko to be offering advice while her opponent was sitting on her in a full mount, but the Japanese beauty didn't seem to mind it at all.

She continued to caress Colette's thighs until the woman took hold of her hands, interlocking them at the fingers, and guided them down. Mariko offered no resistance as the Scot pinned her hands down, the woman's front now pressing down firmly over her own. Her breasts pillowed underneath Colette's, prompting a blissful exhale from Mariko's lips. "Theeeere you go~" she encouraged with a sultry whisper, looking up into the eyes hovering just over hers. That was when she heard the referee start counting beside her.

"One!"

"Two!"

That was as far as it got before Mariko jolted to the side just enough to pull her shoulder off the mat, but not hard enough to throw Colette off of her. "Mmmm, I think I like having you on top of me~" she said. "I could see there being quite a fine dom hidden somewhere in there. Do you like it? Sitting on me… Pinning me down… Controlling me… How does it feel?"


LARIATO




Posts

: 5561


Join date

: 2014-11-13


Age

: 29



Colette was utterly confused with her predicament, she wasn't the flirty type, most of her cat calls to the guys and gals at the bar were bluffs. She'd never have the gall to act on it, that was just how she was. When people pushed back, her nerves instantly shook, her body would become jelly. It was easier to let others lead the night then take it into her own inexperienced hands. She didn't have the hands of a dominant woman but here she was coaxed by the veteran to play her hand. The touch at her thighs send waves of shock through her body, how could someone hold this much weight over her with just a simple touch? She couldn't bring herself to respond; only move.

The Scot couldn't properly describe how she felt being offered advice let alone slowly sinking into a grapevine but her face told all. Her cheeks were completely flush, was she even doing this right? Maybe she ought to have swallowed her nerves and done what she had intended to do, then again, Mariko wasn't resisting either. Flattening the veteran to the canvas, her gaze wouldn't peel away from that softened expression, almost like they wanted this? No, that can't be right maybe she's just misreading the situation, yeah, that had to be it. "S-so, am I doing this right? I mean, I've got you down and all bu-but you know..always helps to hear a little criticism, lass…" She asked, pressing herself completely into the hold.

Reality swiftly put her back to earth when Mariko jolted to break the pin. When did they start to count? How long had she been holding the Japanese woman down for? Coco's pale face was beet red, the woman's sultry tone catching her off guard. How could she answer, was there even one to begin with? The Scot would ponder it for a minute before biting her bottom lip. "If I'm being honest…it feels good. I've never..I don't usually get to top. It feels a little weird though too, it's almost like you want me here." She quietly explained, musing over her next move. Should she go for a submission hold or just simple lay here for a bit longer? Coco couldn't tell herself anything that could lead to a simple solution, she'd look to Mariko instead, hoping to be lead to one.
_________________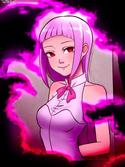 LilyStar




Posts

: 894


Join date

: 2018-02-27


Age

: 26


Location

: Your heart



Page 2 of 2 •
1, 2
Similar topics
---
Permissions in this forum:
You
cannot
reply to topics in this forum