Champions & #1 contenders
Summer Splash interest in Natasha Loclear?
Mon Apr 09, 2018 5:30 pm by daemongirl
Well my girl hasn't missed a summer splash yet, would anyone be interested in a match with her? Open to just about anything match wise, just pm me!
Comments: 1
Been Out with the Flu
Sun Apr 22, 2018 1:47 pm by daemongirl
Just letting those I have threads with know I've been out with the flu since early last week, but I will be back to posting tomorrow.
Comments: 0
The Austrailian Mudslide is Back.
Sat Apr 21, 2018 12:20 am by Softsquad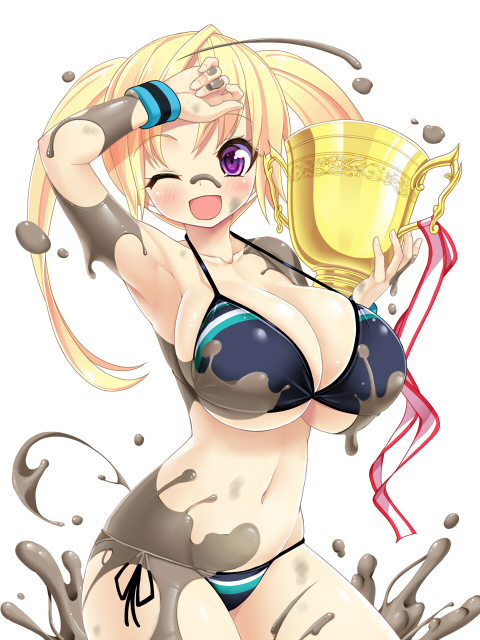 Granted that most of you won't know me or remember me, but I've had a few matches here and there some time ago. Well I think its time to become a regular around here and try to have some fun again, but at the same time keep coming back. Anyway I think its time to jump into some matches with Zoe Taylor, my mud wrestling character from Australia and get her back into the squared circle. Furthermore I will update my characters as I think some proper changes need to happen.
So if anyone would …
[
Full reading
]
Comments: 0
Page 2 of 8 •

1, 2, 3, 4, 5, 6, 7, 8


"Ah I-I know I'm not the only new girl here. I just imagined that it would be a rather big demoralizing blow if I lost my first match, that's all. Ideally I should avoid such an unpleasant experience and risk losing so much confidence I could consider quitting before I even got into it." Emma blurted out defensively, blushing a little more and breaking eye contact with Aoko for a moment. "Th-then again if I even considered quitting after my first loss I imagine a lot of my heroes would be justifiably disappointed in me. So I can't afford to let either them, my friends and family, or myself down like that." The snowy-haired woman concluded, her gaze returning to lock-on with Aoko's.

"I-its oka-" She hiccuped, then took a moment to clear her throat. "No, it wasn't your fault at all. I'm just relieved to know the first girl I've met here is so kind-hearted. Do you think we could be friends?" The white-haired woman asked as she began swimming after the redhead. "No please continue, your voice is..." Emma blushed as her smile broadened and took a few extra seconds to try and catch up to Aoko, intending to keep the following compliment private. "I think your voice is nothing less than beautiful."

_________________
My Wrestlers:
Friction
[url=http://afwrpg.informe.com/forum/friction-roster-f10/emma-hirose-t7889.html:34n3unwi]Emma[/url:34n3unwi]
Hearing what Emma was saying was making a bit of sens as she heard it, it most likely would be pretty hard to accept a loss in your first match for some people which made Aoko think a bit about it for a second or two. " Oh ? Heroes ? You should never quit though Emma-san, there is always room for growth and just loosing a match doesn't mean you are weak, and besides we can always learn from defeats." Aoko said with a smile as she would try and reassure Emma a bit and try and help her got a bit of confidence about her first match.

" Ah, Okay. Well k-kind-hearted ? I don't know about that but thanks. And sure! I would love to be friends with you Emma-san." Aoko said iwth a smile before Emma gave her that wonderful comment about her voice, something that made Aoko sink her head halfway underwater to hide her massive blush as nearly all of her face was boiling red. " Mmmphp..." Aoko let out as bubbles flowed up around her half underwater face. She then swam up a little and let out a soft " T-thanks..."
Emma giggled as she readjusted herself in the water, swimming a little closer to Aoko. "By heroes I meant people I looked up to when I was little, like my mom, older sister and my work colleagues. People I admired and grew up with. I don't think I'm ever gonna give up from just one defeat though. It's probably gonna take a few runs of the gauntlet to even make a dent in my confidence." Emma lowered her voice and blushed a brighter red. "I think especially with such a strong, cheery girl like you for a friend I'll be able to make it alright."

"Well from what I've already seen of you I can tell you're a good woman who is friendly enough to make me feel enthusiastic about my new life here! So maybe you don't think or see yourself as kind-hearted, maybe that's me piling on too much mushy feelings and for that I apologise but it's what I see in you as a fellow wrestler; A beautiful red-haired woman who's got a good heart." Emma held out her hand for another handshake, eyes closed in glee and grinning broadly. "How about we shake on it? To the beginning of a great long-lasting friendship. A-and also miss Aoko Reinhardt? You're very welcome cutie!

Emma laughed heartily, then simmered down as a deep crimson blush coloured her face as she considered informing the redhead even more about herself. Uhh-um Aoko? I may be getting a bit too far ahead of myself here since we just met but I feel like I can trust you, so I wanna tell you more about myself. I'll only tell you if you're okay with that. There are some things that are, well.. really private matters. But between us two ladies I feel fine with letting you know."

_________________
My Wrestlers:
Friction
[url=http://afwrpg.informe.com/forum/friction-roster-f10/emma-hirose-t7889.html:34n3unwi]Emma[/url:34n3unwi]
Aoko couldn't help but feel kind of glad that she had seemingly cheered Emma up a bit and with that she got to hear the girl talk about her family and colleagues which was a sweet thing to hear about and it did kind of make Aoko think about what people she considered her heroes. But when Emma said what she did did about their friendship Aoko blushed almost as red as her hair. " A...a-arigato...I mean Thanks.." Aoko let out blushing quite a bit as Emma said what she did and complimented the Actress a bit.

" B-beautiful ?" Aoko let out as she kept being complimented by Emma a bit more, the actress would then let out a bit of a strange " Maah.." Sound from her lips before she would turn around and swim backwards looking on at Emma for a bit with her blushing face. " Y-you're beautiful yourself, and don't apologize for complimenting someone, I should have just accepted it." Aoko said as she kept swimming backwards before she saw that Emma moved her hand forward to her and Aoko took it to shake her hand. " Y-yes Emma-san, a long lasting friendship. AAAh! Stop saying things like that...it's kinda embarrassing." Aoko let out as she was called cutie by Emma.

" Ah ? If you want then go ahead, what ever you say is safe with me." Aoko let out with a smile as she would keep swimming backwards and look on at the girl's face, tilting her head a bit as she would look on at Emma's red eyes and her white hair, Aoko's natural hair color was brown after all and she had bright blue eyes so they were in looks quite the opposite of colors.
Emma giggled softly as Aoko's own blush intensified. My this lady is a cute one... While she knew she was likely going overboard with the compliments, she had relaxed a lot already. "Dōitashimashite Aoko-chan, soshite gomenasai." Emma coughed, suddenly remembering to check if others were around, not wanting any eavesdroppers.. though now that she thought about it, and this was rather silly, it would be hard to overhear them and stay out of sight in an open area like this. "My mother taught me a little, enough to respond to binary questions and get by.. though my mother tongue is still English so I can't freely converse in Japanese." The white-haired ex-pilot explained, sheepishly scratching at the back of her head, joyously laughing again.

"Y-yeah I really should stop this, it's rather silly and I can already imagine the 'list of a dozen things I did wrong on your first interaction' mom would be typing up on that wrist-computer she had. Honto gomen, Aoko-chan." Emma sighed, a large frown momentarily crossing her face. However that frown disappeared the moment Aoko's comfort reached her ears, replaced by a sweet, light smile.

"Well as long as you're sure." Emma began, taking a moment to inhale than exhale a few times to regulate her heartbeat. "I-it's about something I do in bed, I'm sure you can infer what this is about so..." Another inhale, larger than the previous calming few. "I have the psychiatric condition called 'Knismolagnia'. Th-that means I r-really like to be tickl-" Emma stuttered her words, she caught this and immediately dropped herself into the water, diving below the pool's surface and furiously exhaling, blowing a large stream of bubbles to avoid explaining any more for a moment and to calm herself; her breathing having excited and quickened as she was about to breach the subject proper. She surfaced a second later, her snowy-white hair now thoroughly soaked through and clinging to her back and neck, desperately gulping in a large quantity of air, having exhaled most of the air in her lungs during that intense moment. Her cheeks blushing a heavy, almost cherry-red colour as her lungs refilled and heat returned. "S-so there, I-" Emma inhaled again, leaning on the lane markers to avoid losing balance or outright falling over. "I like being tickled, it's a bit of a turn-on." Emma looked away from Aoko out of shame and embarrassment, smiling sadly. "Are you alright with that? I mean can you and I be friends Aoko-chan?"
Last edited by 11311 on Mon Mar 04, 2013 11:21 am; edited 1 time in total

_________________
My Wrestlers:
Friction
[url=http://afwrpg.informe.com/forum/friction-roster-f10/emma-hirose-t7889.html:34n3unwi]Emma[/url:34n3unwi]
Aoko was a bit surprised when she heard the beautiful Emma speak Japanese back to her, a bit of a accent too it but so had Aoko if she was completely truthful, not even she who had spoken Japanese since a young age was free from an accent. But even so just the fact that she was able to hear that the girl could speak English as well as Japanese was great, most of the time it seemed to her as if many of the wrestlers in AFW didn't speak it, which she kind of thought was weird but she could still understand why it was like that.

" No no! You didn't do anything wrong really, it's just a bit strange for me to get complimented so much...but it's very nice to hear." Aoko let out as she would then kind of listen on a few moments as she heard that Emma wanted to tell her a bit more private matters, and that was okay for Aoko, she couldn't really judge anyone, it kinda wasn't a place for that. If you were in AFW most private matters weren't things that were easy to judge since the place was full with those kind of things. But when she actually got to hear what the girl was telling her. She looked on for a second and then stopped swimming as she heard the girl say what she did. She couldn't help but tilt her head a bit and listen intently as she wanted to hear what it was. For a moment Aoko was a but worried but when she finally heard or thought she heard what the girl said before she vanished in under the water. When she came up Aoko would simply start to swim up towards Emma and then attempt to place her hand on Emma's shoulder.

" Why wouldn't I ? It's not like it's a problem ! Besides you have just given me a huge edge if I ever were to face you in a match. " Aoko said with a kind warm smile as she also blushed a little when she thought about the prospect of being in a match with Emma, " So don't worry. Except for if you face me in a match Emma-san." Aoko said with a smirk as she would then bounce a bit in the water. " So Yeah I'm alright with it, and of course we can be friends Emma." Aoko said as she would start to swim slowly.
"I know I did nothing wrong and its always nice to be complimented but still, laying it on too thick like this is silly. I think I'm still too high-strung and worrying over every little detail and concerning myself with things I really shouldn't. That's why I decided on taking a swim in the first place." Emma let a light smile through as she gestured to the waters around them.

"Eh? Ah.. ohhhhh shimata. I DID just do th-oh no." As realization dawned on her, the white-haired wrestler laughed softly at herself, not concerned she had just given her new friend an advantage. She felt Aoko place a hand on her shoulder, her eyes darted down quickly to it then back up to meet the redhead's own. "Oh my, but what sort of matches could tickling of all things be used on me to wi-Hentai matches?" Emma gasped in playful surprise, then pointed an index finger in Aoko's direction, their close proximity meaning she accidentally poked Aoko's navel. "Is that a viable tactic? I mean is that within the rules for matches where the victor is determined by.. that. Gee I think if I ever end up in a hentai match with you I should probably just surrender from the start." Emma grinned, winking as she took Aoko's hand off of her shoulder and gently squeezed it in her palm. "Unless of course I wanted you to tickle me until I came. Buuuuut~ I guess it can't be helped if that does happen, right?"

_________________
My Wrestlers:
Friction
[url=http://afwrpg.informe.com/forum/friction-roster-f10/emma-hirose-t7889.html:34n3unwi]Emma[/url:34n3unwi]
Aoko would smile a bit at Emma as she heard what the girl was saying, every part of it was actually quite pleasant to hear as Emma had quite a nice voice and she seemed like a really kind and fun girl, so it started to look like Aoko was about make a rather good friend at least that was how it seemed to be now that she was able to get a better connection through more conversations as it now was.

" Ah well yeah Hentai match and I suppose if you are ticklish it could be a good way to incapacitate you in another kind of match right ?" Aoko let out as she would then hear Emma talk a bit more. " Ah ? Really ? Why would you do that ? There is no point in accepting the match unless you want to go through with it an do your best right ?" Aoko asked as she would then blush a little when Emma said the next thing she did. " Y-yeah, that couldn't be helped." Aoko said as her eyes would dart down as she felt Emma squeeze her hand in a nice way.
Emma sighed upon realizing how great of an advantage she'd let slip to her friend truly was. "Hm, ah you're right that's actually a disadvantage for all match types and not just H-matches, darnit." The white-haired woman giggled softly, feeling entirely relaxed and at ease. She thought over Aoko's response for a moment, then looked into her eyes as she came up with a reply. "You're right again, there isn't a point in instigating a match if I didn't plan on winning it or at least giving it my best." The hazel-eyed woman admitted, grinning at Aoko. "Mhm! Can't be helped, no way about it!" Her grin changing to an unrestrained laugh, Emma squeezed Aoko's hand a little tighter. As her laughter gradually subsided, Emma's cheeks blushed again as she thought of making intimate contact. "N-ne Aoko-chan, can we hug?"

_________________
My Wrestlers:
Friction
[url=http://afwrpg.informe.com/forum/friction-roster-f10/emma-hirose-t7889.html:34n3unwi]Emma[/url:34n3unwi]
Aoko would would smile a bit as she seemed to be able to get along quite well with this sexy Emma as the beautiful white haired girl was without a doubt a very nice person who was doing quite much to make this into a pretty pleasant and fun day for the two of them. " Yeah that's right, You shouldn't sweat it. " Aoko said before she watched the hazel eyed woman clutch her hand more tightly and then watched as Emma seemed to be enjoying this as well. But soon enough Emma said what she did and it caused Aoko to blush a bit and almost made her jump up in surprise. " Eh ? W-well Sure." Aoko let out as she wasn't against the idea and rather did like it kind of, so she would move forward and attempt and hug the girl closely.
Last edited by 2237 on Mon Mar 11, 2013 4:20 pm; edited 1 time in total
Page 2 of 8 •

1, 2, 3, 4, 5, 6, 7, 8


---
Permissions in this forum:
You
cannot
reply to topics in this forum