Champions & #1 contenders
Moonhearts Promo intro thread is O p e n.
Mon May 21, 2018 4:21 am by XSirenX
Feeling brave?, lost?, or without a thread to post in?, hit up the newest Moonheart if any of those apply!
CLICK HERE
What Moon has to offer?, many things...:
Comments: 0
The Austrailian Mudslide is Back.
Sat Apr 21, 2018 6:20 am by Softsquad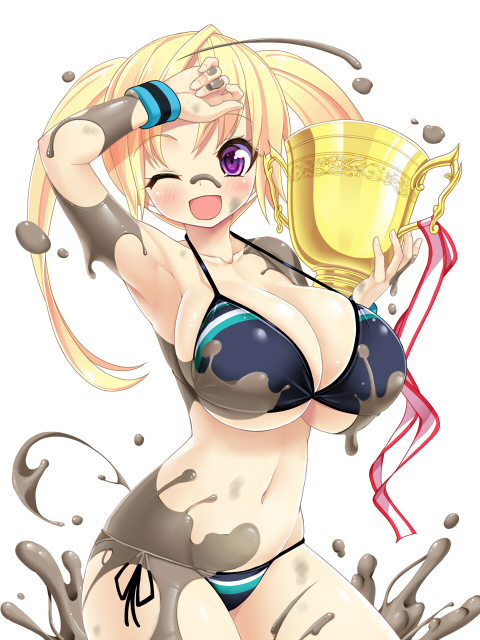 Granted that most of you won't know me or remember me, but I've had a few matches here and there some time ago. Well I think its time to become a regular around here and try to have some fun again, but at the same time keep coming back. Anyway I think its time to jump into some matches with Zoe Taylor, my mud wrestling character from Australia and get her back into the squared circle. Furthermore I will update my characters as I think some proper changes need to happen.
So if anyone would …
[
Full reading
]
Comments: 4
Page 6 of 8 •

1, 2, 3, 4, 5, 6, 7, 8


Emma was confident in the strength of her hold, so she laughed heartily, grinning down as she continued to noogie her rifling fist into Aoko's beautiful red hair, laughing so much she was minutely afraid she might topple both of them forward, but her footing remained strong. Of course, she was playfully-dominant and gleefully enjoying her moment in the sun, teasing Aoko's hair without mercy.. that is until her last three words reached Emma's ears and made something click in the lust-filled, private areas in the back of her mind.

"Fuueeeh!?" Emma yelped, a nervous crack splitting her fast-fading smile and turning it into a panicked frown, squeaking a cute feminine noise as all her resistance faded for few seconds; numb to all but her skin blushing hotter and the speeding-up of her own heartbeat, however that was all her redhead friend needed. Aoko's words had gotten through her defenses, Emma panicked, meeping softly as she realized Aoko had countered back with her own headlock! "Mmf! Ahhh-!" Emma's left arm shot down toward the ground to avoid crashing forward, then almost immediately back up to ease the pressure wrapping around her neck before relaxing as the side of her head was pressed firmly into Aoko's breasts. "W-w-well-played, buddy. Hey Aoko-chan, y-you've got real nice boobies." Her previously noogying hand shook a little as it desperately reached for a perch on Aoko's back to steady the now-captured wrestler. Emma flailed about, though with Aoko's arms locked at both hands keeping Emma firmly in place the white-haired pervert could hardly wriggle around much less put up much more willing resistance. "S-s-ssooo, I guess ya got me now." Emma admitted, winking as she calmed down, steadied herself and looked up at Aoko through one happily gleaming hazel eye, grinning lightly. "Should I steel myself for your imminent retaliation or whimper in fear?"
Last edited by 11311 on Mon Jul 15, 2013 12:25 pm; edited 3 times in total
As She felt Emma's head brush up against her breasts like it did a small blush crept up on Aoko's face, she realized just what this meant and more than that, as soon as Emma commented about her breasts her blush turned even redder, her eyes darted around a bit before she tried to block it out of her mind a bit, when she did so though she went back to the hold in full. " Oh ? G-glad you like t-them." Aoko let out through a slightly whimpering voice.

When she soon started to her what Emma had to say about her predicament, the red headed actress would shake her head a little as she looked down on Emma's head, eyeing the girl for a second all before she would let out a light giggle. " Not really, though you should have expected this." Aoko let out as she would try and move Emma's head around a little bit, rubbing it up against her breast in the process, and with it she would also try and move her further away arm up towards Emma's head, to curl it into a fist and then try and scrape it up lightly against Emma's scalp, trying to give Emma a Noggie in return for the girl's earlier treatment.
Emma giggled as she pushed into Aoko's breasts, nuzzling them with gentle motions against the back of her head as she felt the warmth radiate through - or maybe that was just the sun's rays instead of her friends breasts, Emma didn't notice. The white-haired newbie was practically in heaven! Getting close to another woman in such a succulent environment, making a new friend out of her, teasing that newly-made friend and wrestling a little on top of that? She was happy. "Mhm, atashi daisuki Aoko-chan no oppai~!" She giggled and grinned simultaneously, winking up at Aoko once again, before screwing her eyes shut with glee. Emma could almost feel Aoko's incoming reply right before her knuckles mowed through her snow-white bangs.

"Y-yeah I probably should've expected th-unexpected, totally unexpected! Hehehehehee~!" Emma laughed, wriggling and giving only a token light resistance against Aoko's noogie as she indignantly mumbled a reply through her laughter. "Ahhahaha, aaaaahhh yeah I knew thihihiss was coming. Definitely not ready at all! Aha, hahahaha~! Ah-aoko-chahahann, surrender. I-I surrender, lemme go!" Emma gave a little more fight, now gently pulling back and up into Aoko's breasts and against her headlocking forearm with her left, her right trying to reach around to Aoko's opposite armpit to tickle there in the hopes of an earlier release, trying to stand back up to a more reasonable height to throw the actress off, or just get her to accept Emma's laughter-wracked surrender.

"Eehehehe~! G-g-g-gomen-nee Aoko-chan, yurushite kudasai! O-onegai! Y-you know, Aoko you have surprisingly strong and sharp knuckles for being such a beautiful lady.. but you're also sweet and gentle. Hmm, actually I think that sums how I feel about you up pretty nicely; Sweet, beautiful and strong." Emma's stray arm attempting to cross Aoko's back quickly retreated, joining the other in hanging on to the actress's headlocking arm, giving a sign that Emma had accepted Aoko's punishment and stopped putting up a fight. "Also..." Her voice suddenly lowered to a soft, gentle whisper for a moment, but picked that enthusiastic cheerful tone right back up, along with a blush an endearing shade of lighter pink. "What do ya wanna do now, Aoko-chan? Go somewhere else or keep wrestling with me? I-I'm happy for either, to be honest."
Last edited by 11311 on Mon Jul 22, 2013 1:59 pm; edited 1 time in total
Aoko was forced to blush more and more every time that Emma teased her more and more, the very cute Emma was simply doing too good of a job at teasing the lovely Aoko. The redhead was just forced to try her best, even though Emma wasn't making it easy for her, with the way that the lovely girl was pushing the back of her head up against Aoko's breast and rubbed it against it, saying what she did, the red headed beauty simply blushed widely, her cheeks were almost as red as her hair right now and that would probably show as clear as day if Emma looked up at her head.

When Emma started to show signs of resistance the red headed girl started to become a bit worried and started to look around a bit from left and right, all to attempt and see what exactly Emma had in mind for her, but as Emma moved her hand up towards her armpit and struggled more and more, Aoko would simply attempt to try and noogie her hand even tighter against the girl's head to try and out teas the girl, though that might be rather tough...but seemingly after a little longer Emma seemed to drop into being a bit more passive, stopping her fighting. Which was something that made Aoko start to weaken her hold and soon enough release Emma.

" W-what do you mean....my knuckles aren't sharp ? ....are they ?" Aoko let out a bit worried as she would take a step back and down on her knuckles, before shaking her head a little. " W-well t-thank you Emma, You are sweet and beautiful too." Aoko let out and then would shake her head a little, and when Emma said what she said to her, asking that question. Which made Aoko start to wonder. " We....could go somewhere else ? But I don't know what we would do exactly."
"Weeeell... Hehehee~" Emma giggled as she was released from Aoko's headlock and regained her freedom of movement, quickly standing back up to full height and enveloping the actress in a warm hug, nuzzling her head against Aoko's neck. "They certainly seem good enough to give me that painful a noogie, Aoko-chan!" She cooed, opening her left eye to stare into the redhead's face and sure enough - Aoko had been blushing a fierce tone of red, just about rivalling her hair's intensity! "Not to imply they're not beautiful or boyish - they're elegant, thin and what I'd imagine a real woman like you has, but they're, or you're rather surprisingly powerful." The white-haired wrestler would then immediately tone down her childish antics somewhat, pulling back to look at Aoko's sweet upper body, her arms de-clasping around the actress' back and laying by Emma's hips, although her hands brushed passed Aoko's and fingers met if only for a microsecond.

"As for that idea, hm... well I thought that maybe after we dried off and -if you had no other scheduled appointments today that is- maybe we could get dressed and go have something to eat? What was that about eating and swimming pools? Don't eat an hour before.. or was it after swimming?" The hazel-eyed air-junkie's face pouted for a moment, frowning, going into serious thought... "Umm... I've forgotten!" But then her face broke into a sheepish grin, her stray right hand scratching at her long hair falling down her back in an unintentionally-endearing way, like a girl caught out white-lying but she was okay with it. "B-but I was thinkin' maybe if you'd like of course, I'd never force anything on you like that, was we could go eat some ice-cream together? Something fitting not only what we've just done in the pool and all but something fitting the weather."

As if made aware by mentioning it, Emma quickly turned around, her back now facing Aoko as she would look around them, examining their surroundings. "Awwww.. sun's still behind the clouds! Ahh whatever, just as well we don't get sunburnt, eh Aoko-nee-chamma~?" Emma laughed as she spun back around to face her friend. "Heheheheeee, sorry 'bout that, I know I shouldn't make my own honorifics n' all but I kinda like that one. Onee-sama aaaaand nee-chan combined, kinda silly buuuut I like it, so there! Now you're my Aoko-nee-chama." She laughed, eyes opening wide and sporting a broad grin as her arms would dart forward, fingers eagerly wiggling as they beelined to tickle Aoko's armpits! Emma was sure of her timing though, so if her tickle-poking succeeded, she would then immediately stop tickling her friend and wrap her arms gently around Aoko's shoulders once again, sighing blissfully as she hugged her blazing redheaded friend.

_________________
My Wrestlers:
Friction
[url=http://afwrpg.informe.com/forum/friction-roster-f10/emma-hirose-t7889.html:34n3unwi]Emma[/url:34n3unwi]
Aoko had to wonder about Emma, the girl was very nice...almost too much so. Even so she was also very forward, seeing as they had just met it seemed weird that the girl was as quick to act upon things like Friendship and even hug and tease to the extent that she seemed to do. Regardless though, it was difficult not to think of Emma as a very kind person who would without a doubt be one of the better friends someone could have, or at least that was how she was seeming to be right now. The question was though just what would the two of them do right now ? Aoko took a few moments to think about it the situation, as Emma stood before her, somewhat stumbling on her words a bit as she tried to explain how Aoko's hands were.

Emma was certainly a cute one and it wasn't long before the cute white haired girl seemed to have come up with an idea. " I am somewhat free today, so I should be able to make it to lunch with you If you'd have me. And...it's you aren't supposed to swim within an hour after eating, the other way around has no effect." Aoko let out with a kind smile on her face. Aoko did somewhat like Emma's seemingly ditsy attitude, it was a kind of fun yet silly feeling you got as you watched someone who played off such a character. " It sounds like fun! So yeah, after lunching we can go get some ice cream or something."

" Nee-chamma ? I...don't think that's an honorific ?" Aoko let out as she would then shake her head a little and see Emma looking as cute as ever as she kept on being her somewhat silly self. " Well I..BUAHAHA!S-STOHAHAH!!" Aoko was about to speak but was interrupted as Emma's hands darted forward and began to tickle her armpits, it left the young girl in somewhat of a laughing fit, all up to the point when the white haired girl decided to stop, and iwth it wrapped her arms around the young actress shoulders for another hug.
"Hehehehehhehee~! Hoooora, koooochooooo-kochokochokochokochokocho~! Eeehehehe! I KNOW that's not a real honorific, silly! I'm just playing around with you! Ahhhh, gomennasai Aoko-chan. I'm being too friendly aren't I? Hmm, I really should.." Emma released Aoko from her hug, sighing to herself. "Really need to.. either interact with people more often or learn to adhere to the impression and image my old job provides people. I mean this isn't how you'd expect a pilot for peacekeepers to act off-duty, is it? I'm way too immature..." The white-haired woman lowered her gaze as she backed up a few steps, head turning aside as her eyes began wandering across the reflection of the pool water.

"You can't being to imagine the hideous volume of trouble I'd be getting in with my superiors if I were caught doing this were I still at work.. hehehe." Emma mumbled to Aoko, walking over to the redhead's side but still not raising her gaze. "It'd be a spectacle, and a little dramatic to be sure, hell if the old scumbag Park were still in charge I'd probably get discharged for conduct unbefitting of an acting officer of the Universal Peace Enforcement Organization." The hazel-eyed newbie wrestler blinked, then met Aoko's gaze. "But then if I HAD done something like that I could've committed myself towards a fun job like this full-force! So.. I forgot where I was going with that. Tehee~!"

Emma then stared intensely at Aoko, eyes wandering all over her body. "I wonder if you'll get chubbier from just the little amount of ice-cream we're gonna eat in a bit..? Wait, does it work that way, or... Wooow. I have a pretty huge gap when it comes to knowledge outside of my old job, huh? Huhuhuhu~!" She openly quipped out loud, mouth curving in a broad undeniable smile blatantly inviting her new found acquaintance to respond.
Last edited by 11311 on Wed Mar 26, 2014 5:05 am; edited 1 time in total

_________________
My Wrestlers:
Friction
[url=http://afwrpg.informe.com/forum/friction-roster-f10/emma-hirose-t7889.html:34n3unwi]Emma[/url:34n3unwi]
Aoko's eyes kept looking on at her new found friend as she watched the girl go from being as overly silly as she was to almost seeming pretty serious, of course Aoko couldn't say that she would think a pilot of any kind would act as such a klutzy and goofy person, though at times there was nothing wrong with acting like that and Aoko didn't see any real harm in it no matter what kind of profession one had. As long as whilst doing the job itself one didn't mess up or screw around...well then there shouldn't be any problems with how one acts.

Still, the fact that Emma seemed to turn somewhat serious for a bit did cause Aoko some concern for Emma, wondering if maybe she had reopened some old scar or something ? Or perhaps struck a nerve, for that the redhead just about to apologize, though before she did Emma seemed to slip back into at least a semi-goof. With the two girl's eyes meeting as they gazed upon each other, Aoko couldn't help but blush slightly.

" Ah...well I don't really know how much harm one Ice Cream can do...W-wait ? Chubbier ? Am I already chubby ?" Aoko let out a bit surprised, her blush started to flare up a bit as she began looking around her body, turning and twisting to check every nook and cranny of her body, from all angles she could to attempt and see if perhaps she had gotten fat. Aoko herself couldn't really afford to put on much weight, as she was an actress and had to keep a near constant figure...which wasn't always the easiest task in the world.
Emma tried to keep her rising giggling silent, drawing in her lips to try and keep it all suppressed, though that proved futile as her body shook slightly, her smile gave way to a grin and then an open mouth as she doubled over, vibrations from laughter nearly sending her off-balance. As she laughed at Aoko's panicked and (she admitted internally; adorable) flustered body check, she walked over to her friend, voice slowly recovering. "Pbbbbbhthahahahaha! Ahhh gomen-gomen Aoko-chaaahahahann! It was just a little joke, ahheheheheheee..."

Emma firmly held her hands to her sides as her laughter subsided, she stood up straighter, now looking over her friend once again as she drew ever closer, stopping half a meter short of bumping into her. "Aaaahhehehee, it was just a joke; you're not chubby at all in fact you're pretty... pretty beautiful. Hey, hey Aoko-chan, look at me." Emma put on a serious face, frowning despite her lungs still softly reverberating with laughter. "I'm sorry, okay. Here-" The white-haired pilot brought her arms up, gently placing them on Aoko's shoulders. "You're a healthy, beautiful and strong woman, and I'm sorry about that low blow, that was mean of me. Can you forgive me? If ya wanna hit me or anything like a reprisal punishment in response, you're free to do so.. but don't you dare tickle me, alright~!?"

Emma would then press her initiative, slowly and softly drawing Aoko in for a hug as her hands clasped together just below the redhead's neck, stroking her hair. "Heheheh, I'm sorry... I need to relax some more and this feels like a nice thing to do." Emma sighed as her cheeks blushed a light pink, her body's reaction to this kind of intimacy more than any social response nor conscious embarrassment. "T-to be honest.. Ahh this IS a little embarrassing, but..." Her voice dropped to a low whisper, her face deeply reddening. "I actually.. kinda lik- Ahh dammit, just say it already..." Emma's leg folded back in, her foot kicking herself in the right side just above her butt, she yelped as self-inflicted fresh pain hit her nerves. "I actually kinda like b-being t-t-ti..." Heat of embarrassment hitting her like a train, Emma's hug would tighten as she buried her face in Aoko's neck. Though now muffled and whisper-thin, Emma's voice was still clear enough for Aoko to hear plain as if she were whispering right in her ear. "Gomennasi... Aoko-chan, I like being tickled. A whole big lot, i-is that bad or weird?"

_________________
My Wrestlers:
Friction
[url=http://afwrpg.informe.com/forum/friction-roster-f10/emma-hirose-t7889.html:34n3unwi]Emma[/url:34n3unwi]
Aoko started to slightly pout as she looked on at her white haired friend who started to laugh out loud, which was slightly anger inducing right now for the beautiful redheaded actress, she couldn't help but feel as if Emma was just making fun of her right now. Which she seemed to admit a bit now as she looked on at the actress while she laughed and apologized for her *little joke*.

The fact that Emma seemed to enjoy herself so much only made Aoko pout more and more with each passing minute. It didn't take long though for Emma to start and talk about how Aoko was actually beautiful and with that she got to hear the beautiful Emma try and reassure the actress that she was a very beautiful girl and that she shouldn't feel insecure for what she had said. As well as saying that she was allowed to get some reprisal on Emma if she wished. Which of course Aoko didn't find necessary, but in hearing that it seemed as if Emma started to go on again about tickling.

When the white haired girl wrapped her arms around Aoko and hugged the actress again, a small blush went across the beautiful girl's cheeks, she shook her head gently from side to side, before she would hear Emma start to say that she did actually enjoy being tickled. Aoko would let out a little laugh as she heard that and after a few seconds of finding it humorous, the red headed girl would move her hand up and bop Emma's head. " You been putting me through all that only to tell me you enjoy being tickled, didn't you ?" Aoko let out in a teasing manner as she would then attempt and hug back at Emma, for a little while at least. It wasn't long before Aoko would attempt and let go of Emma and push herself free. " I suppose we should head out and eat something then ? What are you in the mood for ? " Aoko asked as she would nod her head to Emma, awaiting her newest friends answer.
Page 6 of 8 •

1, 2, 3, 4, 5, 6, 7, 8


---
Permissions in this forum:
You
cannot
reply to topics in this forum