Champions & #1 contenders
Highfly Flying Out Of Town
Tue May 22, 2018 1:31 am by HighFly
Hello everyone, I just wanted to inform all I have threads with that I will be gone from this coming Wednesday through Sunday. I won't be able to post consistently if at all during this time, but I will try to make up for it next week! I am sorry for the inconvenience to everyone.
Comments: 7
The Austrailian Mudslide is Back.
Sat Apr 21, 2018 6:20 am by Softsquad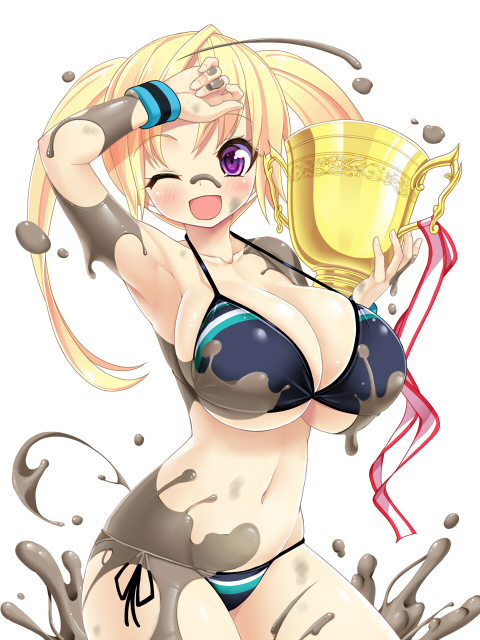 Granted that most of you won't know me or remember me, but I've had a few matches here and there some time ago. Well I think its time to become a regular around here and try to have some fun again, but at the same time keep coming back. Anyway I think its time to jump into some matches with Zoe Taylor, my mud wrestling character from Australia and get her back into the squared circle. Furthermore I will update my characters as I think some proper changes need to happen.
So if anyone would …
[
Full reading
]
Comments: 5
Moonhearts Promo intro thread is O p e n.
Mon May 21, 2018 4:21 am by XSirenX
Feeling brave?, lost?, or without a thread to post in?, hit up the newest Moonheart if any of those apply!
CLICK HERE
What Moon has to offer?, many things...:
Comments: 0
Page 1 of 3 • 1, 2, 3


Alaina was thankful for days such as this... the sun was shining and she had her stitches removed from a cut she had on hear forehead right by her hairline compliments of Kei. It was a hard fought draw, and both women bled over the course of that hardcore match. Alaina was thrilled that she didn't have any marks left, and she'd mostly recovered.

While she couldn't wait to get back in the ring, today was a light workout day and she was relaxing. Clad in sunglasses, a gold bikini with a metallic shine, flip-flops and a little pink half-skirt that covered one hip, her backside and left leg Alaina was ready to hang out at the beach. She was a southern Californian after all, and the beach was home to her.

Alaina looked off to her right as she approached the beach, looking at a hobby shop. She hadn't seen one of those in a while. They were a guilty pleasure for her growing up. She was made fun of for being chubby in middle school, only to be suddenly accepted and popular later on as she developed. The beauty and sudden center of male attention led to her having a lot of less popular closet passtimes. Gaming was one such passtime. She looked over the shop checking out the various signs with a smile as she rounded the corner to head to the beach.
Once it became crystal clear to him that his wrestling career not exactly off to a sterling start, Bryan found himself resorting to usual methods of coping with his lowly doldrums. For someone as naturally studly and stunningly handsome as Bryan was, catching a glimpse of him strolling down the boardwalk, catching a tan down by the coastline, or chucking a football alongside with his other macho compatriots would have been as commonplace a sight as one could have imagined,

Which is why the lovesick lothario was drawing quite a few curious glances as he was instead standing in line at a hobby shop located a stones throw away from said picturesque beaches. His naval blue swimming shorts, Velcro strapped brown sandals and tropical themed Hawaiian shirt with palm trees littered across it indicated that Bryan was indeed planning to head down to the coast after this brief pit stop. Though the model athlete may have sculpted his body to chiseled perfection after puberty was surprising kind to him in terms of his development, on the inside he could never shake his inner gamer/nerdy tendencies. Compelling him towards this stealthy purchase of the Dungeons and Dragons 5th Edition Compendium, a monster manual, and a few graphic novels that caught his eye. His recent career change and move to Japan had kept him horribly out of date in terms of the changes the latest edition brought to the game, and he figured catching up on his secret past time would help get his mind of his troubles.

Before leaving the hobby shop, Bryan would pop the collars of his tropical shirt and slip on a pair of his Gucci designer shades. He had the sneaking suspicion that his current core of friends, consisting of fellow male models/actors who also frequent this beach, wouldn't quite appreciate the subtle intricacies of the game. And would probably raz him nonstop. So stealth was the name of the game. He hunched down and sneak out of the store with darting eyes left and right. Bryan seemingly walked out of the store unrecognized..but not without shoulder checking someone when he wasn't looking, dropping his plastic bag of geeky paraphernalia all over the floor!!

"Ah!! My bad!! D-Don't sweat it, I'll pick those up!!" Upon the catastrophic sight of his fascination with nerd subculture strewn across the boardwalk, Bryan immediately went to the task of gathering what he could before anyone even the slightest glimpse of the manual with a picture of a beholder on it!!
Alaina felt the sudden impact of someone's shoulder and she stumbled back! "Oomph!" She grunted as looked and saw a very handsome guy drop his things. "I am so sorry! Here let me get that!" Alaina said, bending down and grabbing onto the mans things to hand back over his objection.

It was then that Alaina saw the bags contents... and got herself another good look at this guy. Not only was he highly attractive, but she swore she saw him before. "Hey... is that Dungeons and Dragons?" Alaina asked looking at the book and blushing. "You don't fit the usual D&D type..." She added with a smile, giving him a looking over. Nerdy and well built? Not a bad combination at all. Also, he knew how to dress down and relax a far cry from her ex-boyfriend. "I used to play too, had to hide it from my sports friends. I was a big, strong barbarian in 3.5." She said showing off a bit of her own build as she winked at him.

Breaking The Tension. Thats where she saw him! He was a wrestler! "Hey.... aren't you Bryan Daniels? I totally saw you on Breaking The Tension, my buddy Charlie was on the show too!" Alaina said excitedly, smiling warmly at him. He didn't seem like the nerdy type on there either, but there was more to him than muscle-bound brainless athlete it seemed. A very good thing indeed. Alaina extended her hand. "I'm Alaina Sanders, I actually wrestle over in Friction. Small world huh?"
Bryan was so thoroughly encompassed in frantically collecting his nerd culture paraphernalia and hiding it from the world that it wouldn't dawn on him just who he had bumped into until she was already handing him back his 5th Edition Compendium. After collecting all of his other belongings, her peered up to graciously take his D&D book back, although when he sort of froze in place when he finally locked eyes with the vivacious stunner.

"Uhh..." Bryan remained slack-jawed at the sight of the buxom Amazon kneeling in front of him. Luckily for him his lovely company was filling in the awkward silence with her own cheerful introduction, Bryan finding another reason to be stunned speechless as she was seemingly an avid tabletop gamer. The coincidences piled up from there as she introduced herself as a fellow grappler who was evidently a fan of his work to boot!! Bryan probably would have pinched himself if not for the hefty bag in his hands, the model athlete thankful that he was still wearing sunglasses otherwise Alaina may have caught him eying up her muscled yet still curvy frame. The extended hand compelled him to snap out of his stupor, standing back up and removing his sunglasses before heartily returning the handshake.

"Uh hey, yeah nice to meet ya!! Yeah that's me, the "B-RY" guy they call me~..." Bryan awkwardly stated, flashing a smile and knowing full well no one has yet started calling him that despite how cool he thought it sounded. "You'll havta excuse me if it looks I'm just playing catchup, but you're like, blowing my mind here. I just...ya know...never expected anyone as drop-dead gorgeous as you to be into the gaming scene. Back in 3.5 I was sort of a bard/defender. Had to watch everyone's back while there were off getting the credit for the kill, ya know?...Oh, you're Alaina from the Summersplash match? You really tore that place up!! Things started to get a little out of hand when people started getting slammed onto cars, but you really went all out, huh?" Bryan's mind was going a mile a minute, still trying to play catchup without sounding like a goober.
Alaina wasn't quite sure what it was about Bryan talking about a nerdy passtime that she was so attracted to but it was cute. It was also open and honest.... something she felt many men in her life recently lacked. She smiled warmly at him, holding her hands behind her back. "Thanks B-Ry, but Kei was a tough old broad... we sorta pulled out all the stops." Alaina said, blushing visibly at the fact that he admired her work in the ring.

As the sun beamed down on them Alaina looked over at the beach. "Hey... I was going to spend some time in the sand and sun, would you like to join me?" Alaina asked as she folded her hands in front of her, rocking her hips back and forth. "We could look over those books, see how things changed since I played years ago... and we could give you a better nickname... B-Ry sounds like Bill Nye, so you could be B-Ry the wrestler guy?"

Alaina realized she was rambling like a fangirl and buried her head in her hands. After a moment she giggled and looked back up at Bryan. "Oh my God I am so sorry, I just haven't met a guy so like, open and... well, sexy in a long time and..." Did she just blatently call him sexy? Alaina blushed even more. "I should stop talking."
Bryan laughed warmly and instinctively put an arm on Alaina's shoulder to help calm any shaky nerves on her part, blushing a tad himself at the Amazons comments but nevertheless found it wholly endearing. There was something about seeing a statuesque beauty like her get all flustered that made her seem entirely more approachable. The model athlete relaxed considerably around her once it seemed like they were both sort of geeking out over each other like two closet nerds would.

"Haha...hey, no no no, No need to apologize. By all means, don't let me stop you. This is hands down...THE coolest convo I've had around here in ages. Feel like I could listen to you read the phone book and I'd love every minute of it..." Bryan widened his eyes before taking his hand off her shoulder to scratch the back of his head with a slight laugh. That last part just kinda slipped out, and he wasn't sure if it was romantic or lame. Better move on, fast...

"Uh, yeah, definitely!! Let's go chill somewhere..." Bryan stated while trying to play it off as cool as he could, as if he was actually going to entertain the idea of saying no. "We can scope out the manual and see what they've improved and what they've messed up royally. But hey, this is a big day, you're the first person to recognize me off the street! Makes me feel like the "B-RY"...um...the "Bryan Daniels" brand is catching on. But you mentioned someone named Charlie. Mind if I ask who that is? Fraid I've never met the guy backstage." Stepping to his side, Bryan would allow Alaina to briefly walk ahead so they could start striding shoulder to shoulder while they chatted. After waiting for the light and crossing the street, the gamer couple would find themselves approaching the bustling sandy coastline. "He's uh, not an ex, is he?"
Alaina hadn't enjoyed a guys company like this since she was dating Mamouru. She was soaking it all in as Bryan spoke, loving every minute of it. As the two got closer to the beach she removed her skirt, wearing only her pink bikini. She added a bit of extra swing to her hips as she walked slightly ahead of Bryan, looking back to give him a playful wink. "You are a lot of fun too Bry, its nice to be around someone who is comfortable being themself and who doesn't stop anyone else from being themself ya know? Like... I just hate fake people." Alaina said candidly. She sighed a little bit before speaking about her embattled buddy Charlie. "He's a very good friend who is going through some stuff. He is the best high-flyer I know, even after his knee injury when we first came over to Japan back in March of 2014 but he's no boyfriend, or ex." Alaina added.

As the two reached the beach and Bryan mentioned going over the core books Alaina nodded with a smile. "Maybe I could ask my old pals to draw my old barbarian and wear that attire into the ring sometime huh?" She giggled. As she put a towel on the sand to sit on she also pulled out some sunscreen and began applying it to her neck and arms. "Hey, could you help me get my back?" Alaina asked, throwing in a slightly pouty, flirty look.
Bryan perked up just in time to respond back to Alaina before she caught a glimpse of him eying her swaying hips. He lightly jogged up beside her so as not to be tempted to divert his gaze once more, knowing full well this was an opportunity of a lifetime and not wanting to squander what was so far a stellar first impression.

"Aww, see now...Now I'm not gonna stop hounding you until I see you walk down that ramp rocking that barbarian outfit. I guarantee you, once you start tossing people around and going all Xena Warrior Princess on their asses, your fanbase is gonna eat it up. Maybe even double your twitter followers..." Settling down in the middle of the beach between the wavy waters and the boardwalk behind them, Bryan sat right alongside her and quieted back down when Alaina began coating her already flawless skin with suntan lotion.

"S-Sure...*cough*...I mean, sure..." Bryan's voice reached a new octave when he first responded to Alaina's request, clearing his voice to regain his normal, suave pitch. He breathed steadily to calm his nerves while he skillfully applied the lotion from her lower lumbar to her shoulders, taking his time to appreciate that he may just be the luckiest man in Japan at this moment. "Sorry to hear about your friend Charlie, sounds like he's having a rough time of it. Is the knee injury what's getting him down?" Bryan curiously stated intending to dig up some meaningful conversation, though while he did so the sly lothario would shift his hands up Alaina's now glistening back to apply a soothing neck massage by methodically kneading her neck muscles. "Hope this is alright. After a match that crazy, figured you could use a delicate touch…"
Alaina laughed at Bryans suggestion of her wrestling dressed in a fake fur outfit that was likely as skimpy as the leopard print sports bra and briefs she used to wear. "Xena huh? She doesn't have anything on this." Alaina said, jokingly sticking her tongue out and flexing her arms at Bryan for a second. "Twitter huh? I should probably start one shouldn't I? Like.. I just don't know what to put on that thing and I don't have any good pictures of myself. Could you help me set that up?" Alaina asked with a hopeful look on her face.

Bryan seemed like a goofy but good guy. While he was undeniably sexy with an appearance that just about every woman at the beach swooned over it was his sense of putting everything right out there in the open that Alaina found herself liking more and more by the minute. Alaina caught a few women looking their way, but they turned when they noticed Alaina's return look. She felt like she just won the lottery with her unexpected beach company.

Alaina enjoyed every moment of the sunscreen application and neck rub. "Mmmmm... thats good. You have strong but gentle hands Bry, and I like that." Alaina said softly. "Of course, I do get to return the favor and give you the same treatment don't I?" Alaina asked, trying to hide her eagerness to put her hands on his muscular body. Alaina 's mood darkened just a bit when Bryan brought up Charlie. "He just isn't what he used to be and it bothered him even though he said it didn't. Compounding all that is his stupid bitch of an ex who left him for no good reason." Alaina said with an uncharacteristic amount of venom. "He's just been drinking a bit but he'll pull through it." Alaina said with a small smile. She really hoped she spoke the truth, because in his state she wasn't quite sure he would. Trying to be more cheerful, Alaina tried to change topics. "I have actually wrestled a few Tension people... have you ever met the Takeuchi's, Kozue or Killer King in your wrestling adventures?"
It may not have seemed like it to the uninitiated, but working up the gumption to go for a soothing back rub was an incredibly bold move when it came to making a lady feel at ease. One that could have easily resulted in a rejection on Alaina's part and cast a pall of awkwardness for the rest of the day. But luckily Bryan read the situation perfectly, Alaina's invite to apply the suntan lotion was a clear sign that she was cool with physical contact. Reading signals correctly is important, and so is having the courage to go for it!! Nothing ventured, Nothing gained!!

"Wow, a free neck massage from the Amazon Queen herself... Now what hot-blooded guy could refuse an invitation like that? But I'm afraid my magic fingers may have yours beat. I've been known to perform miracles with my delicate touch. World renowned for it actually~..." Bryan casually quipped in order to keep the banter light, but it was merely his way of keeping his cool and not spazing out from the prospect of having the gorgeous Amazon return the favor. Things were going so smoothly it was practically uncanny, Alaina hitting that perfect middle ground of being a flawlessly chiseled beauty who still dug nerd culture. Plus speaking with her just seemed to come natural, as if they were already trusted friends kicking it back instead of total strangers...which they were a few minutes ago. "Come on now. I find it hard to believe there's ANY bad pictures of you, but I'll get you going on that twitter account. I've done it for my friends, and there's like, no better way to keep up with your fans. I warn you of it's addictive qualities though..."

Bryan could literally feel Alaina's muscles tense back up into knots when she mentioned Charlie's woes, not intending to hit on such a sore subject. He doubled down on the kneading of her neck muscles to ease her back down and moved on to other topics. "Kozue? Hell yeah I've met her~...Ran into her fishing for trout right down there actually..." Bryan pointed off in the distance to a wooden pier reaching out into the water. "She was actually having a tough time of things...getting worked over like crazy in this dojo she signed up for. Getting her "Non-existent balls busted by some hard ass coach"...her words not mine. Must have worked though since she handed my first loss in the league by some B.S. rollup pin...she knows I had her beat though."
Page 1 of 3 • 1, 2, 3


---
Permissions in this forum:
You
cannot
reply to topics in this forum