Who is online?
In total there are
19
users online :: 1 Registered, 0 Hidden and 18 Guests :: 3 Bots
Diesel_Electric_Razor
Most users ever online was
418
on Tue Jul 30, 2019 9:51 am
Champions & #1 contenders
Looking for fun Fights
Tue Sep 27, 2022 5:34 am by Leon564
Hello folks! Putting it out that I'm available to discuss matches for either James or Melanie.
If you are trying to find their profiles you can use the character search and type in the following;
James Elforn
Melanie L'belle
------
If it's for an author of my name tag then that's me! You're free as well to throw me a friend request on Discord since I'm not in the Discord server at this time.
Leon564#4514 (Discord)
Thanks for your read and have a great
[
Full reading
]
Comments: 0
Page 1 of 7 • 1, 2, 3, 4, 5, 6, 7
Vs.
Bed Wrestling Match, the match will be held in a hotel room with a king sized bed in the center. Competitors will choose a pair of footie pajamas the staff have offered and must score 3 points to win the match. The winner will be declared the Kawaii Champion.
Points are awarded for the following Fall conditions.
1 point for normal pin, submission or KO
2 points for facesit pin/matchbook pin/schoolgirl pin
2 points for tickling submission
2 points for sleeper KO
"I've got some good news for you Koori-Chan. I managed to book you a match."
A printed email was handed to the idol, she had just finished her set on stage featuring her new album "Angels Abroad". The Lady of Ice took the printout with a smile. Finally, a match. How long had she been waiting now? Well, maybe that was for the best, besides recording and practicing, her concerts took up a lot of time recently. She beamed looking up at her manager. "This is the best news all night, Manager-San. What kind is it? She asks aloud, her oools suddenly digging into the contents of the paper. Her manager pressed her glasses up the bridge of her nose. Knowing her client, they could use a bit of a debrief.
"So on paper, this will probably sound very strange but just let me explain. You're going to be in a bed wrestling match, I promise it's nothing to risqué, I was very stern on that but let's just keep an open mind."
Koori's gaze shifted from the sheet. She had for the most part caught up to what her manager was saying but decided it was probably best to follow along "I'm listening." The idol replies. Manager-San, clears her throat continuing her explanation.
"Youll be competing in onsies, you have the choice of having footies or not. It's a race to get three points, that's covered on the description there."
She extends her pointer finger to the section of interest, pressing on.
"I'll add that this is also a title match, so we're expecting you're A-game. Aren't I just the greatest?"
She asks, a shimmer of light gleams from her lenses with her desire for praise; expecting her client to either jump for joy or panic.
The cyan haired woman was immediately on her feet, her pools wide with disbelief. Panic it is. She set the paper down and began to pace. "Th-they want me? In a championship title match? B-but this is my first match, shouldn't I be, I don't know, like, being eased into it?" Koori wasn't sure if she should be happy or scared or both. This was a lot to take in and even more so to process.
Did I forget to mention, there's going to be a Narwhal Onsie? And that you might get to keep it too?"
Koori stopped dead in her tracks. Her manager was playing dirty for her love of Narwhals. No! She had to be strong, don't get caught up in it, put your foot down and say no!
——————————————————
The next day, she looked about the elevator, the nice and well kept rugged floor was appealing to say the least. The gold tinted walls also seemed to add to that appeal. She had to wonder how AFW managed to have the time and energy to make things like this happen. Still she wouldn't complain, it was conforting, not to mention inviting. As they dinged on the top floor, the doors opened to a small array of doors, the idol or her manager exit, heading into the hallway before she's guided toward the room.
Opening the door and stepping inside, the place itself was rather empty besides the large bed located in the middle of the room, a small line up of onsies and footie pajamas hung on a rack close by. Her eyes immediately locked onto the love of her life: the Narwhal Onsie. She practically ripped it from the rack, pressing it against her body to match the height. It was off, it seemed just right.
"Well? Try it on."
Her manager urges. Koori nods, heading into a separate room she began to change, lucky for her, her manager brought her changing bag. She wondered did to deserve such a kind man anger like her.
She changed into training clothes before pulling and zipping up the Onsie, grabbing the good and pulling it over. The attire was soft and comfortable, a soft grey underlined with hints of pink at the belly and a glittering horn atop her hood. It fit just right maybe too right. Something smelled of her manager planning this but she was here now. All that was left was to meet the current champion she supposed. That same feeling of butterflies sprang up as she exited the spare room, hopping onto the bed. The manager found a spare chair and seemed to be reading a magazine. The referee now entering the room.
Last edited by LilyStar on Fri May 21, 2021 3:58 am; edited 1 time in total
_________________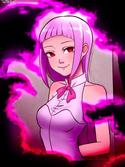 LilyStar




Posts

: 894


Join date

: 2018-02-27


Age

: 26


Location

: Your heart



Claire St. Claire was starting to feel like quite the old woman.

And a lonely old woman, at that, considering the state of the Kawaii Division of AFW. It was not that there were no kawaii-sized girls on the federation's roster anymore—there were—but many of them were attracted to the glitz and glamor of the main Friction promotion. They wanted to show off their moves against girls larger than their own size, and more likely than not get steamrolled by a girl who was equally skilled and also held a thirty-pound weight advantage. New challengers to Claire's kawaii throne had come and gone over the last three years, and many had proven themselves worthy, but none stuck around long enough to actually wrest the belt from her clutches.

Not that she was looking to give it up. If she had been, then the Brat Pack would have had it a long time ago. Or her recent two-faced foe Sophia would have managed to swipe it from her in some underhanded fashion. Claire was not about to cede the belt to just anyone. She still had a purpose as champion, and that was to ensure the continued survival of a division that she cared quite a bit about.

She had to admit that she was not infused with any great confidence by the fact that her latest championship challenger was a rookie. And after all I've done to try to nurture kawaii competition here... Granted, when matchmakers had come to her to see who she had in mind for this latest challenge, she had no one to offer up. But her challenger, as she understood it, was an idol, not a wrestler, with no past matches to speak of and nothing to recommend her for this championship shot other than her star power. That simply did not sit well with Claire.

And so the Old Lady of the Kawaii League entered the AFW bedroom that day in a somewhat more dour mood than usual, though she still had her chin held up, her bright blue eyes taking in as much as she could as her brain sifted through all of the incoming information. The room was a little more bare than it had been when she had seen it last—besides the bed and the selection of onesies, there was nothing else in the bedroom, to encourage them to keep the contest on the mattress. From one of the adjoining rooms Claire could hear the commotion of her opponent getting changed. Claire would grab a onesie of her own and retreat to the other spare room off the opposite side of the bed.

When she reemerged, Claire was dressed in a snug-fitting otter onesie, with springy ginger "fur" and a big black nose right above her forehead, and ears and whiskers poking out in several directions from the hood. She had the kawaii belt cinched around her waist, out of respect for tradition more than a desire to show it off. The room seemed rather crowded, with her challenger, the referee, and a third woman all clustered around the bed, sitting or kneeling or standing. The other two would need to vacate the room soon, but Claire didn't chase them out just yet. Instead, Claire would move quickly over to the bed and hop up onto it to face her opponent, giving the new fighter a smile and extending a hand.

"Hello, and welcome to the Kawaii League," she said. "I'm Claire."

Daaharu




Posts

: 10512


Join date

: 2012-09-24


Age

: 28



Breathe in, breathe out. Breathe in, breathe out. Now that she was here, Koori began to feel utterly and completely nervous. It wasn't the thought of losing that worried her, nor was it getting hurt though she felt that wouldn't be a concern. She was nervous about her performance, this was her first match, she felt she needed to make a good first impression, not just to anyone watching but to the champion themselves. It felt like a lot to take in and more so to embarrass herself.

Her gaze shifts to the sound of a click, the door opposite the bed creaked as a ginger furred otter stepped out. She wondered if she should've gone for that one instead but upon reconsidering she rather have the Narwhal.

A belt adorned their waist, her pools glisten with the thoughts that it could be hers. The pressure only seemed to pile in as Claire hopped onto the mattress extending their hand to welcome her. "O-oh, Koori. Thank you, it's nice to be here." she squeezed their hand as she took it, showing a faint smile as her gaze locked onto her opponent. "Im honestly so nervous, I...I didn't think I would get an opportunity like this. I hope we have a great match, Claire." she could sense the tension, the pressure seemed to deflate as she accepted her role. This was what it meant to be a contender, it seemed only right that she focus entirely on doing her best.
_________________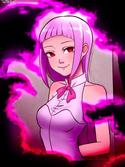 LilyStar




Posts

: 894


Join date

: 2018-02-27


Age

: 26


Location

: Your heart



The girl—Koori, she identified herself as—seemed nervous, though her handshake was not limp and Claire judged that she probably was quite the physical specimen, certainly a worthy competitor in that department. It remained to be seen whether she would be able to keep up mentally in a match that was both her debut and a title match. Claire had been around for many, many years, and over that time had basically lost all sense of shame. New girls tended to have plenty of it, and so struggled in the sorts of cutesy, ridiculous matches that kawaii wrestlers were booked for.

As Claire watched, Koori seemed to get over her first phase of nervousness, the act of speaking its name robbing it of some of its power. She seemed to be comfortable dressed up in narwhal footie pajamas, too. Claire smiled and nodded, before reaching behind her own back to unhook her belt and pass it to the referee, who stepped up to the foot of the bed to give some final instructions. "Remember, we are still expecting a clean fight, even if this isn't in the ring. First to three points wins, and the only ways to score points are those discussed with you beforehand."

Claire looked to the referee, then back to Koori. "I think we understand."

"I'll be keeping a close eye on the action and keeping score," the official continued.

Claire would lift a finger. "But from the next room," she said, pointing that finger in the direction of the door. "Bed matches have never been conducive to crowds. My challenger and I will be just fine by ourselves." Sometimes some taller girls thought of kawaiis as children in need of chaperoning. Claire felt strongly that, in spite of the silly match types, they were worthy of being taken seriously. She glanced over to her opponent again.

"Are you ready?"
Last edited by Daaharu on Thu May 20, 2021 11:36 pm; edited 1 time in total

Daaharu




Posts

: 10512


Join date

: 2012-09-24


Age

: 28



Even while she put on the brave face, the butterflies flapped vigourlsy in her stomach. This match had so much riding in it, the chance for a belt, the chance to prove herself in this new world. She was amazed she hadn't thrown up with all the pressure she was feeling barring down in her. Watching the veteran unhook their prized possession from their waist, the idol couldn't help but just imagine what it would be like to have that around her own. She could feel a slight sense of pride well up from the depths, slightly calming her butterflies.

She pulled herself up on her knees as the referee came to take the belt, explaining that she wanted a clean match. Koori suspected something had happened in the past for them to say that at an event like this. She could only guess but guessing didn't get you far.

The idol defied to respond but Claire was already quick on the uptake. Claiming they would be fine and they would be watching from the other room. Talk about a little bossy but she couldn't say she didn't like someone who held themselves with some authority. Claire had an air about her that practically presented her claim as champion. Koori could tell this would be a grueling match.

Her manager, now behind the ref offers Koori a thumbs up. "Good luck, ladies. Don't let the fans down." She clicks her tongue a bit annoyed with the comment but she supposed it did hold some merit for her. She wasn't the type to disappoint anyone with her performance, better to not start now.

With Claire back to facing her, their question rang loud and clear. She lowers her self and gets into a rather awkward stance with her hands up. "Ready as I'll ever be." she replies.
_________________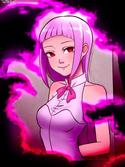 LilyStar




Posts

: 894


Join date

: 2018-02-27


Age

: 26


Location

: Your heart



Though Koori was the least experienced of all the kawaii title challengers Claire had faced, the champion had to admit that, physically, the girl might have been the most imposing. She was on the small side for the global female average, but on the large side for a kawaii fighter—so was Claire, but she couldn't help but feel a little bit intimidated by an athletic opponent.

But of course, she had many, many long years of experience in such silly matches, and that experience counted for at least as much.

The referee and her opponent's manager, after offering the two fighters some last words of encouragement, slowly backed away from the bed, in the direction of the door. It took them far too long to actually exit, as if the referee was waiting for word to come down from on high to counteract Claire's insistence that they be left alone. But that word never came, and, when at last the door was closed and there were only the two girls in animal footie pajamas in the room, they could at last get this match underway.

"Okay, then. Let's get started!" Claire said, raising her hands to match Koori's, and reaching forward to seize Koori's hands, pressing their palms together to start pushing against each other in a test of strength!

Daaharu




Posts

: 10512


Join date

: 2012-09-24


Age

: 28



With the pair of prying eyes now out of the "ring" Koorifelt a well of power surge up through her body, now mentally preparing her for what was coming next. The struggle was going to be there as she fought for this win, Claire seemed just as focused as the idol now. There was nothing in their way, the footie pajama'd wrestlers would go at it like their lives depended on it: one to retain their title, the other to dethrone.

Claire declared the start, Koori didn't utter a word as the two clashed. The woman's palms pressed against her own, fingers interlocked as she suddenly felt weight push against her. She instinctively pushed back. This was a test of strength she could only surmise. She'd done this so many times during training and now seeing it used in a real fight, she had to be complacent with consitancy.

A low growl erupts from her throat as the narwhal attempts to push the otter back, her aim was to overpower and pin them to the bed, just so she could figure out her next plan of action. She'd scoot forward in her knees trying to make it happen, she had to show them just because she was an idol, didn't mean Koori was a pushover.
_________________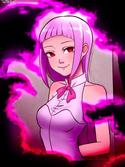 LilyStar




Posts

: 894


Join date

: 2018-02-27


Age

: 26


Location

: Your heart



The intensity that Koori exuded as the test of strength was initiated almost made Claire forget about the fact that she was wearing an otter onesie, and her opponent was wearing a set of narwhal pajamas. The title that was on the line made the silliness feel a little less silly after all. Claire had always found that to be the case—no matter whether it was wedgies in embarrassing panties or getting spanked while dressed as a schoolgirl, the silly trappings were always little more than set dressing by the end.

Koori didn't speak. The two of them locked up. Claire pushed against her opponent, and then felt a reaction as Koori pushed back. Claire was gradually increasing the strength she put into her push, though Koori seemed to go all-out right away, and that got her an early advantage over Claire—Claire wobbled back, almost sitting straight upright on her knees, with Koori threatening to topple her over once her weight shifted back.

Claire would quickly pull their hands out to her sides and throw her body forward to collide with Koori's, fuzzy fabric of their onsies smacking and then swishing against each other. She aimed to keep her balance in the face of that impressive effort on her opponent's part by using her body for leverage!

Daaharu




Posts

: 10512


Join date

: 2012-09-24


Age

: 28



Koori applied herself with anything and everything she did. She didn't cut corners nor did she even consider taking the easy route. The idol was well aware that she couldn't cut those corners to win either. When she pushed herself to exude enough strength to topple the veteran, Koori didn't anticipate a rushed resistance, taking charge and overwhelming them was the objective and at first, she thought she had.

Claire wobbled slightly, it appeared she was attempting to gain her footing or she supposed in this case her kneeing. Suddenly her arms were held out, all the strength she had originally put into their test was thinned out among her limbs as Claire pushed against her bow with the advantage. She grunts as her knees begin to slide against the bed.

Koori could feel herself losing ground even now. She spread her knees out more to give herself a wider stance. From here, she'd use the champions momentum against them, working as a model made them flexible so it wasn't far fetched to bend herself to practically toss them over. Now with her slight resistance, she'd use their momentum to swing in her right arm to hook under their shoulder. Bending back with her hopeful opponent in hand, she'd sling them over onto their back, her objective now was to work on withering them down if her maneuver proved to be successful.
_________________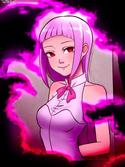 LilyStar




Posts

: 894


Join date

: 2018-02-27


Age

: 26


Location

: Your heart



Claire managed to spread her opponent's arms out wider, and that cost Koori much of the forward momentum she had built up. The girl was not doing so well when Claire doubled down, pushing back on Koori just as hard as she was pushing on Claire, forcing them back to a stalemate, and then hopefully further still, to where Claire could bend her foe all the way over and put her down...

...on her back. That was what Claire had intended to do to her opponent, as they both spread their legs and dug their knees in to keep their balance. But Koori suddenly stopped pushing quite so hard, and Claire felt her arm hooked, her body pulled around with impressive strength, and her own back suddenly flat on the mattress.

Immediately, she swung her legs up, trying to scissor Koori's belly, while her arms pushed at her foe's shoulder. "Ghhh!"

Daaharu




Posts

: 10512


Join date

: 2012-09-24


Age

: 28



Page 1 of 7 • 1, 2, 3, 4, 5, 6, 7
---
Permissions in this forum:
You
cannot
reply to topics in this forum