Who is online?
In total there are
22
users online :: 1 Registered, 0 Hidden and 21 Guests :: 3 Bots
Unlife
Most users ever online was
418
on Tue Jul 30, 2019 9:51 am
Champions & #1 contenders
Looking for match for Enki
Sun Sep 11, 2022 7:52 pm by Void Effect
Comments: 0
Match Hunting
Sat Aug 27, 2022 12:33 am by GrandAkumaShogun
Hello all who take the time to read this. I'm hoping to get back into the swing of things by having one or more of my boys in a match. If you're interested feel free to hmu on pm or on here and we can decide who will be in the match and we can either plan it or play it by ear. Hope to get a chance to interact with someone I have yet to before. Thank you for your time.
Comments: 2
Looking for potential squash matches.
Fri Sep 02, 2022 2:42 pm by Jobber/squashfan
Hello! I am looking for potential squash matches. i am a fan of one sided matches and am fine with playing either side of the squasher of the jobber! My roster is listed below. You can reach me on here through DM or feel free to message me on discord! squash/jobberfan#6084
Hannah Venturi
Spoiler:
https://www.afwrpg.com/t22038-hannah-venturi
Kayla Tsunade
Spoiler:
…
[
Full reading
]
Comments: 0
Page 3 of 7 •
1, 2, 3, 4, 5, 6, 7
Her hesitation while waiting for the ref allowed Claire to stir herself awake. She was preparing to break free when Koori managed to get to the two count. It made the idol panic, she presses more of her body down against the packaged pin while the veteran prepares to push an arm up.

"Three! Th-three?" Even though she managed to get to the last count, the idol found herself bewildered by the achievement. Her worries seemed to drop as she earned her points. Pulling back to allow Claire's leg to drop. Her heart pounds in her ears as she sits up on her knees.

She was sweating. It could have easily been from the pajamas but it could have also very well been from her nervousness. Koori realized she had to carry this momentum if she wanted to win and she really wanted to win. Not just because this was a title match but because she felt her fans deserved to know how hard she worked to get here, even if this was her first fight.

Her pools lock onto the veteran a new blazing fire burning in her gaze. "R-ready when you are, Claire-San!"
_________________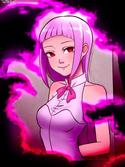 LilyStar




Posts

: 894


Join date

: 2018-02-27


Age

: 26


Location

: Your heart



Claire did not like getting pinned so easily. For herself, of course, because it put her at a serious deficit, now just one point away from losing this match to the newcomer and ceding her kawaii title belt. But also for kawaii girls in general, because this was not good for dispelling the stereotype of the smaller set of girls as being fragile and easy to pin. Sure, Koori was also a small girl, but that would not stop the critics from pointing out that this was not a real fight, between real, competitive wrestlers.

Claire would have to change that. In this next round, now that it was do or die time for her, she would pull out all the stops, surprise the slightly-taller girl and all the viewers watching this match remotely. She knew that she had to make sure that this match, no matter which way it finished, was as spectacular as possible. For the sake of the Kawaii League of which she had been the standard bearer for years.

Claire took a deep breath, letting out stress and pulling in energy. Then, she sat up, first on her butt, then up onto her knees. She bounced a little bit, and tugged on her otter pajamas to pull them back into place on her body and keep them from bunching up. Then, her eyes meeting Koori's, she lifted her hands and offered her opponent a lockup. "I'm ready."

Daaharu




Posts

: 10512


Join date

: 2012-09-24


Age

: 28



She wasn't stupid enough to let pride overtake her, she learned from an early age what that emotion could do to a person. Koori prioritized humbling herself before anything else, she made an effort to never brag so getting the first pin of the match as well as two points didn't change her attitude one bit. She had a job to do and Claire would see just how serious she was.

The veteran bounced to her knees from her seated position. She must be feeling the heat too as they pulled their pajamas away then settling into a stance. The idol followed as they claimed to be ready. She felt a sense of uneasiness in her gut, something told her things were about to get serious, dangerously serious.

She'd bounce forward, locking up with the champion she was eager to strut her stuff, even in this setting she was taking Claire and the severity this fight held with the upmost respect. She wouldn't forgive herself otherwise, Koori was intent on making that fact known too.
_________________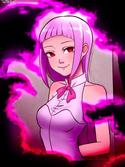 LilyStar




Posts

: 894


Join date

: 2018-02-27


Age

: 26


Location

: Your heart



Koori's emotional balance was actually quite impressive, and Claire appreciated it. She had fought too many volatile little spitfires who took offense at the smallest thing, who only cared about winning and making themselves look good and forgot all about sportsmanship and the sorority of kawaii girls. Koori, though she was brand new to the sport and the league, seemed to get it much more than most. She treated Claire, and the match itself, with respect, even though they were dressed as a narwhal and an otter and were bouncing on what might have been the fluffiest bed either of them had ever been in.

Claire interlaced her fingers with Koori's, then shoved forward, putting quite a bit of power into it, the dark-haired champion looking to shove her foe back using all the power in her body. She dug in with her knees, using them like springs to add extra power to her push. She couldn't hold anything back now—it was time to go all-out to show why she had been the kawaii champion for so long!

Daaharu




Posts

: 10512


Join date

: 2012-09-24


Age

: 28



As their fingers interlocked, she felt a pressure in the hold, like she had unleashed something that would gun for her like no tomorrow. Her pearls focused on the champion and suddenly it exploded. Claire pushed hard bouncing with the bed to give her extra momentum, the idol was taken aback by the rather child like maneuver but it proved effective.

Koori grimaced as she began to lose ground, her body contorting to the other woman's pressure, she's forced to scoot her knee back just to keep from falling. Dang it, she should've expected this, Claire wasn't going to go down so easily and the idol expected that but to spring up with this much power was scary.

She digs in her knees, looking to halt their progress even if just a little. Taking her position to thought, she pushes herself to scoot her knee back up to at least resist for now.
_________________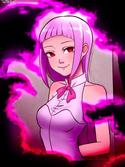 LilyStar




Posts

: 894


Join date

: 2018-02-27


Age

: 26


Location

: Your heart



A lockup such as this was, technically, not very technical at all. Push and push until someone or the other went down on her butt. Children, even infants, could theoretically master such a technique. But simplicity did not make it inelegant in Claire's eyes, and Claire had years of refined schooling back home in New England in addition to all her wrestling experience to back up her beliefs. This was muscle against muscle, a direct collision of force and force.

Koori scooted back, and scooted back...but she didn't go down, and Claire began to lose steam as all that power she put into her initial push flowed through Koori and down her legs into the mattress. Koori managed to slow her backward progression, then halt it, Claire sweating and panting as she was now just leaning into Koori, their foreheads bonking together as Claire took deep breaths, trying to recover, arms shaking a little.

She did not let herself be moved back. But she needed to find another reserve of strength to push Koori back more. Slowly, so slowly, she increased the pressure she was putting on her foe again, this time using her head to push as well.

Daaharu




Posts

: 10512


Join date

: 2012-09-24


Age

: 28



Her resistance was slow, Claire was putting on a lot of pressure it took a lot of Koori's strength just to scoot back even just a little. It was difficult to gain any ground in this situation and she feared that she would be the one ending up on the receiveing end of something bad. The idol trailed again to push back but she found her forehead pressed against the Champions; their struggle to take her down.

It wasn't long until her feared prediction came true. Koori couldn't resist foreve and when Claire pressed with her noggin too, the idol didn't have the steam to fight back, not after her burst of strength to get the first pin. She slipped from her knees onto her body, the slightly smaller woman's fingers still locked in their lock up as she fell.

With her back to the bed, Koori began to try and again push back, she knew wasting all of her energy here could be a bad idea especially in these hot suits, but she couldn't just roll over and give them the points either.
_________________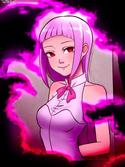 LilyStar




Posts

: 894


Join date

: 2018-02-27


Age

: 26


Location

: Your heart



Claire flopped down on top of Koori, the two of them smooshing against each other as the challenger landed on her back and the champ landed right on top of her. The material of their pajamas was thick, but Claire could still feel the heat of Koori's body seeping through it to prevent her from cooling down and sweating any less. All this pajama fabric, all these pillows, stuffed animals, and blankets...and the bright lights, too. They were likely making them sweat on purpose.

At least Claire knew this was not unusual for a match in Friction, either. In this way, the kawaii girls were getting the same shake as their taller counterparts.

Koori pushed up, but Claire would push down, with her arms and now with her body, trying to keep her down, though she couldn't quite pin Koori's arms. Claire had to drain her foe of her energy. Thinking of the best way to do it, Claire would get her knees under her and lift up, giving her foe a small amount of space. And then, Claire would drop down, aiming for a belly-to-belly splash that she hoped would knock some air out of her opponent!

Daaharu




Posts

: 10512


Join date

: 2012-09-24


Age

: 28



Koori was practically getting blinded by these lights, having Claire over top of her didn't do much to shield her from the rays but make them flash as they struggled. Just as she thought she could break away, Claire managed to push back and pin her arms down to the mattress. Of course she fights back and tries her best to get back up but that was before she was gasping for air.

For a moment she thought the veteran was offering her freedom, she let her guard down completely and that's when it hit her. Air escaped her lungs rapidly as the champ squashed her stomach with a belly-to-belly splash. The idol was paste against the bed now, the fight slowly drained from her as she began to become damp with her own sweat. Maybe she ought to have rethought this before diving head first into thick pajamas and hot bright lights.

These conditions were proving to be a lot to endure, her idol training pushed her to these limits before but she was never fighting anyone in them. She had to struggle again, she had to break free, she couldn't just let Claire bully her like this!
_________________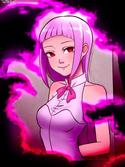 LilyStar




Posts

: 894


Join date

: 2018-02-27


Age

: 26


Location

: Your heart



Claire managed to catch Koori in an unguarded moment, and the former idol seemed to deflate like a punctured beach ball as Claire's belly squashed her own and forced most of the air from her lungs. Still she fought on, wriggling and trying to escape and impressing Claire with just how much strength she could bring to bear even when there was no way her muscles had enough oxygen to operate at full capacity.

Claire had hoped that splash, dynamic and painful if also, for the viewers at home, adorable, might put Koori in a position to be pinned, but obviously that was not the case. Claire thought over what her next move could be. She would be within her rights, according to the rules of the match, to just start pummeling her opponent, but that didn't feel right. She wanted kawaiis to be taken seriously, but of course there was also a sort of kawaii code to adhere to.

Claire would get off of Koori and try to scurry around behind her, hoping to catch her head and then push that narwhal head, with her cute little horn, between ginger brown fur-covered thighs, looking to catch Koori with a rear headscissor to make her ears burn and skull creak!

Daaharu




Posts

: 10512


Join date

: 2012-09-24


Age

: 28



Page 3 of 7 •
1, 2, 3, 4, 5, 6, 7
---
Permissions in this forum:
You
cannot
reply to topics in this forum