Who is online?
In total there are
20
users online :: 1 Registered, 0 Hidden and 19 Guests :: 3 Bots
TheLoneWanderer
Most users ever online was
418
on Tue Jul 30, 2019 9:51 am
Champions & #1 contenders
Looking for fun Fights
Tue Sep 27, 2022 5:34 am by Leon564
Hello folks! Putting it out that I'm available to discuss matches for either James or Melanie.
If you are trying to find their profiles you can use the character search and type in the following;
James Elforn
Melanie L'belle
------
If it's for an author of my name tag then that's me! You're free as well to throw me a friend request on Discord since I'm not in the Discord server at this time.
Leon564#4514 (Discord)
Thanks for your read and have a great
[
Full reading
]
Comments: 0
Page 6 of 7 •
1, 2, 3, 4, 5, 6, 7
Koori's plan worked surprising even her, she honestly expected to have to improvise to get to her current position but ye of little faith she supposed. Smushing the champ against the bed, they began to thrash and flail just as she had minutes ago before her inevitable loss of the round. There was one key difference between them, Koori didn't have the strategy to get to that position without losing her grip.

The idol attempted to maintain her hold as best as she could on the bucking Claire. Her hands clasp their wrist to pin them down, it was hard to think with so much resistance taking up her concentration. It was definitely something she'd need to work on in later training but for now she'd just have to deal.

With the last buck, the idol lightly bounced off the bed, her legs brought up against her stomach, she'd come down like a hammer, hoping to incapacitate her rival. Going for this last point was going to make or break The Lady of Ice, that was for sure.
_________________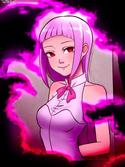 LilyStar




Posts

: 894


Join date

: 2018-02-27


Age

: 26


Location

: Your heart



Claire's thrashing was intense and, after some initial wild flailing, rather expertly concentrated on dislodging Koori from atop her. While the pillow prevented the challenger from pinning Claire and scoring a point by making the distance between their bodies too great to have the leverage to hold Claire's arms down, Claire still did not like the idea of being beneath her opponent. She managed to buck Koori up into the air...

...but Koori came down on top of her, legs tucked into her body to turn her into a cannonball of destruction. If the pillow was not sitting on Claire's chest, the impact might have knocked her out. As it was, her less-than-protected tummy took a forceful blow, and her eyes opened wide, bugging out as big as saucers as wind rushed out of her lungs and between her lips, the kawaii champion making a raspberry noise as Koori managed to land a huge blow!

"Ooouuurrrf...!"

Daaharu




Posts

: 10512


Join date

: 2012-09-24


Age

: 28



The impact didn't just hit Claire, although Koori was glad to land it the bounce from the pillow ended up knocking her own knees back into her chest. A double edged sword one might say. The force of the impact forced a sudden expulsion of air as the blow knocked the wind out of her. She coughed silently into the sleeve of her pajamas as she fell back onto the bed to recover.

The champ was just as out of it as she was now. She just had to push through, push past her own limits to overtake Claire. Her fans were counting on her but the idol didn't want to do it just for them. This was a battle for herself and she'd see it to the end.

Slowly but surely, Koori picked herself up. The heat was taking its toll and sapping her strength so quickly, there had to be a way to end this, if not she'd be the one down for the count.
_________________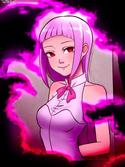 LilyStar




Posts

: 894


Join date

: 2018-02-27


Age

: 26


Location

: Your heart



Claire got lucky. That pillow not only saved her from being completely devastated from the attack—its presence actually injured Koori. Somehow, the pillow was like a mystical talisman that was there to protect Claire's hold on the kawaii title. Koori fell back onto the bed, giving Claire some much-needed time to recover.

By the time Claire had gotten up onto her knees, reverentially placing the pillow back on the stack of them that were piled against the headboard, Koori was already up, as well. Claire stared at her opponent warily, feeling her hair sticking to her forehead due to sweat caused by the heavy otter pajamas she wore. As cozy as these might be during a New England winter...they were not made with summertime in Japan in mind.

Claire could not afford to be the one in the position of always reacting. She launched herself forward, lowered her head, and tried to tackle Koori shoulder first, driving it into Koori's belly. She intended to take the air out of her challenger's lungs in one big strike and land on top of her in the process!

Daaharu




Posts

: 10512


Join date

: 2012-09-24


Age

: 28



She rubs her chest as she steadies herself, her chest is aching as she prepares for her next move, the idol has a plan but it won't be easy nor does she expect Claire to roll over and take it. Her pools meet theirs and in a flash, the champ makes their move rushing the idol and slamming their shoulder first into the windless Koori.

She bends over the Brit, her stomach hurting as she pants from the heat and loss of air. Claire made the first move, but deep down she felt that she couldn't lose herself to this. Even as she was forced down, the idol never lost that will to fight, she had to bide her time Claire would misstep and she'd take it.
_________________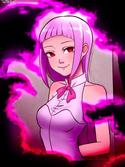 LilyStar




Posts

: 894


Join date

: 2018-02-27


Age

: 26


Location

: Your heart



Like Koori before her, Claire managed to tackle Koori down onto the mattress. Unlike Claire, Koori did not have a pillow to act as insulation between her body and Claire's, to act as a cushion against a potential loss. Claire knew that this was her big chance to finish this match off, and she had to take advantage of it.

Her first thought had been to tickle Koori into submission. And, indeed, as she moved her hands down, she did give the narwhal girl's armpits a quick brush with splayed fingers, just to test how sensitive Koori might be to such an assault. But with the thick material of the pajamas, Claire didn't feel that it was worthy of what had to be her ultimate move.

So instead, Claire would grab Koori's head and pull it upward, locking it underneath her armpit, tightening her arm around Koori's neck. This wasn't just a side headlock. This was a modified sort of dragon sleeper, reversed so that Koori faced down rather than up, but Claire wanted this to be the move that finished Koori off—and finished off another successful title defense. She piled on the pressure, pressing her arm harder and harder onto Koori's neck...

Daaharu




Posts

: 10512


Join date

: 2012-09-24


Age

: 28



The idol gasped as she felt those splayed fingers threaten her from her ticklish spot. It made her face go red from just the act alone and she almost lost focus before she felt an arm lock around her neck. Koori knew if she let them lock this in, it'd be over for her, not thy she wouldn't have been proud of her progress but this was such a big moment, she had to do something.

Just then, she felt a will stronger then she ever felt burn in her core, her left hand shot up, grabbing Claire's waist. Her right would entrap their shoulder, wrapping around their neck from underneath along their unoccupied arm. From here, Koori aimed to sling the girl away, hoping to not only break free from the headlock with the maneuver but also gain a new foothold.

If her plan succeeded as she so desperately hoped, Claire would undoubtedly land on their belly, a chance that the idol wouldn't leave unattended. A submission hold that made even her cry out came to mind and she set to work in making it happen. Scrambling quickly to execute, she sets her feet into the pits of their knees. Her arms reaching down to grab onto their wrists. If everything came to go there, Koori would roll backward, settling in her ceiling surfboard stretch.
_________________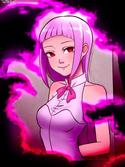 LilyStar




Posts

: 894


Join date

: 2018-02-27


Age

: 26


Location

: Your heart



Claire tightened her sleeper hold more and more, making sure that no air could reach Koori's lungs through the hold. She waited, patiently, for the girl to either tap or pass out. Just a minute or two and she would be too weak to defend herself even if she did escape.

Koori's escape attempt came quickly, one arm on Claire's waist, the other grabbing her arm. Koori wrenched violently, with a strength that Claire was not sure if she could match, and the blue-haired challenger managed to break free from the sleeper hold before it could do too much damage. Claire staggered, losing her balance, and then was shoved down face first into the bed.

Then Koori grabbed her. She felt those feet moving to plant themselves in the pits of her knees, and felt hands grasping her wrists. With all four limbs captured, she was not going to be able to move. She tried to pull her arms free, but failed. She gathered up the strength to try again...but a second before she could, Koori fell back and lifted her up into the air. Claire's eyes widened in shock and pain. "Gaaah!" she cried out, trying to kick her legs, or wave her arms. "No!"

Daaharu




Posts

: 10512


Join date

: 2012-09-24


Age

: 28



Her mind was in a chaotic frenzy as she grabbed the champ. Throwing them with that fire in her core, she honestly scared herself with that move but then again, it opened up this avenue for her. Not even for a moment did she hesitate, she went for their limbs.

She did it! Her heart was pounding in her chest, ready to burst at any moment as she not only managed to free herself but lock in her submission hold. Koori was feeling every emotion possible as she rolled back to firmly lock it in, keeping Claire from breaking free. The idol was well aware of how difficult it would be to keep the otter in her current condition but all she had to do was apply enough pressure to take them out.

In the first few seconds after claiming the hold, she'd push up, stretching Claire just a bit more to emphasize she couldn't escape. Drawing this out wasn't in her best interest so after a few seconds she'd repent and lower them down for a moment only to repeat the process. "D-do you give, Claire?" She asks.
_________________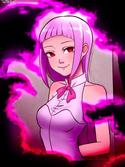 LilyStar




Posts

: 894


Join date

: 2018-02-27


Age

: 26


Location

: Your heart



Claire had been just a bit too slow in fighting against the submission hold, her exhaustion getting the better of her in causing her to waste just a little too much time. Now she was up in the air over the mattress, and Koori could drop her if she wanted to do so, causing Claire to take quite a wild ride that would end in a lot of pain.

Koori wasn't doing that. She wanted to end this with the ceiling hold, and showed so by loosening, then suddenly tightening the hold, causing an intense rush of pain through all four of Claire's limbs, as if they were about to be dislocated. She asked Claire if she wanted to submit. Claire shook her head and let out a choked, but defiant cry: "N-no! No! No no no!" Her black hair swished from side to side as she refused the offer. She kept on struggling, relaxing and then tensing her muscles, shaking her whole body, the whole time feeling herself getting weaker and weaker...

Daaharu




Posts

: 10512


Join date

: 2012-09-24


Age

: 28



Page 6 of 7 •
1, 2, 3, 4, 5, 6, 7
---
Permissions in this forum:
You
cannot
reply to topics in this forum